Wearing number 42 to honour
Jackie Robinson
really agreed with the Jays yesterday as they thumped the Twins
12-2 Wednesday night
in their penultimate regular season game at the Hubert H. Humphrey Metrodome. There's no truth to the rumour that every Jay will wear number 122 for tonight's game. Besides, they got number 32 on the hill tonight and speaking of Hill, number 2 did more than alright in last night's ball game.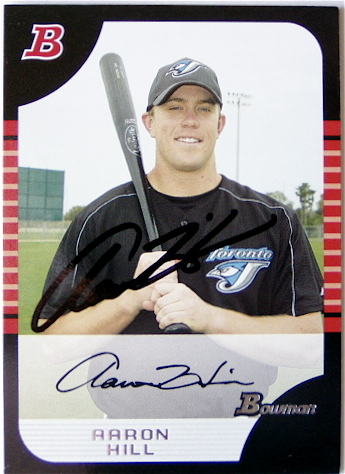 Minnesota actually led this game 2-0 after one. Scott Richmond started off well by making a diving catch on a Denard Span bunt down the first base side for the first out but a single, double, groundout and passed ball later, the Jays were trailing by two. The good guys got that back in the top of the second when Scott Rolen launched a two run homer over the wall in left off Twins starter Scott Baker. Richmond got the Jays back on offence quickly with a 1-2-3 second, including a pair of punchouts, and Aaron Hill put the Jays ahead for good with a two-run blast to left and Vernon Wells connected for a solo poke to make it 5-2 Toronto.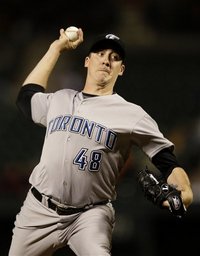 Richmond made sure Minnesota would not get back into the game when he snuffed out a two-men on, one man out threat in the third by getting Justin Morneau and Jason Kubel to ground out. Michael Barrett would make up for his passed ball in the first by hitting his first homer as a Jay to make it 6-2 and that helped send Baker to the showers. Toronto poured it on in the sixth on a two run single by Marco Scutaro and another RBI knock from Hill to up the lead to 9-2.
Lyle Overbay was credited for a single that inning after hitting a ball that struck Adam Lind on his way to second. Overbay made sure his next single found a hole in the infield as he drove in the Jays 10th run of the night in the seventh. Travis Snider would knock home two more with a ground rule double in the ninth.
Richmond got one out in the seventh before leaving a couple of inherited runners for Shawn Camp and he put out the fire with the final two outs. Bill Murphy had a 1-2-3 frame in his Blue Jay debut in the eighth and Brandon League mopped up in the ninth as the Jays relievers were a perfect 8-for-8 in batters faced and retired thanks to seven straight groundouts and a League strikeout of Jose Morales to end the game. Richmond gave up one earned run out of two in 6 1/3 innings and allowed just four hits and three walks while getting three strikeouts and 10 groundball outs.
Hill had the big day at the dish with a 4-for-5 day with 3 RBI and he gets the Batter's Box Jay of the Game award. Wells, Overbay and Barrett had two hit nights and everybody got aboard once except for Alex Rios, who was 0-for-5. Eight of the 12 Jays runs were delivered with two outs. Clutch hitting is a beautiful thing, ain't it?
Tonight, Roy Halladay will face Minny ace Francisco Liriano in the Jays final regular season game at the Metrodome. First pitch is at 8:10 p.m. EDT.
=================
In other TDIB headlines.......
* Mets finally win their first game at Citi Field.
* Yankees play their first regular season game at new Yankee Stadium. Gee, I hope it goes well...........NOT!
* Ian Kinsler hits for the cycle and then some as the Rangers drill the O's.
* A Mariner milestone for Ken Griffey Jr. as the first place M's beat the hurtin' Halos again.