Sometimes you're the ball
. Guess which one the Jays were
Saturday night
at U.S. Cellular Field? As our
John Northey
put it in yesterday's TDIB thread, "Sometimes you are the monster and sometimes the monster eats you."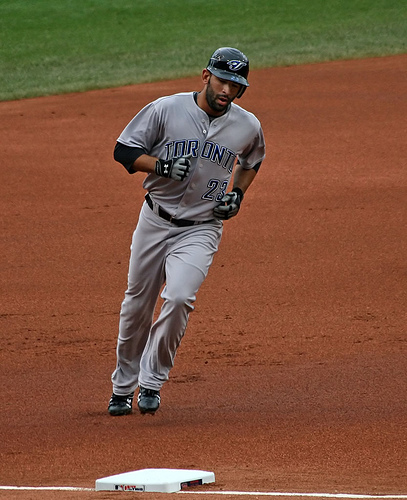 The Jays made it 16 straight runs in the series after grabbing a 2-0 lead in the top of the second on an RBI base knock by Jose Bautista and a sac fly by Marco Scutaro. However, it wasn't long before the Jays were in dire straits as the lead was gone in the bottom of the second. The White Sox finally remembered how to score again by getting two runs of their own against Brian Burres.
Toronto had a chance to take the lead in the fourth but Aaron Hill was robbed of an RBI single by his second base counterpart Brent Lillibridge on a nice diving stop to end the top of the fourth. Burres kept the Pale Hose off the board until the fifth when his "fast"ball, changeup and curveball repertoire stopped working. He gave up the go-ahead run and left the bases loaded for Shawn Camp. The kill shot was a grand slam by Alexei Ramirez to put the game away and give the White Sox a six run inning and an 8-2 advantage. Jermaine Dye got to Camp the next inning with a two run bomb to give the Chicago double digits in the run column.

Brandon League worked a one walk seventh and Bryan Bullington struck out the side in the eighth but not before stranding the bases loaded on two hits and a walk. Burres took the loss by lasting just 4 1/3 innings and giving up six runs on seven hits and four walks while whiffing only two. Camp had an outing to forget by allowing the other four runs on two gopher balls and allowed all three of his inherited runners to score.
The Jays had only seven hits and four walks in this one and went 1-for-9 with runners in scoring position. Kevin Millar was the only Jay to have a two hit night as he pushed his average up to .344.
It's up to Roy Halladay to try to give the Jays another series victory. "Doc" will go against Jose Contreras in a 2:05 p.m. EDT start at the Cell.
-----------------------------
In other TDIB notes......
* A pitcher with the initials A.J.B. was pounded by the BoSox.
* The Hoff is back and not a moment too soon as the Brewers almost gave one away in Houston. A couple of Astros were also ejected.
* The M's tried to give one away against the Halos but ultimately failed.
* The Giants win and bail out the Big Unit, who remains four wins away from 300.
* The D-Backs will have to make do without their ace for a while.
* The Twins are expecting their other star player with the initials J.M. to be back this week.