The Red Sox went deep five times against Brett Cecil and that was the difference as they pounded the Jays 8-3 Wednesday night at Fenway.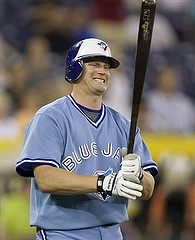 Surprisingly, Cecil only tied the club record for most dingers allowed in a game. It happened to Pat Hentgen not once, but twice in 1997 and '98. The rookie lefty started off well with five ground ball outs, two of them on an inning-ending double play in the second. However, Cecil gave up a Jason Varitek homer to start off the third and gave up a second run on a double play ball off the bat of Dustin Pedroia, aka Mr. "Integrity". He only gave up a walk in the fourth while punching out two but in the fifth inning, he was punked for six runs on homers by Varitek, David Ortiz (you just knew he was saving his first of the year for the Jays!), Jason Bay and Mike Lowell. It could've been seven runs in the inning but Jacoby Ellsbury was thrown out at the plate on a 9-4-2 putout initiated by Alex Rios. Shawn Camp came in to the game after Lowell's poke and was greeted by a Rocco Baldeill triple but got the final out when he rung up Varitek. Camp worked through the sixth, Brian Wolfe escaped a bases loaded pickle in the seventh and B.J. Ryan gave up a double but struck out a pair in a scoreless eighth.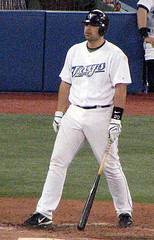 The Jays broke Brad Penny's shutout bid in the seventh when Lyle Overbay tripled and came home on a single off the Green Monster by Rod Barajas. Barajas went to third on Travis Snider's single and scored on a rally-killing double play off the bat of Marco Scutaro. The Jays added their final run in the eighth on Overbay's double off flamethrower Daniel Bard to score a Vernon Wells base knock. Overbay and Adam Lind would be left at second and third as Bard and lefty Hideki Okajima got Barajas and pinch-hitter Kevin Millar to pop out. Rios and Wells each singled in the ninth but they were stranded by Takashi Saito. Despite the lopsided score, the Sox only outhit the Jays by one at 15-14. Every Jays starter got on base at least once and only Scutaro failed to get a hit. Usually, that would be a good thing but baseball's a funny game! They were 2-for-12 with runners in scoring position and left 11 runners on.
Let's hope Robert Ray can pull a Doug Linton special and try to salvage one against the Sox tonight as he faces lefty Jon Lester in another 7:10 p.m. EDT start in Boston. The Jays hope to get their first win in the TSN2 era after an 0-2 start.
In other TDIB notes........
* Yankees smoke the O's again 11-4 to win their eighth in a row. They're undeated since the "Doc-you know who" showdown.
* Jake Peavy is deciding if he wants to play ball in the South Side of Chicago.
* The Astros overcome a lineup screw-up to beat the Brewers 6-4.
* Condolences to former Jay Scott Schoeneweis, his family and friends as his wife was found dead in their Arizona home Wednesday.