The less we say about it the better
Make it up as we go along
Feet on the ground
Head in the sky
It's ok I know nothing's wrong . . nothing.
No sense trying to be a wordsmith here. This series sucked turd from the get-go for the Jays as they lost 5-1 to the Red Sox Thursday evening.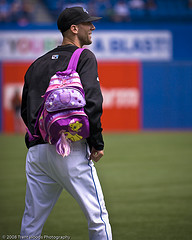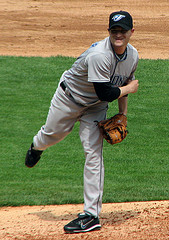 This game was pretty much over after the first as the pitcher formerly known as
Robert Ray
was burned for three runs. A
Jacoby Ellsbury
led off with a double and came around to score on a
David Ortiz
grounder.
Kevin Youkilis
extended the inning with a two-out walk and he came home on a
historic Jason Bay blast
to make it 3-zip Boston. What made it worse was
Alex Rios
appeared to have a shot at catching the ball before it went over the short fence in right but he didn't get back to the wall in time. Another episode of right field follies starring the pride and joy of Coffee, Alabama. A cynic would suggest maybe he should take some java with him out to the field to stay awake out there. The Sox got another two-out run in the third when
Youkilis
singled home
Dustin Pedroia
and added their final run in the fifth on a
Pedroia
RBI single.
Brandon League, Jesse Carlson
and
Jason Frasor
combined to pitch 3 2/3 shutout innings out of the pen with League giving up just a single.
Ray
got nine groundouts and struck out four in his 4 1/3 innings but he gave up five runs (four earned) on six hits and one walk. Maybe Bobby should switch to Roberto next game. That'd be the opposite of former Yankee outfielder
Roberto/Bobby Kelly
.
At the plate, the Jays got at least one runner aboard in every inning save the sixth but could only muster an Aaron Hill RBI single in the seventh against "Razor" Ramon Ramirez. Toronto would leave the bases loaded later that inning to get back into the game. They collected eight of their 11 hits and two of their three walks against Sox starter Jon Lester but they couldn't get the big hit when they needed it. Adam Lind was the poster boy for the team's unclutchness as he left six men on base in an 0-for-4. Lind was the only starter not to get a hit in this one. In all, the Jays were 1-for-7 with runners in scoring position and left a dozen on base.
Time for some interleague ball. The Jays head to Atlanta where they hope Roy Halladay can get things right on track. He'll face Kenshin Kawakami in a 7:30 start at Turner Field.
In other TDIB notes......
* The White Sox get drilled by the Twins 20-1 (thank God for the rouge! Wrong sport? Who cares!?!) and find out Jake Peavy will not be a Pale Hoe. Isn't hoe singular for hose? That's hose, not hoes. Speaking of which..........
* You know what rhymes with hoes? O's! Yes, they bowed down to the Yankees again 7-4 but Joba Chamberlain had to take one for the team.