I don't know about you but I've been looking forward to this for a long time. A majority of the players and coaches from the 1992 and 1993 World Series Champion Toronto Blue Jays
are in town this weekend
to celebrate the glory days. Oh yeah, the Baltimore Orioles are in town too and let's hope they'll be gracious guests by lying down like dogs for the next three games!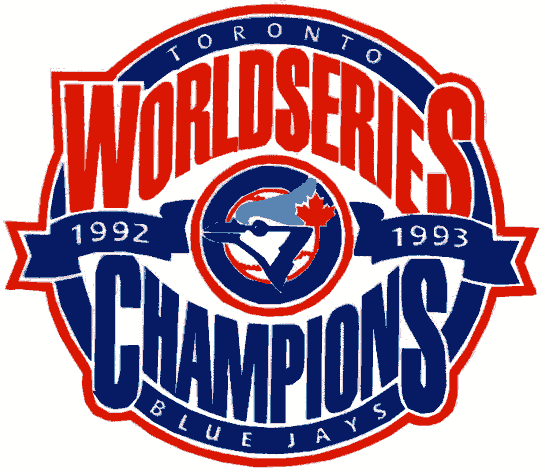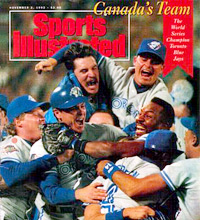 So, where were you in '92 and '93? I was in Northern Ontario for both occasions. I remember my buddy bailing out on me after the Braves tied Game 6 in the ninth because he had to go home. Despite being in the presence of three other "less than hardcore" baseball fans, I went bananas when Mike Timlin threw out Otis Nixon for the final out. I grabbed two bottles of Coors Light, ran outside to my back yard and poured the chilly contents on my head, yelling God knows what!! It was just a release from all the pent-up nerves I had in watching the game and the pent-up frustration of the team coming close in previous years. My folks were in Las Vegas at the time watching the whole thing and they phoned me afterwards. My pop was one happy man!
As for '93, I celebrated with my college buddies at a bowling alley in North Bay. I did more jumping around than House of Pain when Joe touched them all. A lot of booze was spilled on the lanes during the celebration. I believe we were banned from ever bowling there again. We blamed the whole thing on the first-year students and I had no problem throwing them under the bus. Again, my folks called to share the joy of a back to back World Series title. If there's one regret, I wish I was with my parents to celebrate at least one of those wins. That's why the Jays have to win one really soon so I can make good on this!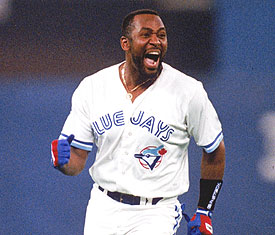 Another thing I remember in the hoopla was a bet between my college classmates in which the loser would have to burn the cap of his favourite team. It was a bet between a Jays fan and an Orioles fan. Of course, it was the O's hat that went up in flames and thankfully the North Bay fire department was not called in to put it out. That's because the winner of the bet, to put it nicely, tried to extinguish it with his own fire hose, so to speak! Anyways, here's hoping the O's also go down in flames this weekend.
I must admit I'm also looking forward to seeing sliced bread being the best thing to happen since Matt Wieters as well as rookie hurlers Chris Tillman and Brian Matusz who are listed as this weekend's probable starters. The missus is hoping she'll get to see her favourite former Jay, Gregg Zaun. And if that's not enough to convince you to get to the ballpark, ex-Jays Cesar Izturis, Mark Hendrickson and Juan Samuel will be there too! You can find all the "deets" here (as the cool kids say!) of what's going down for this reunion weekend.