TSN.ca
, via
Jeff Blair
of the
Globe & Mail
, says the Blue Jays
have interest
in Reds second baseman
Brandon Phillips
. The same story also mentions the Red Sox are interested in Jays shortstop
Marco Scutaro
according to
ESPN.com's Peter Gammons
.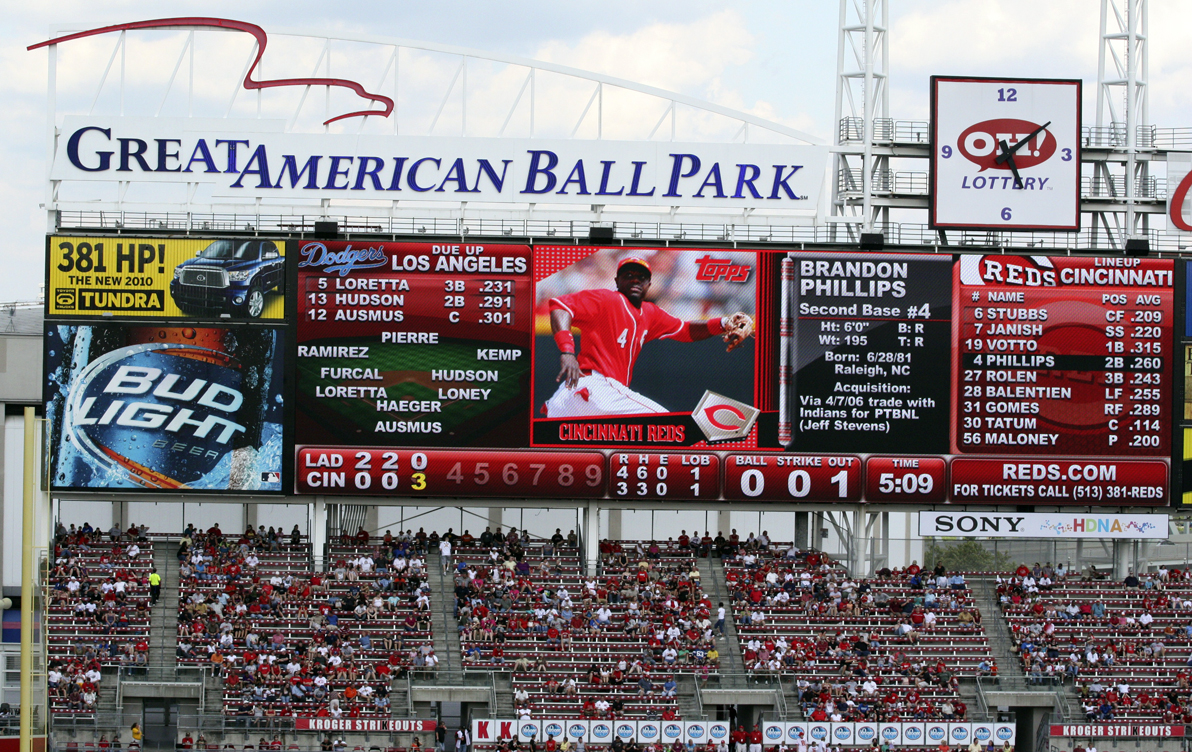 The 28 year-old Phillips batted .276/.329/.447 with 30 doubles, five triples, 20 homers and 98 RBI and stole 25 bases in 34 attempts this season. The 98 runs batted in marked a career high for the right-handed hitting Phillips, who has spent his entire big league career in the state of Ohio. A second round draft pick of the Montreal Expos in 1999, Phillips never made it to La Belle Province as he was traded to Cleveland with Grady Sizemore, Cliff Lee and Lee Stevens in the Bartolo Colon deal. However, Phillips couldn't find his groove in his four seasons with the Tribe. The Raleigh, North Carolina native got most of his playing time in 2003 after he won the second base job in spring training. Phillips had nearly 400 plate appearances but only managed a line of .208/.242/.311 with six homers and 33 runs batted in. The highlight of that season was a walk-off homer to beat Detroit on May 20th but an 0-for-29 skid led to a demotion to AAA Buffalo after the All-Star break.
The 5-11, 185 pound Phillips was dealt to Cincinnati for pitcher Jeff Stevens in April of 2006 and he made an immediate impact by winning player of the week honours in April with a 17 RBI performance. He wound up leading the Reds in hits with 148 and multi-hit games with 36. Coming to Cincinnati was a dream come true for Phillips as he idolized Barry Larkin growing up. The two-sport athlete who turned down a baseball and football scholarship joined Larkin and Eric Davis as the only Reds to enjoy a 30-30 season in 2007. That year, Phillips belted 30 homers and stole 32 bases while hitting .288/.331./485 with 94 RBI. In 2008, Phillips cooled off with the bat by hitting just .261/.312/.442 with 21 homers and 76 RBI but he shone with the glove as he earned Gold Glove honours at the keystone position. He made just seven errors the entire season and went 78 games without making a miscue.
As pointed out in the linked article above, Phillips has two years left to go in his current contract with the Reds that will pay him $19-million dollars. Should the Jays acquire him, he would play third base and displace his former Reds teammate Edwin Encarnacion at the hot corner. Should Brandon Phillips come to Baseball North, he'd join three other players named Phillips in Jays history. Catcher Kyle Phillips got his first taste of the bigs with Toronto this season while his brother Jason played for the Jays in 2006 and 2007. Can you name the other player named Phillips who played for Toronto?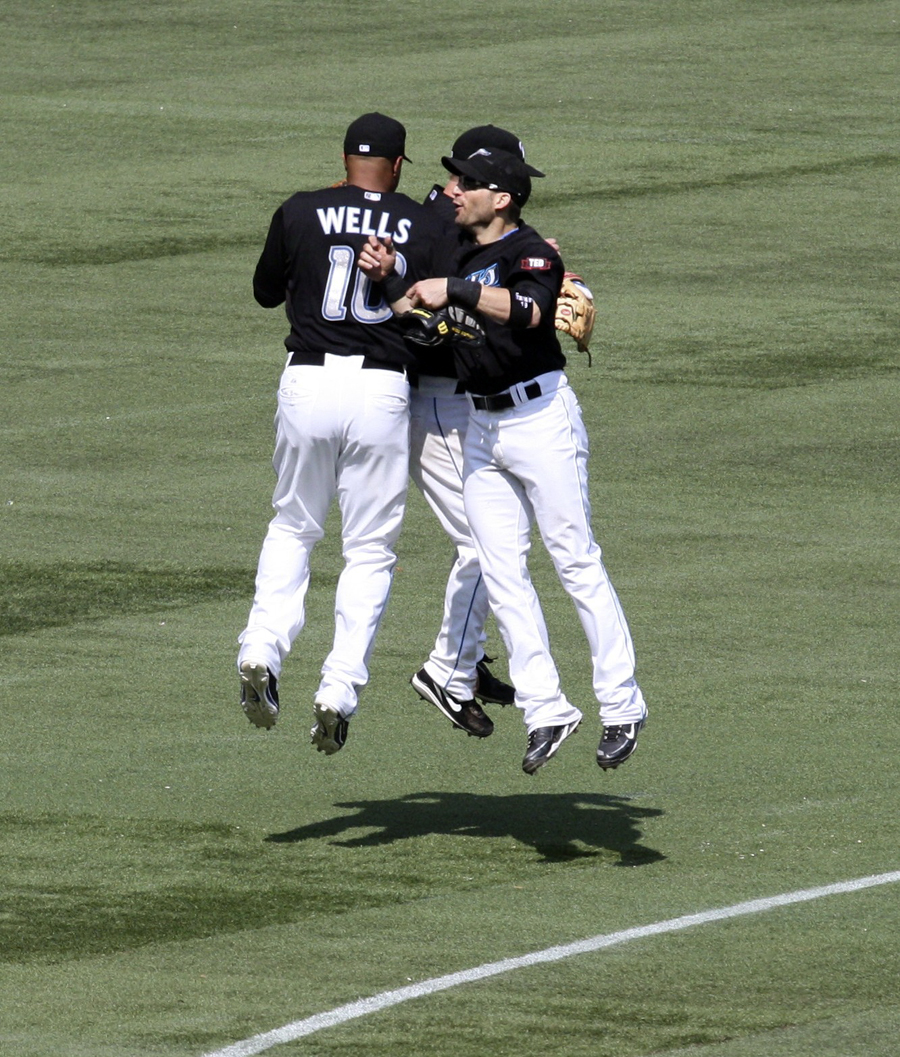 Marco Scutaro, Vernon Wells and Aaron Hill perform their victory leap after a 7-3 win over Baltimore at Rogers Centre August 9th.
---
Meantime, the Boston Red Sox are interested in Jays free-agent shortshop Marco Scutaro. The 34 year-old Venezuelan is coming off a career season in which he hit .282/.379/.409 with 35 doubles, one triple, a dozen homers and 60 runs batted in. He also stole 14 bases in 19 opportunities. However, Scutaro missed a good chunk of September with a heel injury and the fact the he's a Type-A free agent means the Red Sox would have to surrender a first round draft pick to the Jays. The Sox might think it'll be worth it as they acquired Alex Gonzalez from Cincinnati as a stop-gap measure for a struggling Jed Lowrie to end the 2009 campaign. However, Boston declined to pick up the $6-million option on Gonzalez's contract and they intend to keep Lowrie at AAA Pawtucket to start 2010.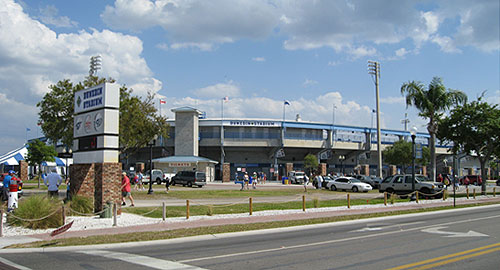 The Blue Jays have released its 2010 Grapefruit League schedule. Their first spring training game is set for March 3rd against Detroit at Dunedin Stadium and their last two games will be played at Minute Maid Park in Houston against the Astros.