Kermit the frog once said "It ain't easy being green" but it's a lot easier today as we celebrate all things Irish on this St. Patrick's Day. We certainly hope the Green Jays have the luck of the Irish not only today against the Orioles but against the rest of the American League in 2010.
Today, let's look at things from a fantasy baseball perspective. USA Today Sports Weekly recently released its Fantasy Baseball issue and came out with its Fantasy Extra update issue today. Three Green Jays made the Top 200 list with Aaron Hill being ranked 51st while Adam Lind and Vernon Wells were rated 64th and 160th respectively.
Which player - Green Jays or otherwise - will have the luck of the Irish and who won't have it this season? If you like, you can throw in an "out of nowhere" prediction like Ryan Howard hitting 74 homers this season but try to make it somewhat realistic.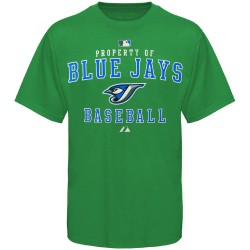 Erin Go Bragh! By the way, it's not a coincidence that this post comes up at 3:17 today! Always thinking!! :D
I'm not involved in any fantasy leagues but here are my picks for what they're worth (translation - not much! Like my Jerry Schunk rookie card!). I see Shaun Marcum winning 15 games while keeping his ERA below 4.00 and Vernon Wells bouncing back with a .285/.355/.465 season with 20 homers and 90 runs batted in. I'm not nearly as confident about Lyle Overbay or Brian Tallet having great seasons. For the American League, I like Grady Sizemore and David Price to have a better year but I think Ben Zobrist and Jake Peavy will struggle. In the National League, Rickie Weeks and Cole Hamels should bounce back but Mark Reynolds and Chris Coghlan take a step back. My "out of nowhere" prediction is Roy Halladay winning 30 games for his first NL Cy Young award.
The floor is yours, Bauxites! Happy St. Patrick's Day and please don't drink and drive - EVER!!
---
UPDATE March 17 @ 4:00 pm: The Green Jays beat the Orioles 4-1 to cap off a nearly perfect St. Patrick's Day in Sarasota this afternoon. Former Green Jay Cesar Izturis led off the Oriole first with a single against lefty Brian Tallet but "Wolverine" was perfect the rest of the way by delivering four shutout innings with six groundouts and three strikeouts. Shawn Camp had a perfect fifth inning with a punchout while Scott Downs and Kevin Gregg also pitched a scoreless frame each with a walk and a strikeout each. Jason Frasor worked a clean eighth with a pair of ground ball outs but the shutout was broken in the ninth as the luck of the Irish graced the Orioles. Merkin Valdez walked Pedro Florimon Jr. and he came around to score when second baseman Brad Emaus had his legs cut out from underneath him by shortstop Ryan Goins while trying to catch a two-out infield fly off the bat off Miguel Abreu. Florimon Jr. came around to score while Abreu was credited with an RBI single. However, Emaus stayed in the game and Valdez bounced back by striking out Adam Donachie to end the game.
Offensively, the Green Jays put this one away with a three-run third inning and a run in the fifth thanks to Travis Snider's first big fly of the exhibition season. Snider had a 2-for-3 day at the dish to push his batting average up to .250. Alex Gonzalez and Brad Emaus had two hits apiece with Emaus adding an RBI and upping his batting average to .367. El Duderino, Chris "The Big" Lubanski, had the only other extra base hit for the Green Jays and also drew a walk. Other hits were provided by the .467 hitting Randy Ruiz (who also walked), Raul Chavez, Jeremy Reed and Joey Gathright. Reed is hitting .385 which is 203 batting points better than Gathright in the battle to earn a backup outfield spot. Brian Dopirak was hitless but did collect an RBI on a sacrifice fly.
Your winner - Brian Tallet (2-0, 6.00 ERA). Your loser - Jason Berken (0-1, 4.15 ERA). The Green Jays improve to 7-5 and have a half-game lead over Kansas City for the Spring Training wild card while trailing Tampa Bay in the East by 2 1/2 games. Baltimore falls to 5-9. The Jays face the O's again tomorrow at 1:05 post meridian time Eastern in Dunedin.