It's that time of year again... the time when I discover Da Box readers are way smarter than me so what am I doing writing anything.
Take a look at the
original thread
if you want to see your pre-season predictions.
First, a review of the methodology: the difference between your prediction and the team's actual win total (whether lower or higher) is calculated, and this is averaged across all 30 teams. A score of 7 means, on average, your predictions were off by 7 wins.
2010 was markedly easier than 2009 to predict - last year's winner,
electric carrot
, took home the gold with a score of 7.33 average deviation, a score which looks downright pedestrian this year. Every year has its surprises, and 2010 was no exception, with the Padres and Mariners in particular confounding readers and writers of Da Box, but on the whole more teams played somewhere close to their pre-season expectation.
Before getting to the results (as if you haven't already scrolled down), let's look at how Da Box thought things would go compared to what actually happened.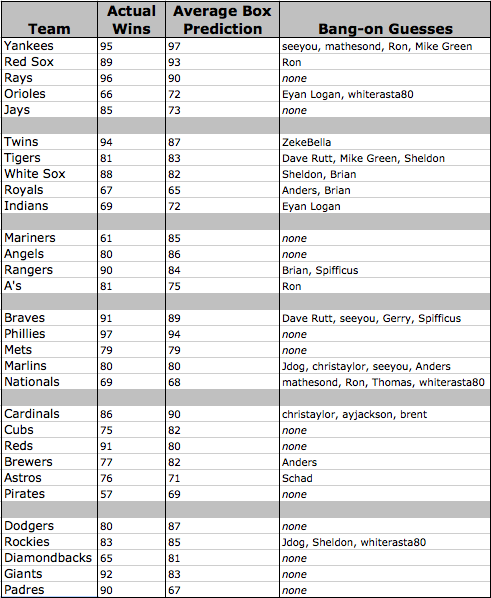 Some Analysis


AL East
- one of the easiest divisions to predict... except for the good guys. Congrats to
92-93
, the most optimistic among Bauxites, who was still not quite optimistic enough, pegging the Jays for 84 wins.

AL Central
- another fairly easy division. The Twins and Sox were a little better than we expected, but we still correctly predicted the Twins to win the division.

AL West
- Bauxites didn't really know what to do with this one, predicting the Angels, Rangers and Mariners to be in a three-way dogfight for the division. As it turned out, none of the three teams were within
ten games
of each other, with the Rangers beating our projections, and the Angels (slightly) and Mariners (a freaking ton) under-performing.
NL East
- Wow, did we ever ace the NL East, nailing each team within three games of their end result. Bizarrely, even though Da Box predicted the Mets' 79 wins exactly, no individual Bauxite got them right.

NL Central
- Most of us missed the boat on Cincinnati, but congrats to
ZekeBella
who was the only contestant to peg the Reds as division champs, and overshot their win total by just one. Speaking of missing boats, the Pirates have been bad for a long time, but they continue to amaze us with their suckitude.

NL West
- By far our worst division. Obviously the Padres were a huge surprise, winning 23 more games than we thought, and we weren't particularly close on Arizona, San Fran or LA either.
Special congratulations to
Ron
, who nabs the award for most bang-on guesses with four (Yankees, Red Sox, Athletics, Nationals). Somehow, Ron has won this award two years in a row despite finishing in the bottom half in the standings in both years.
Okay, okay, on to the results. Drumroll please!
Congratulations
Jdog
! I hereby crown you champion of the second annual Batter's Box Record Prediction Contest.
Mike Green
took home the silver, while
ayjackson
and roster champion
Thomas
tied for third. Next was last year's champ,
electric carrot
, putting in another strong showing.
Vegaswatch usually analyzes major projection systems along similar lines, and when that analysis appears we'll re-visit these results and see how Da Box stacks up to the experts (we did very well last year).