The first manager in Toronto Blue Jays history has passed away at his Atlanta-area home. He was 85.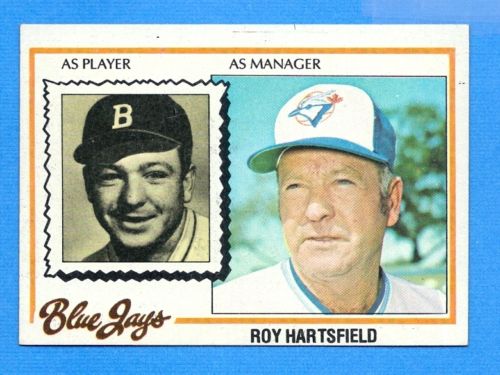 Roy Hartsfield's 1978 baseball card capturing his time as a Boston Braves player and Blue Jays manager.
It was a dirty job but somebody had to do it. Somebody had to manage the expansion Blue Jays in 1977. That man was Roy Hartsfield. Though the Jays posted a record of 166-318 during his three-year tenure, there were some highlights along the way. There was the Jays 9-5 victory over the Chicago White Sox on Opening Day in the snow at Exhibition Stadium. Later in 1977, the Jays hammered the New York Yankees 19-3 in the Bronx and they drilled the Baltimore Orioles 24-10 in 1978 at the Ex. Hartsfield also oversaw the development of shortstop Alfredo Griffin, who was the co-winner of the American League's Rookie of the Year award in 1979. Dave Stieb also began his career that season and became the winningest pitcher in franchise history.
Condolences to Roy Hartsfield, his family and his friends.