With two weeks to go to pitchers and catchers reporting we need some baseball to satisfy our needs until the 2011 season gets underway. So in that light I have some video, some pictures and some notes to divert your attention until things really get going.
First the notes. I touched base with a few of my Blue Jay front office connections this week and here are a few of the things I heard:
At the Toronto mini-camp Travis D'Arnaud showed some impressive power and peppered Windows restaurant. When D'Arnaud was injured last season he was able to hit the weight room, both as part of his recovery and for development. His added power showed in mini-camp; the hotel patio just over the left-centre wall in New Hampshire might be a dangerous place to be this summer
Although Moises Sierra missed almost all of last season the team would still like to see him earn a spot in AA. Sierra didn't play much in winter ball but that was because there were better players ahead of him
The club doesn't know what to expect of Scott Campbell after his year and a half layoff so they don't know where he would be likely to play
Aaron Sanchez has a reasonable chance to make a full season team, I believe the actual phrasing was that his chances are better than a long shot. The Jays aren't ruling it out but they will see how he looks, and how the other pitchers look, in spring training
There will be another mini-camp for prospects in late February. This mini-camp is for younger players who were just drafted or recently-arrived latin players
Adonis Cardona will pitch in North America in 2011. He will likely be heading to one of the short-season teams
Santiago Nessy will also play in North America this year, also likely for a short-season team
Other than the high 2011 pitching draft picks (Sanchez; Syndergaard; Murphy and Nicolino) Myles Jaye (17th round) looked good in the instructional league
Asher Wojciechowski pitched well at the end of instructs and appears fully recovered from his shoulder injury
As most of you know Sam Dyson will miss all of 2011 recovering from Tommy John surgery
David Cooper is likely headed to AAA with the loss of Brian Dopirak
The Las Vegas 51's are working on their infield to try and make it a better playing experience. However the hot, dry air makes it tough to keep it lush
Video
I have previously posted links to my videos that you can download from here. However to try and be more accessible I have uploaded some of them to Vimeo. You can see them here.
Pictures
Here are a few random pics from 2010.
David Cooper could be heading to Las Vegas. His numbers did get better in the second half of last season.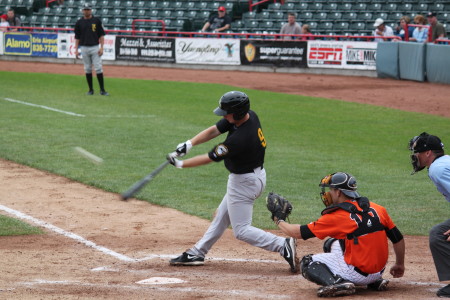 Santiago Nessy will be in North America this season, could he be in Vancouver?
Michael Crouse, KC Hobson and Jake Marisnick, all pictured here, will be back in Lansing.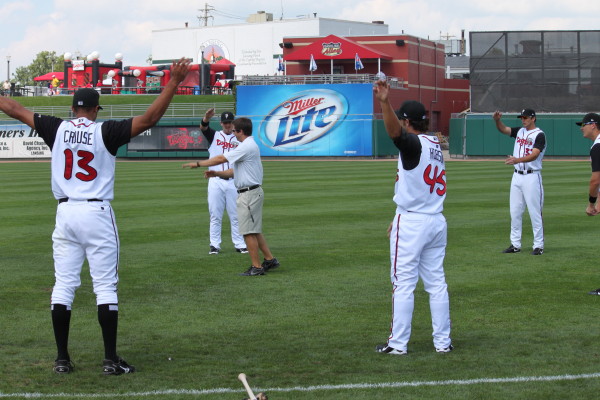 A Gump sighting!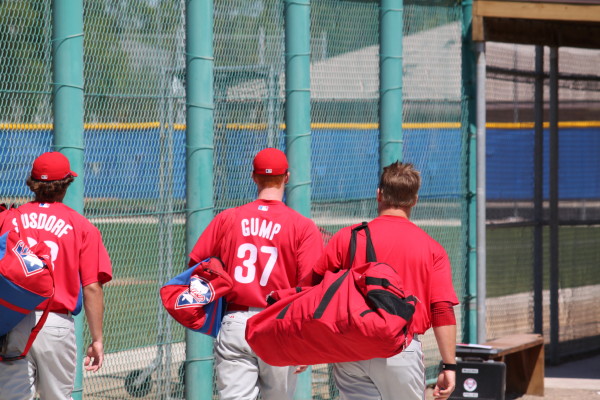 Luis Rivera meets his new team and lays out the rules and expectations.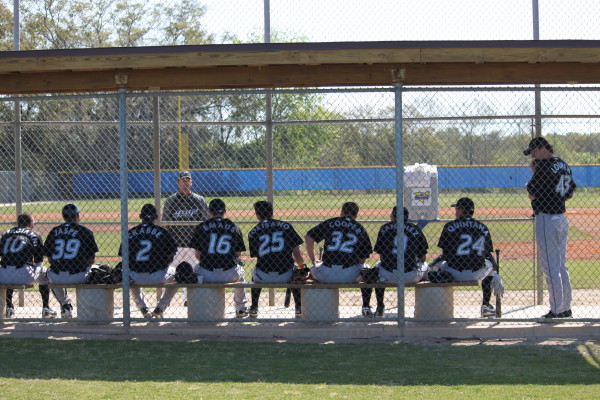 Another fan of the Blue Jays.