Vince Horsman is the pitching coach for the Lansing Lugnuts. In 2010 Horsman was the pitching coach for the Auburn Doubledays and many Doubledays are now Lugnuts. Horsman is one of few professional baseball players who hail from Nova Scotia. Horsman was originally signed by the Jays in 1984 and played in the Jays system before being called up to the major leagues in 1991. Horsman went on to pitch for Oakland and Minnesota in the major leagues as well. I spoke with Horsman last week while I was in Lansing.
BB: Let's start with tonight's starter Drew Hutchison. You coached him last season, is he the same pitcher as last year?
VH: No, Drew is a lot more of a physical presence out there compared with last year. He is maturing as a young man and what we can expect from him tonight, if he is on top of his game, is he is going to have his fastball anywhere from 91-93 with some good sinking action and then he has his slider and a change-up that on any given night are average to above-average major league pitches. When he puts it all together he is fun to watch.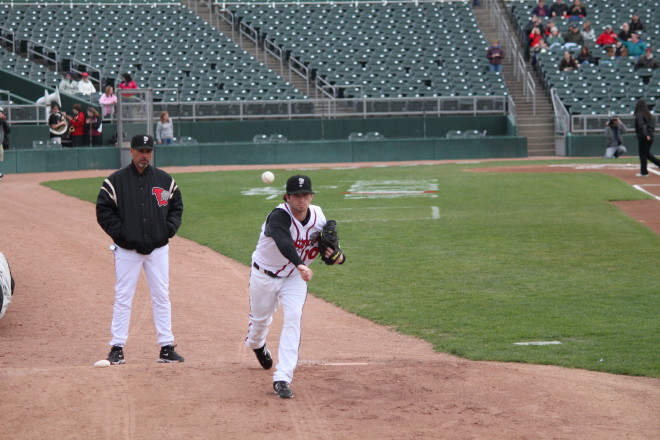 BB: Last night's pitcher, Misaul Diaz, looked to have trouble with his fastball command and staying consistent. Is that his problem this year?
VH: Yes. So far this year, unlike last year where he was pretty consistent down (in the zone), he is fighting himself a little bit. There are a couple of things going on mechanically that we are trying to strighten up so he can get over the ball. I think with Misaul it's been the cold weather. Here is a kid from the Dominican that is not used to throwing baseballs in 35 or 38 degree weather. Even though last night was a nice night I think we need to get him into some warm weather that will get him loose and I expect him to be better.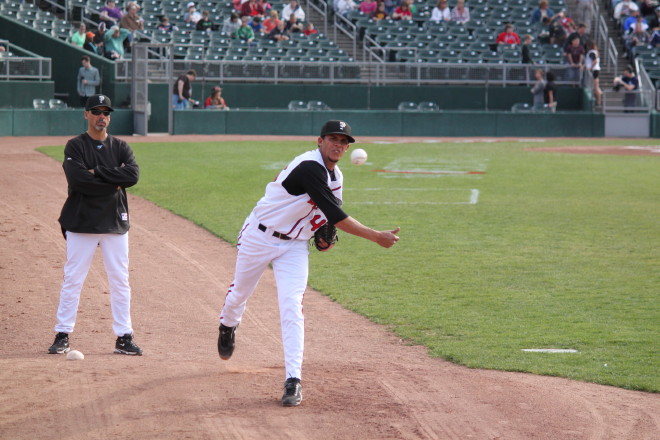 BB: Is that slinging action typical or is that what you are trying to fix?
VH: No, that's what we are trying to fix, his (arm) slot is getting a little low and that gets him under the ball a little bit, unlike last year where he had a real nice season. And pitchers go through things like that, just like hitters do, and it's just about hammering home the good habits and what we are trying to do and he is trying to do and get the repititions in so he can be more consistent.
BB: Sean Nolin has only pitched a couple of times up here, but last year you only saw him pitch a couple of times too. First, is there a lot less Sean there than last season?
VH: There is a lot less Sean there, I think he lost a five year old. And that's a testament to the kid. He knew when he came to Auburn last year he wasn't in the best of shape and it started in instructional ball, he started doing the things that were necessary for him and it carried through to the off-season and he showed up to spring training and it was a different kid. And stuff wise it reflects that, he has gained on his fastball, his pitches are sharper, a lot crisper, and it's a testament to him, he worked hard in the off-season to get in this position.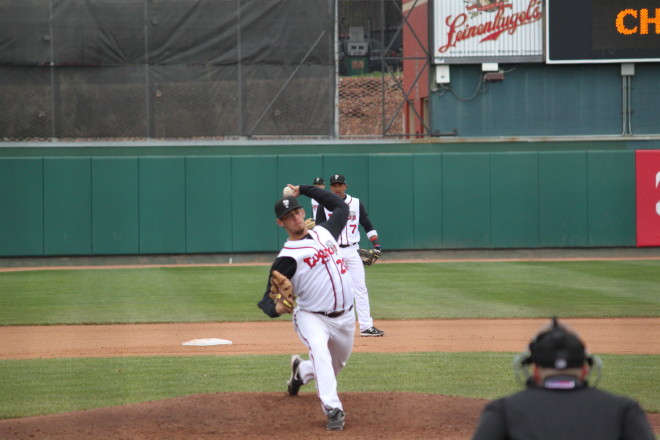 BB: How hard does he throw?
VH: He topped out at 94 last time out, last season I don't think I saw him above 88. Obviously getting in shape has helped him out on the mound.
BB: Egan Smith is pitching tomorrow. You had him some of last season, what is he doing this year that makes him successful?
VH: We keep hammering home where he needs to be to get his outs. He is a ground ball guy, sinker, change-up, and he has been working on a slider. That's showing a lot of progress, we introduced it to him last year and he is picking up on it. He has been doing what it takes to get better and so far this season, each and every start, he has got better.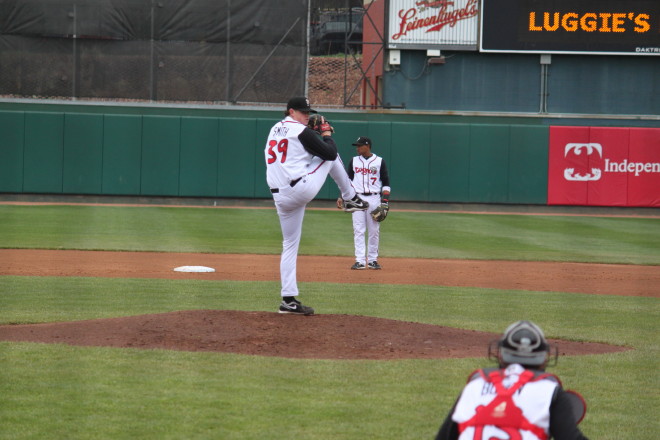 BB: Daniel Webb, is he your hardest thrower?
VH: He can be. Right now we are getting Danny to command the baseball and he has done a better job over his last three starts. I know the numbers won't reflect it but that's not an indication of how he is throwing. His last start he gave up six runs but only two balls were hit hard off him, a few balls found the holes but he gutted it out. For him it's all about the development, he is improving every time out there.
BB: So is he backing off for better command or to get more movement?
VH: No, it's not that he is backing off, we are doing some things with his mechanics and his velocity is only down a little bit, it's not down a whole bunch. And once the weather starts warming upI think it will come back too. But first we have to deal with command, then we can get to velocity. It's nice knowing that it's there but once he gets comfortable we will see it there.
BB: Finally Casey Lawrence, another pitcher who you had last year. He is mixing his pitches and keeping the hitters off balance.
VH: Casey doesn't wow you might his stuff, not that his stuff isn't good but his command is above average. He is a very cerebral guy and when he is executing his pitches it is a lot of quick outs and a lot of balls hit weakly on the ground or laxy fly balls. He has done a good job this year commanding the lower part of the strike zone. He is a low maintenance kid, he knows what he wants to do out there, he knows how he has to do it.
BB: Does he have one out, or go-to, pitch in a tough situation?
VH: His out pitch is his command. He is a guy who forces contact. He is not going to get beat by walking you, you are going to have to hit him. He can spot a fastball or get you out in front of a change-up.
--------------------------------------------------------------------
Batters Box thanks Vince Horsman for his time.
Finally I asked you to guess the player earlier in the week. Here is a better picture for you to figure out the player.