Darold Knowles played in sixteen major league seasons primarily as a relief pitcher. He recorded 143 saves in 765 career games. According to his wikipedia page "Knowles was known as a workhorse relief pitcher, particularly in his years with Oakland, and his pickoff rate of one runner every 24 innings is the highest in major league history. In the 1973 World Series, Knowles appeared in all seven games against the New York Mets. He was the first pitcher to appear in all seven games of a World Series."
Today Knowles is the pitching coach for the Dunedin Blue Jays. I caught up with him last week to talk about his starting pitchers.
BB: Let's start with Chad Jenkins. You had him there in Dunedin last season, are you seeing much improvement in him versus last year?
DK: Oh absolutely, I see a lot of improvement. His slider has gotten remarkably better and his sinker has maintained pretty well and now he has come up with a pretty good changeup. That's a good combination of the three. we are allowing him to throw up to 100 pitches now when he goes out there so he is able to go deep in the games. He doesn't have one pitch that jumps out at you but its the combination of the three that makes him effective. He has been trmendous here, I know he started off 0-4 but he could have easily won three of those games, we just couldn't score any runs. he has advanced and it's not my call but he probably could go higher but I don't think there is room in AA but he has done extremely well.
BB: Jenkins doesn't have a lot of strikeouts but I assume with a sinker, slider guy you are not looking for him to have a lot of strikeouts.
DK: No, he is a contact guy and one thing that has got better is the fact that he does pitch to contact and that allows him to go deeper in games. With 100 pitches he is always in the seventh or eighth inning. That's something that takes a little while to learn but he has accepted the fact that's the way he should pitch, that he is a sinker ball guy and he shouldn't worry about strikeouts.
BB: Deck McGuire is new to pitching professionally. He came in with four pitches, is he throwing them all, which are working best for him right now?
DK: Deck came in with four pitches, the fastball, curveball, slider and change. He is primarily a fastball, slider guy who mixes in his change-up. His curveball I guess was very effective in college and it has not proven to be quiet as effective in pro ball. It's good if he uses it correctly, get it over the plate to start a guy off or something like that. It has not been a put-away pitch for him as much as the slider has. I think he is going to be more of a contact guy like Jenkins and use those pitches like the change-up and the slider and the occasional curve. For a young guy, in his first full year, Deck has done very well, he is probably more of a fly ball pitcher than a guy like Jenkins but that's all right as long as he gets people out and takes the sting out of the bats.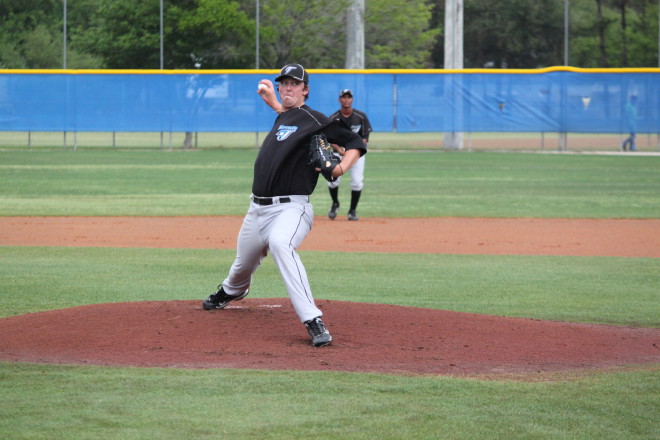 BB: How hard does he throw his fastball typically?
DK: Deck pitches typically at 89-90, he can get it up to 91-92. I know in college he threw a little bit harder but he is finding that you get more worn down but that will probably come back once he gets comfortable.. He is a good guy, works hard, he is a pleasure to have around.
BB: Another new guy is Asher Wojceichowski. He was more of a fastball, slider guy coming in, has he been able to work on his slider much?
DK: Asher was a power pitcher in college, a maximum effort guy. He is staying much more in control of himself on the mound now and I think his change-up has gotten remarkably better, it's verry very good actually as long as he doesn't overthrow it and relaxes. It's one of those learning things. Even though he is a colleg guy and is 22 years old out of the Citadel he is still learning himself. He is getting better all the time and that's why they are here and Asher had an outstanding game his last start, seven shutout innings, we are very pleased with his progress.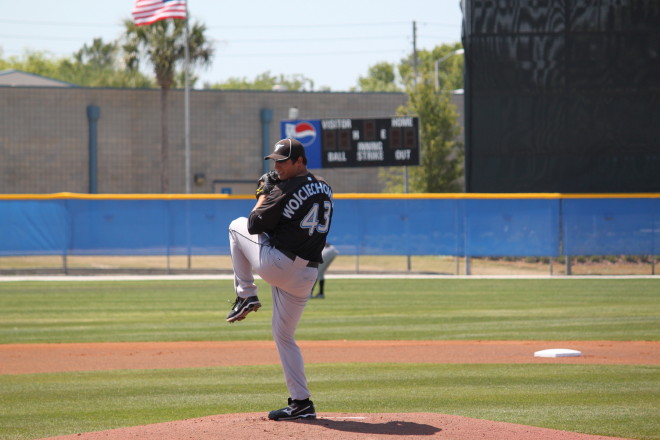 BB: I noticed lefties are hitting him a little bit harder. Is that why he is working in his change-up, to give an alternative to the slider to lefties?
DK: Dane Johnson and I are working on tightening up his slider so it will be more effective against left-handers. And he has gone from a one finger slider to a two finger slider and it's really improving. I think when he gets that, when he can run that down and in on left-handers, it will be a lot more effective. Again it's a learning thing and he is trying to learn how to do it.
BB: Nestor Molina has been pitching really well, mixing his pitches with excellent command. Molina has been racking up the strikeouts, what is his go to pitch for a K?
DK: His strikeout pitch is an outstanding splitter. I would love to be able to say I thought him this thing but I didn't. When he gets ahead he has great command, throws 91-92, when he gets two strikes on you he can throw that splitter and that's how he is getting those strikeouts. He has been outstanding all year. His bad games are very good. We are holding him down pitch count wise, he is young, he hasn't pitched that much, he is a converted infielder, but he ismoving rapidly, he is going to be a good one.
BB: Finally Ryan Tepera who probably had his best start of the year yesterday. He is another sinker, slider guy.
DK: Yes, sinker, slider, change-up. His change-up wasn't quite as good yesterday but he pitched in the zone better. His ball has great life, he is finally starting to believe in himself, believe in his pitches. He kefp the ball down well yesterday, he had a real good slider. He threw seven shutout innings last night and at times his slider has been real good, last night it was probably the worst of the three but it was good enough to keep guys off balance. He is getting better as well. You know it sounds like we have five great starters, they have their on nights and their off nights but as long as they are getting better, that's what we are trying to achieve.
---------------------------------------------------------
Batters Box thanks Darold Knowles for his time.