Doug Davis, the Blue Jays minor league field coordinator, answered some questions for me over the weekend.  Davis was on his way to Florida to get the short season teams ready for the season.  In addition to the specific questions below I asked about where the young guys, drafted last year, would be heading.  Davis wouldn't specifically answer but he did say that the Jays added the extra team in Bluefield for the younger players.  Vancouver, like Auburn, is closer in level to Lansing and is a college heavy league.  In my opinion you might see one or two of the young pitchers headed for Vancouver but I would guess hitters like Sweeney and Hawkins will go to Bluefield.
BB: How is Travis Snider doing in Las Vegas?  His new swing is taking some time to show results, is it a major re-work of his swing?
DD: It's not a major re-work of his swing, it's trying to get him back to where we have seen him in the past and to where he has had the most success.  Over the past few years there have been some things done to his swing that got him into the position he was in a month ago.  It's not the easiest fix in the world, it's not a case of lets go to AAA, fix it quick and everything will be fine.  Some of these changes worked their way into his swing over time and now it's going to take time to work them back out.
I was in there a couple of weeks ago and I saw some improvement, it comes and goes right now.  You work on things in the cage and then you get into a game and the bad habits creep back in there.  He is making some headway and he will get there.  The best thing right now is that it is not a rush.
BB: Another outfielder there is Adam Loewen.  What does he need to do to play in the major leagues?
DD: Just continue to do what he is doing.  I think Adam is an interesting guy, he is such an athletic player, he has a lot of ability and the results are becoming good at that level.  From an offensive standpoint he is becoming a very dangerous hitter and he is believing he can be that.  I think for him (to get to the majors) it's the whole package, it's him being able to do the things at both sides of the ball that are required at that major league level.  He is learning to do those things at this level where the game is faster than what he has seen in the past and he is catching up in a hurry.  His at-bats have been very good and he has gotten progessively better as the year has gone on and he has gotten better in the outfield.  It's just a matter of time for Adam and if you look at what he has done over the last two months, especially offensively, he has been very good.
BB: When we saw Brad Mills in Toronto he was a fly-ball pitcher who pitched up in the zone.  Is he the same this year?
DD: I think early on in the first part of the season he has been more of a swing and miss type pitcher.  I think his deception has gotten better, I think he has been better able to use his change-up, the command of his fastball has gotten better.  At times he does pitch up but he also been able to sink the ball and get it down in the strike zone which has improved his deception which has allowed him to get some swings and misses with his fastball and not just with his change-up and curveball.  Command wise has been the biggest thing for me, with all his pitches, and that's the biggest reason he has done as well as he has.  He has a major league curveball and a major league change-up.  Velocity-wise on his fastball he is not going to thrill you with his gun readings but because of the off-speed pitches, and the command he has with those pitches, it has made his fastball more effective.
BB: I hear Chad Jenkins is heading for AA, is that because he has been a year in Dunedin and done everything you asked of him there?
DD: Yes but this was just the plan we had for him, we wanted to give him a half year in Dunedin.  He has had some very good starts there.  We have seen some improvement in his command and in the sinking action on his fastball.  Right now is just the right time.
BB: Has Adeiny Hechavarria's hitting progressed since last year?
DD: It has for me, yes.  For me Adeiny and Brett Lawrie are very similar.  Not necessarily as hitters but in their approach and in the mental part of the game.  They are both very athletic players and they truly believe they can hit everything they swing at.  I think they have both done a good job, Brett probably more so, in shrinking their strike zones a little bit.  That's Adeiny's only issue for me at this point in time, he does chase some borderline pitches and I think it's just because he thinks he can hit them.  That's a part of the game he is continuing to work on.  He hits the ball very hard to all fields.  His consistency in making solid contact to all fields is great, he has hit into a lot of bad luck this season.  Obviously at this time he is not a big power threat but he is a gap to gap guy, he uses the whole field and he is more of a doubles than triples hitter at this point in time.  A lot of the line drives he hits get caught, and get caught in the infield.  From my perspective he is coming along and doing everything we ask of him at this point.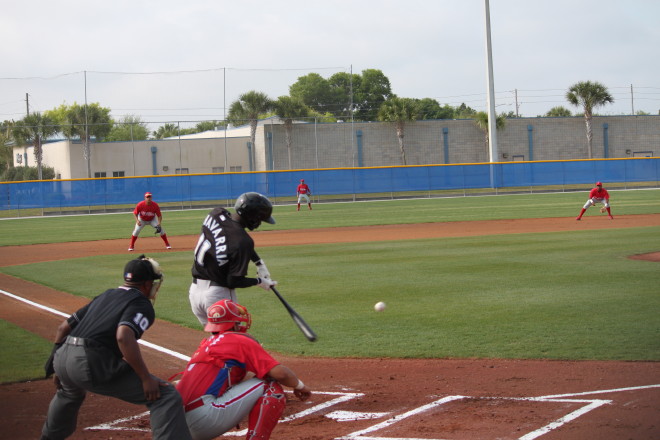 BB: Zach Stewart has been in AA for a while, are you worried he is getting frustrated staying at AA?
DD: I talked with him the other day and I didn't get that feeling from him.  I think he understands why he is there, we have made that clear, I think he understands that.  I just watched him throw his last outing and for me the numbers and scores don't represent the whole story.  I saw him pitch very well the other night.  I saw him give up some hits, he gave up five runs, but he had only four hard hit balls off him all night.  I am not worried about him at all, he is going to pitch in the big leagues for us.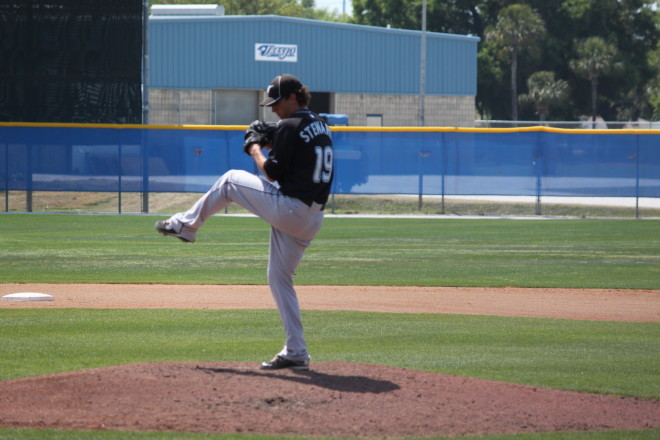 BB: Did you see Joel Carreno pitch?
DD: I did, not this latest start but he one before.  The month Joel just had was unbelievable.  Joel has swing and miss type stuff, his command has gotten better, both with his fastball and his slider.  He has tremendous feel with that slider, he gets so many swings and misses with that pitch.  Even balls put in play against that slider are typically not hit very hard.  I think he was shocked by the weather conditions (in April), I don't think he ever experienced anything like that before.  May started to heat up for him and he became more comfortable with his surroundings, he has been terrific.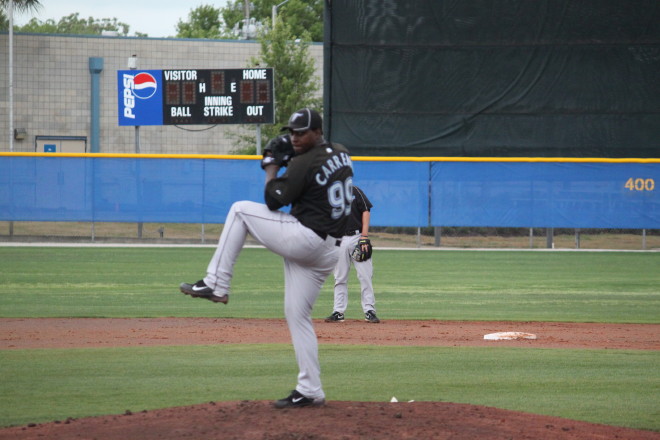 BB: I notice he has a lot of wild pitches, I assume that's the break on the slider.
DD: No question, he is not the easiest guy to catch.  He has the ability to throw his slider a couple of different ways depending on who he is pitching to and the game situation.  He tends to bounce some breaking balls in the dirt and that leads to the wild pitches.
BB: Justin Jackson is having a great season so far, is that just maturity?
DD: I think he is maturing and he is a lot more confident in himself and his abilities.  It has always been there, it has taken some time.  He got off to a difficult start in the levels he has been at but he is back in the Florida State League where he been for a few years and now he is confident at that level and knows he can compete there.  We are moving him around and giving him the chance to play different positions and I think that is keeping him fresh and his mind off focusing on one position.  His athleticism has shown up, probably more in the outfield than in the infield, and his arm strength has too.  He is starting to drive the ball more and we have seen that in games.
BB: Carlos Perez started strongly in cold April but as the weather has warmed up he has cooled off.  Is there anything behind that?
DD: A lot of it has to do with him catching every day.  This is his first year on a full season club with him catching every day.  Last year he was in extended spring and thats more controlled, there is less activity both on the field and off the field.  I think this year he is finding out what it is like to be an everyday catcher.  I think that's the biggest factor.  A lot of times hitting in the eighth or ninth inning after catching a few days in a row is tough.  So I am not concerned about the batting average whatsoever.  He is taking the same swings, he has the same approach, I think fatigue is why his average is what it is.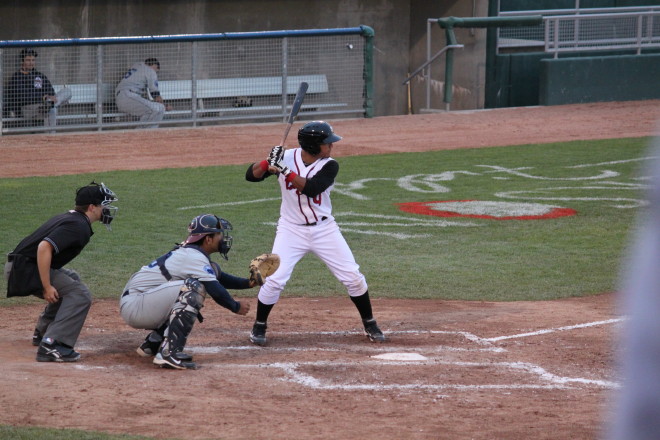 -----------------------------------------
Batters Box thanks Doug Davis for his time.