Mike McDade is part of the outstanding New Hampshire Fisher Cats squad. McDade is playing very well for a 22 year old in AA, he has 36 extra base hits, including 11 home runs, and his defense is reportedly the best of any first baseman within the Jays system. I spoke with McDade a week ago in Erie.
BB: I wanted to talk with about development, you were sent to lansing for your first full season at age 18/19. How tough was that?
MM: It was tough, I was there for parts of two years but it was tough to develop as a player, just to learn the game, how fast the game is. I also had to learn first base, I had been a catcher in high school. I was trying to develop as quick as I can, try to learn everything about baseball, and get comfortable so I could just worry about playing the game.
BB: So things started taking off for you your second year in Lansing, was that just a case of getting experience?
MM: Being there the first year I learned a lot from older guys that were up there, then I was sent down to Auburn in the NYPL and I learned from guys there. The second year was so much easier because I had a better feel for the whole level, I had the same coaches as the year before so I had a better understanding of what they expect. Being with Justin Mashore we just worked on the hitting aspect of the game, mental, physical, everything. It helped me tremendously to be sent back there and doing it again.
BB: Last year in Dunedin seemed to be a real break-out year for you, was that just more experience?
MM: Learning the game, going to high A is different from low A, especially weather wise, the heat, humidity, trying to deal with that. It was another year to work with Mash again (Mashore) and Clayton (McCullogh) on defense. Clayton helped me a lot at first base and just getting in there and playing every day was a big thing.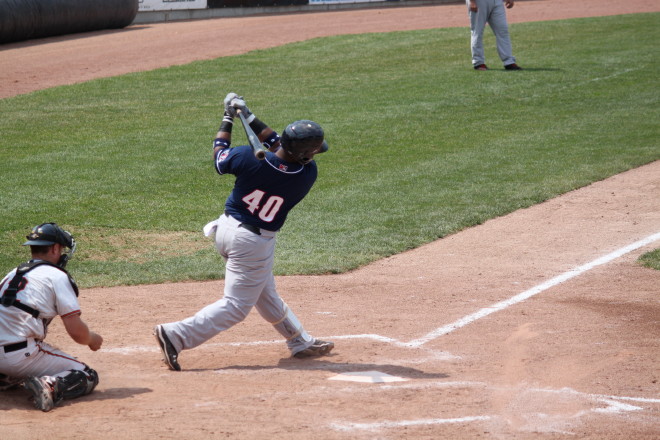 BB: Were you surprised to get called to the Arizona Fall League last year?
MM: Yes I was, I didn't really have any idea I was going to go there.
BB: It must have been a great experience for you.
MM: It was phenomenal, it was a great experience, I loved playing out there, we had a great group of guys on our team, I just learned a lot from everybody.
BB: So you are back in the cold Northeast again this year, was the cold spring tough or were you used to it from Lansing?
MM: It was no big deal, going through Lansing two years in a row gets you ready for that. It's tough coming from Florida where it's 80 degrees to up here where it's 35-40 at night, playing in freezing rain. It was tough but you just have to adjust to it.
BB: You are a lot slimmer now than you were when I saw you in Lansing, how much weight have you lost?
MM: In the last three years I probably lost 25 to 30 pounds, in the off season I work hard to stay a little slender. Then working during the season to try and get through the whole season without getting tired and finish the season strong. That's where you try and get to in the off season, get in shape for the whole season.
BB: How tough is it to stay in form as a switch-hitter and get in enough practice from both sides of the plate compared to the guys doing it from just one side?
MM: It is tough, both sides are two different people. One side is going to feel better than the other side, you just have to try and stay up with it. You try and take more hacks on the side that's not doing well, and the side that is doing well you have to take some hacks to just keep the feeling so it is tough but I enjoy it.
BB: How is it hitting in New Hampshire, you have the shortish wall in right and the hotel in left?
MM: Yes it is nice, I haven't had the chance to get near to the hotel. Moises Sierra hit the hotel about a week ago and I don't think I ever saw a ball hit that hard, ever. But it's nice playing there.
------------------------------------------------------------------------------
Batters Box thanks Mike McDade for his time.