The Toronto Blue Jays have taken 28 year-old righthander Jesse Chavez†off the waiver wire†from the Kansas City Royals.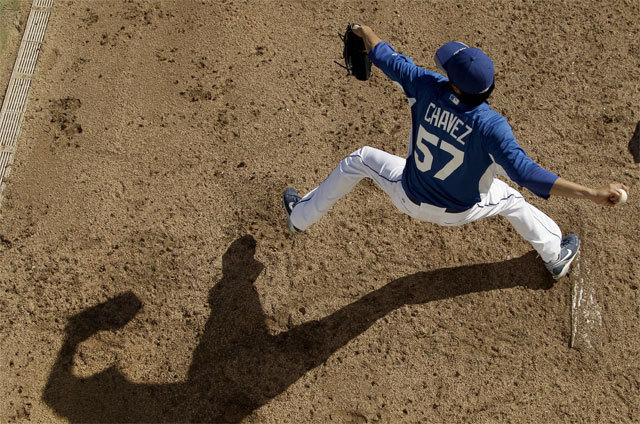 Jesse Chavez has pitched for three major league clubs and drafted by two others.
Chavez was a 42nd round selection by the Texas Rangers in the 2002 amateur draft out of Riverside Community College.†††His stay in the Rangers organization ended at the July 31 trade deadline in 2006 as he was dealt to Pittsburgh for fellow righty Kip Wells.†
In 2008, Chavez made his major league debut with the Bucs August 27 and struck out a batter in a perfect inning against the Cubs - the team he was first drafted by in 1999 when he went in the 39th round after his high school career in Fontana, California.† He struck out 16 batters in 15 innings but was 0-1 with a 6.60 ERA and a 1.93 WHIP.† The Victorville, California native†made 73 appearances in relief in 2009 with the Pirates and finished with a 1-4 record with a 4.01 ERA.† His K/9 rate dipped to 6.3 but he cut his walk rate by 2 1/2 to 2.9 per nine innings.† He finished 24 games and earned 15 holds.† However, Chavez changed addresses twice in the off-season by being traded to Tampa Bay for second baseman Akinori Iwamura in November before being flipped to Atlanta in December for fellow reliever Rafael Soriano.
The 6-foot-2, 170 pound pitcher won three of five decisions with the Braves in 2010 but had an ERA of 5.89 despite better command with a 29-12 K/BB ratio in 36 2/3 innings.† However, he gave up six homers among his 40 hits allowed.† He was again dealt at the trade deadline July 31 to Kansas City with former Jays minor league lefty Tim Collins and infielder Gregor Blanco in exchange for outfielder Rick Ankiel and reliever Kyle Farnsworth.† As a Royal, Chavez went 2-3 and lowered his ERA by a whole 0.01 from his time with Atlanta.† His command suffered as he struck out 16 and walked 11 in 26 innings.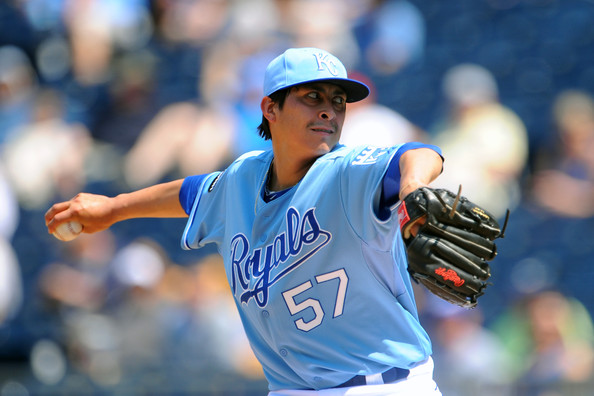 The 2011 season saw Chavez spend most of his time as a Storm Chaser in Omaha.† He saved 16 games with the Royals Triple-A club and struck out 54 batters while walking just 16 in 57 2/3 innings.† He posted a 2-4 record with a 3.75 ERA.† He was called up by Kansas City for one game†in June and made three more appearances in September.† However, he had just one scoreless outing for the Royals as he gave up two, three and four runs in his other three games, leading to a 10.57 ERA in 7 2/3 innings.† He struck out eight but issued five walks and surrendered three home runs.
According to FanGraphs, Chavez throws a fastball around 93-94 MPH with a slider†around 87 MPH.††He relied less on†a changeup around 85 MPH with the Royals this year as compared to his time†with the Pirates and Braves.††† He also threw the odd curve this season around 75†MPH.†
Chavez will be expected to compete for a job in the Jays bullpen in 2012 or at the very least, add depth at the Triple-A level in Las Vegas.† The Jays also announced outfielder Dewayne Wise, infielder Chris Woodward and lefty Rommie Lewis have filed for free agency.