We haven't had a minor league thread in a while, now seems like a good time to get one going. I received some updates from the instructional league last week and I thought I would share those. In addition I have a look back at the 2011 season and we will catch up on the AFL.
Instructional League
Instructional league wrapped up a couple of weeks ago. Some of you may not be sure what the instructional league is. Basically it is a chance for the Blue Jays to offer some more intensive, one on one, instruction to specific players. The Jays invite between 40 and 60 players to "instructs" as well as all their field coaching staff. The ratio between players and coaches is around 2:1. The team invites the top 20-25 draft picks from this years draft, many 2010 draftees and select other players who come to instructs for a shorter period to work on a specific skill. Players who missed time due to injuries can also be invited to get some more experience.
Games are played three days a week, on average, and there is instruction on the other days.
The draft signing deadline currently sits at August 15th and many players who sign on the deadline don't get to play in a regular season game. Instructs is their first chance to get game action but the primary objective of instructs for those players is to get acclimated to professional baseball and for the coaches to make any obvious tweaks to their delivery, stance or throwing.
Baseball coaches and front office personnel are very reluctant to offer opinions on players based on small samples. They know the difference between a good prospect and a non prospect can be a couple of hits a week but they also know that any player or pitcher can get hot for a week. As a result the people I spoke to wouldn't give major appraisals of players as the sample size was too small. But here are some comments I did get from a few different sources:
Dwight Smith looks like the best pure hitter from the draft. He has plus bat speed and looks polished as a hitter. Smith was injured for part of instructs.
Jacob Anderson looks like a junior Marisnick. He probably won't play centre but he has the size, hits right handed and can do everything well. Currently he is headed for right field.
Matt Dean looks like a prototypical third baseman.
Christian Lopes looked good as an offensive shortstop. He will stick at short, for now.
The pitchers from the 2011 draft are all big bodied guys with plus velocity.
Adonys Cardona was hurt for the first half of instructs. He came back at the end and looked good. He is still raw though and is not a candidate to jump to Lansing to start 2012.
Jesus Gonzalez, a 16 year old hitter, made a strong impression.
Of the 2011 draftees, Kevin Comer's name was the one that got mentioned first when I asked. Again the evaluators wouldn't pick winners from the group but Comer seemed to have made a strong impression.
Daniel Norris was noted for his good breaking ball.
Sam Dyson has had some setbacks in his recovery from TJ surgery and isn't ready for game action yet.
Likewise, John Stilson wasn't ready for game action in instructs.
Tyler Ybarra impressed this season and was at instructs to work on some pitches. Ybarra has a good chance to start 2012 in Lansing given that he had a brief trial there at the end of 2011.
Dustin Antolin was looking really good. Antolin pitched very well in 2009 but had to have TJ surgery in 2010. The Jays are also excited about Dan Webb who they think is a much better pitcher out of the bullpen.
Arizona Fall League
The AFL is another small sample size league and usually the hitters dominate. This year that domination has excluded the Blue Jays representatives.
Anthony Gose continues hit 2011 pattern with too many strikeouts and not enough hits. Even though the numbers aren't there Keith Law, for one, thinks his swing looks a lot cleaner than the swing he saw when Gose was with the Phillies. Gose himself knows he has work to do:
"I feel [consistency at the plate] is the biggest area of need. My whole game needs some improvement, but I feel that's more where my weakness is right now at this particular point in time. I just need to become a better offensive player."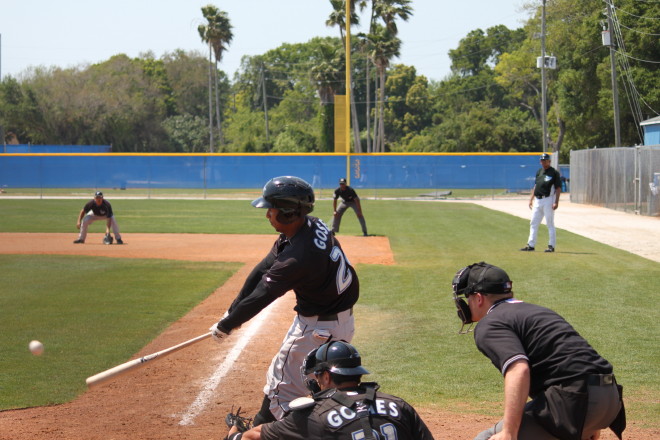 Gose is hitting .245/.349/.457 in 94 at-bats.
Adeiny Hecharria has shown flashes of his potential in the AFL but not on a consistent basis. Hech had a bruised thumb that kept him out of games for a week. Overall Hech is hitting .246/.300/.462.
The AFL is mostly a AA level league and a few A level players are allowed to play. Kevin Ahrens is one of those and he is hitting .243, not bad for an A ball level player. However Ahrens is over a year older than Gose.
Yan Gomes is on the taxi squad, meaning he plays Wednesdays and Saturdays, unless there is an injury. Gomes is hitting .214 in 42 at-bats.
On the pitching side the Jays pitchers are all coming out of the bullpen and most of them are pitching well. Aaron Loup has a WHIP of 1.07 and has more than one K per inning; Evan Crawford has a WHIP of 1.02; Chad Beck has been outstanding but has thrown only 8 innings; Wes Etheridge has been the least successful of the Jays pitchers.
The 2011 season highlights, as seen by Gerry
Here are some of the things that have stuck in my memory that I personally saw in 2011.
Drew Hutchison's command. I saw Hutchison pitch early in the season, in Lansing, and his command was outstanding. I felt like I was in the movie Groudhog Day and here is what I wrote:
The first thing to note about Drew Hutchison is his excellent fastball command. There were a lot of at-bats in this game where Hutchison went strike one to the outside corner, then strike two to the outside corner. The catcher would put up his glove and Hutchison would hit it. His command on this day was the best I have ever seen from an A level pitcher. The Lake County hitters were taking the outside pitches and they faced a lot of 0-2 counts. Because Hutchison had a very good fastball on this night he used it a lot.
Adeiny Hechavarria's defense. Here is what I wrote in June after seeing Hechavarria play defence:
"Hechy", as his teammates call him, lived up to his billing as one of the best, if not the best, shortstop in the minor leagues. In the Saturday game he made about five big league plays and a couple of those were plays that most major league shortstops would not make. It was about the seventh inning in Sundays game when I realized that I was disappointed that Hechy hadn't made a play yet. But then in the eighth he delivered another starred play.
Twice during the weekend he picked ground balls that basically went under the third baseman's glove and fired to first, once for an out and once the runner was safe. Just his getting to the ball was impressive. Another time Hechy came in for a bouncer that went over the pitchers head and died in the grass, I thought he wouldn't have a play but he did, and he nailed the runner at first.
Hechavarria could play shortstop in the major leagues today, and be better than most. He has a strong arm, probably around the same as Yunel, but his transfer from glove to hand is quick and his release is really fast. As you can tell I was impressed.
Aaron Sanchez's curve ball. I saw Sanchez pitching in spring training and he threw a couple of curveballs that broke late. That late break makes it a plus pitch if and when he gets to the major leagues.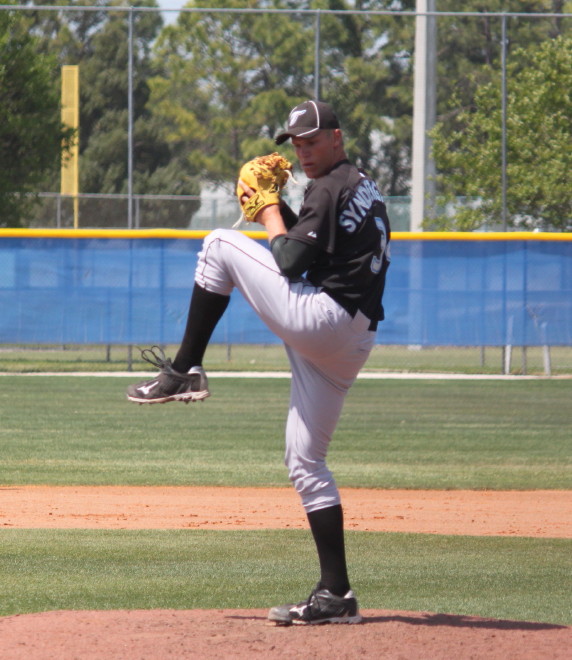 Noah Syndergaard's size and fastball speed. Syndergaard is big and built like a tight end. I used to think Michael Crouse had the most solid body in the minors but Syndergaard has him beat.
Moises Sierra's arm. I saw Sierra throw a ball from the right field corner to third base on one hop, and it had some velocity on the throw. Impressive.
Jake Marisnick's defence. Early in the season there were a lot of questions about Marisnick's defence and whether he could play centrefield. when I saw Lansing play Marisnick looked very good out there and had great jumps and deceptive speed.
There might not be a lot of minor league news for a while. The Jays do have to sign players to fill out their rosters, particularly at the AAA level. They got that started already by re-signing Wes Etheridge; Bobby Korecky; Ivan Contreras; and Kevin Howard. Finally, Kevin Gray reported today that Travis d'Arnaud had a pin removed from his thumb today and that everything looks good.