The Blue Jays have claimed right-handed reliever
Cole Kimball
on waivers
from the Washington Nationals. The 26 year-old made his major league debut with Washington this season but tore the labrum of his shoulder in July.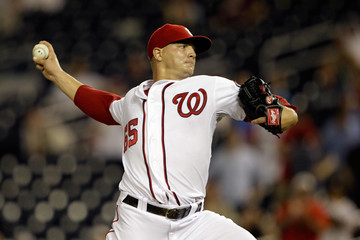 Cole Kimball
posted an ERA of 1.93 and a WHIP of 1.357 in 14 innings with the Nationals in 2011.
Cole Kimball
was drafted by Washington in the 12th round of the 2006 amateur draft out of Centenary College in New Jersey. The 6-foot-3, 225 pound Brooklyn native made his pro debut later that year with Vermont. He had trouble throwing strikes with a strikeout-walk total of 28-24 in 34 innings as he went 1-4 with a 5.82 earned run average. After getting a handful of starts in 2006, the Nationals made Kimball a full-time starter in 2007 with Vermont. He finished that season at 3-6 with a 4.20 earned and he increased his strikeout rate to 10.1 every nine innings. On the negative side, he walked 6.4 batters per nine. He spent 2008 in Hagerstown that saw him struggle with a 6-8 record and a 5.05 ERA. In 2009, he became a reliever in Potomac and saved nine games but his ERA ballooned to 6.36 and won just four of nine decisions.
Kimball turned things around in 2010 when he went a combined 8-1 with Potomac and Double-A Harrisburg and compiled an ERA of 2.17 along with 18 saves. He struck out a combined 101 batters in 78 2/3 innings and allowed just 50 hits. That helped offset the 39 free passes he issued. Kimball began 2011 at Triple-A Syracuse and was 1-0 with 13 2/3 scoreless innings and five saves before getting the call to D.C. He made his big league debut against the Florida Marlins May 14 and threw a scoreless inning, striking out the first batter he faced in
Gaby Sanchez
. His first four appearances were scoreless and was only scored upon in two of his 12 outings.
According to
FanGraphs.com
, Kimball averages about 93 miles per hour on his fastball and 80 MPH on his curveball while throwing the occasional split-finger at around 82 MPH. If
Cole "Richard" Kimbal
l does recover from his labrum surgery, he can join
Casey "David" Janssen
in the bullpen and become the
Fugitive Duo
. If nothing else, the two can compare notes on what it looks like to have labrum surgery. If Kimball can bounce back the way Janssen did, the Jays have may themselves a steal.
---
Also...

BlueJays.com has a sneak preview of their new look before its official unveiling Friday. Starring in the brief clip are Jose Bautista, Ricky Romero, Adam Lind and J.P. Arencibia.

The Baltimore Orioles and the New York Mets have also made changes for 2012.