The shortstops at the top two levels in the Blue Jays system had good nights with their bats but only one of them enjoyed a victory on Monday.  Two affiliates blew huge leads, two lost in extra innings and there were two blowouts.  Another game boiled down to a play at the plate in a 2-6 Monday on the farm.
Reno 15 Las Vegas 8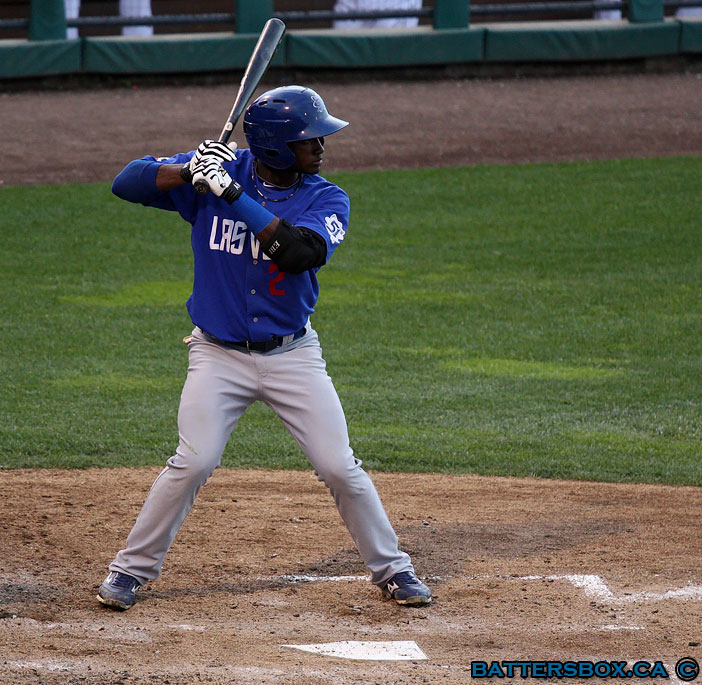 Las Vegas shortstop
Adeiny Hechavarria
made an impact with his bat Monday night with two home runs.
Reno, NV
- This will not be the first time you will read about a Jays affiliate blowing a huge lead.  The 51s led the Diamondbacks affiliate 7-1 at one point.  A
Yan Gomes
sacrifice fly sparked a four-run second inning, which consisted of an
Eric Thames
triple scoring on a
Mike McCoy
fielder's choice and a
Jonathan Diaz
two-run dinger.  In the fifth,
Adeiny Hechavarria
connected for a solo home run, his fifth, and Gomes went deep for a two-run shot, his ninth.  Hechavarria powered up again to hit his second homer of the game in the seventh to give the 51s an 8-7 lead.  Hechavarria added a single for a three-hit night and
Anthony Gose
was 2-for-5 with a pair of singles. 
Travis Snider
was the only other 51 to get aboard twice with a double and a walk.  McCoy was 1-for-4,
Moises Sierra
had a walk but
David Cooper
was 0-for-4.
Mississauga's
Shawn Hill
held the Aces to one run over his four innings but was roughed up for six runs over his last two.  He gave up one homer among his 10 hits and walked a pair.  Hill struck out one but 11 of his 15 outs were contained to the infield. 
Jerry Gil
(4-1) took the loss and blew the save against his former organization.  He was destroyed for seven runs on five hits and two walks (one intentionally) while recording just a single out. 
Bobby Korecky
threw more kerosene on the fire by allowing three inherited runners to score and one run of his own on two hits and a hit by pitch.
New Hampshire 6 Reading 3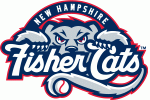 Reading, PA
-
Brad Glenn
got the ball rolling for New Hampshire by putting the ball over the fence, his 10th of the year, to start the second inning. 
Mike McDade
followed suit with a leadoff bomb of his own, his 13th, to start the third to key a three-run frame.  McDade drove in another run with a single in the fourth and a
Kenen Bailli
groundout brought in another to make it 6-0. 
Ryan Goins
had an awesome night at the dish by going 2-for-2 with three walks and his 10th stolen base.  McDade and Glenn joined Goins with a two-hit game with Glenn drawing a walk. 
Brian Bocock
singled and walked and
Kevin Howard
had a double. 
Mark Sobolewski
scored a run but was 0-for-4 with three Ks. 
Jack Murphy
and
John Tolisano
also came up empty in a combined eight trips to the dish.
Deck McGuire
(4-9) survived two walks and a stolen base in the first, retired the side in the third and stranded a two-out triple in the third.  The three runs he gave up came in the fourth thanks to a three-run homer that was set up by two leadoff walks.  He settled down to retire six of the next seven Phillies hitters with the only runner reaching on a dropped ball by Howard at first.  He allowed two hits and four walks and struck out a pair of his five frames.  Five of his 11 outs in play were on the grass. 
Matt Daly
pitched a scoreless inning with a K-BB total of 1-1,
Trystan Magnuson
struck out a batter in a perfect frame and lefty
Matt Wright
punched out two of the three hitters he faced in a perfect eighth. 
Ronald Uviedo
overcame two hits in the ninth to post his sixth save.
Tampa 11 Dunedin 10 (10 Innings)
Tampa, FL
- Dunedin built up an 8-0 lead after 2 1/2 innings. 
Kevin Ahrens
had a bases loaded walk in the first,
Jon Talley
cleared the bases with a double in the second and
Michael Crouse
slammed one over the wall with the bases full. 
Ryan Schimpf
led off the fifth with his 10th homer of the campaign before Crouse doubled home the tying run in the ninth to force the extra frame.  Jake Marisnick was the on-base leader with two singles and two walks. Schimpf added a single and a walk to his long ball and Ahrens had two walks to go along with a single.  Talley was aboard twice with a walk and
Koby Clemens
singled and made it to ball four once. 
Jonathan Jones
and
Oliver Dominguez
made the hit column and
Marcus Knecht
was 0-for-4 with a walk.
Southpaw
Egan Smith
only made it through two innings and left with a game WHIP of 4.5 on seven hits and two walks that led to four runs.  He struck out two and got three groundouts.  The Yankees added another run against
Shawn Griffiths
in his two frames on two hits and a walk.  He stranded two of three runners and picked up one K.  Like Smith,
Jesse Hernandez
surrendered four runs over two innings thanks to four hits, a walk and a hit by pitch but he did whiff a pair. 
Dustin Antolin
had one strikeout in a perfect frame. 
Alan Farina
was touched up for an unearned run on a Jon Talley error at first.  He was hurt by a leadoff walk and a single but struck out a batter. 
Dayton Marze
(2-4) saw a leadoff walk erased by his batterymate Clemens, who threw out the runner trying to steal second.  Marze was not as fortunate in the tenth when a leadoff single, a stolen base and a one-out double brought in the winning run.
South Bend 6 Lansing 5 (10 Innings)

South Bend, IN
-
David Rollins
managed to get through three scoreless frames despite two hits and walks against the Diamondbacks affiliate.  Rollins was bailed out by
Chris Hawkins
, who gunned down a runner at the plate from right field to end the first. He struck out two and got four groundouts. 
Aleson Escalonte
was not as lucky as Rollins as he was hurt by the long ball.  He surrendered two runs on three hits and three walks (one intentionally) over 2 2/3 innings while striking out one. 
Philip Brua
stranded two runners but fared even worse against the Diamondbacks affiliate, who got to him for three runs on five hits over 1 1/3 innings.  Brua struck out one and did not walk a batter. 
Bryan Longpre
shut the door on South Bend with two scoreless frames of one-hit ball.  The losing pitcher was
Brandon Berl
(2-4) as he recorded only one out while yielding the winning run on two hits and an intentional walk.
Gustavo Pierre
and
K.C. Hobson
doubled home the first two Lansing runs in the third and sixth innings respectively. 
Kevin Pillar
lifted one out of the yard for a three-run homer to tie game at 5-5 in the ninth.
  Carlos Perez
led the hit parade with three singles and
Kenny Wilson
had two singles, a walk and two stolen bases to run his total to 26.  Hobson doubled twice and Pillar singled and stole his 31st base of the year to go with his homer.  Hawkins was 1-for-5,
Jonathon Berti
was 0-for-4 with a walk and
Shane Opitz
went 0-for-5.
Salem-Keizer 2 Vancouver 1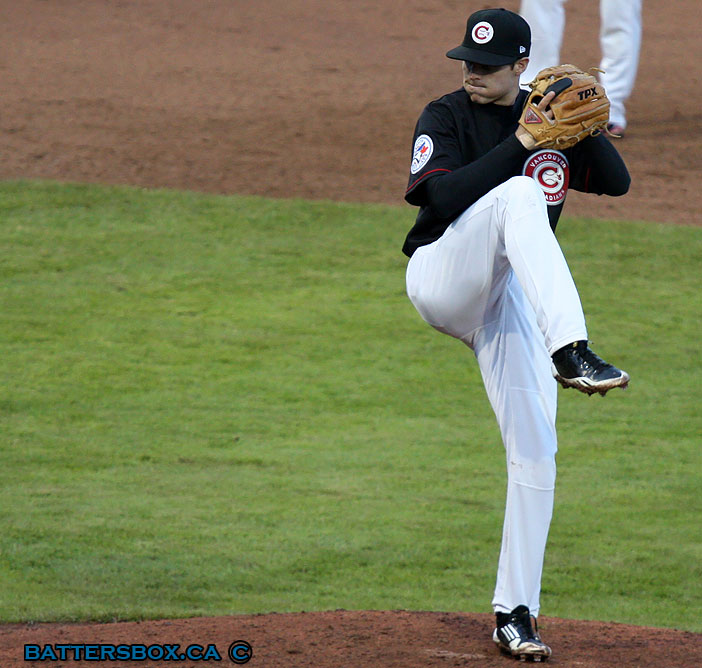 C's lefty
Bobby Brosnahan
kept Salem-Keizer off the scoreboard for five innings but would up with a no-decision.
Vancouver, BC
- The C's went 0-for-2 in their Canada Day uniforms against the Giants affiliate on a rainy Monday afternoon at Nat Bailey Stadium.  Lefty
Bobby Brosnahan
used his 85-87 mile per hour fastball, his low-70s curveball and the odd changeup to pitch five shutout innings.  He scattered six hits and four fairly hard hit balls to the outfield but did not walk anyone while getting two Ks.  Batterymate
Leo Hernandez
helped him out in the fifth by throwing out a runner trying to steal second.  Cobourg, Ontario's
Nick Purdy
(0-1) pumped some fastballs in the 90-92 MPH range but allowed a leadoff homer in the sixth to break a scoreless tie.  He also gave up a double in his two innings but struck out a pair.  Tucker Donahue allowed the other run in the eighth inning on a walk, a hit by pitch and a single.  He did help erase a runner at home plate on a 1-2 putout.  He was around 92-93 with his heater. 
Drew Permison
worked a 1-2-3 ninth inning with a pair of groundouts.
Balbino Fuenmayor
struck out his first two times up but laced two solid singles up the middle in his final two at-bats.  He led off the ninth with a single and
Nick Baligod
's second base hit of the game pushed him up to second.  Fuenmayor made it to third on a
Jordan Leyland
's fielder's choice and scored on a
Daniel Arcila
groundout.  The Salem-Keizer first baseman retired Arcila by stepping on the bag but his throw was offline to second, allowing Leyland to make it safely.  Leyland was replaced by
Eric Phillips
.  Hernandez, who was making his first home start, was 0-for-17 to start the season but he fouled off some pitches before punching a single to right.  However, a strong throw by the right fielder to the plate meant Phillips was dead on arrival.  Phillips tried his best to run over the catcher but he held on to the ball for the game-ending out. 
Matt Newman
had a single and two walks for a perfect day at the dish and
Ian Parmley
was 1-for-4 but was caught stealing. 
Jorge Flores
was 0-for-3 but was hit by a pitch and stole a base.  Flores lost control of his bat three times, nearly hitting the pitcher twice on back to back pitches.  Leyland, Arcila and
Derrick Chung
were a combined 0-for-12.
Bluefield 2 Pulaski 1
Bluefield, WV
-
Jeremy Gabryszwski
held the Mariners to three hits and struck out a pair over four scoreless frames. 
Robert Osuna
(1-0) gave up the lone run but limited the M's to three hits and a hit by pitch over three frames while whiffing four.  All five of his outs in play were on the ground. 
Julio Carmona
got the two inning save despite a hit and a walk.  He struck out one to give Bluefield pitchers a 7-1 K/BB total.

Jorge Vega-Rosado
singled home a
Nico Taylor
triple with two outs in the third. 
Seth Conner
drove in an
Art Charles
double with a single after
Jacob Anderson
bunted Charles over to third in the seventh.  Conner and Taylor were both 2-for-3 and
Dwight Smith Jr.
singled and walked. 
Dickie Joe Thon
was 0-for-4 while
Matt Dean
and
Carlos Ramirez
were 0-for-6 together.  Anderson was 0-for-2.
GCL Yankees 11 GCL Blue Jays 2

Tampa, FL
- The Jays scored the first run of the game in the second when
Gabriel Cenas
doubled and came in to score on a
Cody Bartlett
single to short and a throwing error by the shortstop. 
D.J. Davis
smacked his first professional home run to right field to start the fifth.  Cenas was 3-for-3 and was hit by a pitch while Davis and
Jesus Gonzalez
had two hits apiece. 
Jorge Saez
had a base hit and a base on balls.
John Silviano
and
Dennis Jones
walked once with Jones stealing a base. 
Dawel Lugo
and
Justin Atkinson
were 0-for-4.
Yeyfrey De Rosario
(0-2) was whacked for four runs over 1 2/3 innings on five hits and a walk and struck out one. 
Luis Mendez
stranded a runner but was nicked for a run on three hits over 1 1/3 frames. 
Tyler Gonzales
was roughed up for four runs on three hits and two walks over one-third of an inning to shoot his ERA up to 108.00. 
Tim Brechbuehler
stranded two of three runners but was also touched up for a pair of runs on five hits over one inning. 
Adaric Kelly
was the best Jays pitcher in this one by stranding two runners and issuing just one walk over 2 2/3 scoreless innings. 
Brandon Kaye
allowed just one hit and struck one out to blank the Yanks in the ninth.
DSL Angels 9 DSL Blue Jays 2
San Pedro de Macoris, DR
- Each team had nine hits and four errors but that was all they had in common.  The Jays actually led 2-0 after four innings. 
Cesar Barazarte
singled home a run in the first and
Andres Sotillo
scored on an errant pickoff throw by the catcher after he had doubled in the fourth.
  Rolando Segovia
and
Deiferson Barreto
had two hits apiece at the top of the order. 
Angel Rojas
,
Ronniel Demorizi
and
Edwin Fuentes
added one to the hit total. 
Andres De Aza
was 0-for-4 while
Juan Kelly
and
Juan Tejada
were left wanting with a combined 0-for-4.
Lefty
Carlos Rodriguez
(1-2) posted four shutout innings but could not retire any of the four hitters he faced in the fifth.  He gave up four runs on five hits and two walks.  Rodriguez struck out three and his groundout/flyout total was 7-1.  Southpaw
Jonathan Torres
went 1 1/3 innings, allowed both of his inherited runners to score and saw three more cross the plate on two hits, two walks and a hit by pitch.
Gilberto Vielma
saw two of three inherited runs score and he was victimized for two unearned runs on two hits, three walks and an HBP over 3 2/3 innings.  He did rack up four strikeouts.

*** 3 Stars!!! ***

3.  Adeiny Hechavarria, Las Vegas. 
His OPS is up to .810, fueled by 19 doubles and four triples.


2.  Michael Crouse, Dunedin. 
Port Moody, BC native tripled his home run output to three after his two-homer game.


1.  Ryan Goins, New Hampshire
.  Batting .304 with 26 extra-base hits.
Extra Innings...

The New Hampshire Union Leader
speculates
on the possibility of rehabbing Red Sox
Carl Crawford
and
Jacoby Ellsbury
playing in New Hampshire on the 4th of July.
MLive.com
catches up
with Lugnuts pitcher
Aaron Sanchez
, the Midwest League's pitcher of the week.

SouthCountyMail.com
has
a feature
on Bluefield's
Seth Conner
.

The Vancouver Province
looks at the
aspirations
of Canadians infielder
Derrick Chung
and has
a chat
with catcher
Tucker Frawley
.

CanadiansBaseball.com
looks at
the conversion
of
Matt Johnson
from the infield to the mound.