Two pitchers from the DSL Blue Jays teamed up for a seven-inning no-hitter in the first game of a doubleheader.  That highlighted a 4-2 Monday on the farm.
Las Vegas 14 Iowa 7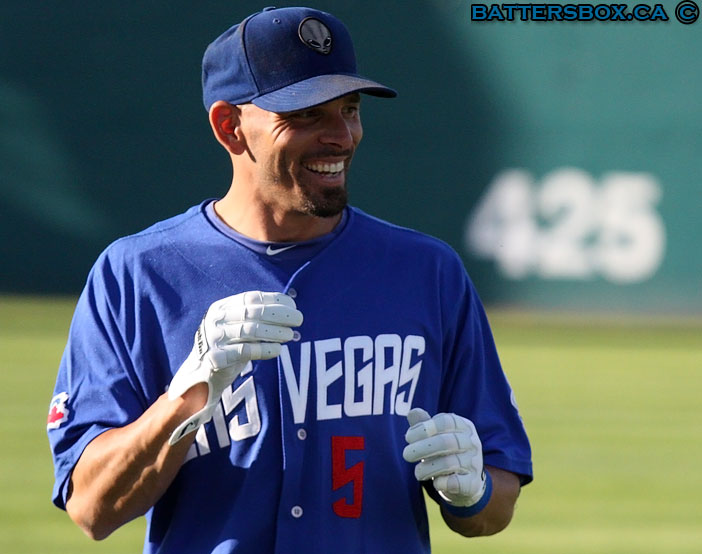 Chris Woodward
had plenty to smile about Monday night after contributing a key bases-loaded double and getting on base three times against Iowa.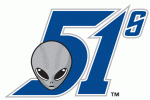 Las Vegas, NV
-
Ryan Rowland-Smith
set down the 51s in order in the first inning.  That was the last time any Cub hurler would keep the 51s off the board as they scored at least once in innings two through eight. 
Tuffy Gosewich
doubled home a run in the second and
Chris Woodward
gave Las Vegas the lead for good with a bases-clearing double in the third. 
Brian Bocock
doubled home a run in the fourth and
Danny Perales
singled home two more in the fifth.  A
Luke Hughes
RBI single and a
Jack Cust
sacrifice fly in the sixth made it 9-3 Las Vegas.  A
Jonathan Diaz
bases-loaded walk, a Bocock single and a Hughes sac fly in the seventh made it 12-6. 
Ricardo Nanita
homered and Perales singled home another run in the eighth.  Bocock, Perales and Gosewich were the hit leaders with three apiece and Gosewich was a homer short of the cycle.  Woodward had two hits and a walk and Cust was 0-for-1 with three walks and two runs scored.  Perales, Diaz and Hughes each had a stolen base.

Shawn Hill
(7-1) did not put together a pitching line worthy of a victory but he got one anyway.  The Mississauga, Ontario native gave up two first-inning runs (both unearned after a
Brian Bocock
error at short) among his six total in 5 2/3 innings.  Four of the runs were earned on nine hits and three walks.  He struck out a pair but did manage to record seven groundball outs. 
Juan Abreu
made his organizational debut by pitching one-third of an inning that included one hit, one walk and one strikeout but he did allow both of his inherited runners to score. 
Clint Everts
bailed out Abreu by stranding two runners but did yield an unearned run (after another Bocock clank) over 1 2/3 innings that saw him walk two batters and strike out one. 
Jerry Gil
went the rest of the way by getting five outs with his only blemish being a walk.


New Hampshire
- Scheduled day off. 
Brandon Morrow
will pitch
for the Fisher Cats against the Binghamton Mets in the opener of a three-game series in Manchester Tuesday.

Dunedin
- Scheduled day off.  The D-Jays welcome Milwaukee affiliate Brevard County for a three-game set on Tuesday evening.
Great Lakes 5 Lansing 4

Midland, MI
- Lugnuts first baseman
K.C. Hobson
muffed a ball with two out in the first and the Loons took advantage with a pair of unearned runs off
Jesse Hernandez
. 
Chris Peters
started a 7-6-1-5 play to nail a runner at third to end the inning.  Nick Baligod also helped out Hernandez in the fourth by starting a 9-3 double play.  The two first inning runs at was all the damage the Dodgers affiliate could do against Hernandez, as he worked around five hits, a walk and a hit by pitch over six frames.  He struck out only one but collected nine of his 12 outs on the ground. 
Shawn Griffith
was greeted with back-to-back jacks to start the seventh but settled down to strike out a pair against one base on balls in his one inning of work. 
Philip Brua
pitched a one-hit eighth inning but
Ian Kadish
(1-1) could not get the elusive final out of the ninth.  After a leadoff double, he struck out the next two batters but two walks and a single gave Great Lakes the walk-off win.
Kevin Patterson
tied the game for Lansing with a two-run homer in the fourth inning for his 15th of the year.  A sacrifice bunt by
Gustavo Pierre
and a wild pitch in the top of the ninth produced the tying runs and forced the Loons to take their turn at the plate in the bottom half.  Peters and Hobson both doubled and walked. 
Andy Fermin
singled and walked.  Port Moody, B.C.'s
Michael Crouse
was 0-for-3 with a walk.
Vancouver 6 Yakima 0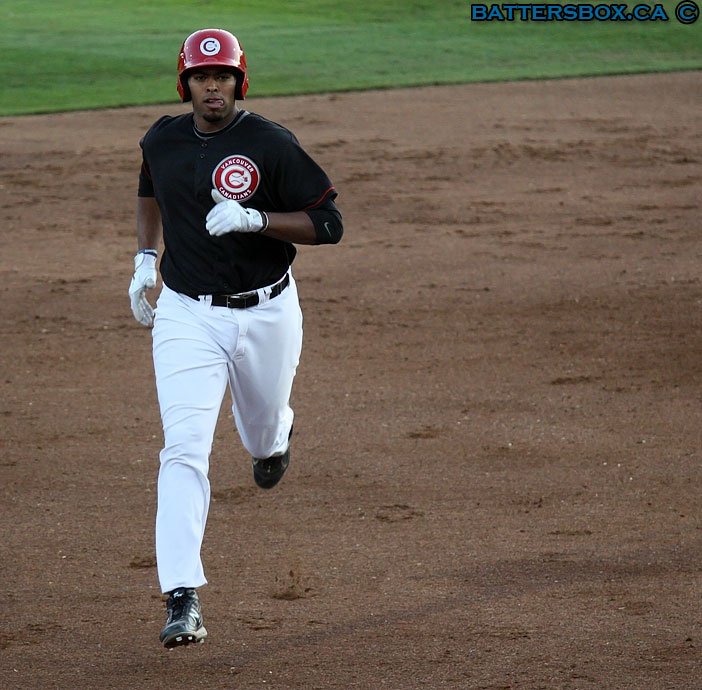 Art Charles
, shown rounding the bases last Saturday night, made another uninterrupted 360-foot run for glory against Yakima Monday.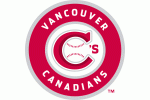 Vancouver, BC
-
Art Charles
put the C's in charge by putting a charge into one in the form of a two-run homer in the fourth inning. 
Ian Parmley
and
Jorge Flores
began a three-run rally in the fifth with RBI singles before a balk scored the other run. 
Balbino Fuenmayor
put the cherry on top with a leadoff homer in the seventh.  Charles was the only Vancouverite with two hits and he also drew a walk. 
Jorge Flores
singled and walked and
Kellen Sweeney
had a 1-for-4 night to bump his average a dozen points over the Mendoza Line. 
Dwight Smith Jr.
was 0-for-3 with a walk.
Ben White
(4-4) enjoyed his best start of the year by lasting seven shutout innings - scattering four hits, two walks and a hit by pitch against the Diamondbacks affiliate. 
Tucker Donahue
wrapped things up with two strikeouts over two perfect frames.
Bluefield
- Scheduled day off.  They host the Elizabethton Twins for a three game series starting Tuesday night.
GCL Phillies 3 GCL Blue Jays 0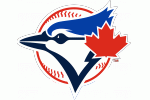 Clearwater, FL
- The score should read
Gabriel Cenas
3 Phillies 0 as the Venezuelan prospect had a hand in all three G-Jays runs.  He lifted a sacrifice fly in the fourth inning before knocking home runs with singles in the sixth and eighth.  Cenas,
Dawel Lugo
and Guelph, Ontario's
Shaun Valeriote
all had two-hit games. 
Jesus Gonzalez
and
Daniel Devonshire
each had a hit and two walks. 
D.J. Davis
and Surrey, B.C.'s
Justin Atkinson
were both 0-for-5.
Alberto Tirado
pitched four shutout innings of one-hit ball, striking out six.  Three of his four outs in play remained within the confines of the diamond. 
Tyler Gonzales
(1-1) scattered three hits over three shutout frames while striking out two.  The 60th overall pick in the 2012 draft had an impressive groundout-airout ratio of 6-0. 
Brady Dragmire
got the two-inning save by throwing one-hit ball, striking out one and posting a GO/AO of 5-0.  Best of all, the Jays hurlers did not walk a single Phillie.
DSL Blue Jays 4 DSL Angels 1 (Game 1- 7 Innings)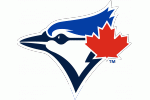 San Pedro de Macoris, DR
-
Francis Eduardo
and
Jimmy Cordero
(1-2) threw a combined no-hitter.  Eduardo pitched the first four innings and allowed the lone Angels run on a leadoff walk, a sacrifice bunt, a stolen base and a sacrifice fly in the second.  He issued three walks but induced five groundball outs.  Cordero was perfect in his three innings, striking out three batters and also matching Eduardo's five outs on the grass.
The Jays bunched their four runs evenly in the second and third innings.  An errant pickoff throw at third and a
Deiferson Barreto
double accounted for the first two runs.  A
Gustavo Perinan
single and a
Juan Kelly
double play ball brought in the other two.  Barreto and
Edwin Fuentes
had two hits apiece. 
Leudy Garcia
singled and walked. 
Cesar Barazarte
walked and stole a base. 
Rolando Segovia
was 0-for-4.
DSL Angels 3 DSL Blue Jays 0 (Game 2 - 5 1/2 Innings)
San Pedro de Macoris, DR
- Lefty
Jonathan Torres
(0-1) kept the Halos off the hit column for all of one-third of an inning.  The problem was he walked four batters which resulted in a pair of runs.  Fellow lefthander
Carlos Rodriguez
stranded two of Torres' three runners but had an unearned run on his pitching line over 3 2/3 innings.  The damage was done on three hits, a walk and two plunks.  On the plus side, he struck out three and got six groundouts.  Another lefty,
Luis Perdomo
, walked one but struck out two over one shutout frame.

Edwin Fuentes
had a perfect game at the dish by going 2-for-2 with a walk and a stolen base. 
Cesar Barazarte
and
Andres Sotillo
had the other Jays hits.

*** 3 Stars!!! ***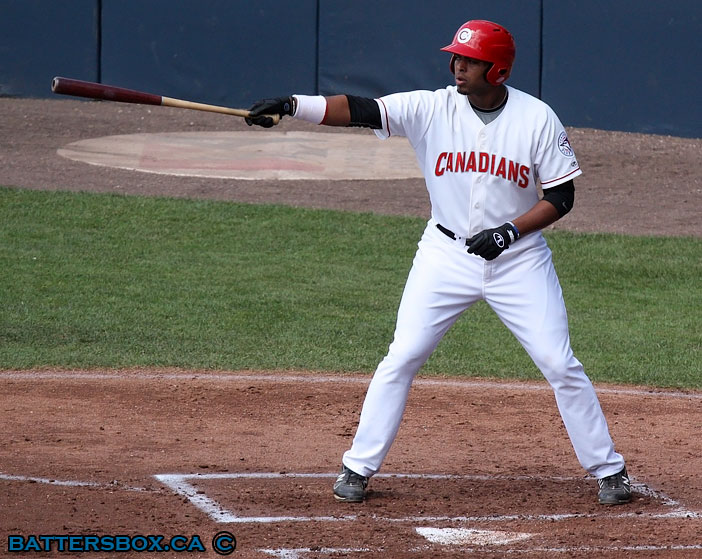 3. Art Charles, Vancouver
.  The 6-foot-6 slugger is adjusting to Northwest League pitching with a .935 OPS over his last 10 games, including five doubles, a triple and two home runs.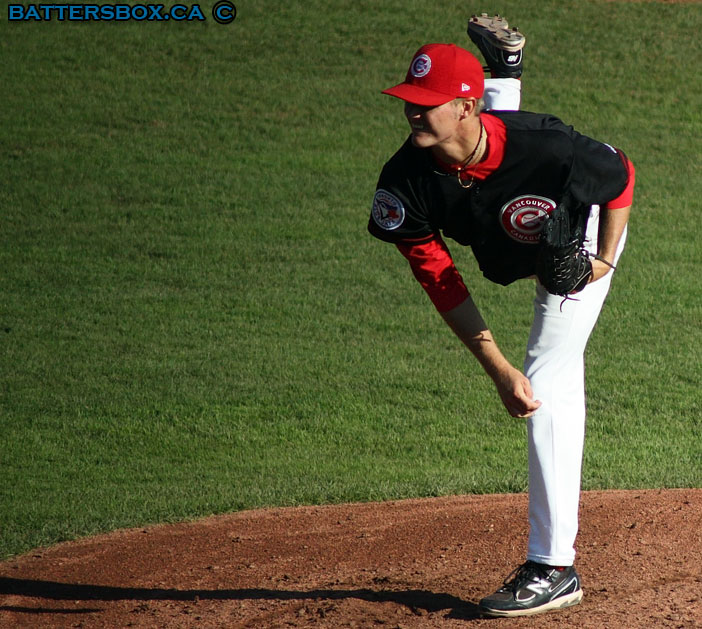 2. Ben White, Vancouver
.  White has a streak of five quality starts and has allowed just one run over his last 17 innings.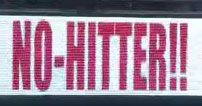 1. Francis Eduardo/Jimmy Cordero, DSL Blue Jays
(tie).  Eduardo has given up just one run over his last six innings while Cordero has struck out 15 batters in 15 innings.
Extra Innings...
51s pitcher
Sean O'Sullivan
is featured
in the
Las Vegas Review-Journal
.
Sportsnet's Shi Davidi
has a
Q&A
with pitching prospect
John Stilson
.
From
DunedinPatch.com
, the Dunedin Blue Jays celebrated its first-half Division title
Nintendo-style
.

CanadiansBaseball.com
says C's hurler
Javier Avendano
is the Northwest League
Pitcher of the Week
.

The Vancouver Sun
says the Canadians are
on pace
to shatter their attendance record.
The Bluefield Daily Telegraph
catches up
with outfielder
Nico Taylor
.
From
MLive.com
,
Larry Hook
's latest
Lugnuts Profile
is lefty
Tyler Ybarra
.