I was in Lansing last week to see two Lugnut games. Below is my scouting report on the players. I only had time for two games and that is a small sample size so my comments are limited compared to a four game look.
Ben White
White doesn't overpower the hitters. His fastball sits 86-89, and he does add a curve, slider and change. But, at least on this night, his fastball was up. The first time through the order the Lake County hitters hit a lot of "atem" balls but then the second time through they teed off on him. White has pitched better than this but he didn't show any above average pitches on this night.
Chad Girodo
Girodo is a side arming lefty with the usual side arming arsenal. I didn't see a frisbee slider but reportedly he has one. Girodo had a high 80's fastball, with the usual sidearming movement, a change-up and a slider. Side-armers always face their big test in AA. I expect Girodo will be in Dunedin next year, then move to New Hampshire where he will be tested. In some ways Girodo could perhaps be another Aaron loup if he changed his setup to add more deception in his delivery.
Griffin Murphy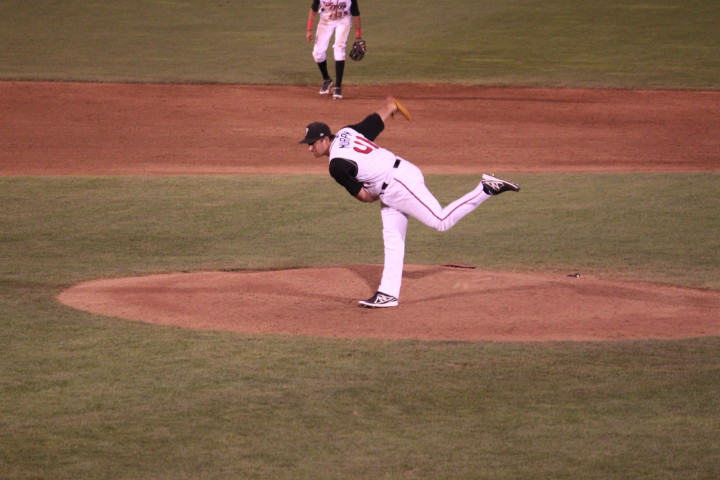 Murphy, also a lefthander, pitched the ninth. Murphy is 6'2", is big bodied, i.e. a burly, pitcher. Rumours have it his conditioning has been an issue in the past. Murphy's fastball was 87-88 and other than that he looked to be throwing a lot of junk. Murphy reportedly has 6 pitches. Murphy has pitched better in the second half but I didn't see any outstanding pitches. I see now why the Jays are using him in relief. His progress is disappointing for a second round selection.
Daniel Norris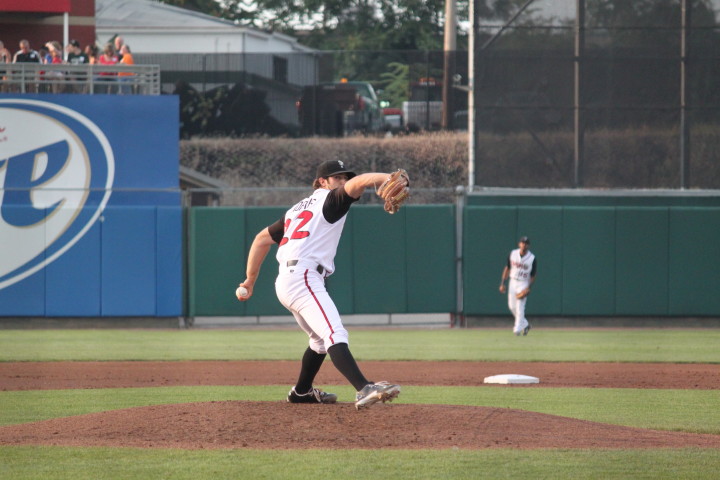 Norris is average size for a pitcher, around 6'1" or 6'2". Norris features a very good fastball that sat 94-95 mph. He complemented that with a nice change-up that generated several swings and misses and strikeouts. The hitters made no solid contact off Norris on this night. Norris pitched six innings in this contest and in the sixth his fastball sat 92-93. That dip in velocity is quite understandable for a 20 year old. The big question for Norris has always been command. Norris didn't walk anyone until the sixth inning. he did run into a few 3 ball counts but he was always able to throw a fastball or a change-up for a strike.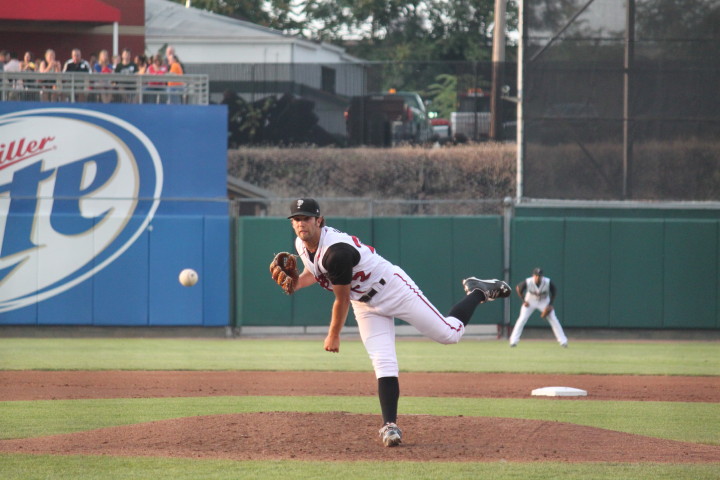 Norris also has a slider with good break and a nice curveball. However Norris's command of those two pitches was not good. He did get one strikeout with the curve, he hit a batter with a slider, and in general he missed more than he hit with those pitches. However he has those pitches and that is the first objective. Now that he has them he has time to refine them. In summary I was very impressed with Norris. He is ready for the FSL next year. He does have some things to work on but so does every young pitcher. Just look back at the comments around Aaron Sanchez last year.
Javier Avendano
Avendano came on in relief of Norris and threw a fastball at 89-90 supported by a good change-up.
Dwight Smith Jr.
Smith is approx. 5'10" and has a solid body. Smith played centrefield in one game and left in the other. Smith has some tools, he has a nice bat and good speed. As he gets older and fills out even more he will likely not be a centrefielder. Although Smith has a nice bat he didn't seem particularly powerful, more of as line drive hitter. That might make it tough for him to make it as a major league regular.
Emilio Guerrero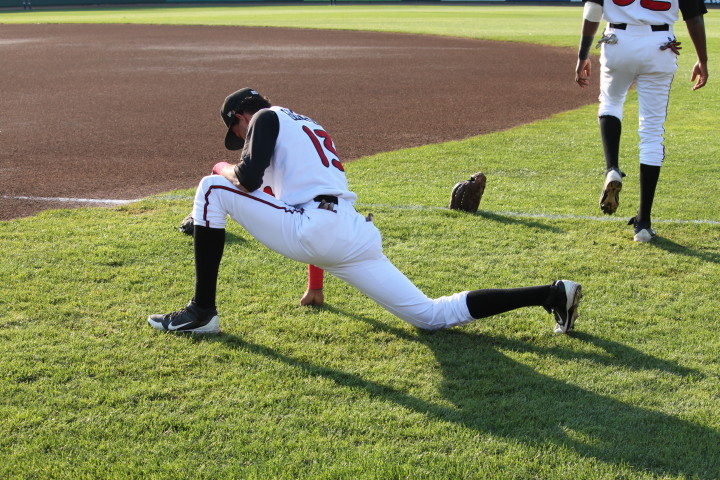 Guerrero is very tall and lanky. He is listed at 6'4" and 190 lbs. Does that picture above say major league shortstop to you? Guerrero was a surprise choice to play short in Lansing back in April. The first question is can Guerrero stick at shortstop despite his size? There have been very few 6'4" major league shortstops, A-Rod and Ripken come to mind, but it is a small club. Apart from his height, how will Guerrero fill out as he ages? I learned that Guerrero is a nephew of Manny Acta, if he fills out like Acta there is no hope for him as a shortstop. So will he stick at short? First, I am not sure if he has the first step quickness needed at short. But Guerrero is raw and he is somewhat awkward looking, or gangly, in the field. He could smooth out the edges but I am not convinced. I could see Guerrero playing third but will he have the power profile to play third? A lot depends on how he fills out over the next few years.
Having said that Guerrero is an intriguing player that bears watching over the next year or two. First Guerrero is still young, he played most of the season as a 20 year old, he turned 21 in the middle of last week. Secondly, in baseball terms, Guerrero is raw, he had just 136 at-bats last season between Bluefield and the GCL team. Finally he is gangly and sometimes it takes a while to pull all those moving parts together. I am not saying that Guerrero is a top 30 prospect but he is raw and he has tools. I can see why the Jays sent him to Lansing, he could be a player that is a late bloomer.
Santiago Nessy
Nessy is typical size for a catcher, big bodied and solid. As a hitter Nessy is a free swinger. He makes reasonable contract but often it is weak contact as he is swinging at the pitchers pitch. Defensively Nessy appears to have a strong throwing arm, he did throw out a runner in one of the games. Nessy struck me as a very confident player, but maybe not in a good way. Given his performance to date I could see him as being slow to change, like a major league catcher we know. Bottom line, the verdict is still out on Nessy.
Christian Lopes
Lopes is also typical size, in his case for a shortstop. He is around 5'10" and also solid, a la Aaron Hill. Lopes made some very nice plays at second and looks like he could be a very good defender. Offensively Lopes doesn't have much power. Like Smith Lopes didn't stand out offensively. The coaches talked about him needing to make adjustments as pitchers bust him inside.
Chris Hawkins
Last year Hawkins had an unusual hitting style. Most people felt that Hawkins needed to change, and he has. Now Hawkins has a more traditional hitting style but obviously it has not worked for him. Hawkins is trapped between the two styles. Hawkins is no longer a top 30 prospect but it will be interesting to see what he does next year once he has had time to commit the new style to his muscle memory.
Carlos Ramirez
Ramirez is also a very tall raw outfielder. Ramirez has the most power on the team, other than Kevin Patterson. But Ramirez did not look good in right field, he seemed tentative going back on balls. Ramirez does have a strong arm, if he flames out as a hitter he could be a hard throwing 6'5" pitcher.
Dalton Pompey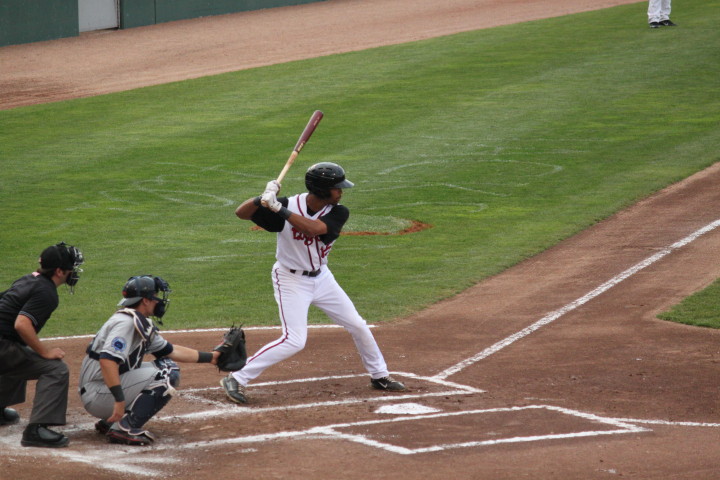 Pompey played just one game of the two I was there for. In that one game Pompey showed a quick bat and a good eye. Pompey is a switch hitter, he hit right for most of this game although he hasn't had a lot of right handed at-bats. Pompey of course is very fast. I had heard that Pompey was skinny but he is more substantial than that. With his good defense, good eye, and quick bat Pomepy will move up to Dunedin next year. However the road for switch hitters is tougher, they get less time to master each side of the plate.
Jordan Leyland
Leyland hit well in batting practice and pretty well in games without much luck. I would expect him to hit better next year.
In summary I really liked Norris. I liked Pompey in a small sample size. Emilio Guerrero has the greatest variance of all these guys because he is so raw. Smith, Lopes and Nessy looked like they had some potential but at this stage they didn't stand out. Girodo could be a LOOGY.
Finally thanks to Jesse Golberg-Strassler and the Lansing Lugnuts for the hospitality. If you need a gift for a baseball fan, Jesse wrote the Baseball Thesaurus. In Canada it's e-book only, in the US you can get the paperback.