Two of the four affiliates got in the win column Monday night.
Buffalo 5 Scranton/Wilkes-Barre 3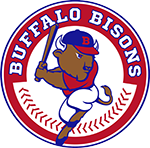 Buffalo, NY
- The Herd blew a 3-0 lead but scored twice in their last at-bat to knock off the Yankees affiliate.
A.J. Jimenez
lifted a sacrifice fly to score
Alexi Casilla
, who pinch-ran for
Jesus Montero
after his leadoff walk in the eighth.
David Adams
would double home the insurance marker. Prior to their eighth inning heroics, Jimenez and Adams got the Bisons going in the second with an RBI triple and double respectively.
Casey Kotchman
singled to score an
Andy Burns
extra-base hit in the third. Adams, Burns and Kotchman all had two-hit nights with Adams drawing a walk.
Junior Lake
singled, walked and threw out a runner at second base from center field.
Wade LeBlanc
blanked Scranton for the first four innings but he was nicked for a run in the fifth before giving up a two-run home run in the sixth. That was among eight hits he allowed but he did strike out seven while only walking one.
Dustin Antolin
walked two and whiffed two over 2-1/3 innings. When Antolin left, so did pitching coach
Bob Stanley
as he was ejected for arguing with the home plate umpire.
Pat Venditte
(1-0) stranded a pair of runners and whiffed one over 1-1/3 shutout frames. He pitched right-handed to the first four hitters he faced, giving up one single. He would go southpaw to retire
Slade Heathcott
on a foul pop-up to third to end the game.
Reading 3 New Hampshire 2

Manchester, NH
- A case of too much, too early and too little, too late.
John Anderson
(1-3, 5.11) gave up three runs over the first four frames but he hung around for seven, surrendering a half-dozen hits but matching that with the same number of strikeouts. Eight of his 11 outs in play were on the ground.
Chris Smith
worked a perfect eighth with one whiff and
Colt Hynes
escaped a bases-loaded jam in the ninth.
The Fisher Cats did not respond with the bats until the eighth inning when
Dwight Smith Jr.
, who threw out a runner at third from left field to begin the game, doubled home a pair of runs.
Ian Parmley
, who started the rally with a bunt single in the eighth, would single again with two outs in the ninth but he was caught stealing second to end the game.
Christian Lopes
had the other New Hampshire hit.
Rowdy Tellez
was 0-for-3 with a walk while
Roemon Fields
and
Matt Dean
were 0-for-4.
EDIT - Oh yeah!
Anthony Alford
returned, which I totally glossed over. He went 0-for-4 though. Hat tip to
Mike Green
!
Brevard County 8 Dunedin 2

Viera, FL
- A five-run second inning by the Brewers affiliate put an end to this one early.
Ryan Borucki
(1-3, 12.50) began with a 1-2-3 first inning before he was bombed in the second. He only made it through three innings, yielding seven hits and two walks and striking out nobody.
Chris Rowley
was cuffed for two more runs in 2-1/3 innings and
Tim Mayza
had an inherited runner score and an unearned tally on his line after finishing up the sixth.
Matt Dermody
put up two scoreless frames that included two punchouts.
Dunedin manufactured its first run in the fifth when
Dickie Joe Thon
singled, stole second, went to third on a fly ball before scoring on an errant pick-off attempt. An infield single by
Richard Urena
scored a
D.J. Davis
walk in the seventh but Thon was thrown out at the plate after Davis scored. Urena,
Michael Bourn
and
Ryan McBroom
all had two hits and a walk. Urena, McBroom and
Derrick Loveless
also stole a base.
Danny Jansen
had a base hit in four at-bats. Dunedin was 1-for-16 with runners in scoring position, leaving 12 men on base.
Lansing 4 Cedar Rapids 1



Lansing, MI
- The Lugnuts scored the final four runs of the game to down the Twins affiliate.
Carl Wise
tied the game in the fourth with an RBI double to score a walk by
Ryan Hissey
before putting the Lugnuts ahead to stay with a run-scoring single in the sixth. That base hit scored
Gunnar Heidt
, who was hit by a pitch but he got his revenge by stealing his 10th base of the year. Back-to-back doubles by
Juan Kelly
and
Lane Thomas
and a wild pitch provided the other two runs in the eighth. Wise, Kelly and Thomas all had two hits with Kelly getting two doubles.
Angel Perdomo
set the tone early by striking out the side in the first inning and setting down the side in order in the second. A walk, a single, a Wise error at third and a wild pitch led to the only run he allowed in the third. Perdomo permitted just three hits and two walks over five frames, striking out seven.
Gustavo Pierre
(1-0) got through a shaky sixth despite two hits and a walk with some help from Thomas, who forced out a runner at second base from center field.
Dan Lietz
struck out one in a one-hit seventh before
Colton Turner
collected a two-inning save. He had to earn it after giving up three hits and two walks but he offset that with four strikeouts for his fifth save.
Monday's Linescores
*** 3 Stars!!! ***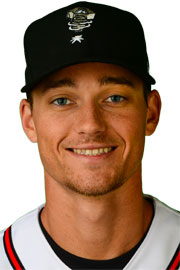 3. Carl Wise, Lansing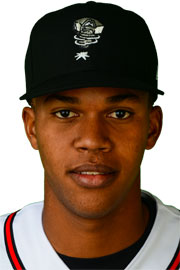 2. Angel Perdomo, Lansing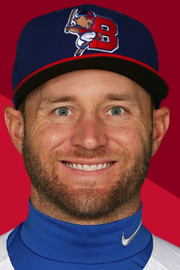 1. David Adams, BuffaloTuesday's Schedule / Probable StartersDunedin
@ Brevard County, 10:35 am ET -
Kyle Westwood
(0-2, 7.47)
Cedar Rapids @
Lansing
, 10:35 am ET - TBA
Reading @
New Hampshire
, 5:35 pm ET -
Casey Lawrence
(0-1, 1.29)
Scranton/Wilkes-Barre @
Buffalo
, 6:05 pm ET -
Roberto Hernandez
(0-0, 0.00)

Extra Innings
Bisons.com says the team will be wearing powder blue uniforms during its Blue Jays Weekend at Coca-Cola Field May 21 and 22
LansingLugnuts.com has a feature and some audio on Andrew Guillotte