Batter's Box caught up with Toronto Blue Jays coach
John Schneider
who was in Vancouver for the Canadians Hot Stove Luncheon in January. #BlueJays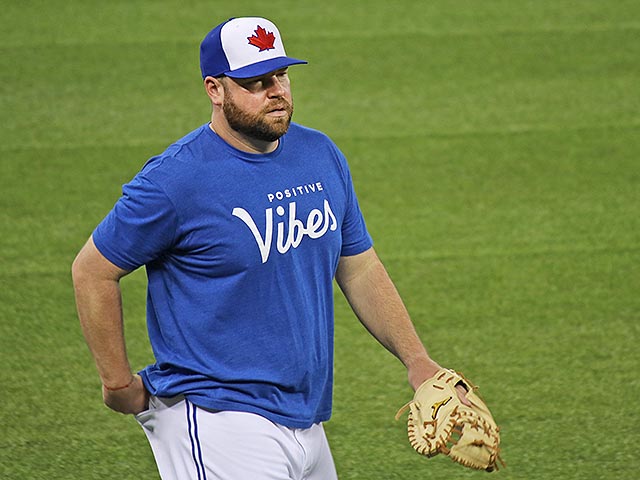 John Schneider
was drafted by the Blue Jays in the 13th round of the 2002 MLB Draft from the University of Delaware.
---
The 40 year-old Schneider joined the Toronto Blue Jays coaching staff after managing the New Hampshire Fisher Cats to the 2018 Eastern League championship. He was also named the Double-A manager of the year in that Double-A circuit. Having served as a manager in the Jays farm system since 2008, the Princeton, New Jersey native had a lot to get used to in his first year in the bigs.
"I've told a lot of people this. I think for me—the first year as a player or coach—there's so many things that are new or different but every night, 7:05 is Major League Baseball or 1:05 it's Major League Baseball. That's kind of the thing that stands out is just every night, you're watching the best players on the planet do their thing. It was comforting for me a little bit because of the players that were there that I had in the minor leagues, familiar faces and I knew a lot of the coaches and the people at the stadium.
Even though the Jays lost 95 games last season, Schneider says there were some positive signs in the play of Teoscar Hernandez, Bo Bichette, Cavan Biggio and Vladimir Guerrero Jr.
"It was funny because at the beginning of the year, I think we kind of did a little bit better than expected. I think at one point we were like 14-14. We had swept Oakland twice and then it went way downhill for a while. And you kind of trudge through those hard times and you try to stay positive and again, Charlie was huge on that to both us as a coaching staff and the players to kind of stay the course and you know, everything's going to be okay. I think around the trade deadline and after the trade deadline when the young kids came up and you get a little bit of an influx of different personalities in the clubhouse and things like that and some exciting, young players—I forget what the record was in the second half—but it was few games under .500 I believe and it was against a really tough schedule. That's when it kind of turned around a little bit and you look up and it's guys that played with me in the minors a couple of years ago and they're doing it in the big leagues. So yeah, I guess you can put your finger on around that time and I think it was guys that were there were more comfortable. You had Gurriel who really turned into a player, you had Jano (Danny Jansen) who was more comfortable, you had Teoscar (Hernandez) who had gone down and come back up and really did some great things. And then the young kids with Bo, Cavan and Vlad and it was a cool mix. It was fun."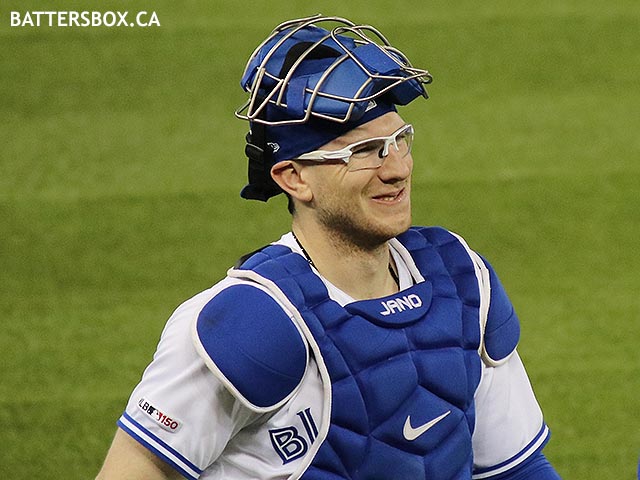 Danny Jansen started 94 games behind the plate for Toronto in 2019.
---
A big part of Schneider's responsibilities was working with the Blue Jays catchers.
Luke Maile
,
Beau Taylor
,
Reese McGuire
and
Danny Jansen
were the four catchers who squatted behind the pentagon last season with the latter two drawing praise from the former minor league backstop.
"I'm lucky to have those two guys to work with. It was amazing to see kind of Jano go from, I had him when he was 17 in the Gulf Coast League. A 17 year-old kid out of high school, I was the manager and I remember 7:00 in the morning throwing a football with him because he couldn't reach second base. It was starting from the ground with him and watching him evolve into this Gold Glove finalist last year was cool. He was a pleasure to work with. Open-minded, tried new things, didn't let his offence affect his defence at all and we asked a lot of him. For a young kid, controlling a staff, we implemented a lot of data on the field with the wristband, the card and all this kind of stuff—that was new to him. He handled it great. It took him a little bit of time to get used to it. I think you saw his numbers kind of reflect that offensively. In the middle of the season, he was a little more comfortable but he was awesome.

When Reese came up, it was kind of just more of the same defensively. I mean, he's really talented behind the plate. Quickest exchange I've seen in a long time. Pitchers love throwing to both of them so it's really, really cool to have two guys that just make my job a little bit easier."
Having caught over 1,000 innings during his six-year stint in the Blue Jays minor league system, Schneider says there are a lot of demands placed on catchers today.
"It's long days. You get there early and you're staying late. You kind of lose time to devote to yourself. The pitching coach needs you, I need you, analytics guys need you, pitchers need you. And all of a sudden, oh yeah, you got to go hit, you got to go work out. You got to do all this stuff and take care of your body. Catchers—we always say—try to put the pitchers in front of your own self. Easier said than done at times but I think Jano especially did a great job with it over the course of the year and Reese too when he was up. It's demanding. It's physically and mentally demanding every day and they leave the field exhausted both physically and mentally every night. It's not for everyone but we got two good ones."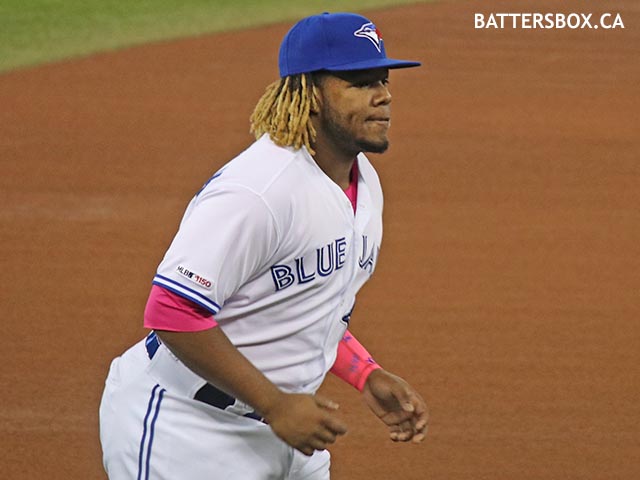 Vladimir Guerrero Jr.
invited John Schneider to serve up 91 home run balls at the 2019 Home Run Derby in Cleveland.
---
Two highlights of 2019 for Schneider revolved around Vladimir Guerrero Jr. The first was his major league debut and the second was being asked to pitch to him for the Home Run Derby during the All-Star festivities in Cleveland.
"The first game was awesome. I saw it in the minor leagues with the amount of media and hype and people running after our buses. I said we were like a travelling boy band in the minors in 2018 and then to see the expectations, it's kind of unfair to put on a 20 year-old kid, right? He still hit .275 and did a great job but he was great. He handled it great but that first day was really cool to see the amount of media that was actually there for batting practice and the opened the gates early. It was a whole debacle but he handled it well.

And then the derby was nothing like I had never been a part of. It was cool for me that he asked me. We joked about it a few years ago in the minors and I had been throwing BP to him for years so we joked about it then and then he got asked and the way he told me was funny. He just said, 'Hey, they asked me to be in the home run derby.' I said, 'Oh man, that's awesome!' He said, 'Alright, so you're coming with me, right?' I said, 'Wow, okay. Got it, you're holding true to your promise.' And then being there, being around all those players in the clubhouse. You know, Trout and Verlander and these guys. Just kind of watching them do their thing. I knew Vlad was going to do well. I didn't think he was going to hit 91 homers, you know, but it was the most fun I've ever had on the field. The crowd was so loud. The second round against Peterson was amazing. He was phenomenal. Like everything else, it didn't really faze him. He expected to do well. He told me he was going to hit 30 in the first round and he only hit 29 but he's a beast, man. It was like the best view of watching all those homers. It was really cool."
Schneider is expecting Vladdy to have a good 2020 campaign.
"He spent a lot of time down in Dunedin working out with our staff and when he was home in the Dominican, a lot of our staff was there with him as well so they kept him (on track). He stayed true to his word. When we talked to him at the end of the year last year, here was the plan and he said, 'Okay.' And he dominated it. He worked harder than he ever has. And I think if you look at him, he's never going to be a skinny guy. He's a big kid but he is so much stable, strong. I think that you're going to see that his performance isn't going to kind of tail off the way it did a little bit last year with a long season. He's done a phenomenal job of getting himself ready for the season. He really has."
Blue Jays manager
Charlie Montoyo
will have a lot more flexibility with the team's pitching staff in 2020.
---
The big news of the off-season for Toronto was the signing of free-agent left-hander Hyun-Jin Ryu from the Los Angeles Dodgers, a development that excited Schneider.
"As soon as we signed Ryu, we started texting as a coaching staff on how excited we were to get a front-line guy and really kind of cement or anchor the rotation, I think it's great. You look at the rotation last year compared to this year on paper and it's awesome. You got guys that are durable and guys that are going to compete and they have had good numbers and they all bring something unique to the table. It's great because it gives Charlie a lot of maneuverability on how to use these guys, whether it's with an opener or not, in short spurts and long spurts, wherever it may be. It's cool to have options and it's cool to have guys that are a little bit more proven than our young guys that did a fine job last year. The name of the game is pitching so knowing that every day that you got a guy that you're really comfortable with, it's fun to be a part of."
Other key off-season developments for the Blue Jays include the renovation of their spring training ballpark in Dunedin and the near-completion of the nearby spring training complex. Schneider is looking forward to seeing the finished product.
"It's going to be the best in the game. I live 10 minutes from the complex down in Florida so I have seen it kind of unfold a little bit. The stadium looks amazing. You can walk all the way around it. There's bars out in the field. The surface is levelled off, the dugouts are bigger. Everything that you kind of asked for, they did and then some with the videoboard.

And then in the complex, kind of the nuts and bolts of it aren't going to be ready until the summer. The fields are ready for spring training for both the major league and minor league side but the inside of that building is going to be second-to-none between the 10,000 square foot weight room, cafeterias. There's a barber shop I believe. Clubhouses and any kind of training aid that you need from cameras to Rapsodos to everything is all there so I really, really can't say enough about what it's going to be and we're all kind of thrilled of being the first ones in there."
The new technology at the complex is something that Schneider is on board with.
"It's weird. I remember like being a catcher and the pitcher saying, 'Hey, what was my break like on my curveball?' And your response is, 'Oh man, it's great, it's tight, it's sharp.' And now you can actually say what it is. 'Oh, it's 2,800 RPMs or it's this.' It's different. People get scared, I think, when they hear the words analytics and they hear the word Edgertronic and Rapsodo and some people go like this (eye roll) but it just ways to validate what you see. And a lot of times what you see isn't right. So as a coach, you kind of got to get on board with this and learn it and get educated on it because it's going to help the players. And I think players now are bought into it so us as coaches—if we don't know about it—then we're going to lose credibility real quick. I think it's a cool way to get better. I think that you don't have to live and die by it but at the same time, it's an awesome training tool."
---
Thanks a million to John Schneider for his time and to Vancouver Canadians broadcaster Rob Fai for arranging the interview.