Bob Gibson has died, after a long battle with cancer.
No one who saw him pitch will ever forget him. I wrote about him
here
a dozen years ago, and this is more or less what it said.
We had been talking about creating an ideal pitcher - this pitch from this guy, this pitch from another guy. Any of us old enough to remember Gibson saw a quick and easy shortcut.
For his best pitch, let's give him... let's see, let's see. I know. Let's give him
the best pitch ever.
We actually had
a poll
a couple of years back on this very subject: the toughest Hall of Fame pitch to hit in major league history. The Bauxite consensus agreed with Jim Thome and voted for Mariano Rivera's cutter. So let's give our man something like Mariano Rivera's cutter, a fastball that zips
through the strike zone with a unique, upward-moving right-to-left sail that snatched it away from a right-handed batter or caused it to jump up and in at a left-handed swinger - a natural break of six to eight inches - and hitters who didn't miss the ball altogether usually fouled it off or nudged it harmlessly into the air. The pitch, which was delivered with a driving, downward flick of... forefinger and middle finger (what pitchers call "cutting the ball") very much resembled an inhumanly fast slider...
Our man will have absolute command and control of this fearsome pitch, which he will also throw as hard as anyone in the game throws a fastball.
But we need more than this, surely. That cutter will take Mariano to the Hall of Fame, but we can't get through a whole game with just one pitch, can we? Mariano never tries to get through more than two innings. Our man has his sights set on much larger chunks of the ball game. And so he needs a breaking ball of some kind.
Let's give him a slider, and let's make it a honey: a Dave Stieb - Francisco Rodriguez type of slider, a
superior breaking ball that arrived, disconcertingly, at about three quarters the speed of the fastball and, most of the time, with exquisite control.
You're going to miss more than a few bats with that combination. But you don't
always
want to miss the bat, and on those occasions, it would be nice if you had a second fastball; it would be truly excellent if, like Roy Halladay, you could complement your cutter with a world-class sinker:
a fastball that broke downward instead of up and away; for this pitch, he held the ball with his fingers parallel to the seams (instead of across the seams...), and he twisted his wrist counterclockwise as he threw - "turning it over," in mound parlance.
Because there are times when you
want
the hitter to put the ball in play, as our hero once tried to explain to his bewildered third-baseman:
"I always told him I didn't give a damn where he played unless there was a right-handed batter coming up with a man on first and less than two out, but then he should be ready, because he'd be getting a ground ball... And I'd throw a sinker down and in, and the batter would hit it on the ground to Mike to start the double play, and when we came in off the field Mike would look at me with his mouth open, and he'd say, "But how did you
know
?" He didn't have the faintest idea that when I threw that pitch to the batter he
had
to hit it there."
Anything else? Oh, let's make him a superior athlete. What the hell. Good enough at another sport to go to college on a scholarship, good enough to win nine consecutive Gold Gloves...
And one thing more: let's make him insanely, ferociously competitive. As driven by the need to win and the need to succeed as Michael Jordan ever was. In fact, all the rest of this somewhat mind-boggling arsenal notwithstanding, if there is one single trait that most distinguishes this particular hurler, the one thing that people most remember about him, it will be this: his ferocity as a competitor. It will be legendary.
Considering everything else he's got working for him, it will
have
to be legendary. Naturally, such a pitcher will probably have a somewhat aggressive approach to the hitter, and a desire to establish who's in charge:
"I don't like batters taking that big cut, with their hats falling off and their buttons popping and every goddam thing like that. It doesn't show any respect for the pitcher. That batter's not doing any thinking up there, so I'm going to
make
him think. The next time, he won't look so fancy out there. He'll be a better looking hitter."
It would surely take some Dr Frankenstein to build such a monster, and I suppose there may be some young 'uns who think this old fool has forgotten his meds and is telling mythic tales of some Paul Bunyan like figure from some undocumented and impossible to verify Land Far Away in Ages Long Past.
But no. I'm telling you now: this ain't no Sidd Fitch fiction.
There really was such a pitcher.
He had Mariano's cutter, and K-Rod's slider, and Doc's sinker. He fielded his position like a cross between Greg Maddux and Kobe Bryant. He threw strikes - at his peak, he walked fewer than two batters per 9 IP. He was an utterly possessed and driven competitor.
Forty years ago this coming Monday, he threw a shutout against the Mets. It was his second start since the All Star Break (he had been named to the team, but didn't get in the game.) He struck out 13 and didn't walk anyone. He scattered seven singles - one runner made it to second base, one made it all the way to third. The complete game victory improved his record to 13-5, and lowered his ERA to 1.01 (yes, 1.01). It was his tenth complete game victory in a row, seven of them by shutout - and he would throw yet another shutout just four days later, blanking the Phillies on six hits, and yet another CG victory five days after that (trailing 6-0, the Mets would scratch out a single run).
So yeah. Meet this impossible creation. Meet him in the middle of America's
annus horribilis
, the year that began with the Tet offensive, proceeded through the murders of Martin Luther King and Robert Kennedy, descended to the chaos in the streets of Chicago during the Democaratic convention, and concluded with the election of Richard Milhous Nixon as President. In the middle of that dreadul year, in June and July of 1968, Bob Gibson - for who else could it possibly be, and all of these quotes are from "Distance," Roger Angell's marvellous 1980 portrait of Gibson for
The New Yorker
- would go 12-0, with an ERA of 0.50, with 91 Ks and 16 BB in 108 IP. He made 12 starts, completed them all, and threw 8 shutouts. Fully half of the six runs he would allow would come in the very first game of the twelve, a 6-3 victory over the Mets, in which he gave up the only home run he surrendered during this two month reign of terror. In the other 11 games, he gave up a single run three times and no runs whatsoever eight times.
It's not always that easy to find a
closer
who can do that for 11 games, working just one inning each time. Do the math - if your closer allows a single run three times and shuts down the opposition the other eight times - he's given you a 2.45 ERA over the 11 games, and you're probably reasonably pleased.
So let's run those numbers.
This really happened:
 G GS CG SHO  IP   H  BFP  HR  R  ER  BB  IB  SO  WP HBP  BK  2B  3B GDP ROE   W   L   ERA
12 12 12   8 108  63  398   1  6   6  16   0  91   1   4   0   9   0   9   3  12   0   0.50

So Gibson headed into August with a 15-5 record, which is pretty nice, and a 0.96 ERA which is way, way beyond niceness. Why didn't he pitch in the All Star Game, anyway? Well, he probably didn't want to. The manager was his own boss, Red Schoendienst, who started Don Drysdale of the Dodgers, and also got Juan Marichal, Steve Carlton, Tom Seaver, Ron Reed, and Jerry Koosman into the game. Gibson and Woody Fryman were the only guys who didn't get into the game.
"I never really liked being on the All-Star team. I liked the honor of it... but I couldn't get used to the idea of playing with people from other teams in the league - guys I'd have to go out and try to beat a couple of days later. I didn't even like having Joe [Torre[ catch me - he was with the Braves then - because I figured he'd learn how to hit me... I'd always dress right away and get out of there in a hurry... I didn't want to be friends with anybody on the other side..."
He cooled off a little in August - in six starts, he scuffled along at 4-1, 1.29 and actually failed to finish one of his games - he was lifted for a pinch-hitter after 11 innings. He threw just three shutouts that month, which means that in his other three starts, the opposition was actually able to score some runs against him. The Pirates even scored often enough to overcome 15 Ks and beat him 6-4, although a couple of Cardinal errors led to half the runs being unearned.
On September 2, he threw a 10 inning three hit shutout at the Reds for his 20th win of the season. At that moment, his record stood at 20-6, 0.99. He had started 29 games, completed 23 of them, thrown shutouts in 12 of them. He had pitched 262.2 IP, and he had an ERA of 0.99 - on the second day of September.
By now the Cardinals had a 13 game lead on the rest of the league. They put it in cruise control the rest of the way. Even Gibson himself eased his foot off the throttle, as far as he was capable, anyway, going 2-3, 1.93 over his final five starts. He actually failed to finish one of his starts, when the Cardinals, down a run in the eighth, pinch hit for him. That, by the way, is how he was replaced in all six of the games he failed to finish. Not once was he relieved on the mound in the middle of an inning; not once did his manager even choose to make a between-innings pitching change. He was only ever replaced by a pinch-hitter, and only if his team was trailing, and never before he had completed at least seven innings.
Hey - he made 34 starts, and he only gave up more than three earned runs in a game twice - so I guess he made 32 Quality Starts. In 34 tries. That should keep your team in the game most of the time...
So the Cardinals cruised into the World Series, where Gibson had already established a formidable legend - twice in four years, he had started Game 7 for his team and twice he had delivered a complete game victory and a World Series triumph. His legend preceded him in other ways as well. Just one year in earlier, in mid-July 1967, Roberto Clemente smashed a line drive that caught Gibson just above his right ankle. It cracked the bone in his leg. He wouldn't come out. The trainer sprayed it and he stayed in the game. He walked the next batter and retired the next man on a popup, before the bone finally snapped beneath him as he delivered a full-count pitch to the next hitter. Dal Maxvil was in the dugout, and wouldn't soon forget:
That was the most extraordinary thing I ever saw in baseball - Gibby pitching to those batters with a broken leg. Everyone who was there that day remembered it afterwards, for always, and every young pitcher who came onto our club while Gibson was still with us was told about it. We didn't have too many pitchers turning up with upset stomachs or hangnails on our team after that.
He missed the next two months, but returned in time to pitch three complete game victories, two by shutout, in the World Series. After all of
that
, and after the season he had just put together - well, what manner of man could top that?
This one could. Here's how his next game went. The other team sent the only man to win 30 games in a season in what's now the last 70 years against him. Like that would have made a difference. Third baseman Mike Shannon felt sorry for the unsuspecting Tigers: "Most of them had never seen Gibby before, and they had no
idea
what they were up against."
It was 2 October, 1968 and this is what happened:
Tigers 1st
McAuliffe struck out
Stanley SINGLE (caught stealing 24)
Kaline struck out
Tigers 2nd
Cash struck out
Horton struck out
Northrop struck out
Tigers 3rd
Freehan struck out
Wert SINGLE
McLain struck out
McAuliffe ground out 3
Tigers 4th
Stanley flyout 9
Kaline struck out
Cash flyout 8
Tigers 5th
Horton popout 4
Northrup lineout 6
Freehan WALK
Wert struck out
Tigers 6th
Matchik ground out 31
McAuliffe SINGLE
Stanley struck out
Kaline DOUBLE (McAuliffe to 3rd)
Cash struck out
Tigers 7th
Horton lined out 6
Northrup struck out
Freehan struck out
Tigers 8th
Mathews struck out
Brown flyout 7
McAuliffe flyout 7
Tigers 9th
Stanley SINGLE
Kaline struck out
Cash struck out
Horton struck out
The Game Score, by the way, is a pretty nifty 93. Only one game in the history of the World Series tops it, the one thrown at Yankee Stadium a dozen years earlier by Don Larsen. (Twenty-seven up, twenty-seven down, 7 by strikeout - comes in at 94.)
Maybe it's just another five-hit shutout. Although it's kind of neat that the Cardinals defenders recorded only two assists in the entire game - when catcher McCarver caught Stanley stealing in the first, and when first baseman Cepeda tossed to Gibson covering the bag to retire Matchik in the 6th. And yep, those are seventeen strikeouts in a World Series game. (There's a
YouTube compilation
of all 17 of them - the Tigers hitters are just befuddled. They're not even close. It's amazing to watch.) That record's stood for 40 years now, which is an awfully long time for any record to stand in this game. And man... if you were a kid watching it on TV... you'd never forget it.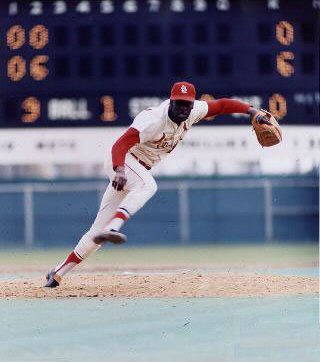 "He doesn't remind me of anybody. He's all by himself."
- Dick McAuliffe, October 2, 1968
Good bye, Gibby.