The 2021 Major League Baseball draft concludes today with rounds 11-20. The Toronto Blue Jays have selected eight pitchers and one outfielder with their first 10 picks.
Click here
for the MLB draft tracker or follow along on MLB.com.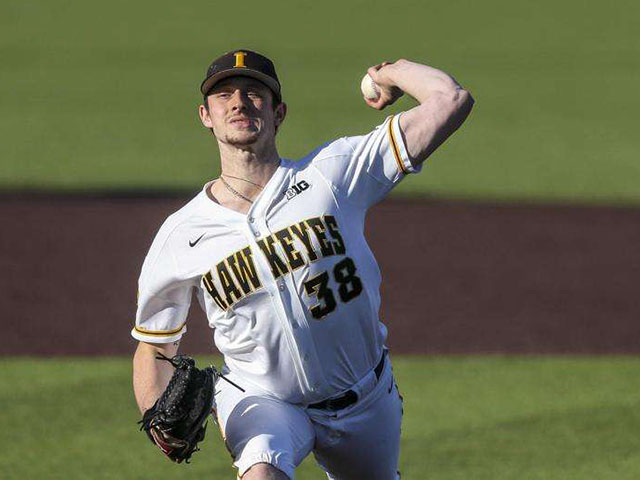 Image from The Gazette.
11th round - 332nd overall. LHP Trenton Wallace, Iowa. 6-foot-1, 200. Bats Left. Born March 31, 1999.
MLB.com
- The son of longtime Augustana (Ill.) baseball coach Greg Wallace, Trenton has been a two-way performer for Iowa for four seasons. A full-time pitcher and part-time outfielder, he moved into the Hawkeyes' weekend rotation for the first time this spring and became the first player in school history to win Big Ten Conference pitcher of the year accolades. He could be the highest Iowa pitcher drafted since Wes Obermueller was a second-rounder in 1999. Wallace has below-average fastball velocity, sitting at 89-91 mph and topping out at 93, but his heater works as an average offering because he creates deceptive angle with it. His best pitch is a low-80s slider that's effective against both left-handers and right-handers. He should use his slider more often in comparison to his mid-70s curveball, and he also has a low-80s changeup that lacks life and gets too firm at times. Wallace is athletic and has a delivery with little effort, yet he walks more batters than he should because he gets too fine with his pitches for his own good. The hope is that once he focuses solely on pitching, his velocity and control will tick up and he can become a back-of-the-rotation starter. His fallback will be to become a lefty reliever who relies on his fastball and slider.
Video
Baseball America
- The 6-foot-1, 200-pound lefty transitioned from being Iowa's right fielder into the Hawkeyes' Friday night starter and impressed early on with a fastball sitting between 90 and 93 mph, and a slider, curveball and changeup that can all be average to back it up. He's tough and competitive, with an easy delivery that he is able to repeat and good feel on the mound. The stuff isn't overwhelming but he's a lefty who can pitch, throw strikes, and compete. Wallace made 13 starts for Iowa this season, posting a 2.34 ERA over 73 innings, allowing just three homers, walking 37 and striking out 106.
Twitter Reaction
Kyle Huesmann @HuesmannKyle HAWKEYE DRAFTED Trenton Wallace has been selected in the 11th Round (332) by the Toronto Blue Jays. He joins the organization with former Hawkeye Nick Allgeyer, who recently made his MLB debut.
Kyle Huesmann @HuesmannKyle Someone is going to draft Trenton Wallace tomorrow and they are going to get an incredibly talented pitcher. Shocked that he did not get his name called in the first 10 rounds. Big Ten Pitcher of the Year and Second Team All-American.
Matt Collier, developer of FaBIO @reillocity 2021 #MLBDraft FaBIO Profiles: 11-332 (TOR) Trenton Walace, Iowa Back to back impressive lines from two-way also-OF Wallace, this time with a more startery all-around batted ball profile although control did fall off a fair amount.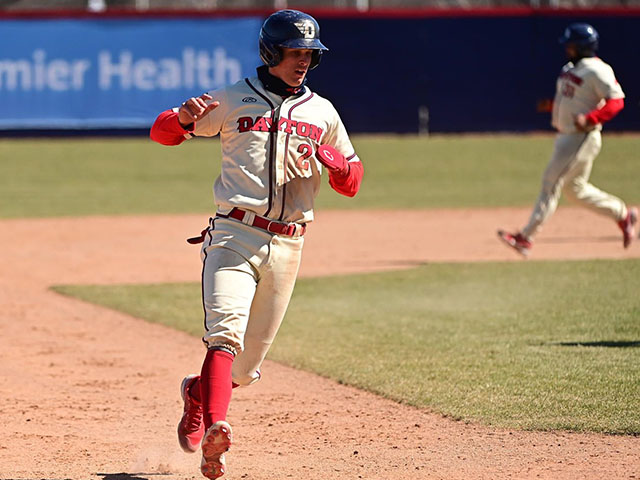 Image from Dayton Flyers.
12th round - 362nd overall. 3B Riley Tirotta, Dayton (Ohio). 6-foot-3, 195 lbs. Bats Right, Throws Right. Born August 21, 1998.
DaytonFlyers.com
- Tirotta is coming off a season that earned him ABCA/Rawlings East All-Region First Team honors after tying for the Atlantic 10 lead with 16 home runs in 2021. That mark ranked third in a season in program history. The senior was also named to both the All-Atlantic 10 Second Team as well as the Atlantic 10 All-Championship Team and tied for third in the A-10 with 58 RBIs in 2021. The South Bend, Ind., native led the Flyers with a .696 slugging percentage and 14 stolen bases and was named to the Bobby Bragan Collegiate Slugger Award Watch List as well as being named the Atlantic 10 Preseason Player of the Year by both Perfect Game and D1Baseball.com.
Twitter Reaction
Mark Skol, Jr. @markskoljr_WNDU "Riley is kind of one of those one of a kind special players that comes along." Even back in HS, it was known @TirottaR was a special talent for @marianhssports Take a trip back to 2017 as @angdicarlo tells a story of the Marian alum Riley Tirotta, who is now a Blue Jay! Video link - https://twitter.com/markskoljr_WNDU/status/1414990119514300417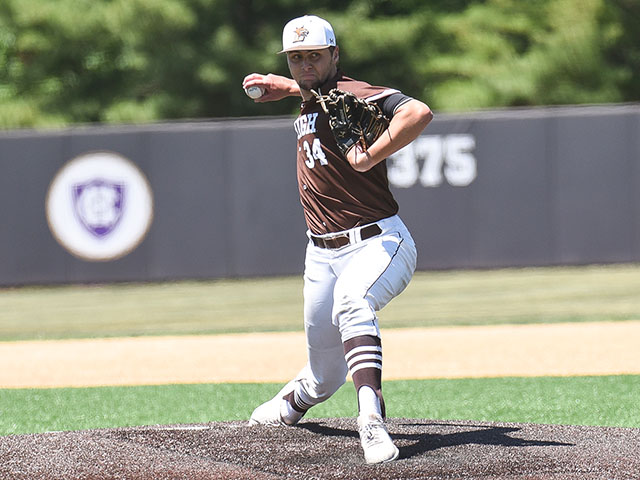 Image from Lehigh University
13th round - 392nd overall. RHP Matt Svanson, Lehigh. 6-foot-5, 235 lbs. Bats Right. Born January 31, 1998.
Twitter Reaction
Lehigh Baseball @LehighBaseball @mattsvanson was the #PatriotBaseball's most consistent starter in 2021, leading the way with a 2.30 ERA in 12 starts. @mason_black_ has certainly learned a thing or two from the graduated right-hander. #GoLehigh | #MLBDraft
Quakertown Blazers @QBlazers_ACBL Congratulations to former Blazer (2018) @mattsvanson on being drafted by @BlueJays in the 13th round! Matt was a huge part of our championship run and has really developed so well at @LehighBaseball. Excited to see what he does at the next level! Congrats Matt! #Blazers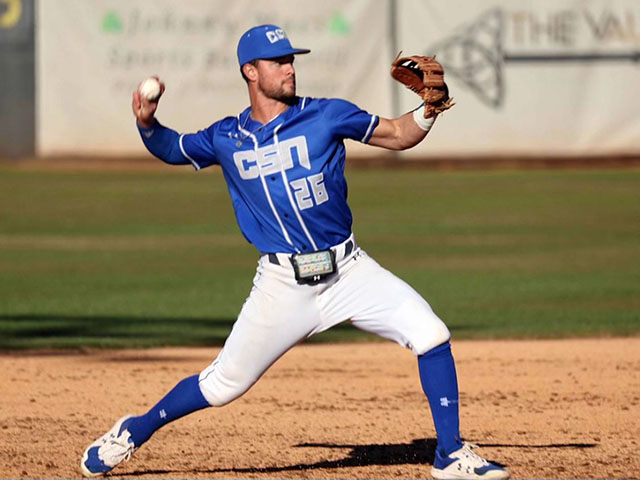 Image from Baseball America
14th round - 422nd overall. 3B Damiano Palmegiani, College of Southern Nevada. 6-foot-1, 195 lbs. Bats Right, Throws Right. Born January 24, 2000.
MLB.com
- Born in Venezuela, but raised in British Columbia, Palmegiani was drafted in the 35th round of the 2018 Draft by the Blue Jays before heading to Cal State Northridge to begin his college career. He transferred to College of Southern Nevada last summer and was one of the best offensive performers at the junior college level, leading all Division I juco hitters with 26 homers and finishing with a 1.388 OPS. A right-handed hitter, Palmegiani has some serious now power, with the ability to drive the ball to all fields. Extremely physical, he has strong hands to generate good bat speed and shows solid bat to ball skills. While not a speedster, he is better underway and managed to steal 14 bases this spring. The biggest question surrounding Palmegiani is where he belongs defensively. He played third for Southern Nevada and has enough arm for the hot corner, but most scouts don't think he can play there at the next level. He's played a number of positions as an amateur, but left field seems to be the best fit, or perhaps first base, though it's the bat teams will be interested in the most.
Video
Baseball America
- The native of British Columbia started his college career at Cal State Northridge in 2020, playing sparingly in the shortened season before transferring to the College of Southern Nevada, where he led the offense for the juco powerhouse. Palmegiani posted video-game numbers, with 26 home runs in 203 at-bats and a batting line of .389/.521/.867. He also walked (36) nearly as many times as he struck out (38), and was hit by a pitch 23 times. The power is his calling card, but some scouts wonder about the swing and miss in his game. Even more concerning is his defense, with his unsightly fielding percentage of .799 coming mostly at third base. A below-average defender with poor footwork and hands, his likely landing spot is in the corner outfield, where his average arm and fringe-average speed will play. Palmegiani may need more hitting instruction in order to better manipulate the barrel, and he didn't face much premium velocity in junior college, which gives pause as to whether he will be able to handle the premium velocity that he'll face in pro ball. He's a risky pick for many reasons, but the raw power, along with good makeup, will be alluring enough to get him taken in the top-10 rounds. Although committed to Arizona, he's considered to be signable.
Twitter Reaction
Joe Doyle @JoeDoyleMiLB The #BlueJays get a good one in Damiano Palmegiani. 3B now, could end up in CF with his athleticism. Above average tools with the bat. Big performer this spring. @B_Sakowski_PG a fan.
Carlos Collazo @CarlosACollazo And there he is: Damiano Palmegiani! A BA favorite who destroyed baseballs this spring and has some real power in the tank, in addition to one of the best names in the draft class. #MLBDraft #BlueJays
Alexis Brudnicki@baseballexis Damiano Palmegiani has been one of my sleeper favourites in this year's class, and was just selected by the #BlueJays in the 14th round. The Venezuelan-born Canadian walked me through a scouting report on himself earlier this year for @BaseballAmerica
Matt Betts @Bettsy41 The @BlueJays take Canadian slugger Damiano Palmegiani (Surrey, BC) with the 422nd pick in the 14th round. Palmegiani had a huge year for @CSN_Baseball and is a @ArizonaBaseball commit. @damiano_p24 @VABjets
Mitch Bannon @MitchBannon The #BlueJays selected Canadian Damiano Palmegiani in the 14th round of the #MLBDraft today. The Surrey, BC boy was one of the best home run hitters in college baseball, with 7 multi-home run games for College of Southern Nevada
Damiano Palmegiani @damiano_p24 Incredibly blessed, thank you to everyone that made my dream a reality. @BlueJays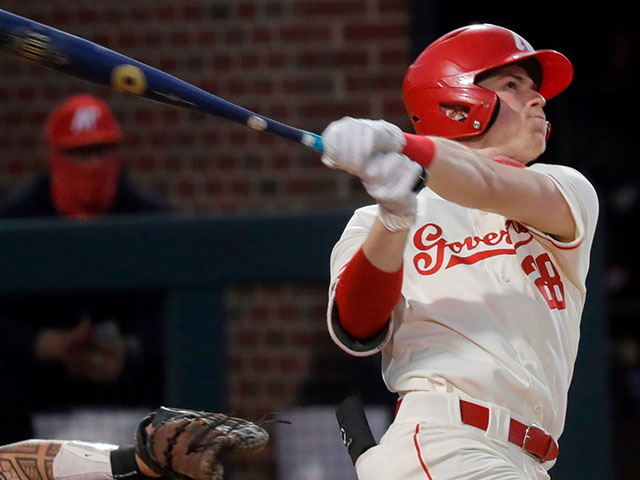 Image from Austin Peay
15th round - 452nd overall. OF Garrett Spain, Austin Peay. 5-foot-11, 178 lbs. Bats Left, Throws Right. Born September 21, 2000.
MainStreetPreps.com
- The redshirt sophomore has proven his worth as an NCAA player capable of making that leap -- he's played 115 games with the Governors, hitting .318 with a .400 on-base percentage. He's smacked 19 career home runs, compiled 109 RBIs and stolen 22 bases, all while locking down center field at The Hand. His accolades include 2019 OVC Freshman of the Year, a spot on the Collegiate Baseball Freshman All-America team, All-OVC second team honors and multiple honor rolls to boot. After finishing the 2021 season, Spain made the trip to West Virginia to join the Black Bears of the MLB Draft League -- a group of college ball players making up six teams in hopes of showcasing their game to scouts from across the country.
Twitter Reaction
Jesse Goldberg-Strassler @jgoldstrass The 15th round, now concluded, was highlighted by River Town, Garrett Spain, and Alaska Abney.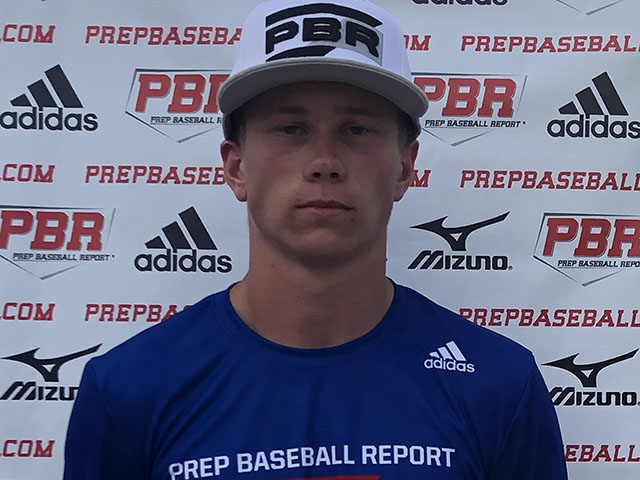 Image from Prep Baseball Report
16th round - 482nd overall. RHP Micah Bucknam, Mennonite Educational Institute (Abbostford, BC). 6-foot-1, 195 lbs. Bats Right. Born August 26, 2003.
Second-youngest player in Baseball America's Top 500 prospects, rated #247.
Twitter Reaction
Alexis Brudnicki @baseballexis Abbotsford, British Columbia's Micah Bucknam becomes the 15th Canadian taken off the draft board, selected by the #BlueJays in the 16th round. I got to talk to the 17-year-old right-hander not long ago for @BaseballAmerica https://www.baseballamerica.com/stories/2021-mlb-draft-prospect-micah-bucknam-travels-to-where-the-opportunities-are/
Perfect Game Scout @PG_Scouting Jul 7 Micah Bucknam ('21 CAN) sitting 89-91, up to 93. Mixing in SL in upper-80s, flashed tightness. CH @ 83-86 w/ depth. Strong frame. #Washington commit #PGDraft #WWBA
Mitch Bannon @MitchBannon Toronto also selected Canadian high schooler Micah Bucknam from Abbotsford, BC. Born in August, 2003, RHP Bucknam is already touching 96 with his fastball
Image from AZ Central
17th round - 512nd overall. LHP Cooper Benson, Arizona State. 6-foot-0, 213 lbs. Bats Left. Born August 3, 2000.
AZCentral.com
- Cooper Benson and Boyd Vander Kooi, two of Arizona State baseball's starting pitchers, will
undergo
season-ending Tommy John elbow surgery. Benson, a redshirt freshman, pitched six innings in the season opener Feb. 19 then exited after one inning against Hawaii on Feb. 26. Benson, a 6-0 lefthander, worked his way into the No. 1 starter role in the COVID-19 shortened 2020 season, going 1-1 with a 3.60 ERA. He has 35 career strikeouts in 27 innings.
Twitter Reaction
Jacob Rudner @Jacob_Rudner With the draft occurring in July, ASU lefty Cooper Benson was eligible for selection. He was picked by the Toronto Blue Jays in the 17th round. He has three years of college eligibility left.
Image from Saint Leo Lions
18th round - 542nd overall. LHP Jimmy Burnette, Saint Leo University (Florida). 6-foot-2, 205 lbs. Bats Left. Born October 19, 1998.
SaintLeoLions.com
- Sunshine State Conference Pitcher of the Week (5/10) … made nine appearance on the mound including a team-high eight starts … posted a 3-5 record with a team-high three victories … finished with a 5.76 ERA through a team-high 45.1 innings pitched … struck out a team-best 53 while walking 20 … posted back-to-back complete-game seven inning appearances versus Nova Southeastern (4/30) and Barry (5/8) to finish the season … selected to the inaugural MLB Draft League in the summer of 2021 … went a season-high 7.0 innings in four of his nine appearances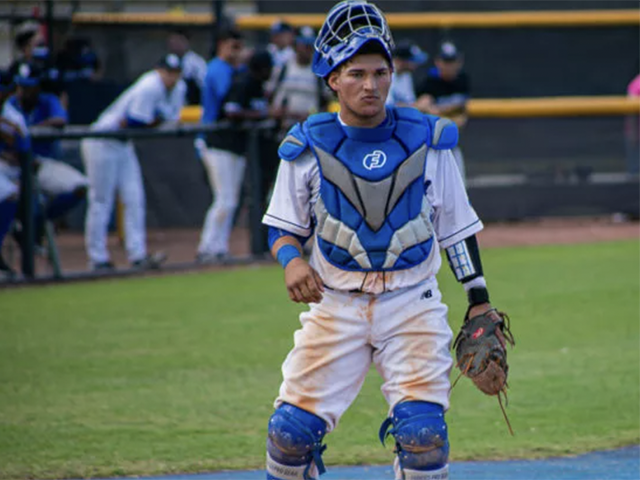 Image from Miami Dade College - The Reporter
19th round - 572nd overall. C Juan Gonzalez, Miami Dade College (Florida). 5-foot-10, 195 lbs. Bats Right, Throws Right. February 20, 2001.
The Register
- The five-foot-ten-inch catcher from Venezuela
has played
in World Cups and international tournaments in countries like Korea, Spain, Italy, and the Czech Republic in the past six years. Now, Gonzalez, who graduated from Champagnat Catholic School in Hialeah in 2020, was born in Caracas, Venezuela, on Feb. 20, 2001. He grew up in La Guaira, a port city 21 miles away from the capital. Gonzalez enjoyed basketball and soccer but gravitated toward baseball because his older brothers, Tito and Julian, played the sport. When he was four years old, Gonzalez joined Criollitos de Venezuela, the country's little league system, and quickly developed an interest in catching. To him, the position meant having a voice on the field while leading the team's pitching staff.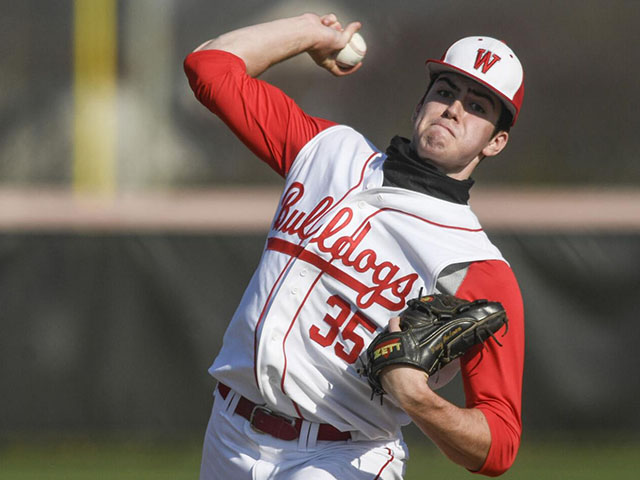 Image from Reading Eagle
20th round - 602nd overall. RHP Luke Holman, Wilson HS (Pennsylvania). 6-foot-4, 190 pounds. Bats Right. Born September 20, 2002.
MLB.com
- Craig Holman spent eight years pitching in the Phillies' farm system after being taken in the 22nd round of the 1991 Draft, but never made it to the big leagues. He's hoping for better things from his son, Luke, who beat anaplastic large cell lymphoma as a child and was getting large crowds of scouts at his starts this spring. As part of a bumper crop of high school talent in Eastern Pennsylvania, scouts flocked to watch Holman while getting to double up by seeing outfielder Benny Montgomery or fellow right-hander Michael Morales. Holman has made the most of the attention, showing off his size, projection and stuff fairly consistently. The projectability is the main thing with a 6-foot-4 frame that should be able to add strength. That could mean more consistent velocity for a fastball in the 90-94 mph range, thrown with good spin rates. Holman also can really spin his breaking ball, a pitch he typically throws in the mid-70s that flashes plus at times. He can mix in a decent changeup occasionally as well. Holman's athleticism on the mound is another asset that should help him repeat his delivery and throw strikes. A team that likes prep arms with some ceiling could take Holman early enough to keep him from heading to the University of Alabama.
Video
Reading Eagle
- More than one Major League Baseball team
expressed
interest Monday in drafting Wilson right-hander Luke Holman, but the price wasn't right for him. Craig Holman, Luke's father, said that his son turned down offers of signing bonuses of $800,000 and $700,000 before two teams made their third-round selections. He said his son had been seeking $1 million. He's signed a letter of intent to enroll next month at Alabama.
Twitter Reaction
Paul Roberts @PaulRobertsCuse I do know that Coach Bohannon at Alabama has been first class with Luke Holman throughout this entire process, and Luke's parents are very impressed with him.