Pitchers are a different breed. They all strive for that perfect balance between power, command, and composure under pressure, all without injuring their arm. In the striving, a good number of them teeter on the edge of sanity. Many others, while sane, are just a little out there. A. J. Burnett is an upstanding member of the pitching fraternity in the latter group, with iconoclast credentials ranging from bats engraved with "Marilyn Manson" to nipple rings. Today we give him the Hall Watch treatment. He's far from a Hall of Famer, but with pitchers one never knows.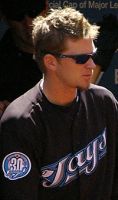 Burnett was drafted out of high school by the Mets in the 8th round in 1995. He spent two summers in rookie league in the Mets organization, and was your prototypical young Nuke Laloosh style power pitcher. As Annie said, all over the place. In 1997, he moved up to the New York Penn League where he walked 35 and struck out 48 in 44 innings. He was 20. During the off-season, the Mets traded him to the Marlins in return for Al Leiter. The Marlins moved him up to the Midwest League in 1998, where he blew away the league, striking out 186 in 118 innings, and walking only 45, with a 10-4 record and a 1.97 ERA. The Marlins had him jump from low A to double A in 1999 and he struggled walking 71 in 120 innings, albeit with 121 strikeouts, on his way to a 6-12, 5.52 mark. Notwithstanding his poor season in double A, the Marlins, who were 1 year after their first fire sale, called him up in September and gave him 7 starts. He pitched about as well as the Marlins could have hoped for, going 4-2 with a 3.48 ERA, but the 25 walks in 41 innings signalled that he was not ready. He made 13 mostly unsuccessful starts in the big leagues in 2000, before arriving for good in 2001 at age 24.
Burnett had fairly good seasons in 2001 and 2002, before elbow problems led to Tommy John surgery early in 2003. He was out for just over a year, and returned with solid efforts in the second half of 2004 and in 2005. Arm problems have returned in 2006, and he has made only 2 starts. Burnett throws a 100 mile per hour fastball, along with a knuckle curve. Although he gets many ground balls with the knuckle curve, he has not been effective during his career with runners on base. Opponents steal bases at an almost 80% clip against him, and he has had fewer double plays turned behind him than would be expected. He has a pretty fair slider, and an average change.
So, here he is. He will be 29 and 1/2 on July 3, and at a crossroads in his career. His arm has spoken loud and clear- "you cannot continue as before". And one's body never lies. He is at a perfect age to make changes- to throw the knuckle curve less often and work in more off-speed stuff that's easier on his arm, to work on his delivery from the stretch and holding on runners, and perhaps to see himself a little more as part of a team. To do this, he will have to realize that the marketing and hype surrounding his arrival in Toronto about his power and the speed of his fastball, was just that, marketing and hype. Or he can try to pitch as hard as he can for as long as he can, on the theory that it is better to burn out than to fade. He might have a year or a year and a half of fine pitching left in him if he chooses that route.
Burnett's
comparables
, according to baseballreference.com, are either depressing or not really comparable at all. In the latter category, we have Walt Terrell, Steve Renko and Don Larsen. In the former, we have Erik Hanson and Jose Guzman. Has there ever been a power pitcher who had modest success in his 20s and emerged from arm troubles to find success in his 30s?
John Smoltz
was a successful power pitcher who had Tommy John surgery in 2000, and moved successfully to relief for 4 years before returning to the rotation in 2005.
Bret Saberhagen
had arm troubles in his 20s, but he was really a different breed than Burnett, possessing exceptional control from the time he arrived in the majors at age 20. Most of the pitchers like Burnett- from
Sandy Koufax
to
Dizzy Dean
to
Don Newcombe
- burned out fast in their early 30s. The leading practitioner of the knuckle-curve,
Burt Hooton
, had his last good year at age 31.
My guess is that Burnett is going to go full blazes for the rest of 2006 and 2007. It fits with the team's needs and his personality. Heck, his name even suggests it. Rust never sleeps.