There's nothing like breaking your coffee maker to reveal to you just how much you need coffee.
Maybe it's the three days with no coffee, or maybe this road trip has finally crushed my hopes for the season. But regardless of the cause, I have lost most if not all of my enthusiasm over the last week or so.
As I write this, Cory LIdle has just mowed down the first three batters in order as if he could actually, you know, pitch or something. And that's why I've decided to write a game report about another game -- the game of MLB Sportsclix that I'm about to play.
Sportsclix came out in 2004
, and I was really excited about it: it was a silly baseball game with tiny plastic collectable men that you bought "blind", the same way you bought baseball cards. You'd buy a pack of three and have no idea of who you'd be getting. I bought a starter set and enough boosters to field two decent teams; by the time I was ready to buy more figures, the game had failed.
Two years later, the massive failure of the game has made it so that you can buy entire sealed cases of the figures for peanuts. Myself and two other nutcases that you'd probably know if I ID'ed them just placed an order for about 160 random little men, and we're going to have a big picnic table draft as soon as the crate arrives.
But in the meantime, here are the lineups that I'm fielding today:
The Manatoulin Matadors
managed by NFH
LF Carl Crawford
RF Jose Cruz
CF Vernon Wells
DH Vladimir Guerrero
3B Eric Chavez
1B Derrek Lee
C Paul Lo Duca
2B Orlando Hudson
SS Jose Valentin
Starting pitcher: Kerry Wood
The Chesterton Cheetahs
managed by Mrs. Hank
CF Juan Pierre
2B Michael Young
RF Carlos Beltran
1B Carlos Delgado
DH Bernie Williams
LF Adam Dunn
SS Angel Berroa
3B Chris Stynes
C Brad Ausmus
starting pitcher: Ben Sheets
It's raining, so the dome is closed here at the Reynolds Centre. The Cheetahs are at home, so the Matadors are up first. Sheets is on his game; Crawford and Cruz ground out, and Vernon Wells strikes out looking. The Cheetahs fare not much better off of Kerry Wood, who feeds them a steady diet of fastballs; Juan Pierre draws a leadoff walk, but Michael Young strikes out swinging. Carlos Beltran smacks a speedy grounder to Derrek Lee but is safe when Lee bobbles it; Pierre is not so lucky when he tries to take third on the play and is thrown out. Carlos Delgado flies out to shallow centre to close off the inning.
The Matadors try to get something going early in the second, when Vladimir Guerrero tries to outrun a grounder. Michael Young has to hurry the throw and draws Delgado off of the bag. Eric Chaves strikes out, and Derrek Lee grounds out to second. Guerrero advances to third on the play, but Paul Lo Duca strikes out looking to end the threat.
Bernie Williams strikes out to open the bottom half; he and the umpire exchange heated words. Adam Dunn steps up to defend his teammate by smacking a line shot out to right field that clears the fence and leaves the stadium. At this point in the game there was a lengthy delay as a toddler with a smelly diaper wandered onto the playing field and knocked over a number of fielders. He then picked up Bernie Williams in one hand and Angel Berroa in the other and proceeded to make them kiss each other repeatedly. Bernie has more heated words for the toddler, but Berroa is oddly quiet about the whole thing. Eventually security is called in to remove the toddler from the field and change his diaper.
Unfortunately, the delay seems to have quashed any momentum the Cheetahs may have had -- Berroa and Stynes both strike out swinging.
The Matadors go nowhere in the top of the third, as Orlando Hudson grounds out to second base and Valentin and Crawford both strike themselves out -- Sheets' control is spectacular.
The Cheetahs fare no better in the bottom: a Michael Young walk is stranded on base amidst three flyball outs from Ausmus, Pierre and Beltran.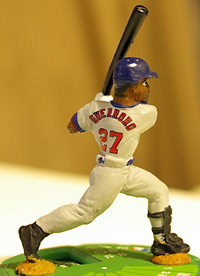 Things finally start to happen for the Matadors in the fourth. The inning looks like it's going to be another quick one for Sheets, with a Jose Cruz flyout and another strikeout for Wells. However, Sheets becomes overconfident and serves up a fastball to Vladimir Guerrero, which Vlad promptly smacks into left field. Adam Dunn, notorious for having made six errors in his last game for the Matadors (prompting his trade to the Cheetahs for the last chip in the bowl) is out of position but manages to get to the ball. Unfortunately, instead of catching it Dunn manages to bounce it off of his glove and over the outfield fence for a game tying home run.
After some cursing in Dunn's direction, Sheets settles back down to paint the corners against Eric Chavez, striking him out to end the inning.
Wood gets himself into some trouble in the bottom half: first he avoids his fastball and gives nothing to Delgado, who gladly takes the walk. Then Bernie Williams drops a bloop single into left field in front of Carl Crawford. Adam Dunn, fresh off of his brutal defensive miscue, works the count and draws a walk to load the bases. At this point I walk out to have a chat with Wood about how he's feeling -- is he tired? Sore? He tells me it's just a run of bad luck -- look at his click dial! I do, and the man is on fire. Just some unlucky rolls of the dice, that's all. I leave him in and don't start warming anybody up, as a sign of confidence in him.
Angel Berroa hits what looks like another sure single into left, but Carl Crawford makes a spectacular diving stop to save a run. Delgado tags and heads home, but Crawford guns him down at the plate with at least three feet to spare. Chris Stynes strikes out swinging to end the threat; Wood punches the air and shouts in triumph.
Derrek Lee opens the fifth with a groundout to first; Paul Lo Duca works the count to full, fouls off a number of pitches and finally coaxes a walk out of Sheets, who appears to be trying to make his pitches just a little too fine. Orlando Hudson grounds out in what appears to be a perfect double play opportunity, but somehow Paul Lo Duca beats the throw to second. Jose Valentin scorches a ground ball between second base and the shortstop, moving Lo Duca to third, but Carl Crawford grounds out to strand him there.
Wood appears to be back on top of things in the bottom of the fifth, coaxing three straight flyouts to Carl Crawford in left field from Ausmus, Pierre and Young.
In the sixth, Sheets tries the fastball again and this time he strikes out Jose Cruz with it. Vernon Wells continues his cold night at the plate with a ground ball to short that Berroa gets to Delgado with plenty of time to spare. Vladimir Guerrero nearly homers a second time, but Juan Pierre climbs the centre field wall to pull it back in and end the inning.
Not to be outdone, Jose Cruz makes a diving catch on a fly ball to right by Carlos Beltran. Carlos Delgado sneaks a single past the left side, and then the umpire starts to squeeze Wood, giving a walk to Bernie Williams on a pretty damned good pitch. This just angers Wood, who strikes out Dunn and Berroa with fastballs.
Unfortunately, at this point the game had to be called due to curfew. Perhaps it will be picked up tomorrow as part of a double-header. For now, the score is tied at one all going into the seventh inning. Both pitchers are beginning to tire, though Sheets appears to be in worse shape and his only backup in the bullpen is Eddie Guardado.