It must suck to be a Red Sox fan, having been deprived of a World Series title for almost 35 months now. On a more serious note, the season is clearly over in Boston -- they are eight games behind New York after a month that Ben Affleck would like to forget, and they're slowly losing their mind. That is, their outfield.
Injuries have played a large part in this decline, as they've lost their
three
and
four
hitters, their
shortstop
, a
corner outfielder
, a
couple
of
starters
, and their
No. 1 catcher
. Sorry, I'm supposed to be talking about the Red Sox here. Okay, fine. But it's not going to be pretty.
On to the Advance Scout!
General:
After their much-dissected series loss to New York, they went off to the West Coast and took two of three from LAAoA. Just when you thought they might be back on track, they were swept by the Mariners and the Athletics, and have now lost 12 of 14 ... Given their starting pitching woes, it's not surprising that they fell back so quickly. Jon Lester, Tim Wakefield, and Matt Clement are all on the DL. Not to mention Jason Varitek and Trot Nixon's injuries, which required trades for Javy Lopez and Eric Hinske. Varitek and Nixon, apparently, will be on rehab stints this weekend and may or may not see action in the last game of this series ... Before their weekday Oakland series, had a 1.9% chance to win the AL East. Now, that stands at 0.6%... Just 55-60 against the American League this year; their 16-2 interleague record ties Minnesota for the best in the American League ... E------ L-----, Kirk Saarloos, and Barry Zito all had the benefit of not facing Manny or Ortiz. Naturally, He Who Must Not Be Named dominated as I sat there and watched the whole thing. That's the cross Advance Scouts must bear ... Took the lead on Wednesday afternoon; it was the first lead they had since Michael August Timlin blew the game on Saturday. It lasted about eight minutes as Bobby Kielty homered off Curt Schilling in the bottom of the second ...
David Wells:
Will probably be traded by the time you read this.
Buster Olney
has him going to San Diego for a Triple-A catcher ... Can go all Lilly on everyone and fall in love with his curve, and his fastball often misses low and in vs. RHB. His changeup is pretty solid, though ... Oldest pitcher ever to make a start for the Sox ... Has not done well against the Blue Jays since...well, since 2004 ... The Wells named Vernon is 13-30 lifetime against David ... If he is traded, it's anyone's guess who starts tonight. I'll go with Lenny DiNardo ...
Lenny DiNardo:
Yeah, I told you it wasn't going to be pretty ...
Kyle Snyder:
Has missed a ton of time due to injury -- the entire 2001 and 2004 seasons, to be exact ... His fastball sinks a little bit, but it barely gets out of the low 90s ... His slow curve comes in at around 68-71 and the change is 81-83 ... His slow rotation from the stretch makes him easy to steal against -- even Robb Quinlan, of all people, was able to swipe second. Not that it matters to the Jays ... Is there anything more humiliating than the Royals saying "You know, we'd like to see other pitchers"? ...
Mystery Saturday Starter:
Your guess is as good as mine. I will say T.J. Mathews ...
Josh Beckett:
With nobody on base, is up in the zone a lot. Gets his curve in there more if a double play is desirable ... Still giving up way more HR than expected. His previous high was 16 and he's already doubled that ... K rate has also fallen since he left the Not-so-good League and joined the AL ... Here's Vernon Wells again: 6-12, 4 HR vs. Beckett this year ...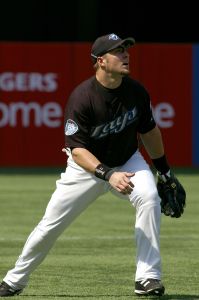 Eric Hinske:
Wears #12 (the DL'd Alex Gonzalez has 11) ... Most of you probably remember his three doubles in his first Boston game (August 18), but after that, he had only one solitary single until the Oakland series ... You know, he really does have nice instincts out there. Made another absolutely tremendous catch on Monday night ...
Manny Ramirez:
Has not played since Saturday. This led to much amusement with Kevin Youkilis pretending to play left field ... Francona: "He said he couldnít play. What the (expletive) do you want me to do?...If a guy says he canít play, he canít (expletive) play. Go ask him. He said he canít (expletive) play." ... So, uh, I'm not really sure why he can't play. The reason given is his knee is acting up, but you never know with this guy ...
Coco Crisp:
Covelli Loyce Crisp is still a pull hitter to the max ... For all the crap he's taken from
some
columnists
, I'd still take him over Johnny Damon. If you (not-so) seriously want to know what's wrong with him, check out
Tyblog
... Had reverse platoon splits in 2005; his career actually shows slightly better production vs. LHP ...
David Ortiz:
Missed the last two games in the Oakland series after returning to Boston for medical reasons -- he experienced another irregular heartbeat. The first one happened about two weeks ago, but only one "
obscure website
" appeared to know about it ... Carl Everett's favourite writer chimed in again: "There never has been anyone like David Ortiz in our town. Sure, there were a couple of players with more talent, but no one ever has had a prolonged stretch like this". I could link to Larry Bird and Bobby Orr's career pages, but you understand the absurdity of that statement anyway ...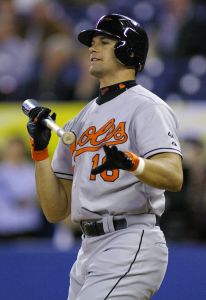 Javy Lopez:
Seems to be overcautious at the plate. That may or may not be significant or accurate ... In the 2004 season opener, him, Miguel Tejada, and Rafael Palmeiro were hailed by Sunday Night Baseball as the new threats in the Baltimore lineup. That turned out well ...
Jonathan Papelbon:
Before yesterday afternoon, had not pitched since last Thursday, and has only seen action in five games since the beginning of the series against New York ... Gave up more runs in the month of August (4) than in April-July (3) combined ...
Mike Lowell:
Sure, nobody really expected this, but last year, his HR/Fly rate was 4.1. That is, needless to say, ridiculously low. His batting average on balls in play from 2004-2006 has gone .300-.254-.296. It looks very similar to Jim Thome's 2005, which most people were much quicker to write off as a fluke than Michael Aeverett Lowell's season ... Not a Fenway creation -- has hit better on the road ... At a time when all we hear about are pushy sports parents,
this
is nice to hear: "If my kid doesn't want to play one inning of baseball in his whole life, that doesn't bother me. I just want him to find something that he likes and to enjoy that" ...