The Jays blow a Halladay game for the 6th time this season.
This is the advantage of your team being out of the race – a loss like this is a real killer for a contending team. With the Jays playing simply for the bragging rights of second place, it's a minor annoyance.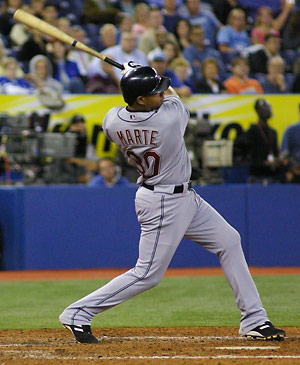 Stars of the Game
: Andy Marte grabbed the spotlight with his grand slam, but it was Jeremy Sowers stepping up to the challenge of facing Roy Halladay that really gave the Indians a chance.
For the Jays
: Roy decided to get some strikeouts, and racked up 9 over his 7 innings. Too bad he didn't decide to do his usual get-through-the-game-on-as-few-pitches-as-possible, as the bullpen and the offence weren't real supportive. Bengie Molina had a homer and a single.
Defensive Play of the Game
: In the top of the 7th, Johnny Mack caught a spike in the turf as he fielded Marte's ground ball and wiped out, but got a perfect throw off on the way down.
Defensive Misplay of the Game
: In the top of the 8th, Jeremy Accardo inexplicably stopped hustling towards first base as he awaited the throw from Lyle Overbay on Shin-Soo Choo's ground ball, and arrived too late to record the second out. The next batter hit a grounder back to Accardo which should have been an easy 3rd out at first base. Instead, Accardo had to throw to the plate to try to prevent the run scoring. The run scored anyhow, taking Halladay out of the winner's circle and opening the floodgates.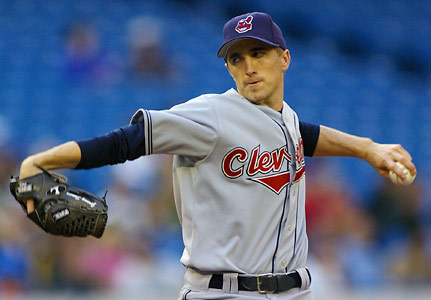 Show Me The Money
: Ted Rogers says the Jays will have more money to spend for 2007. Speculation is that this was more of a leak than an announcement, and that Godfrey & Ricciardi have submitted a budget proposal to be approved by the end of October.
Elsewhere
: It's not just the Jays; the White Sox lost to the Red Sox behind a 3-hit 11-K complete game from Javy Vazquez. The Boston starter was noted ace Kason Gabbard. The word you're looking for is: Who?
Meanwhile, Johan Santana struck out 12 Futile Rays over 8 shutout innings and was capably supported by both his bullpen and his offence in becoming the first 17-game winner of 2006. Ron Gardenhire had the good sense not to concern himself with a shutout for Santana, pulling his ace with the 8-0 lead and 95 pitches thrown. Detroit fell 4-3 to Seattle, so the Twins find themselves leading the Wild Card by 1 ½ over Chicago and trailing Detroit by 4 in the Central.
Jorge De La Rosa and Todd Wellemeyer shut out the Yankees as Mike Mussina gave up 4 runs on 8 hits over 5 innings.
Today
: Ted Lilly takes on Jake Westbrook.