"Well, we're screwed now."
--White Sox first baseman Paul Konerko, on PECOTA's projection of 72 wins for his team.
Konerko probably doesn't even know that PECOTA projected the 2005 White Sox to win just 71 games. That, of course, was the year they won
99 games
on their way to their first World Series title since Shoeless Joe Jackson was an honest man.
While I'd love to go on mocking the lads at Prospectus for making White Sox forecasts that were even worse than mine, that type of behaviour is: a) unseemly, and b) has a way of coming back to bite you in the ass. So let us say instead that the White Sox can be a deeply confusing ball club. I lamented earlier in the week that having written about the Sox each of the past two seasons, I don't have much new to say about them. Consequently, I have produced some pretty pictures. Consider this, if you will.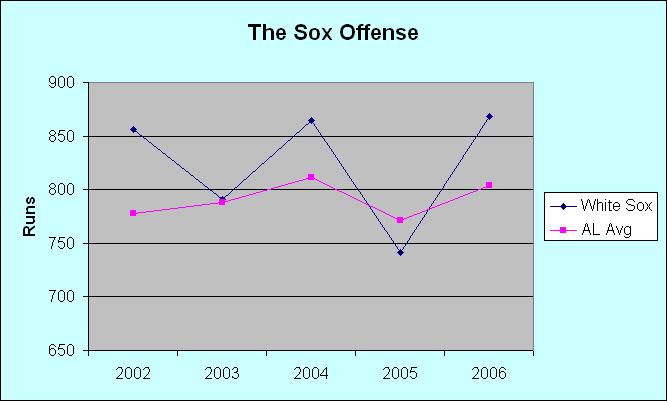 Which of those five seasons would you think was the one where they went and won 99 games and the World Series? Of course - it was the year the offense went into the tank!
The other half of the game is keeping the other fella from scoring, and our second pretty picture sheds a lot more light on the 2005 champs.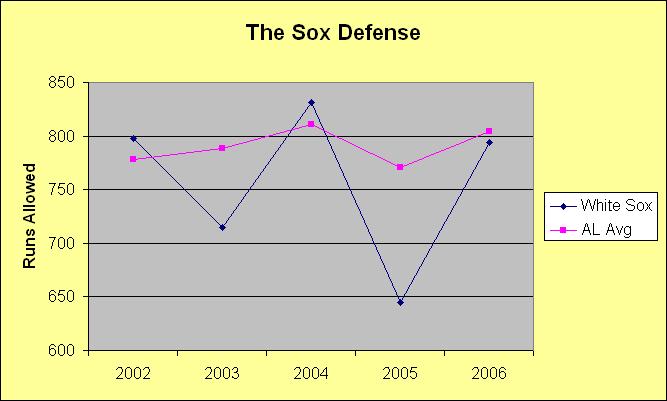 So you see what happened last year. The White Sox returned to their customary ways, scoring lots of runs and giving up almost as many. The championship year was a blip, a fluke, a freak occurrence.
Yeah, but. Kenny Williams completely remade the White Sox with a series of moves beginning in mid 2004 and continuing through the off-season of 2004-2005. He had a team that waited around for its right-handed sluggers - Frank Thomas, Carlos Lee, Maggio Ordonez, Paul Konerko - to knock the ball into the seats. That was their entire game plan, and it wasn't working. So Williams overhauled his team, and try as I might, I don't remember hearing a swelling chorus of approval at the time, nor do I recollect baseball observers leaping to their feet as one, cheering and applauding. Well, OK, that never happens, forget I said it. But no matter - just about every move Williams made, and he made a bunch of them, worked perfectly. If not better. He cleared away the slow right-handed sluggers - he traded Lee, he let Ordonez. walk as a free agent, and Frank Thomas spent almost all of his last year in Chicago watching from the DL. His new White Sox went and scored a whopping
124 fewer runs
than they had the year before.
So they had to find new ways to win, and find them they did. The 2005 White Sox had sensational pitching, the best in the American League. (Improved defense doubtless had a lot to do with it.) The starters were very good, but they got truly amazing work from their bullpen. And last off-season, Williams looked at his ball club and thought - "hey, we're pretty good." They were the champs, were they not? So he contented himself with a couple of tweaks, but very impressive looking tweaks, both of which seemed to improve his team considerably. He exchanged the ancient Orlando Hernandez for Javier Vazquez, who certainly looked a lot more likely to provide 30 starts and 200 decent innings than El Duque. And he sent his centre fielder, Aaron Rowand, off to Philadelphia for Jim Thome. Both moves worked more or less
exactly
as designed.
So naturally the White Sox won 9 fewer games than the year before, and fell into third place.
Damn, but this baseball can be confusing.
Anyway, what happened?
You doubtless noticed, from looking at the Pretty Pictures, that in 2006 the Sox offense recovered from its one-year nosedive. They were third in the AL in runs scored last year, behind the Yankees and (barely) the Indians. But alas! - the pitching and defense reverted to its previous levels as well. They may have been the New White Sox, the remade White Sox, the pitching and defense White Sox - but they were posting numbers exactly like the old slugging White Sox of Thomas, Lee, and Ordonez. And I, who missed nailing the 2006 Sox final record by
one measly game
(put that in your PECOTA and smoke it!) actually anticipated some of the ensuing difficulties:
It's hard to see the pitching being that brilliant again. I'm sorry, but I think Garland was a fluke. I need to see him do it again. While Hermanson, Politte, and Cotts were brilliant last year, none of them are headed for Cooperstown, except as tourists.
Well, Garland was OK last year, so perhaps you can say he has done it again. It was more than offset by Mark Buehrle running into the first bad patch of his stellar career. The starting pitching had been very good in 2005; last year it was average. But Hermanson, Politte, and Cotts? Hermanson was restricted to 6.2 inings; Politte ran up an ERA of 8.70 and was released in mid-season; Cotts was there for the full year, but his ERA of 5.17 got him traded across town once the season was over. The 2005 bullpen was absolutely lights out, and it hardly even mattered which guy Ozzie threw into the game. They were uniformly brilliant. But last year? Not so much.
So what's the plan this year? Strengthen the pitching, right? What did Kenny do?
What do you think he did. He
traded Freddy Garcia.
For a (so far) failed prospect, the Phillies version of Dustin McGowan. Of course!
I think when Kenny Williams is doing things that make no apparent sense on the surface is when we all need to be very, very careful. I understood last year's moves, they made perfect sense to me. All that stuff he pulled off the year before, that's when he had me confused.
Anyway, that's the big move. Gavin Floyd is fighting for the job of fifth starter, behind Contreras, Garland, Buehrle, and Vazquez. (He is by no means a lock to win it.) Williams also brought in Darrin Erstad. This was partially as insurance if Scott Podsednik wasn't ready to start the season, and partially to light a fire under Brian Anderson's butt. As of now, it looks like a) Podsednik will be ready for Opening Day; b) Erstad will be the starting centre fielder; c) Anderson will go to AAA because Ozzie would rather see him playing every day than sitting around watching. It's not like he'll be there long, anyway - Erstad is sure to hurt himself before the end of May.
The rest of the lineup is pretty much the same crew as we've all been watching these last few years. Pierzynski is catching, and Toby Hall is his new caddy. It's the same infield - Konerko, Iguchi, Uribe, and Crede. This group is actually getting better - Crede in particular took a long-awaited step forward last season. Dye and Podsednik will man the outfield corners, and Anderson will take over centre after the inevitable Erstad injury. Ozuna, Cintron, and Mackowiak will provide Depth.
As I understand it, one of the PECOTA isssues with this team is the concern that it is an aging group and this year they'll be one year further along in the aging process. As if aging is a bad thing... young punks... where was I? Oh yes - it's true that their oldest player, Jim Thome, is now 36 years old. On the other hand, he is
Jim Freakin' Thome
. I'm not going to get too worried for a while. Jermaine Dye, the next oldest position player, is coming off the best season of his career.
Marginal
players go off a cliff at this age - great players can still help you beat the other guys. This team will score runs.
So it's going to be about the pitching. The Sox are bringing back four of the five men who started all but three of last year's games. Through the first three months of last season, Mark Buerhle was 9-4, 3.32 - you know, the same thing he always does. Then he had a July from Hell (0-5, 11.48) and scuffled the rest of the way (3-4, 5.35). Jose Contreras had a similar season - he was 9-0, 3.38 at the All Star Break, but he also faded badly (4-9, 5.40) in the second half of last season. Kenny Williams thinks one of the reasons Contreras and Buehrle ran out of steam last season is precisely because they were so successful the year before, and worked so many additional innings in October. An interesting theory, although I don't remember hearing that type of talk about John Smoltz or Andy Pettitte. I suppose we'll see. Javier Vazquez will make his 30 starts, pitch his 200 innings, and be average. And Jon Garland... I still don't get it. He went and won 18 games
again
, and I guess I should just give up. His strikeout rate makes one nervous, he gives up a lot of hits, and many of those hits... do not give the fielders a chance to make a play, sailing as they do off into the distance. But he eats up innings, he doesn't walk anybody... maybe he's the Mel Sottlemyre of his generation, and he'll be effective like this for another five years and then plunge off the clifff into a dark abyss. And become a coach.
The fifth starter is Yet to Be Determined. Gavin Floyd is in camp, showing off his fine assortment of Tools. He still doesn't seem to be able to actually get hitters out with these fine tools (in 9.2 innings this spring, he's allowed 16 hits, 13 runs, and more walks than strikeouts.) The Sox are also looking very hard at young lefty John Danks, who came over from Texas in the Brandon McCarthy trade. Danks was supposed to be bound for AAA, but he's pitched so much better than Floyd so far that it's going to be hard to deny him the job. Also in the mix is Charlie Haeger, who is that most seldom-seen of all creatures - a young (23 years old) knuckleballer. Haeger acquitted himself well in a brief look last season, and may stick as a reliever whatever happens.
Elsewhere in the bullpen, Bobby Jenks is back to close the games. Hermanson, Cotts, Politte are all gone, of course. Matt Thornton and Mike MacDougal will be returning from last year's crew. Thornton, picked up from Seattle for the perenially disappointing Joe Borchard, supplanted Cotts as the main lefty in the pen last season and MacDougal was outstanding after coming over from Kansas City at the end of July. David Aardsma, a big hard throwing RH, came over from the Cubs in the Cotts deal. Nick Masset, also acquired from Texas in the McCarthy trade, and Enormous Andy Sisco (from Kansas City in exchange for Ross Gload) will probably be working long relief. Haeger is a very definite possibility here as well.
What to expect?
I haven't the foggiest. I think it's a good team, in a tough division. They could win 90 games, and still finish anywhere from first to fourth.... who the hell knows?
OK, OK. 91-71, third place.