Has the draft always been in the evening? I seem to remember if being an afternoon affair... I suppose they want to capitalize on TV audiences. Anyway, it goes down at 6PM tonight.
Stephen Strasburg, of course, is expected to go #1 overall to the Washington Nationals, and over the past month we've been inundated with "best prospect ever" hype. On Fangraphs today, however, Dave Cameron makes a decent case that Dustin Ackley, the consensus #2 pick and best hitter in the draft, wouldn't be such a bad choice for the Nats. He reasons that hitters are inherently less risky than pitchers, and the large cost difference between Strasburg and Ackley (Scott Boras is expected to use Daisuke Matsuzaka's 50 million/6 years contract as a model for Strasburg, and he's expected to wind up signing for between 20-30 mil) make the two players closer than people think. Cameron doesn't come out and say the Nats should draft Ackley, but it's an interesting thought and a good read nonetheless. Also, Cameron will be live-blogging the draft over at Fangraphs, so check it out if you want to follow the draft with a bit more of a sabermetric lean than you'll get from MLB.com or ESPN's coverage.

Jim Callis of Baseball America, who has a pretty good track record of projecting the draft, posted his Mock Draft 4.0 today. The first round is available to non-subscribers. Callis has the top 5 going Strasburg, Ackley, Donavan Tate (who could reportedly fall very far if the Padres at 3 and the Athletics at 13 pass), Aaron Crow, and Zack Wheeler. Callis has the Jays picking LSU outfielder Jared Mitchell. Notable names to fall out of the first round of Callis' draft include Grant Green, Kyle Gibson, and Canadian James Paxton, who the Jays have been previously linked to.

If you just can't wait until 6PM, MLB.com has coverage all day leading up to 6PM, and their resident draft guru, Jonathan Mayo, has released his final projection. Mayo has Aaron Crow falling to #9, with Boston College catcher Tony Sanchez taking his spot at #4, and the Jays taking Sacramento State outfielder Tim Wheeler, with Jared Mitchell going one pick later to Houston. This is what Mayo has to say about the Jays:

There remains the possibility that the Jays will be a little adventurous and take a high school bat, but the college bat route seems like a more plausible route. Wheeler, Pollock, Sanchez could all be considered if available.

He's referring to A.J. Pollock, a Notre Dame outfielder, and the aforementioned Tony Sanchez.

If you're an ESPN Insider (I'm not), here's Keith Law's final mock draft.

Over at Minor League Ball, John Sickels and crew did a community mock draft of the first three rounds (link takes you to the first round). As a community mock draft, rather than a projection, it's less likely to be accurate, but for what it's worth, the Jays took injured but high-upside pitcher Kyle Gibson.

Also, Da Box's very own Marc Hulet will be live-blogging the draft over at Baseball Analysts. Ch-ch-check it out!

Feel free to use this thread to discuss the draft! We'll keep it updated with all the Jays' picks throughout the evening.
Toronto Blue Jays 2009 Amateur Draft Selections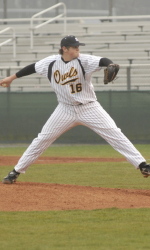 Round 1, 20th overall, RHP Chad Jenkins, Jr., Kenesaw State, 6-4, 225. Born December 22, 1987. MLB.com Scouting Report.
Here's some video of Jenkins courtesy of YouTube. Jenkins was the Atlantic Sun Conference player of the year after going 8-1 with a 2.54 ERA. He pitched 92 innings, giving up 80 hits with a K-BB mark of 98-15. Scouting reports describe Jenkins as a good command pitcher who throws a 90-94 MPH fastball along with a 80-85 MPH slider that's considered to be his out pitch and a 80-83 MPH change that's plus.
Rotoworld considers him to be a number three or four starter. Scouting director Jon Lalonde comments on the selection of Jenkins. Baseball America has additional comments from Lalonde about Jenkins. Jordan Bastian of bluejays.com files a story on Jenkins along with some video.
=======================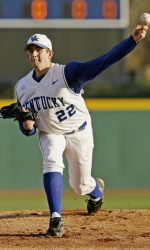 Round 1 (Supplemental), 37th overall, LHP James Paxton, Jr., Kentucky, 6-4, 215. Born November 6/1988. MLB.com Scouting Report.
A Canadian lad from Ladner, B.C. who is represented by Scott Boras, Paxton delivers serious heat with a fastball ranging from 92-98 MPH and is reported to have a power slider. However, scouting reports also indicate he hasn't developed a third pitch and needs to work on his control and command. He went 5-3 with a 5.86 ERA this season but his K/BB total was 115-20 in 78 1/3 innings. This is a pick the Jays received from the Yankees for signing you know who as a free agent.
Bob Elliott of the Toronto Sun had a piece on Paxton earlier this week. The Vancouver Sun talked to Paxton late last month. Another Bob Elliott article last month compares Paxton to fellow Canadian lefty Jeff Francis.
=================================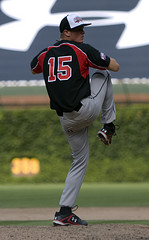 Round 2, 68th overall, LHP Jake Eliopoulos, 6-3, 178, Sacred Heart HS - Newmarket, ON/Brantford Red Sox (Intercounty League). Born May 21/1991. Video on Eliopoulos here, here and here.
Born in the Ukraine, scouting reports says Eliopoulos has a three-pitch mix featuring a high 80's fastball with an occasional foray into the low 90's, a change and a curve. PG Crosschecker.com says he needs to work on his fastball command but it does have good movement and improve his consistency of his other pitches. It's hoped that his velocity will improve once he fills out. The top-ranked Canadian high school pitcher in the draft, he had a 1.13 ERA in two starts with Brantford while racking up 12 K's in eight innings.
=========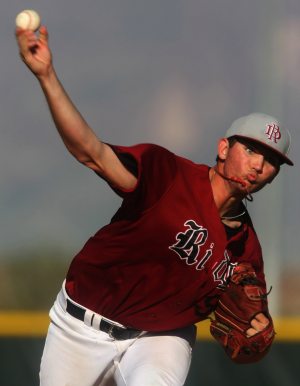 Round 3, 99th overall, RHP Jake Barrett, 6-4, 235, Desert Ridge HS - Arizona. Born July 22/1991. MLB.com Scouting Report.
Compared to Kevin Millwood in terms of his build, Barrett is described to have plus stuff but needs to refine his command according to the MLB.com draft experts. He was considered to be the best high school arm in the state of Arizona. His fastball clocks in at 90-94 MPH but doesn't have a lot of movement. He's able to locate it and command it. Barrett also throws a power curve and splitter in the mid to high 70's. He may need to get into better shape but is lauded for his fastball command and his composure on the mound.
===========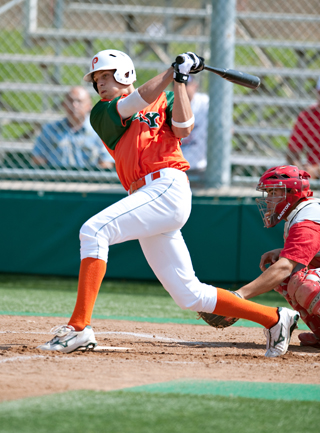 Round 3, 104th overall, OF Jacob Marisnick, 6-4, 200, Riverside Poly HS - California. Born March 30/1991. Video on Marisnick here.
That's three Jakes in a row! Now they have to select a Fat Man!! The MLB.com panel describes Marisnick as one of the best athletes in the draft and a five-tool talent. The big question is his bat as he reportedly struggled with the stick. The right-handed batter, who has been compared to Hunter Pence, has a commitment to Oregon. This was the other compensation pick for the Yankees signing whatshisname.
great projection. His fastball is currently in the high 80s but shou physically. He already shows a good feel for a change and his curvebal