You've got to pay your dues
if you want to sing the blues
and you know it don't come easy
Happy 82nd, Sir Richard Starkey.
The Blue Jays have historically had the best of it over their expansion cousins. It's true that the Jays have never won 100 games in a season, while Seattle won a stunning 116 games back in 2001.But the Mariners have never won an AL pennant, losing three times in the ALCS. The Blue Jays have lost
five
times in the ALCS, which is always painful but sure beats watching it on television. And they did win it twice. And went on to win the World Series twice. Bragging rights, this side of the border. The Jays also lead the all-time series, and they have split the games played in Seattle, where enough Canadians have regularly crossed the border to make games in Seattle feel like home games without the final at bat.
But the Mariners won both of the last two season series, in 2019 and 2021, taking two of three games at home and two of three on the road each time. And the Blue Jays have not played very well in T-Mobile Park since it opened, under the name of Safeco Field, in July 1999. The Jays have gone 31-45 against the Mariners in their second home. We miss the Kingdome, even if no one else does.

The two teams met up earlier this season for three games at the RC, with the Jays winning the first two and losing the finale. Yusei Kikuchi provided his best start as a Jay to win the opener with 6 innings of one-hit shutout; Bo Bichette had three hits, one of them a homer, to lead the offense. Jose Berrios followed that performance with 7 innings of 6 hit shutout, with George Springer's bases loaded triple accounting for all the day's scoring. The Mariners salvaged the finale in what was a tight pitching duel between Marco Gonzales and Kevin Gausman, broken open by Ty France's seventh inning homer off Trevor Richards.
I think the 2022 Mariners are better than last year's 90-72 team, although their record doesn't reflect it. They play a lot of close games, and while they've done rather well in them this year (12-8), they did really, really well in them last year (33-19.) Pythagoras pegged last year's team as having the quality of 76-86 team, based entirely on their runs scored and allowed - I, of course, am
done with Pythagoras
- I assessed them as having the quality of an 83-79 team. This year's group scores runs about as well as last year's team, but the pitching is considerably improved. Especially the rotation, largely due to Logan Gilbert (10-3, 2.61) taking a large step forward. The guy's 6'6, of course he takes large steps. The Jays were responsible for one of those three defeats - Gilbert was on the wrong side of Berrios' outstanding outing. Happily, he's not scheduled to pitch this weekend. UPDATE - Well, he wasn't scheduled to piutch, but the Mariners decided to swap Flexen and Gilbert's starts at some point over the weekend, and now Gilbert starts the finale. The Jays and Mariners did, of course, swap hard-throwing LH this off-season (not all at once!), and that exchange is working out just a little bit better for Seattle than it has for Toronto. In his last five starts, our old friend with the tight trousers has gone 2-0, 0.80, with 40 Ks and just 9 BB in 33.2 IP. It's his misfortune that the Mariners were shut out in one of those starts, and gave him just 2 runs on three other occasions. Meanwhile, as for the LH now working for the Blue Jays...
How do you solve a problem like Kikuchi?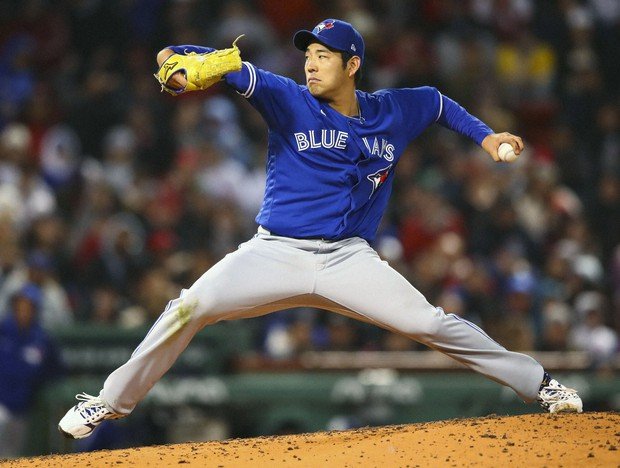 It's been a rough year for Kikuchi, and by "year" I mean the last twelve months. Since 7 July 2021, he's gone 4-11, 5.67 in his 30 starts. He was awful in the second half of 2021 (1-6, 6.22) and he's actually been slightly better in the first half of 2022 (3-5, 5.12). But. A great deal of Kikuchi's second half struggles in 2021 can be traced quite directly to a single factor - opposing hitters hit a quite ridiculous .374 when they put the ball in play, meaning that Kikuchi was allowing 11.3 hits per 9 innings. This year, things have returned to something much more like normal - opposing batters have a .296 BABiP, and Kikuchi has allowed 8.4 hits per 9, almost the same mark he posted in 2021 and... hang on. If the BABiP against him was insanely high in the second half of 2021, but the hits allowed on the entire season was quite normal - doesn't that imply that hitters were absurdly
unlucky
batting against him in the first half of the season? It does and they did, hitting just .221 on their Balls In Play.
What's gone wrong for him so far this season is exactly what everyone can see - he can't find the strike zone. It's been getting worse and worse - he walked 2.8 per 9 in first North American season, 3.6 last season, and he's up to a terrifying 5.7 BB/9 so far in 2022.
But he's done this before. In 2014, his fourth pro season in Japan when he was pitching for the Seibu Lions, his control suddenly left him and he issued 5.0 BB/9. It was a one year blip - his walks did go back up to 4.0 per 9 in 2016, but he was stingy enough with them in his last two seasons in Japan and his first year in North America.
I don't think it's in his head, I don't think it's a loss of confidence. I think he doesn't understand what is happening or why, and he's very frustrated. Probably far more frustrated than any of us - he's letting his team down, he knows it, and it can't feel very good. I assume it's something mechanical, that his release point, especially on his fastball, simply comes and goes and no one seems to understand why. I wonder how much the repeated changes to his mechanics - we've seen at least three different versions in the first three months - have contributed to that.
But the Blue Jays have made a significant investment in him. They must have believed that something like the first half of 2021 version can be unlocked. I think that might be a bit too much to hope for, I think it owed a little too much to some unsustainable good luck on the balls in play - but I do think he can be a perfectly fine back of the rotation starter, if they find The Fix. The team needs him to pitch well. He's shown, as recently as this very May (2-0, 2.36 in five starts, 31 Ks and 11 BB in 26.2 IP) that he's got the stuff to pitch quite well indeed.

Tis a puzzlement.
Kevin Gausman won't be making his regular start tonight. Casey Lawrence is here to fill in. The team hopes Gausman can make his bullpen session on Saturday, which could - possibly - set him up to start the Sunday game in Kikuchi's place, whose turn then wouldn't come around again until July 16, the last Saturday before the All-Star break. But I wouldn't hold my breath. I expect Gausman's ankle will still be barking at him and the team will - wisely, in my view - choose to err on the side of caution. They could put him on the IL - he'd be able to come back the last weekend before the All-Star break, or they could just hold him out until the second half begins... I rather think that decision is going to have something to do with how Kikuchi does next time out. Unless someone like Luis Castillo suddenly rides to the rescue. But for the moment, a good chunk of the rotation is in, and has put the team in, a rather uncomfortable position.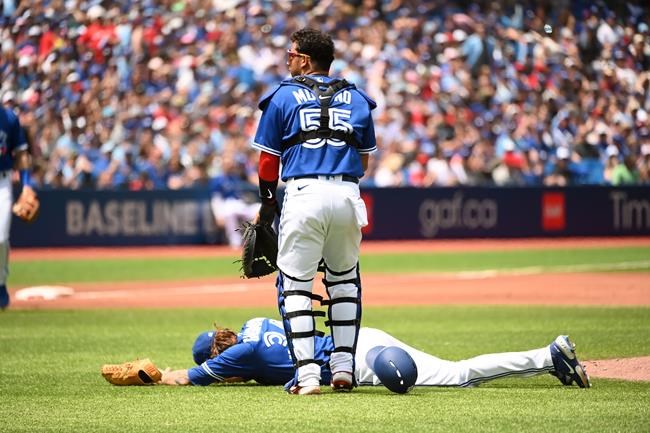 Roster news, sort of. Shaun Anderson has been DFA'd to clear a spot on the 40 man roster for Matt Peacock. The return of Yimi Garcia and Danny Jansen, in that order, seems imminent. Any day now.
Well, I know what we need to see a few times this weekend.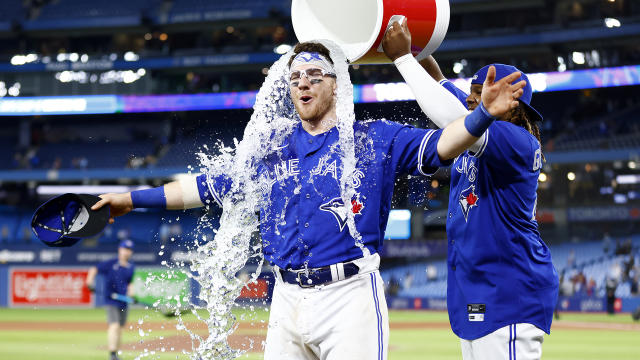 Matchups
Thu 7 July - Lawrence (0-1, 6.23) vs Gonzales (4-9, 3.29)
Fri 8 July - Stripling (4-3, 3.32) vs Kirby (2-3, 3.75)
Sat 9 July - Manoah (9-3, 2.33) vs Ray (7-6, 3.62)
Sun 10 July - Castillo (0-0, 2.38) vs Gilbert (10-3, 2.61)