Casey Janssen's
quest for freedom from the injury bug has hit a snag. If Philip Gerard was a pain and Richard Kimble was a shoulder, Gerard forced Kimble to get Janssen to leave Thursday night's game against the Yankees.
Jordan Bastian
of bluejays.com says Janssen left due to
shoulder tightness
caused by muscle fatigue.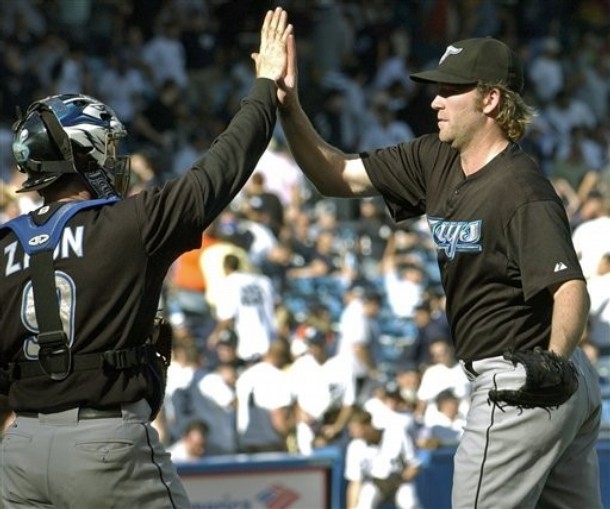 Good Times!: "The Fugitive" high-fiving catcher Gregg Zaun after saving a 4-1 win against the Yankees September 24/2007.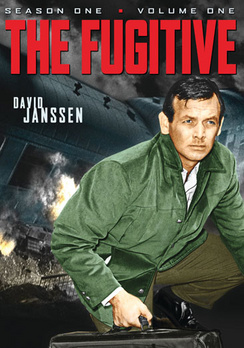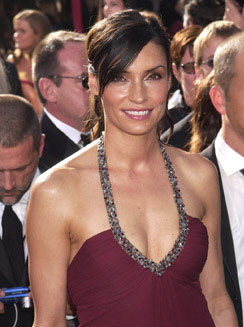 On the FAN 590 post game show from Thursday's game, Janssen sounded like he was in good spirits. He said this setback has nothing to do with his injury from last season and is confident he won't be out for long. The 27 year-old hurler is supposed to visit the doctor Friday.
Here's hoping Janssen can get back and find redemption like Richard Kimble in the 1960's TV series and 1993 movie and not like the 2000 TV version that ended on a cliffhanger and was not renewed (thanks for nothing, CBS!). The attractive lady to the right of the late, great David Janssen is actress Famke Janssen of X-Men fame. The need for eye candy is always important, dare I say essential, in trying times like these!
Speaking of trying times, the Jays dropped a 7-4 decision to the damn Yankees in Tampa. Lefty Brian Burres allowed four runs in 2 2/3 innings after taking over for Janssen. Fellow southpaw David Purcey followed and allowed three runs (two earned) in 4 1/3 innings. He gave up a homer among his 7 hits but did have a K/BB mark of 3 to 1. Lefty Nate Starner stranded a couple of runners for Purcey by finishing up with a K in his 2/3 innings of scoreless work. As for a guy named Burnett, he gave up one run on three hits and three walks in 3 1/3 innings. He did get smacked in the left elbow on a line drive off the bat of John McDonald. Amazingly, he stayed in the game and is not expected to come back in April and then miss the rest of the season or something like that!
At the dish, Brad Emaus launched his third homer of the spring by keeping it just fair of the left field foul pole for the game's final run. Also, Jason Lane continues to impress after going 1-for-2 with a walk and a couple of RBI. His average is now up to .357. "Mighty" Joe Inglett also had a two hit night and Jose Bautista drew a pair of walks. Also of note, 2007 first round pick Kevin Ahrens had a hit in his lone trip to the dish.
Lefty Brad Mills will get the ball Friday afternoon against Tampa Bay in Dunedin. He'll throw the first pitch at 1:05 p.m. EDT. The game is expected to mark the return of Vernon Wells, who will DH according to bluejays.com.
===========
It's Final Four time at the World Baseball Classic. The first semi goes Saturday night at 9:00 p.m. EDT as Venezuela takes on Korea after they lost 6-2 to Japan. For winning Pool 1, Japan will get to play the banged-up U.S. squad at 8:00 p.m. EDT Sunday. The final is set for Monday at 9:00 p.m. EDT. All games will be played at Dodger Stadium.
===========
If you haven't checked this out, Cathal Kelly of the Toronto Star responds to Chipper Jones' take of Toronto.