Jordan Bastian from bluejays.com reports the Jays have outrighted catcher Kyle Phillips and lefties Davis Romero and Bill Murphy to Las Vegas to make room on the 40-man roster.
UPDATE Nov 6-9:52 pm: Shortstops Marco Scutaro and John McDonald have filed for free agency according to bluejays.com. Catcher Rod Barajas has yet to do so.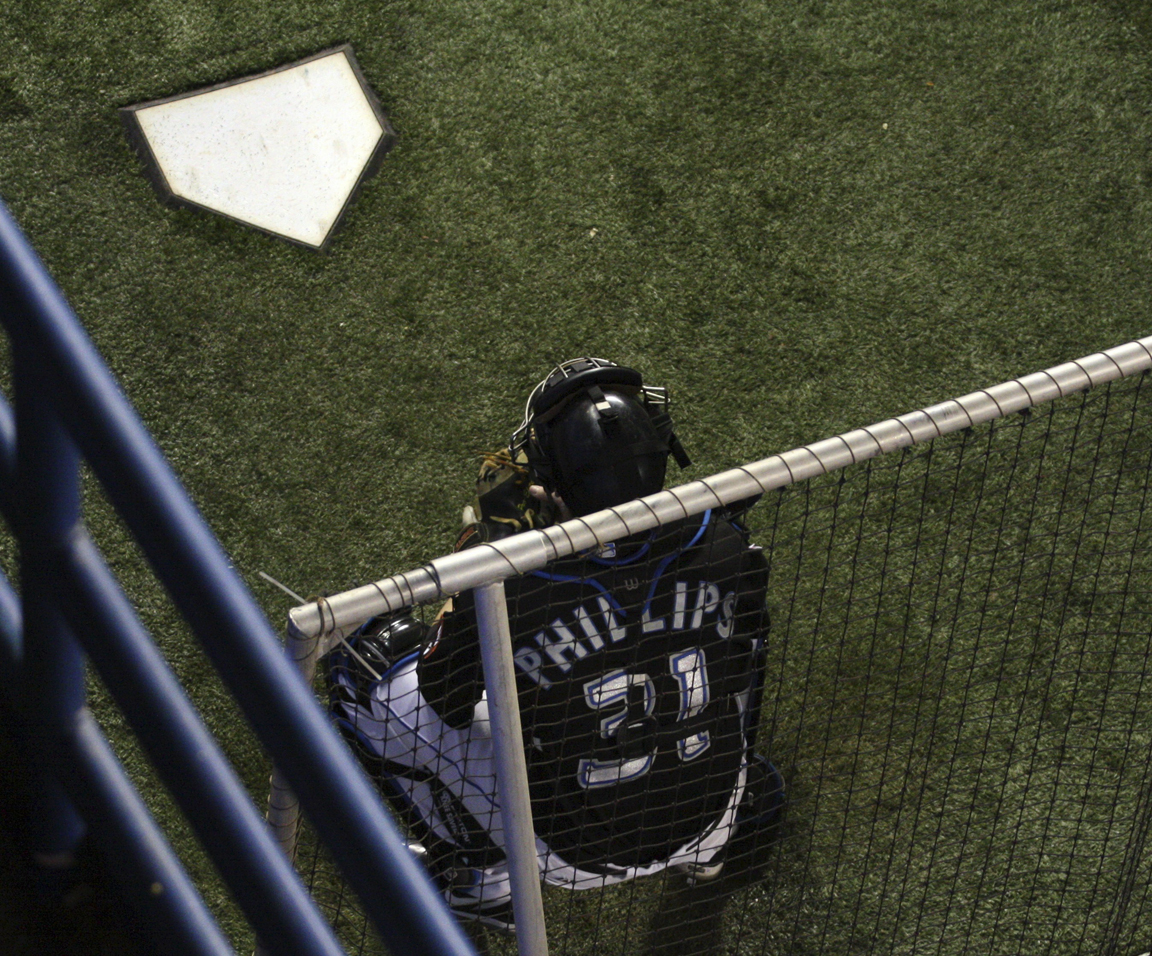 Phillips catching in the bullpen before a September 26th game against Seattle at the Rogers Centre.

The 2009 season was a memorable one for the 25 year-old Phillips. He got his first taste of the bigs when he was a September callup from AAA Las Vegas after batting .300/.372./433 with eight homers and 29 RBI. His first major league game came in Detroit September 14th and he singled off Justin Verlander for his first hit. The left-handed hitting Phillips collected five hits, including three doubles, and drove in two runs in 18 at-bats to post a batting line of .278/.278/.444. Another special moment for the San Diego native was getting to face his brother and former Jays backstop Jason Phillips, now a bullpen catcher with the Mariners during the Jays final series at home. It helped make up for Phillips' previous disappointment when he was summoned to Toronto earlier in the season to fill in for an ailing Rod Barajas. The veteran catcher strained his hamstring but he avoided being put on the disabled list which meant Phillips had to watch the Jays and Phillies duke it out at the Rogers Centre from his hotel room.

Lefty Bill Murphy posted a 3.18 ERA in eight appearances with Toronto early this season but the 28 year-old struggled at AAA as he went 0-6 with an ERA of 7.59. Murphy was a 24th round pick of San Francisco back in 1999 and has made stops in the Los Angeles Dodgers, Oakland and Florida organizations before getting to the bigs in 2007 with Arizona. Unlike Murphy, fellow southpaw Davis Romero did not get back to Toronto in 2009. In fact, he hasn't been there since 2006. Save for two shutout innings in one appearance at AA New Hampshire, the 26 year-old from Panama spent the 2009 campaign in the state of Nevada. He won just three of nine decisions with an ERA of 5.98 while splitting time as a starter and reliever. He pitched 93 1/3 innings and posted a K-BB total of 68-36 while opponents hit .325 off him. Romero enjoyed a decent May with an ERA hovering around four but it was above six for the rest of the season. He had trouble keeping the ball down as evidenced by a ground ball rate in the 40 percent range, a far cry from the 50 to 60 percent range in 2006 with New Hampshire, Syracuse and Toronto. His BABIP with the 51's checked in at .364.

It's been a struggle for Romero as he tries to get back to the bigs. He made his big league debut August 18th, 2006 against Baltimore and delivered 2 2/3 innings of shutout ball. He picked up his first big league win against the Yankees September 20th. In total, he went 1-0 with a 3.86 ERA with a 10-6 K-BB mark in 16 1/3 innings. However, the diminutive lefty missed all of 2007 with a torn labrum and he had a blood clot in his shoulder. However, he returned to AAA Syracuse where he posted a respectable 3.71 ERA despite going 5-9. He struck out 88 batters and walked only 29 in 106 1/3 innings. It's been a fall from grace for Romero, who signed as a free agent with Toronto 10 years ago. After a Futures Game appearance in 2006 and being on the Panama roster for the inaugural World Baseball Classic, Romero's stock has fallen considerably. Unless he can engineer a turnaround, the only Romero in Baseball North in 2010 will be Ricky.