It's the December Double POTD plus one today and it features a well-travelled, aspiring broadcaster in a plate appearance to forget.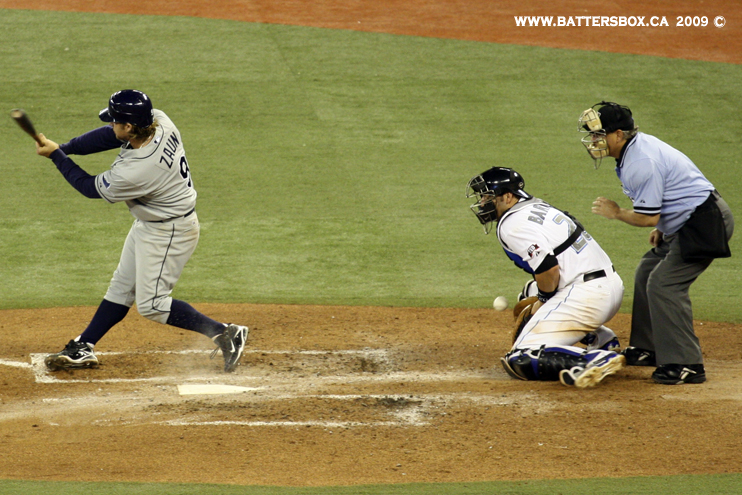 Rays catcher Gregg Zaun tries to hold up his swing on a Roy Halladay curveball at the Rogers Centre August 24th. Jays catcher Rod Barajas blocks the ball in the dirt.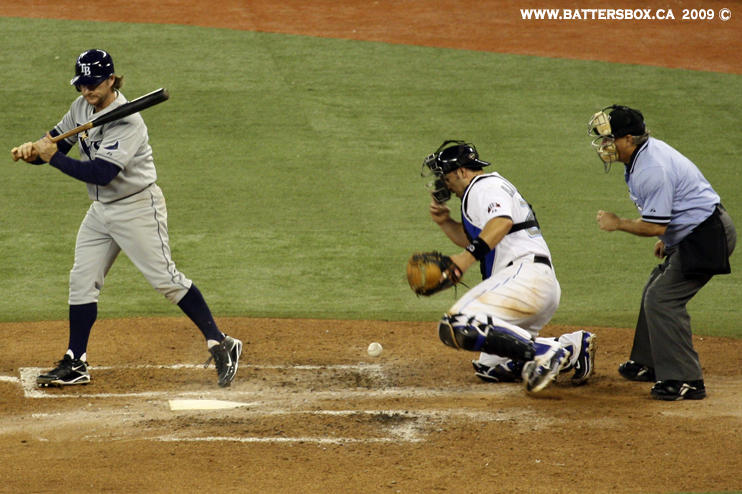 The former Jays backstop tries to pull the bat back as Barajas keeps the ball in front of him.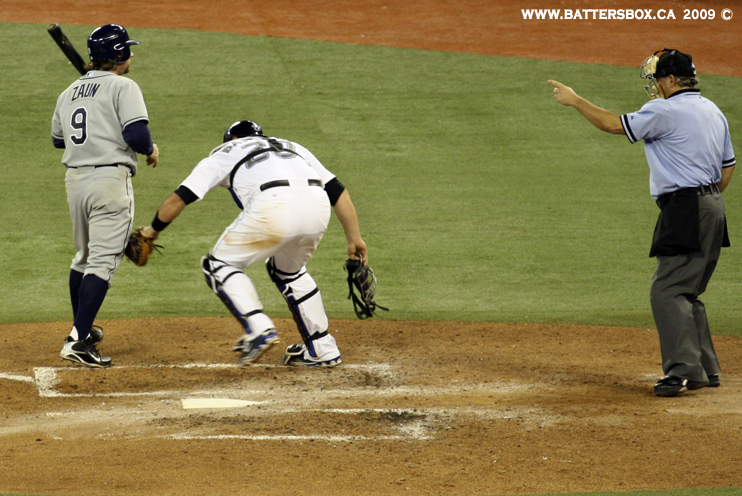 Barajas lays the tag on Zaun who is rung up by home plate umpire Tom Hallion. Zaun singled and struck out twice against Halladay but he added a two-run single against Shawn Camp in a 2-for-5 night at the plate.
---
The 38 year-old switch-hitting catcher inked a one-year deal with Milwaukee that will pay him $1.9-million dollars in 2010 along with a team option for $2.25-million in 2011. He takes over the number one role for free agent Jason Kendall and will also be asked to mentor catching prospects Jonathan Lucroy or Angel Salome as they contend with Mike Rivera for the backup job. Zaun split last season between Baltimore and Tampa Bay where he hit a combined .260/.345/.416. That marked a 23 point improvement in his batting average, a 5 point hike in his OBP and a 57 point jump in his slugging percentage from 2008. Zaun had 17 doubles, eight homers, 21 runs batted in and drew 31 walks against 48 strikeouts.
The Glendale, California native was signed by Baltimore to keep the seat warm for super prospect Matt Wieters. The 5-10, 205 pound catcher was then traded to Tampa Bay in August for minor league first baseman Rhyne Hughes. A career .251 hitter, Zaun has played for the Orioles, Marlins (earning a World series ring in 1997), Rangers, Royals and Astros before spending the 2004 to 2008 seasons with Toronto. During his time in Baseball North, Zaun was a .255/.354./.399 hitter with 97 doubles, 45 homers and 219 RBI. His best season came in 2006 when he hit .272./363/.462 with a career high 12 homers. Zaun hopes to make his second career playoff appearance with the Brew Crew. Otherwise, baseball fans in Canada will get to enjoy his awesome analysis of the 2010 playoffs on Rogers Sportsnet.