Today's POTD is all about a former fan favourite.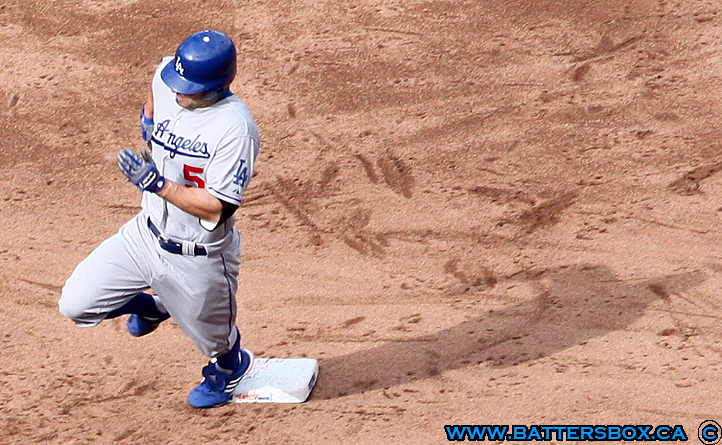 Reed Johnson is not settling for a double as he catches the corner of the second base bag during third inning action at New York's Citi Field April 27.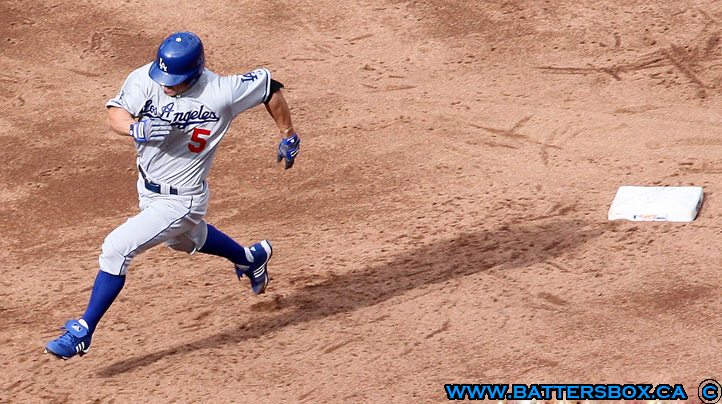 Johnson began his big league career with Toronto in 2003 after being selected in the 17th round of the 1999 amateur draft from Cal-State Fullerton.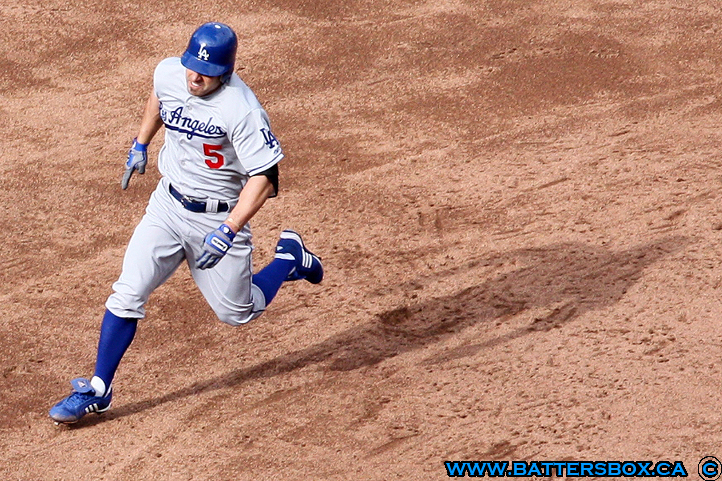 Johnson wore #37 for his first two seasons with the Blue Jays before switching to #3 in 2005.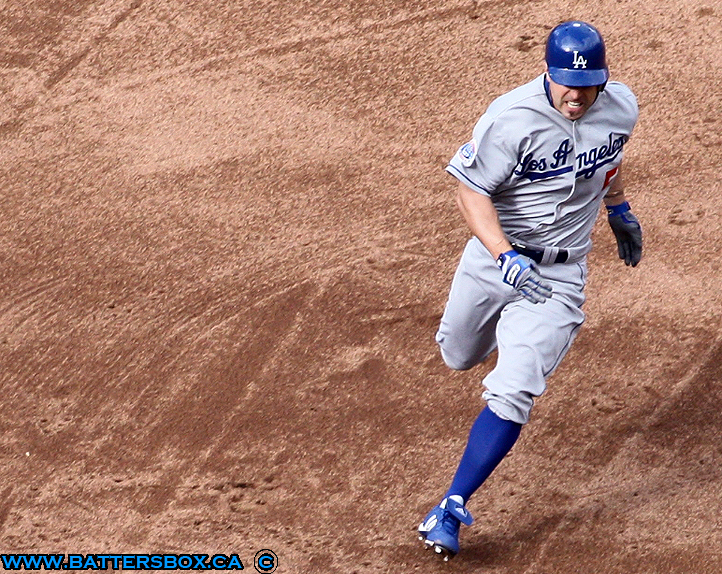 Johnson is one of five players to hit a leadoff and a walkoff home run in the same game. The Riverside, California native pulled off that feat on Father's Day against the Chicago Cubs at the Dome June 15, 2003.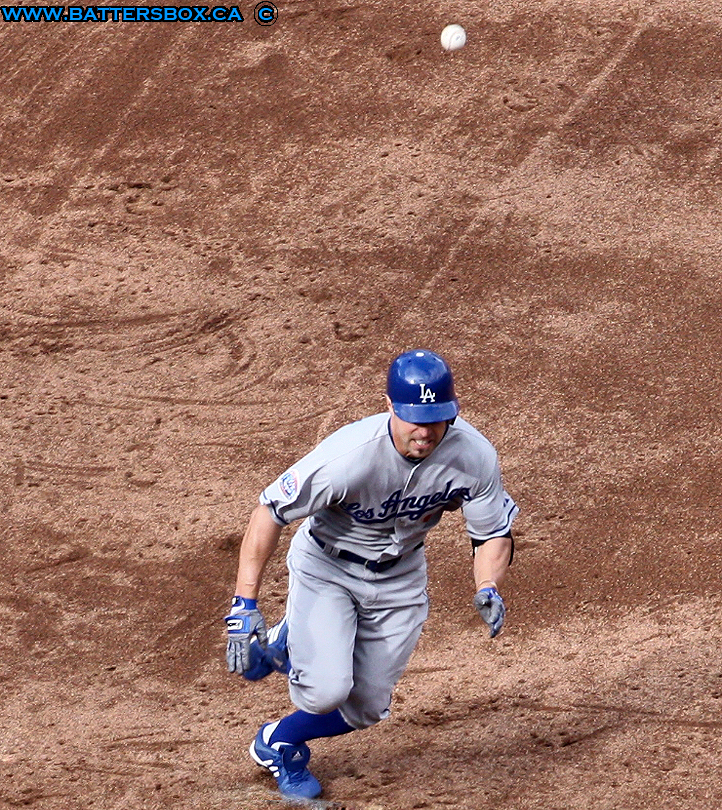 Johnson tries to outrun the baseball, which is also on its way to third.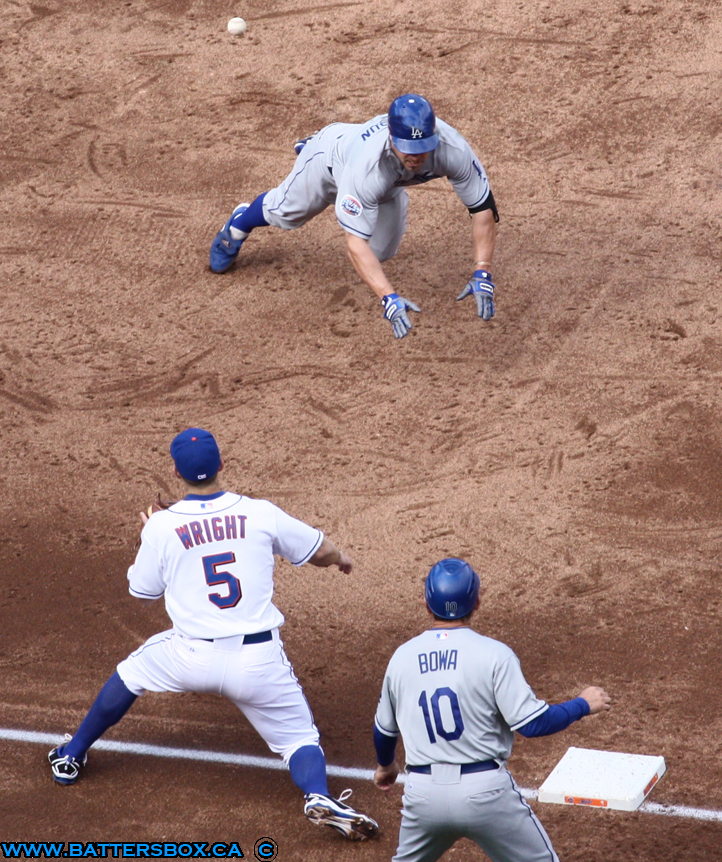 Johnson begins his head first dive as Mets third baseman David Wright awaits the throw. Dodgers third base coach Larry Bowa looks on.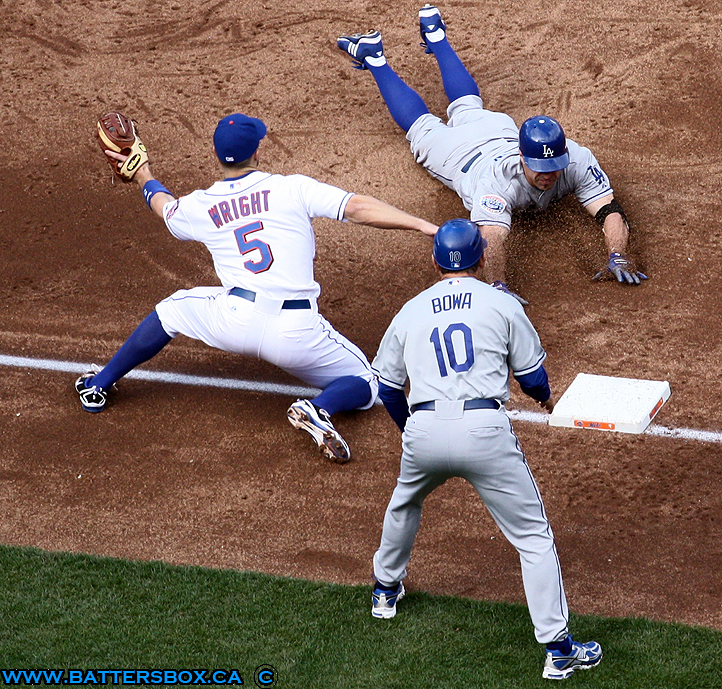 Wright gets the ball as he looks to apply the tag on Johnson.

Wright puts the tag on Johnson, who gets both hands on the bag.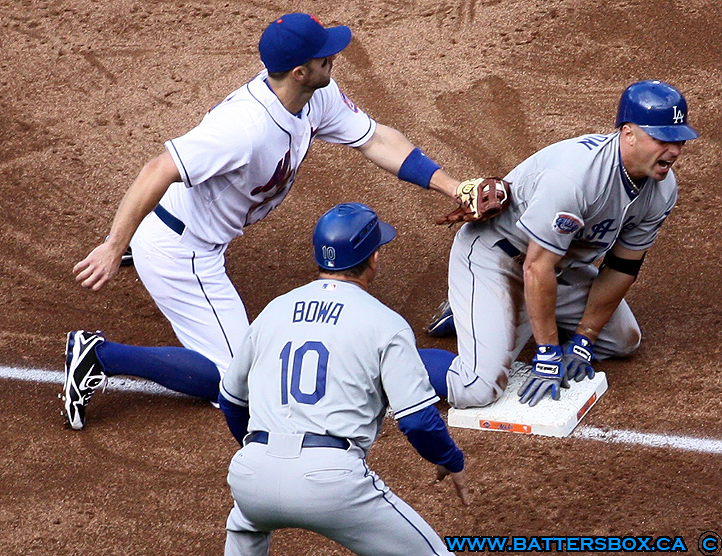 Wright and Johnson look towards the third base umpire for the call. Safe or out?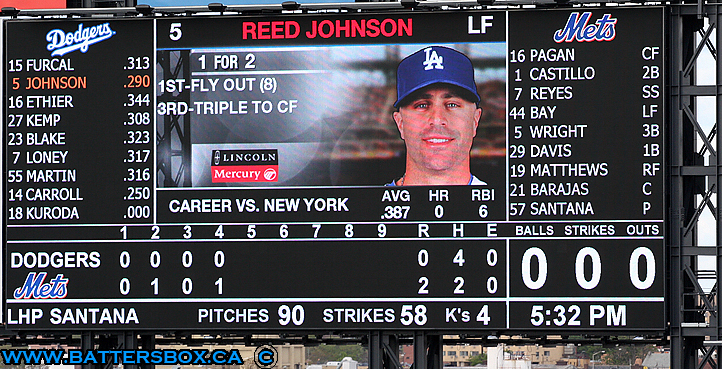 The Mets scoreboard has the answer. Despite Johnson's one-out triple off Mets ace Johan Santana, he would be left stranded as the Dodgers went on to lose to New York 4-0.
---
Reed Cameron Johnson
began his pro career in 1999 with the St. Catharines Stompers but he didn't set the New York-Penn League on fire, as he hit just .241 with two homers in 60 games. The right-handed hitting outfielder found his stride in 2000 by hitting a combined .298 with Hagerstown and Dunedin while socking 12 homers, driving in 98 runs and stealing 17 bases. In 2001, Johnson was a Southern League All-Star after hitting .314 in Tennessee with 13 dingers, 74 RBI and 42 stolen bases. The 2002 campaign marked a step back for Johnson as he hit just .233 in Syracuse in 44 games. He also spent part of that year in Dunedin where he hit .273 in eight contests.
In 2003, Johnson received his first cup of coffee in the bigs April 17 when he entered the game as a pinch-runner for Josh Phelps at Yankee Stadium. In his first plate appearance April 20, Johnson was plunked by Boston's Casey Fossum at Fenway Park. That would be the first of 80 times he would take one for the team during his time in Toronto. Johnson's next at bat resulted in an RBI single off Fossum, who would also plunk him again later in the contest. After a three game trial in April, the 5-foot-10 outfielder went back down to Syracuse and hit .327 in 26 games before rejoining the big club in May. On May 20, Johnson's first major league home run came against Kansas City's Jeremy Affeldt to lift Roy Halladay and the Jays to a 7-4 win at the Dome. Johnson capped off the season by winning the American League's Rookie of the Month award for September. Overall, he hit .294/.353/.427with 21 doubles, two triples, 10 homers, 52 RBI and stole 10 bases. He was also hit by a pitch 20 times.
The 2004 campaign saw Johnson set a career high in RBI with 61 as he clubbed another 10 homers but his OPS was .699. He upped his OPS 50 points in 2005 and set a career high in triples with six while adding eight home runs and 58 RBI. His breakout year came in 2006 as he finished 10th in the American League in batting average with a .319 mark. Johnson also established career highs in dingers and hit by pitches with 12 and 21 respectively and was first in on base percentage among AL leadoff hitters at .390. However, the 2007 campaign was one to forget for Johnson. A herniated disc in his back caused him to miss half of the season and he was unable to find his form, hitting just .236 and slugging .320.
After pushing Shannon Stewart out of Toronto in 2003, things came full circle when the Jays re-signed Stewart prior to the 2008 season. Johnson was released but was snapped up quickly by the Chicago Cubs in late March. He received a standing ovation from the Baseball North faithful when he returned to Toronto with the Cubs during a pinch-hitting appearance on June 13. Johnson would collect three hits in the three games series to help the Cubs take two out of three and he would go on to hit .303 in 109 contests. In 2009, back spasms and a fractured left foot led to a couple of stints on the disabled list and that limited Johnson to 65 games and a .255 batting average. He moved on to the Los Angeles Dodgers in 2010 and hit .262 with 11 doubles, two triples, two homers and 15 RBI in 102 contests. He also spent time on the DL with back problems in mid-July. The Dodgers finished two games below .500 in 2010 but when Johnson made an appearance, the team was 23-19 when he started and 60-42 when he saw any type of game action.
Right now, the 34 year-old Johnson is back with the Chicago Cubs after signing a minor league deal in January. All the best to the player affectionately known as "Sparky" in these parts!