The Toronto Sun says manager John Farrell likes what he sees from prospects Brett Lawrie and Anthony Gose. The story says Farrell believes Lawrie is ready for the bigs now but GM Alex Anthopoulos thinks the Langley, B.C. native could use some time in Triple-A.
"I sent a text to Alex yesterday saying I can't wait for the day that Lawrie and (Anthony) Gose might be fully ready to go as major league players. They're exciting young players and they can impact the game in a number of different ways. That's not to say we've made a final roster decision when it comes to Lawrie but both of those guys are extremely talented and are going to have an impact the day they arrive in the majors."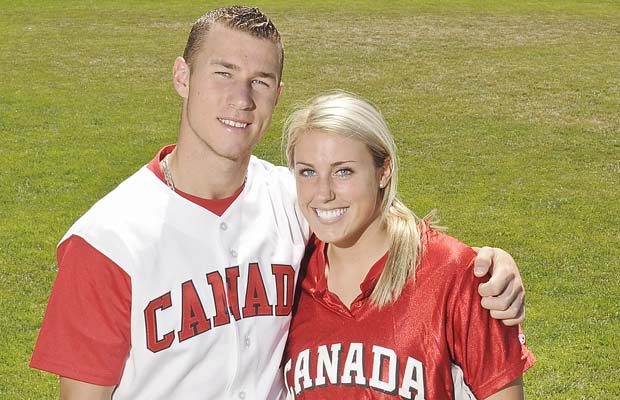 Brett Lawrie and his sister Danielle Lawrie wearing Team Canada uniforms. Danielle is a softball pitcher at the University of Washington.
---
In other Jays news...
Bluejays.com says second baseman Aaron Hill is on the road to recovery from his quadriceps injury. Hill has been the DH for a pair of minor league games and according to Farrell, things are going well.
"He's clear to do all pregame and baseball activities. The one area that he's still guarded and going at a controlled pace is when he breaks out of the [batter's] box [ed note-thanks for the plug!]. I think there's some confidence growing internally there with him as he gets some repetition under his belt."

Other tidbits from the Hill story include updates on closer candidates Octavio Dotel (light bullpen session) and Frank Francisco (expected to appear in minor league action this weekend). Lefty Jesse Carlson's status remains up in the air after inflammation in his shoulder. Also, Farrell says Jose Bautista and Adam Lind will bat third and fourth against righties.

"The one thing I like is the fact that Jose has a little bit more of ability to go first to third on the basepaths."
The Globe and Mail talks to hitting coach Dwayne Murphy about the progress center fielder Rajai Davis is making with the bat.
"He's made a big change in his swing. He's still working on it. Hopefully he'll lock it in where he really feels comfortable but he's more balanced, using his hands more, getting loaded a little earlier. He looks good. He's definitely trying to hit one pitch instead of four pitches."
---
On the minor league front...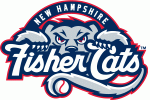 In a move that went against the spirit of St. Patrick's Day, WMUR-TV in New Hampshire shows the new uniforms of the New Hampshire Fisher Cats. The style is the same but instead of black, green and gold, the uniforms are white, red and blue.
The Jays also shunned the St. Patrick's Day tradition but a few MLB teams got into the spirit.
In other uniform notes, the Vancouver Canadians have announced through facebook they are going retro as they incorporate their Blue Jays affiliation into their jerseys.
The Ottawa Fat Cats of the Intercounty Baseball League are hoping they will have something in common with the Vancouver Canadians in the near futre.
---
Overseas...

The Canadian Press caught up with Randy Ruiz as he talks about what life has been like in Japan since the recent earthquake and tsunami. Ruiz is a member of the Tohoku Rakuten Golden Eagles, who play their home games in Sendai, which felt the full force of the 8.9 magnitude earthquake.
"Earthquakes, volcanoes erupting, nuclear power plants exploding and the tsunami...I'm from the Bronx, and the only thing I could compare it to is 9-11. It's like, 'Is this real?'"