We decided to dip into the
Batter's Box
budget and design a collectible to rival
Jose Bautista Bobblehead Day
April 3.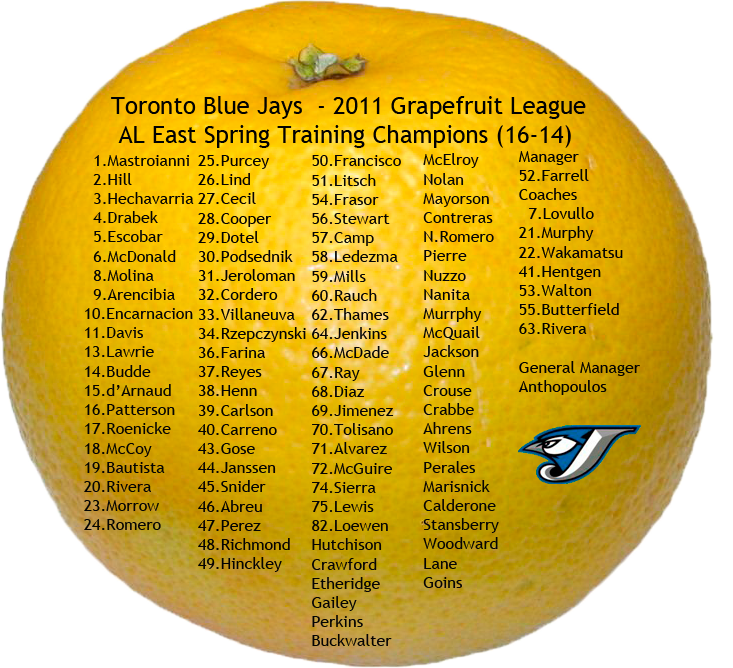 * Special edition grapefruit to commemorate the Jays posting the AL East's top spring training record during Grapefruit League play in 2011.
---
The Blue Jays beat out Tampa Bay (15-14) for the division pennant by half-a-game and Baltimore (15-15) by a full game. The supposed division giants, the New York Yankees and Boston, finished below .500 at 13-15 and 14-19 respectively. The AL Central winners were Kansas City (20-10) and the Wild Card goes to Minnesota (20-12). The LA Angels beat out Seattle for the West division title with a 18-13 record.
In the National League, the defending World Series Champion San Francisco Giants were also the kings of spring with a 23-12 record. The Gigantes beat out 20-11 Colorado, who had to settle for the Wild Card. Milwaukee won the NL Central at 19-11 and Philadelphia took the NL East at 21-14. The final spring standings are here.
I can't find anything about the Jays previous finishes in Grapefruit League history. I believe they had the AL's best record one year they won the World Series and then the worst record for the other year but I cannot remember in which order. For you trivia buffs, the Jays beat the New York Mets 3-1 in their first ever spring game back on March 11, 1977. Fast forwarding to 2011, let's hope the Jays will win this year's 162 game edition of the AL East!