Today's
POTD
provides a home and away look at the new center fielder for the Jays with his former club.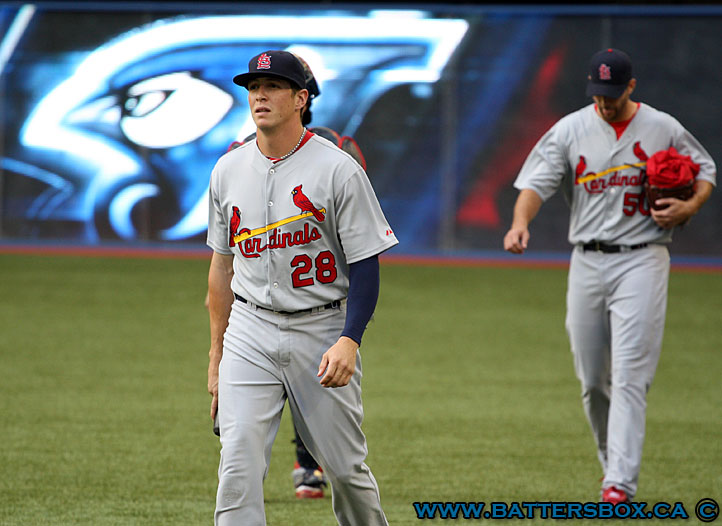 Colby Rasmus
heads to the Cardinals dugout prior to a game against the Blue Jays June 24, 2010.
Adam Wainwright
is in the background.
Rasmus waits for an at-bat in the on-deck circle. A native of Columbus, Georgia, the 6-foot-2 left-handed hitter was selected with the 28th pick in the 2005 draft by St. Louis, 22 picks after Toronto took
Ricky Romero
.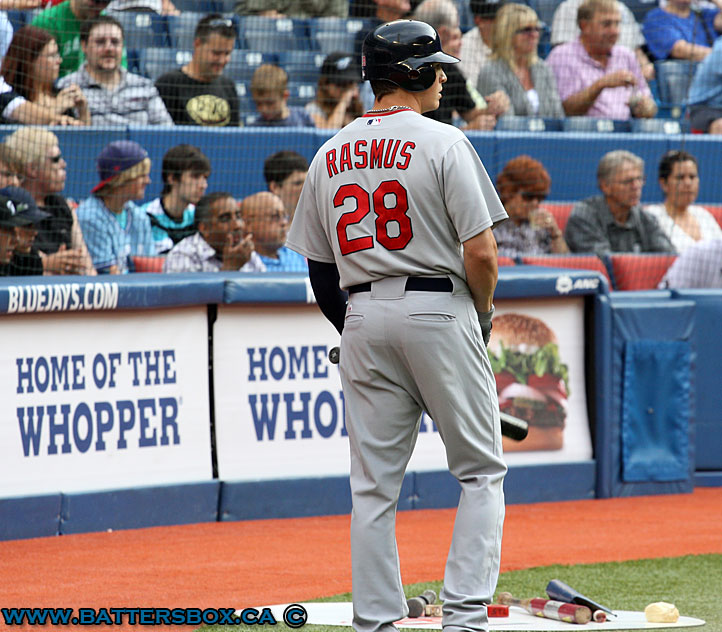 A .277/.366/.485 hitter with 64 home runs and 222 runs batted in during his four year career in the minors, Rasmus made the Cardinals Opening Day roster in 2009 and batted .251 with 16 homers and 52 RBI. Though the Cards were swept by the Dodgers in the NLDS, Rasmus batted .444 with three doubles. He finished eighth in National League Rookie of the Year voting.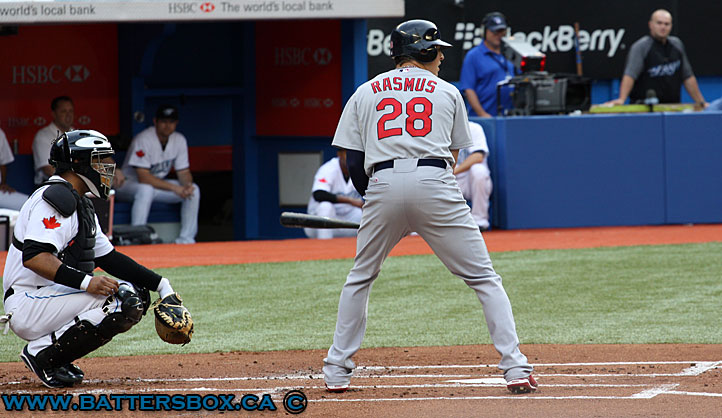 Rasmus digs in against Toronto starter
Brandon Morrow
while catcher
Jose Molina
awaits the pitch. His first major league hit was a single in his second at-bat against Pittsburgh's
Ian Snell
April 7, 2009 and his first homer was off Washington's
Shairon Martis
May 2.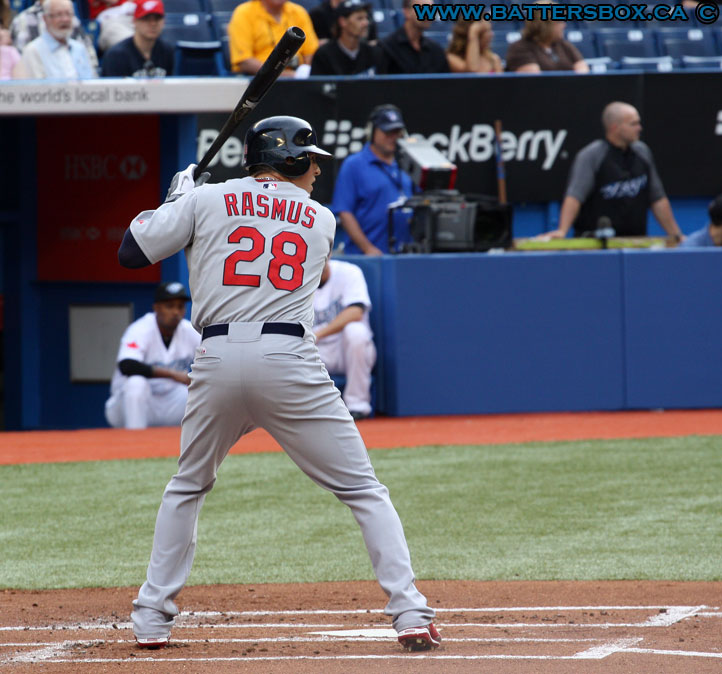 Rasmus had a rough night at the plate in this one as he went 0-for-4 with three strikeouts. He finished the 2010 campaign with 28 doubles, three triples, 23 homers and 66 RBI with a slugging percentage of .498 and on OPS of .859. However, controversy erupted late in the season when Rasmus
reportedly requested a trade
because of a strained relationship with manager
Tony La Russa
.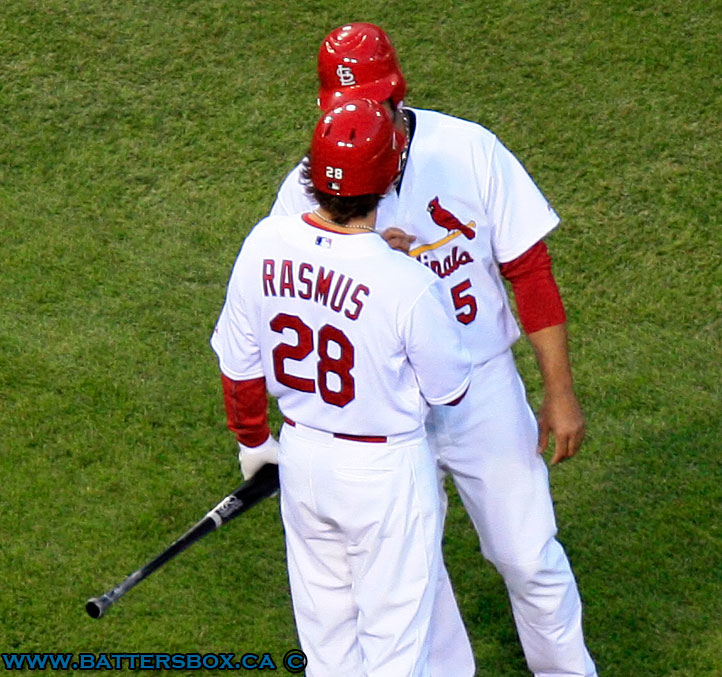 Rasmus and
Albert Pujols
have a word before Rasmus faces Florida Marlins starter
Javier Vazquez
May 4.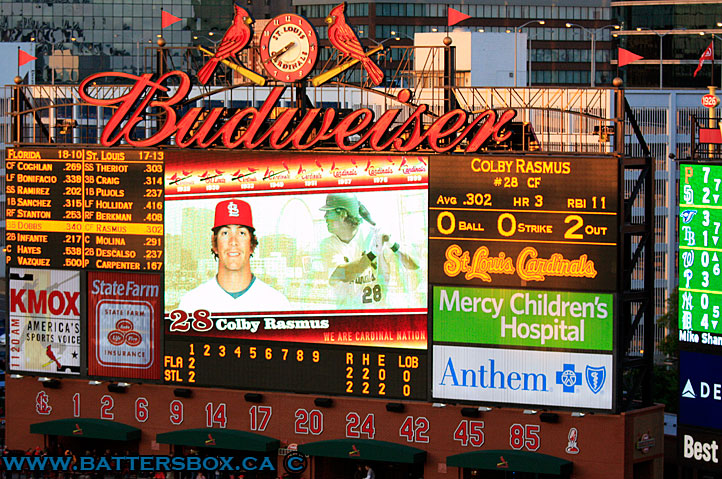 Rasmus on the Busch Stadium scoreboard prior to his first at-bat. Note the good news on the out-of-town scoreboard to the right.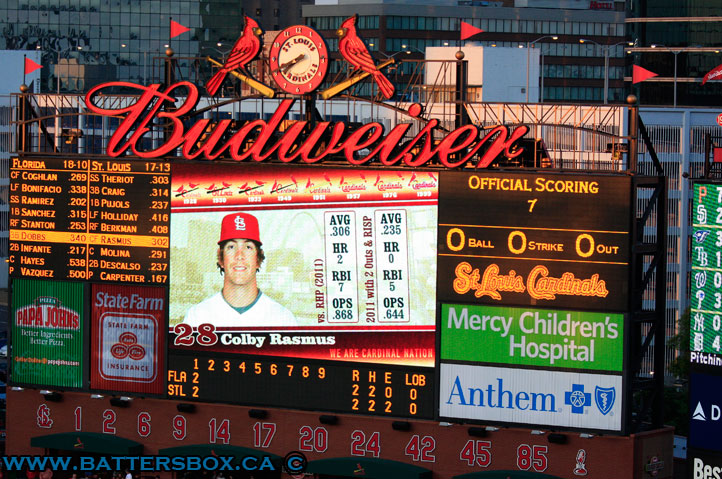 A further breakdown of Rasmus' stats on the scoreboard.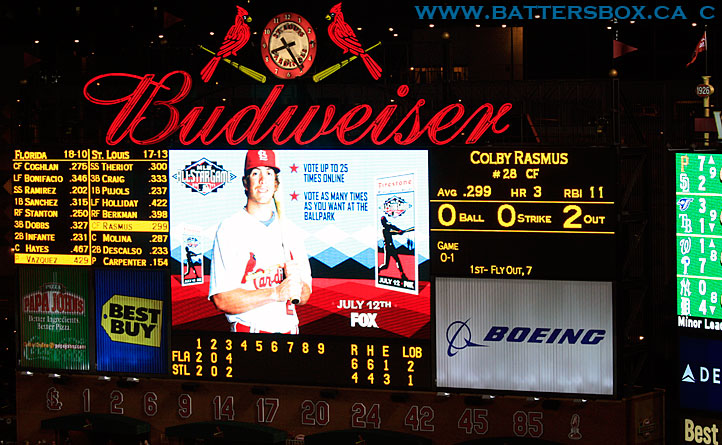 The Cardinals scoreboard encourages fans to vote Rasmus to the All-Star Game. As it turns out, he did not crack the top 20 in National League outfielder voting. By the way, the Jays did hold on to beat the Rays that night by a score of 3-2.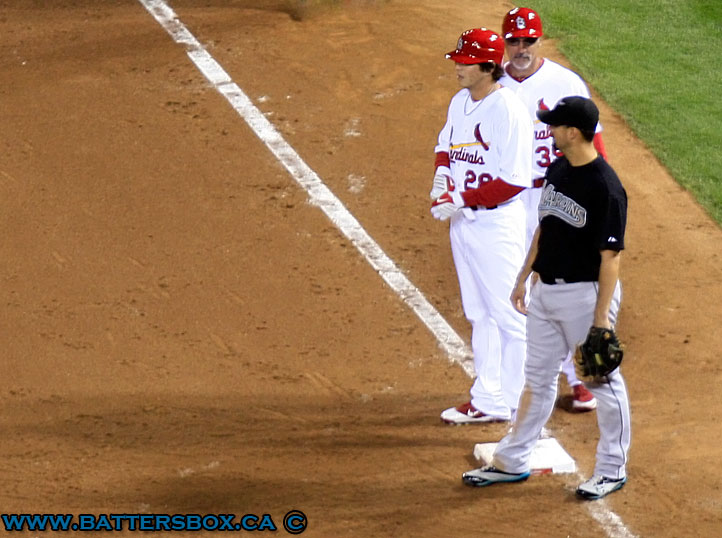 Rasmus draws a walk and is met by Marlins first baseman
Gaby Sanchez
and Cardinals first base coach (and original Blue Jay)
Dave McKay
. He did score a run but that was the only time he reached base in four trips to the plate in the Cards 8-7 loss to the Marlins. With St. Louis this season, Rasmus hit .246/.332/.420 to go along with 14 doubles, six triples, 11 homers, 40 RBI and five stolen bases. He turns 25 August 11 and will not be a free agent until after the 2014 season.