Darold Knowles is the pitchng coach for the Dunedin Blue Jays. Last Friday Knowles spoke to me from Dunedin just before the Jays swept a doubleheader from Clearwater to make it to the playoffs. Knowles last spoke to Da Box in
June
.
BB: Let me start with Asher Wojciechowski. He had some struggles earlier in the year but he has pitched better recently. What are the reasons for the improvement?
DK: I think his command, he is throwing a lot more strikes with his fastball and he is throwing it down, they are putting it in play and he is getting outs. Earlier he was getting behind a lot, he was up in the zone a lot. He has stayed within himself a lot better I think. The breaking ball still needs to be tightened up a bit I think and his change-up is so-so, the fastball command has probably been the number one thing.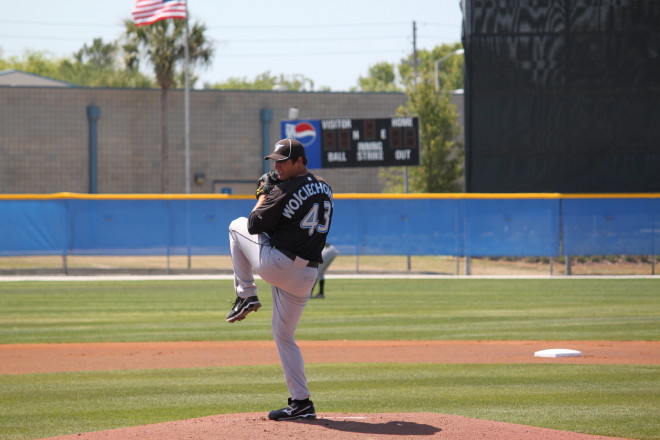 BB: He still throws that heavy ball with sink?
DK: He is a max effort guy, throws 91-92, wants to throw harder but to me he pitches better there. In the past when he got into trouble he would try to throw it at 95 and it was always up in the zone.
BB: Ryan Tepera seems to have two good starts and one bad one. Is it because he is a sinker/slider guy and sometimes the ball finds the gaps and sometimes it doesn't?
DK: Well I think the main thing with Tep is the command because when he stays down he has as good stuff as anyone on this club, the ball has very good life on it down in the zone. He gets to the point where he has trouble throwing his breaking ball for strikes but when he throws it for strikes he is good. Where he has issues is when he gets behind and the breaking ball flattens out, he just gets hit. When he stays down and that breaking ball is working he has really good stuff.
BB: Lets talk about Aaron Loup who is headed to the AFL. How has he come along this year and do you see him as a lefty specialist?
DK: He has evolved into a lefty specialist, he threw more over the top before and he has dropped down now, like a low three quarter delivery. It seems like he has a lot more deception, his fastball is sneakier if you will, and he has been handling lefties very well. His command of his breaking ball is not as good as it should be yet, but I think that is one of the reasons they want him to go out there, face better hitters, and learn that he has to throw that breaking ball over the plate to lefties and righties.
BB: When I spoke to you last you were waiting for Drew Hutchison to arrive and now he has come and gone. I assume while he was there he impressed you with his command and his ability to put hitters away.
DK: This kid has a chance to be something special. He throws across his body and he can still get the ball to the glove side of the plate and that's hard to do. He can really get in on lefthanders, he has the late life on his fastball and he just turned 21 a week or so ago and he has the poise and mound presence of a guy much older than that. His breaking ball got better when he was here, his change-up is good, his fastball obviously is very good, and he throws hard enough. The one thing (to work on) is his command of his breaking ball and the sharpness of it. When he got here it was either big or it was flat, he has a little depth on it and that's what we worked on mainly here. He is a good athlete and he has a chance to be very good I think.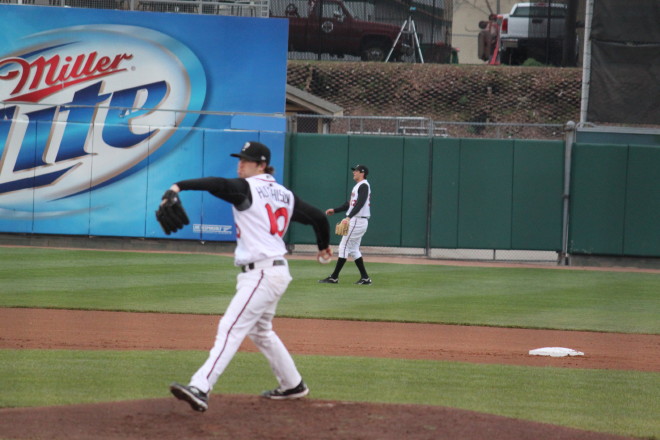 BB: Would you compare him in any way to Shaun Marcum?
DK: I think he pitches inside better than Shaun Marcum did. Marcum relies on that sinker and the change-up. I don't think Drew Hutchison's change is as good as Marcum's is yet, but it has a chance to get better, remember he is only 21 years old, he is still learning. But he throws harder than Marcum did.
BB: Another player who has moved on is Nestor Molina, I assume he didn't have much left to learn there when he moved up?
DK: Tremendous command, this kid has tremendous command. It's been a long time since I have seen someone of that age be able to command the ball as well as he did, and still throw it hard as he does. I think what makes him stand out is that he has a tremendous split, when he gets two strikes on you he is just going to put you away with it. He could probably pitch higher right now because of his command and his stuff. He was lights out in this league, he was so good in this league I felt like he was getting bored, it was too easy for him. I know they are watching his innings, he is not going deep in games because of his innings, he also has a chance to be very good.
BB: Finally, how had Deck McGuire developed before he left you?
DK: It seems like I haven't seen Deck in two months now. Deck just got better. When the season started I just wasn't sure about him, I thought his stuff might be a little short, but he got better, he worked hard, his slider got better, his sinker got better, his arm angle dropped just a little bit and that allowed him to have more movement on his ball. He has a great work ethic and really believes in himself. It's not going to come as easy for him as it would for Drew or Molina but he will do what it takes, he is a great competitor. He has a chance to be a very good pitcher.
--------------------------------------------
Batters Box thanks Darold Knowles for his time.