Okay, Bauxites! Time to reveal the answers and announce the winners of last week's episode of "Name That Future Major Leaguer".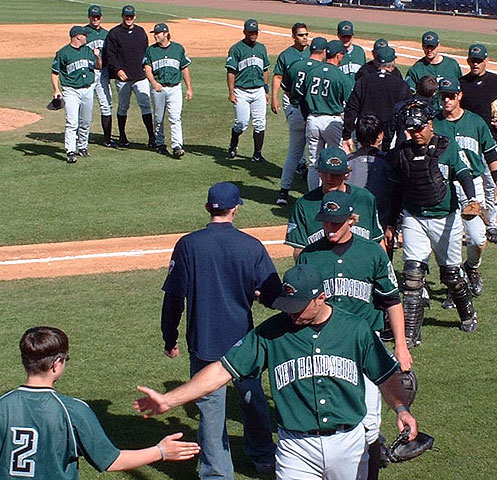 Current Milwaukee Brewers pitcher and former Jay
Shaun Marcum
is fourth from the left in the background. I believe former Jays hurler
Jamie Vermilyea
is also in the photo, shaking hands with the man in blue or he is the one directly behind the player shaking hands with the man in blue. However, I cannot say with 100% percent certainty. This is a photo from 2005.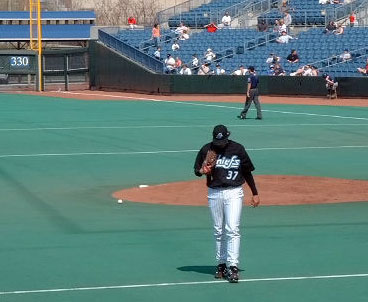 Longtime Jays lefty
Scott Downs
leaves the mound in Syracuse after completing an inning in 2005. I have no idea who the umpire is.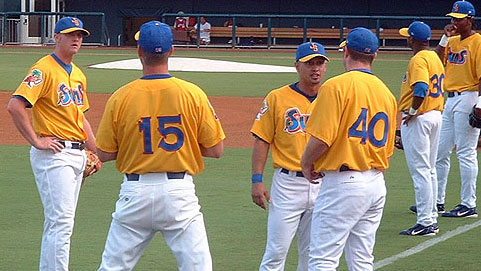 Shane Victorino
, who did play for San Diego in 2003 before going on to win a World Series ring with Philadelphia, is third from the left in this 2004 photo. The other two future big leaguers in this photo of the Jacksonville Suns are
Joel Guzman
, the one-time top Dodgers prospect who had cups of coffee with L.A. and Tampa Bay. Guzman is the first person to the right of the photo. Standing next to him is
Willy Aybar
(#30), who has suited up for the Dodgers, Atlanta and Tampa Bay.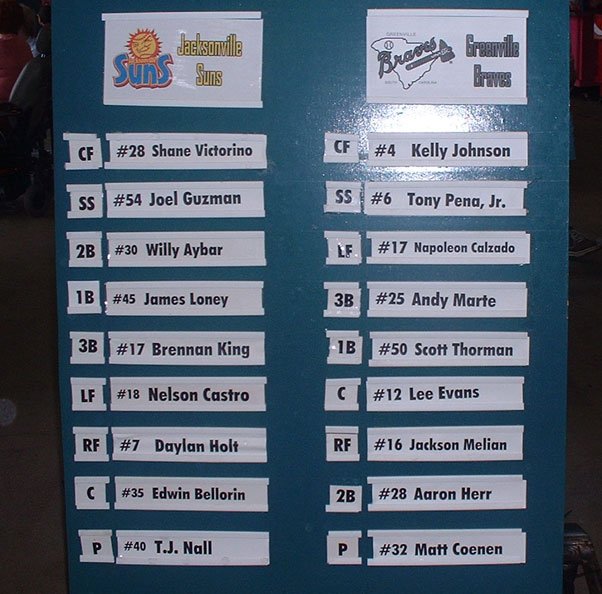 Here were the starting lineups from that game in Jacksonville. Note the leadoff man for the Greenville Braves, current Blue Jay
Kelly Johnson
.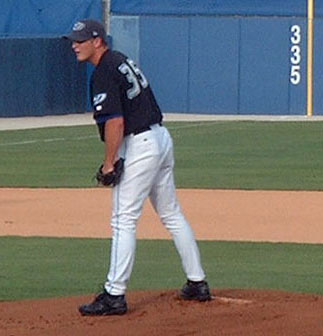 The future big leaguer here in this 2004 photo in Dunedin is
Justin James
, who pitched for Oakland in 2010. His brother is lefty
Chad James
, Florida's first round pick in 2009.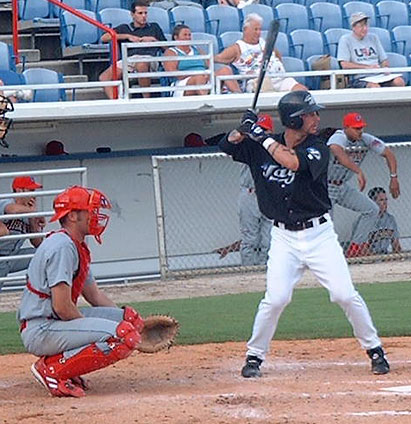 Future Jay and current Arizona Diamondback
Ryan Roberts
is at the plate for Dunedin.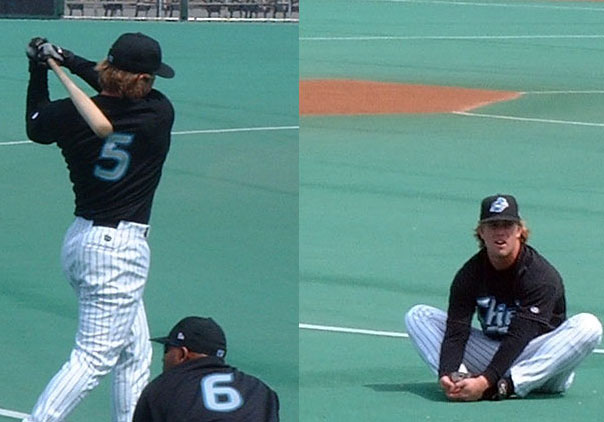 Future Jay and current D-Back
Aaron Hill
warms up prior to a 2005 game in Syracuse.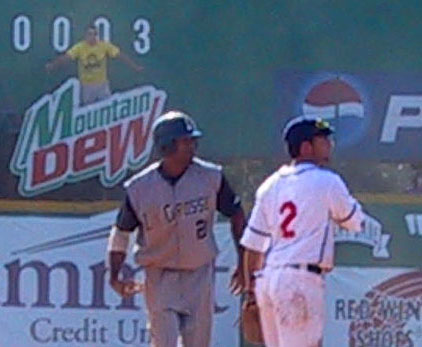 The baserunner in this photo is the man I like to call "Shaft", none other than current Blue Jay
Eric Thames
. This 2007 photo was taken when Thames was a member of the La Crosse Loggers during a Northwoods League collegiate game in Madison.
Here is a photo of Thames' name in the starting lineup.
---
And the winners are..
Original Ryan
,
Thomas
and
Dewey
. Original Ryan correctly identified the photos of Marcum, Downs, Roberts and Hill. Thomas correctly named Victorino in the Jacksonville Suns photo and Dewey, though he did not name any players in the photos, apparently knew the fans in the front row of the Roberts photo. Even if Dewey made it up, I have to award points for originality.
O.R. gets the coveted
Pedro Florimon Jr.
photo, Thomas gets the nearly-as-coveted
Eric Fryer
picture and
Dewey
gets a photo of our cats
Elmo
,
Doc
and
Hurricane
. Here is a smaller version of the winning photos. For the original size photos, click on my name to e-mail me and I will send it along. Thanks for playing, Bauxites.