Canada has been eliminated from the World Baseball Classic thanks to a disappointing, disheartening, and soul-crushing 6-2 setback to Frank Catalanotto and the Italians Monday night at Rogers Centre. That means two things. One, Italy will take on Venezuela at 5:00 p.m. EDT today to determine who will join the U.S. in advancing to Round 2 and two, Scott Richmond doesn't get to throw a pitch for Canada for the second straight tournament.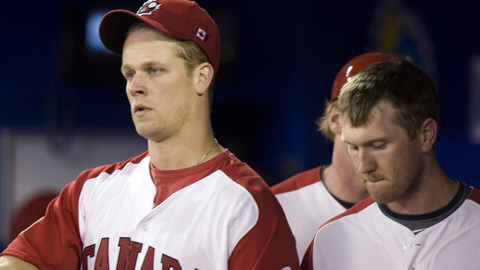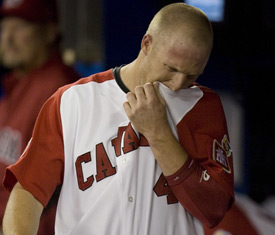 It was not long ago that Canadian starter Vince Perkins was a Top 10 prospect in the Jays system according to Baseball America. He pitched like a non-prospect and it was evident from the get-go when he butchered a tapper from Nick Punto. That allowed the Minnesota Twin to get on base and he would come home with the first run of the game. It seemed to be death by a thousand cuts as Italy scored a run in each of the first four innings. Canada came back with a two-run double from Jason Bay in the fourth but Italy matched that with a two-run seventh to put the game away. The only standout performances were from Bay, who went 2-for-2 with two walks while Justin Morneau had a 4-for-5 night. Jesse Crain struck out all four batters he faced to hold the Italians at bay in the last inning and a third.
World Series hero Matt Stairs was a World Classic bust as he failed to record a hit in the series. Other than Bay, Morneau, and Joey Votto's ninth inning single, no other Canadian had a base hit against the Italians. Just as disappointing was the fact that only 12,000 fans showed up for this one. I guess the Leafs-Senators game must have had people riveted to their TV sets.
In other WBC happenings, the Netherlands almost played giant killer again but they couldn't hold a late 1-0 lead and wound up losing 3-1 to Puerto Rico. That allows the Puerto Ricans to advance to Round 2. Also, Mexico bounced back from a beatdown by the Australians by hammering South Africa 14-3. That eliminates South Africa from the tournament.
===========================================================================================================================================================================
On a more positive note, the Jays laid a 6-2 smackdown on the New York Yankees. Travis Snider and Russ Adams provided the long ball while Casey Janssen chipped in with two shutout innings. Brad Mills went 3 2/3 innings and gave up the two runs but he did strike out four. If the Grapefruit League season ended today, the Jays would be A.L. East champions with their 6-4 record.
The Jays go to Port Charlotte to take on the Rays and it'll be a battle of the Matts - Clement versus Garza beginning at 1:05 p.m. EDT.