The Toronto Blue Jays open up a four game series in Oakland. This is the beginning of a 10-game road trip that will swing through Anaheim and Tampa Bay.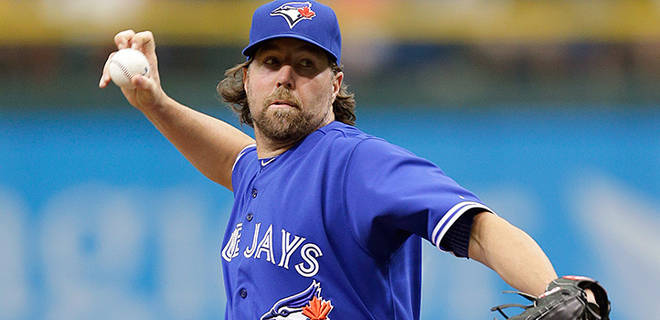 R.A. Dickey
gets the call for tonight's game at O.co Coliseum.
The Oakland Athletics have the best record in the majors at 51-33, giving them a 3.5 game lead over the Angels and 4.5 over the Mariners. The A's return home from an eight-game road trip that saw them split two against the Mets and sweep the Marlins before being swept by the Tigers. The Jays finished up a 5-4 homestand after sweeping a pair against Milwaukee.

Series Schedule & Probable Starters...
Thursday at 9:05 pm ET -
R.A. Dickey
(6-7, 4.24) vs.
Sonny Gray
(7-3, 3.20)>
Friday at 4:05 pm ET -
Marcus Stroman
(4-2, 4.01) vs.
Tommy Milone
(6-3, 3.79)
Saturday at 10:05 pm ET -
Mark Buehrle
(10-5, 2.50) vs.
Scott Kazmir
(9-3, 2.61).
Sunday at 4:05 pm ET -
Drew Hutchison
(6-6, 3.81) vs.
Brad Mills
(1-1, 4.41).
Tonight's Lineup...
Reyes, SS
Cabrera, RF
Bautista, DH
Encarnacion, LF
Lind, 1B
Francisco, 3B
Kawasaki, 2B
Gose, CF
Thole, C