The affiliates were able to win five out of eight games Monday. Two of the losses were of the one-run variety.
Buffalo 4 Lehigh Valley 2

Buffalo, NY
- The Phillies affiliate scored the game's first run but the Bisons overcame that with two runs of their own in the bottom half of the first inning.
Adron Chambers
drew a one-out walk before the exiled
Kevin Pillar
put one over the fence in right center field. A
Jonathan Diaz
sacrifice fly and a
Ryan Schimpf
fielder's choice in the second and third innings provided the winning margin. Pillar had the only two-hit game while Chambers and
A.J. Jimenez
both had a knock and a walk. Diaz and
Brett Wallace
had the other hits.

Radhames Liz
(1-0) rummaged his way through five innings and gave up both runs (including a homer) on six hits and three walks. He struck out three and induced seven groundouts.
Mike Zagurski
pitched two perfect frames with four punchouts.
Sergio Santos
allowed one hit but struck out two in the eighth.
Bobby Korecky
also pitched a one-hit frame but struck out a batter to earn his 16th save.
New Hampshire 5 Binghamton 1

Binghamton, NY
- The Fisher Cats were able to boot a field goal against the Mets in the first inning.
Andy Burns
drove in the first run with a single before
Sean Ochinko
laid waste to one over the wall to left-center field to score Burns for a 3-0 lead. New Hampshire added two more runs on a
Jon Berti
RBI groundout in the fifth and a
Cory Aldridge
RBI single in the sixth. Ochinko, Aldridge and
Jorge Flores
all had a pair of hits with Aldridge adding a walk and Flores stealing a base. Berti had a single, a walk, a hit by pitch and two stolen bases.
Mike McDade
singled and walked while
Andy Burns
singled and swiped a base.

Kendall Graveman
(1-0) got through six innings in his first Double-A start. He surrendered just the one run despite 10 baserunners on eight hits and two walks. He struck out four and collected six outs on the ground.
Blake McFarland
pitched three no-hit frames with two walks and five strikeouts to pick up his second save.


St. Lucie 7 Dunedin 6 (12 Innings)
Port St. Lucie, FL
- Three two-run leads were not enough for Dunedin in the end. Continuing with the football parlance, the D-Jays sacked the Mets in the end zone for a safety. A wild pitch with the bases loaded accounted for the first run and a
Marcus Knecht
ground ball plated the other. A run-scoring fly ball by
Peter Mooney
in the fourth made it 3-1 Dunedin. However, the Jays needed a three-run eighth inning to regain the lead.
Kevin Patterson
doubled in a run,
Pierce Rankin
popped a sac fly and
Gustavo Pierre
singled to give Dunedin a 6-4 advantage. Patterson had three of Dunedin's 10 hits, including two doubles. Knecht doubled, singled and walked.
Nick Baligod
doubled and walked twice while
Ian Parmley
singled and earned two free passes.
Emilio Guerrero
singled and was hit by a pitch. Rankin had a hit and a base on balls.

Jesse Hernandez
was jacked around for four runs on seven hits and a walk over four innings while striking out a pair.
Griffin Murphy
overcame a 1-2 K-BB total with three no-hit innings and
Justin Jackson
pitched the eighth without incident. The shutout relief ended when
Arik Sikula
blew just his second save opportunity by surrendering two runs in the ninth.
Chad Girodo
gave up two hits and two walks but struck out two over two shutout innings.
Tony Davis
(1-1) struck out the first batter he faced but he was dinged for an unearned run in the 12th on two singles accompanied by a Guerrero error at short.
Lansing 9 Burlington 2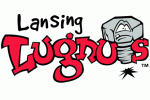 Burlington, IA
- The Lugnuts started the buzzkill with three runs in the third inning and another five in the fourth.
Mitch Nay
doubled home the first two runs before
Matt Dean
plated another with a ground out.
Jason Leblebijian
took one for the team with the bases loaded before
Chaz Frank
cleared them with a three-run triple. Frank would scamper home on a Nay ground ball and Nay would single home the final run in the ninth. Nay, Frank and
Derrick Loveless
shared the team lead with two hits apiece with Loveless also drawing a walk. Leblebijian added a double with his HBP. Dean,
Dawel Lugo
and
D.J. Davis
also made a dent in the hit column.

Brent Powers
(3-3) downed the Angels affiliate to a pair of runs on five hits and two walks over six innings in which he struck out four and got nine groundouts.
Alonzo Gonzalez
worked his way around five hits to post three shutout innings that included two K's to get his first save.

Spokane 6 Vancouver 2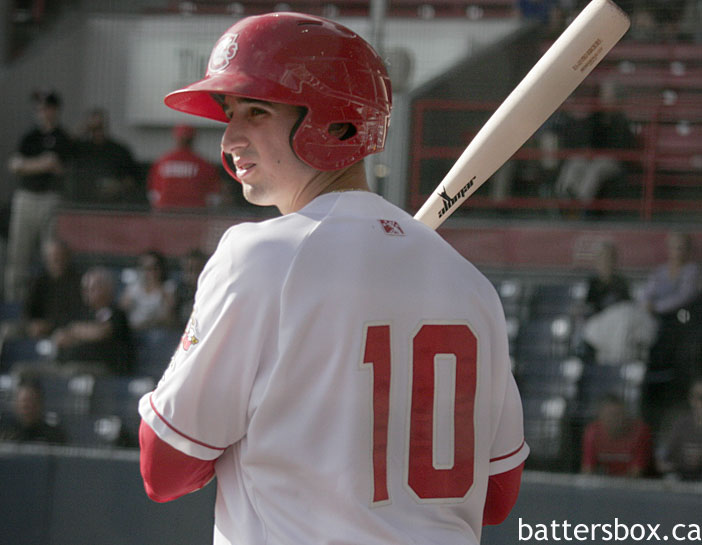 Tim Locastro
doubled twice, scored a run and stole his 17th base of the season in 18 attempts Monday night in Spokane.
Spokane, WA
- The Rangers affiliate continue to have the C's number, winning six of the eight games so far in the season series. All the scoring in this one came in twos. The Indians were up 2-0 before the Canadians rallied for a pair of runs in the third on RBI singles by
Max Pentecost
and
Chris Carlson
.
Tim Locastro
had two doubles and
Ryan McBroom
had one. Locastro was also hit by a pitch and stole a base.
Ryan Metzler
was 1-for-4 while
Franklin Barreto
was 0-for-3 with a walk.
Chase Mallard
(2-1) coughed up four runs over 4.1 innings on eight hits and an HBP while whiffing a pair.
Andrew Case
could not strand his lone inherited runner but threw 1.2 innings of scoreless ball thanks to 4 K's.
Kamakani Usui
was burned for two runs over two innings on three hits and a walk. He had zero strikeouts.


Johnson City 2 Bluefield 1
Johnson City, TN
- The Jays scored first but unfortunately the Cardinals scored next and last.
Sean Hurley
, recently demoted from Vancouver, drove in Bluefield's only run with a fielder's choice in the fourth inning.
Lydell Moseby
was 2-for-3 with a walk.
Dan Jansen
had a double and was hit by a pitch.
Rowdy Tellez
,
Austin Davis
and
Trent Miller
had singles.
Ryan Borucki
kept the Cards off the board in his four-inning outing, yielding just three hits and two walks. He struck out two and induced four groundball outs.
Alberto Guzman
(1-3) allowed both runs in his three innings of work.
Chase Wellbrock
struck out three of the four batters he faced in the eighth with the lone runner reaching on a Moseby error at first.
GCL Blue Jays 5 GCL Yankees1 0

Dunedin, FL
- The parent club's recent dominance over the Yankees also extended itself to the boys on the Gulf Coast. The winning run came in the third when
Lane Thomas
singled and scored on a throwing error at short. The Jays put the game away with three runs in the sixth. A
Frankie Rodriguez
fielder's choice scored the first run and
Yeltsin Gudino
drove in the second with a ground ball out. They finally scored a run with a hit as
Edwin Fuentes
picked up an RBI single. Back-to-back doubles by
Juan Tejada
and Rodriguez in the eighth rounded out the scoring. Tejada was the only one with more than one hit with three, two of them doubles.
Gunnar Heidt
and
Matt Morgan
were both 0-for-3 with a walk.
Daniel Rodriguez
(1-3) averaged a baserunner, strikeout and groundout per inning over five frames. He permitted just four hits and a hit by pitch with zero walks. Only two of his seven outs were airborne.
Jacob Brentz
also kept baserunners to a minimum by allowing just a double and a walk in the ninth to get the four-inning save. The lefty overcame a Thomas error at third to retire nine straight hitters on the way to save number two. He did not strike anybody out but he kept the outfielders busy as they converted eight of his 11 outs in play.

DSL Blue Jays 10 DSL Braves 3

San Pedro de Macoris, DR
- A converted touchdown in the third was all the Jays needed to chop their way to victory. An error and a strikeout-wild pitch combination allowed the Jays to tie the game at 2-2 before a
Manuel Herazo
bases-loaded walk gave them the lead for good.
Rodrigo Orozco
followed up with a triple that plated four runs as he came in to score on an error. The Jays would put one through the uprights with a three-run seventh.
Miguel Almonte
had a run-scoring single while the other runs came in on an error and a passed ball. Almonte and
Edward Olivares
had two hits apiece with Olivares also reaching via the base on balls. The most interesting batting line belonged to Herazo. He was 0-for-0 with two runs scored, three walks and a hit by pitch.
Ronniel Demorizi
singled and walked.
Enmanuel Moreta
drew a walk and took one for the team.
Wilmin Lara
went the first four innings, yielding two runs on four hits and two walks but racked up four K's.
Erick Hurtado
(1-0) hurled three innings of one-run ball on three hits.
Jeffry Martinez
and
William Zambrano
were able to post a zero in the eighth and ninth innings.
Monday's Linescores
*** 3 Stars!!! ***

3. Brent Powers, Lansing
- Midwest League hitting just .244 against the former Oakland farmhand..

2. Kevin Pillar, Buffalo
- An 1.147 OPS over his last 10 games and a .319 batting average on the season.

1. Mitch Nay, Lansing
- Hitting .307 with runners on base and .314 when they're in scoring position.
*** 3 Stars images from
MiLB.com
***

Tuesday's Schedule & Probable Starters


DSL Blue Jays
@ DSL Braves, 10:30 am ET - TBA.
GCL Blue Jays
@ GCL Yankees1, 12:00 pm ET - TBA.
Dunedin
@ St. Lucie, 6:30 pm ET - TBA.
New Hampshire
@ Binghamton, 6:35 pm ET -
Matt Boyd
(1-4, 6.96).
Vancouver
@ Spokane, 9:30 pm ET - TBA.
Bluefield
@ Johnson City, 7:00 pm ET - TBA.
Indianapolis @
Buffalo
, 7:05 pm ET -
Raul Valdes
(4-3, 3.80).
Dayton @
Lansing
, 7:05 pm ET -
Chase De Jong
(0-6, 5.27).

Extra Innings...