The affiliates won just three out of seven Monday night. The highlights saw one of the affiliates pull into a four-way tie for first place despite a losing record. The lowlights were two shutout losses. New Hampshire and Lansing were not in action.
Buffalo 5 Norfolk 0

Buffalo, NY
- What more does
Kevin Pillar
have to do to get back with the big club? He slugged a three-run home run in the third to give the Herd (note the rhyme, peeps!) all they would need. Pillar even brought in a run without swinging the bat. He got picked off at second but stayed in a rundown long enough to allow
Darin Mastroianni
to score. The other run scored on an error after a
Ryan Goins
single in the seventh. Mastroianni was 2-for-3 with two walks and
Brad Glenn
had a pair of hits.
Jonathan Diaz
had the other hit. Pillar was 1-for-2 stealing bases to give him 26 swipes in 32 attempts.

Scott Copeland
(1-0) supplied seven shutout frames of six-hit ball against the Orioles affiliate in his Triple-A debut. He plunked a hitter but he compiled a 4-1 K-BB total and all 13 outs in play were on the ground.
Steve Delabar
walked one and struck out one in a shutout eighth.
Mike Zagurski
- the hefty lefty - gave up a hit but struck out the side.

Dunedin 3 Tampa 1 - Game 1 (7 Innings)

Dunedin, FL
- The Jays only got four hits but they made the most of them as they hit for the cycle. Dunedin got all the runs they would need in the second inning on a
Gustavo Pierre
two-run triple. It continued to be a good day for the Kevins as
Kevin Patterson
hit a solo shot in the third for an insurance run. Patterson pinch-hit for
Edwin Encarnacion
, who struck out in his lone plate appearance.
Dwight Smith Jr.
had a double and stole his 13th base of the year.
Shane Opitz
was 1-for-3.
Roberto Osuna
pitched 2.1 innings and gave up a solo homer among three hits and two walks. He also hit a batter but struck out a pair.
Efrain Nieves
(3-4) stranded two Osuna runners and fired 3.2 shutout innings of one-hit ball. He plunked a hitter and walked a pair but was able to offset that with four K's.
Arik Sikula
struck out two in the ninth to notch his 28th save.
Tampa 5 Dunedin 2 - Game 2 (7 Innings)


The Yankees jumped on
Jeremy Gabryszwski
(1-1) for three runs in the first and another in the third thanks in large part to two home runs by
Aaron Judge
and
Eric Jagielo
. The four runs came on six hits over five innings but Gabby struck out five while walking no one. However, Gabryszwski had trouble keeping the ball down as just one of his eight outs in play were on the ground.
Tony Davis
gave up the other run on three hits in the sixth.
Wil Browning
walked a hitter but struck out three in his inning of work.
Christian Lopes
got Dunedin on the board with a run-scoring single in the third before
Marcus Knecht
cracked his sixth homer of the year in the fourth. Lopes and
Shane Opitz
had two hits apiece.
Peter Mooney
walked twice and
Nick Baligod
took one for the team.
Vancouver 7 Tri-City 5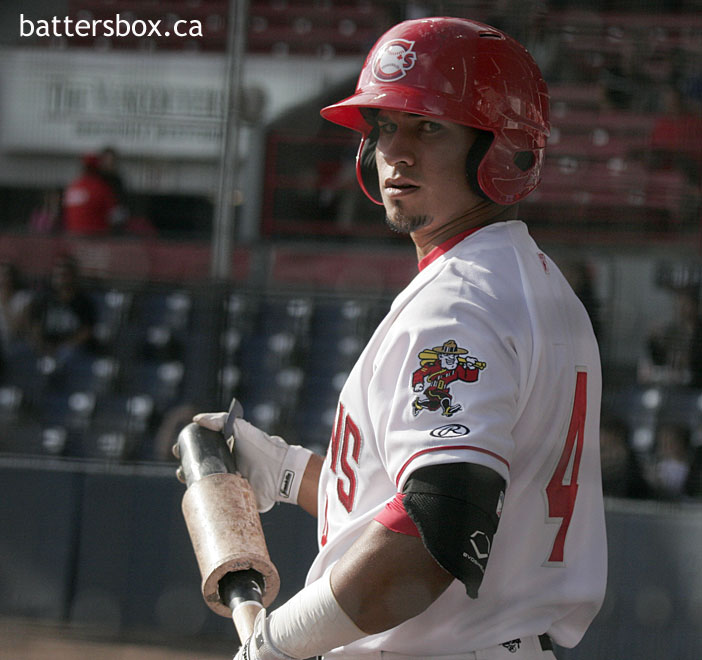 Franklin Barreto
helped calm things down for Vancouver as his two-run homer in the fifth helped pull the C's into a tie with the Dust Devils, Everett and Spokane for first place in the Northwest League's North Division. All four teams have 8-10 records.
---

Vancouver, BC
- A pair of three-run innings helped the C's pull this one out against the Rockies affiliate. They jumped ahead with three in the first on a throwing error by the catcher along with a
Chris Carlson
sacrifice fly and a
Boomer Collins
RBI double. A
Franklin Barreto
two-run homer in the fifth put Vancouver ahead to stay at 5-4 and Collins added his second run-scoring double to make it 6-4. A wild pitch in the eighth gave the Canadians an insurance run. Barreto and Collins had two hits and a walk as did
Ryan McBroom
but he also took one for the team.
Trent Miller
had a 1-for-4 night in his Canadians debut. Carlson and
Roemon Fields
had singles and walks and Fields stole his 37th base of the year. However, he was caught once and
Tim Locastro
was also nabbed trying to steal for just the third time this season.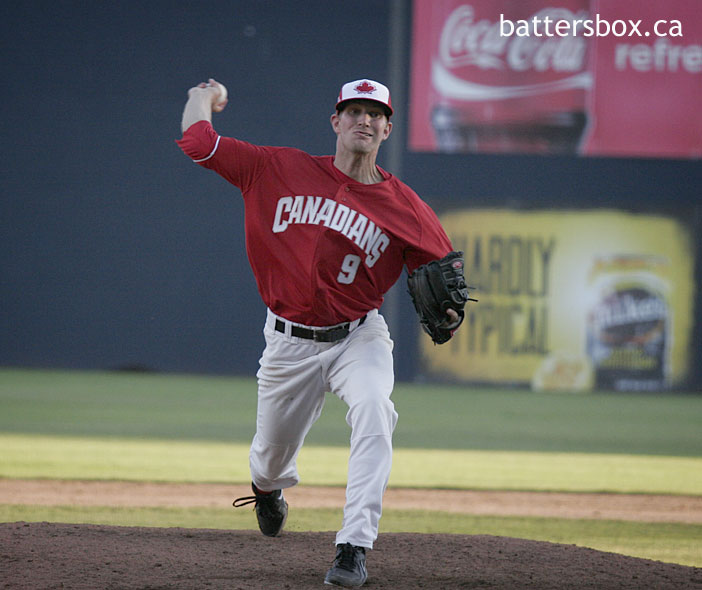 Justin Shafer
struck out four over 2.2 scoreless innings of relief Monday night.
---
Daniel Lietz
was drilled for four runs over 3.2 innings on six hits, two walks and a plunk but he whiffed four.
Adaric Kelly
(2-1) allowed an inherited run to score but supplied 1.1 scoreless frames of two-hit ball while striking out one.
Yeyfry Del Rosario
pitched a no-hitter in his one inning. The bad news was he walked a pair and uncorked a pair of wild pitches which led to a run. He did strike out a couple.
Justin Shafer
stepped up to provide 2.2 scoreless innings of two-hit ball with four K's.
Michael Kraft
struck out the only hitter he faced to get his first save of the year.
Danville 3 Bluefield 0

Bluefield, WV
-
Francisco Rios
deserved a much better fate. He spun six innings of shutout ball, keeping the Braves in check with just three hits, a walk and a hit batter. Rios struck out seven and got seven groundball outs.
Jordan Romano
(1-1) saw the winning run cross the plate on his watch in the seventh inning. He was charged with two runs over 2.2 innings on four hits and a walk but he did strike out four.
Dusty Isaacs
got the final out but not before giving up a two-run homer, allowing his inherited runner to score.
Richard Urena
was 2-for-4 in the leadoff spot.
Lydell Moseby
had the lone extra-base hit with a double.
Andres Sotillo
had the other hit and was also hit by a pitch.
Sean Hurley
got a walk but the trio of
Lane Thomas
,
Josh Almonte
and
Gabriel Cenas
were a collective 0-for-12.

GCL Pirates 6 GCL Blue Jays 0Dunedin, FL
-
Sean Reid-Foley
(1-2) only got through two innings, surrendering a pair of runs on two hits and three walks but he struck out a couple.
Nick Wells
gave up the next three runs but only one was earned over four innings after a
Trey Pascazi
error at third. Wells gave up five hits but whiffed three without walking anyone.
Sean Ratcliffe
also had an unearned marker as a result of a
Yeltsin Gudino
clank at short. He pitched the final three frames and yielded four hits and a walk while collecting a pair of K's.
Deiferson Barreto
had the only two hits at the top of the order.
Cliff Brantley
and
Edwin Fuentes
had the only walks.
DSL Brewers 9 DSL Blue Jays 7
San Pedro de Macoris, DR
- Leads of 5-1 and 6-5 were too hot to handle for the Jays thanks to six errors that resulted in just two of the nine runs allowed being unearned.
Juan Nunez
worked the first four innings and gave up just one run on three hits and three walks while racking up 6 K's.
Yonardo Herdenez
gave up four runs in just one inning on four hits but three of the runs were not earned. All three
Jefry Martinez
(0-1) runs were of the unearned variety in his inning of work but he didn't help matters by uncorking two wild pitches.
Jairo Rosario
- wait for it - also had an unearned marker on his ledger over two-thirds of an inning but he did plunk a pair of hitters.
Wilmin Lara
emerged unscathed by walking just one hitter over 1.1 scoreless frames.
Jesus Severino
delivered the Jays first run with an RBI single in the first inning. A wild pitch and a sacrifice fly by
Francisco Rodriguez
plated two more runs in the second. The Jays scored again in the third thanks to an error and added another in the fourth on an RBI single by
Miguel Almonte
, who played a role in the sixth run. His steal of second combined with a throwing error by the catcher allowed
Javier Hernandez
to score from third. Hernandez and
Rodrigo Orozco
had two-hit games with Hernandez hitting a double and Orozco stealing a base. Almonte singled, walked and swiped two bases.
Ronniel Demorizi
singled and walked.
Bryan Lizardo
added a double.
Monday's Linescores
*** 3 Stars!!! ***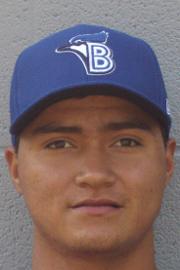 3. Francisco Rios, Bluefield
- A 34-14 K-BB total in 42.2 innings with Bluefield.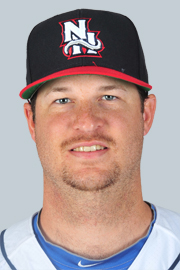 2. Scott Copeland, Buffalo
- A combined 9-7 record with a 3.52 earned run average with New Hampshire and Buffalo.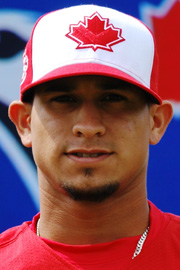 1. Franklin Barreto, Vancouver
- Five multi-hit games in August and his OPS is up to .906.
3 Stars images from
MiLB.com
.
Tuesday's Schedule & Probable Starters
DSL Brewers @
DSL Blue Jays
, 10:30 am ET - TBA.
GCL Blue Jays
@ GCL Pirates, 12:00 pm ET - TBA.
Norfolk @
Buffalo
, 7:05 pm ET -
Kendall Graveman
(0-2, 2.25).
Richmond @
New Hampshire
, 7:05 pm ET -
Austin Bibens-Dirkx
(4-2, 2.21).
Fort Wayne @
Lansing
, 7:05 pm ET -
Starlyn Suriel
(1-1, 2.12).
Danville @
Bluefield
, 7:05 pm ET -
Conner Greene
(1-1, 8.00).
Vancouver
@ Tri-City, 10:05 pm ET -
Zak Wasilewski
(3-4, 6.58).