Welcome to the top of the house, the number one through ten prospects, although maybe a little less lofty than in the last couple of years. In case you missed it number 11 through 20 are here, and number 21 to 30 are here.
We hope you enjoyed this top 30 and the hope it brings to the future of the Blue Jays organization.

10. DJ Davis | CF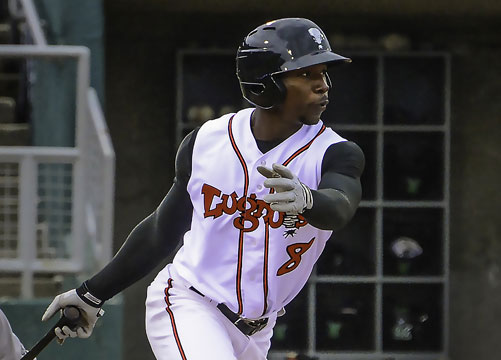 (Image from
MiLB.com
)
Year
Age
Level
AB
2B
3B
HR
BB
K
SB
CS
AVG
OBP
SLG
2015

21

A

496

19

7

7

39

119

21

10

.282

.340

.391

It was a growth season for DJ Davis, he repeated Lansing and played better than he did in 2014. In 2015 he showed a big improvement in batting average and a reduction in strikeouts. Davis' batting average rose from .213 to .282 and his strikeouts declined from 167 to 119 in almost the same number of plate appearances. So where to from here for Davis? Davis has always been considered raw for a prospect. There is not a lot of baseball played in Mississippi and Davis had to play catch up. But now, at age 21, it is hard to keep up with the raw argument. Davis now needs to prove his ability on the field. He shows flashes of potential but then falls back. Consistency would be a key for Davis in 2016.
Davis should be in Dunedin to start 2016 and at the age of 21 he will need to build on his 2015 to be considered a prime prospect. Although Davis did improve from 2014 to 2015 his K rate was still 24% and he struck out three times more than he walked. It is interesting to note that Davis' numbers in Lansing in 2015 were almost the same as Matt Dean's in 2014, other than Dean had a little more power. Dean had an average season in Dunedin in 2015 and Davis will be looking to go one better.

9. Justin Maese | RHP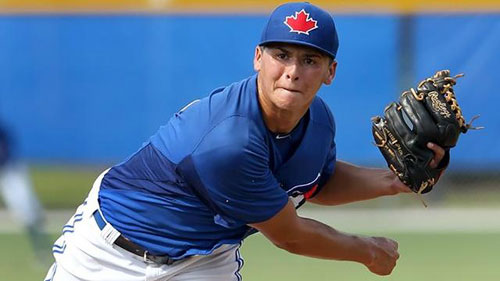 (Image from
MiLB.com
)
| | | | | | | | | | | |
| --- | --- | --- | --- | --- | --- | --- | --- | --- | --- | --- |
| Year | Age | Level | G | GS | IP | H/9 | HR/9 | BB/9 | K/9 | ERA |
| 2015 | 18 | R | 8 | 4 | 35.2 | 8.1 | 0.0 | 1.5 | 4.8 | 1.01 |
Toronto's 3rd round pick in this year's draft, El Paso native Justin Maese turned down a scholarship to Texas Tech to turn professional. Maese struck out 156 batters and was named to the Louisville Slugger High School All-American First Team as a junior. However, he really turned scouts' heads as a senior with a fastball that touched 96 and sat 88-92 miles per hour, as well as a slider that was clocked at 86 mph. Maese led the Yselta High School Indians to the playoffs with 81 strikeouts and an 0.72 ERA in his senior season.
His performance, as well as his 6'3 190-pound frame that suggested room to grow, led to Maese being one of the primary "pop-up" pitchers in the 2015 draft. Perhaps because of that, pre-draft rankings on Maese varied considerably. He was ranked 131st by MLB.com, 134th overall by Baseball America, but 33rd overall by Keith Law, who was very high on him. Baseball America's scouting report cautioned that he had a delivery that involved effort and that Maese experienced a drop in velocity as he went deeper into games.
After being drafted, Maese signed quickly and made 8 appearances for the Gulf Coast League Jays. Over 35.2 innings, which included four starts, Maese posted a 5-0 record and a 1.01 ERA. In a positive sign, he induced a lot of ground balls, posting a 2.58 groundball to flyball ratio. Maese improved as the season progressed, throwing more than five innings in his final five appearances.
He capped off his season against the GCL Tigers with six strong innings in which he struck out ten. That performance was watched by Chris King of Perfect Games Scouting, who tweeted that Maese was "fantastic" was "locating all of his pitches" including his fastball and that his changeup was "coming along nicely." That's particularly positive given that one of the negatives on Law's scouting report was that scouts reportedly "had a hard time envisioning his changeup developing."
Maese won the R. Howard Webster Award for the GCL Blue Jays and it will be interesting to see how aggressive the Jays are with him next year.
8. Max Pentecost | C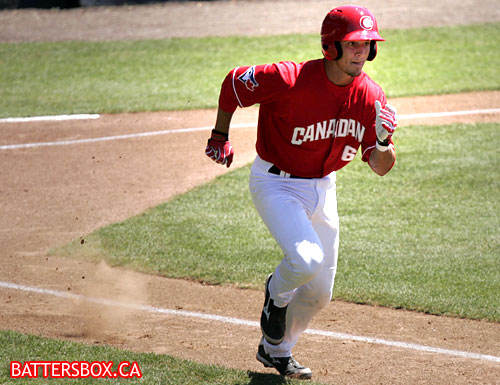 Year
Age
Level
AB
2B
3B
HR
BB
K
SB
CS
AVG
OBP
SLG
2015

22

-

-

-

-

-

-

-

-

-

.000

.000

.000

Max Pentecost is a 6-foot-2 catcher who was Toronto's selection at 11th overall in the 2014 draft after the team was unable to sign Phil Bickford, who was selected in the first round in 2013. The Kennesaw State product hit .422 and posted a 1.109 OPS in his sophomore season. Pentecost shot up draft boards after being named the Most Valuable Player of the Cape Cod League in 2013 after a batting line of .346/.425/.538 along with six home runs and 29 runs batted in with the Bourne Braves. His performance also earned him College Summer Player of the Year honours from Perfect Game.
In his junior season, Pentecost was named the Atlantic Sun Conference Player of the Year and was awarded the Johnny Bench Award as the top catcher in the NCAA. He was also named a finalist for the Dick Howser Award as college baseball's top player.
After the draft Pentecost agreed to a slot bonus of $2.9 million and made his pro debut in the Gulf Coast League, as the club wasn't able to assign him directly to Vancouver as he didn't have a passport. Pentecost went 5-for-5 in his second Gulf Coast League contest, demonstrating that the initial instinct to assign him to Vancouver was well-founded. However, Pentecost wound up in Vancouver after about a week and began his Canadians career with a nine-game hitting streak and also had a six-game hitting streak shortly thereafter.
Unfortunately, he missed the rest of the season with a wrist injury and underwent surgery for a partially-torn labrum in his shoulder towards the end of 2014. However, this operation didn't go as well as hoped and Pentecost had to undergo a second shoulder surgery in February 2015 to repair his labrum. He would wind up missing the entire season while recovering and rehabbing from this surgery.
Roving catching instructor Sal Fasano called Pentecost an athletic catcher and the first rounder has been favourably compared to Jason Kendall. He has a unique profile for a catcher, as he is very athletic and energetic and projects to be at least average with all five tools. Defensively, Pentecost projects to be at least average and his arm projected as a plus tool prior to the shoulder surgeries. He also reportedly has a great makeup.
Given that he's returning from an injury, the Jays may ease Pentecost into baseball by returning him to Vancouver, but if everything goes according to plan he'll wind up in Lansing before the end of the season. High-school catchers often have a slower development path than prospects at other positions, so he will likely be given plenty of time to progress through the system by the front office.

7. Jon Harris | RHP
| | | | | | | | | | | |
| --- | --- | --- | --- | --- | --- | --- | --- | --- | --- | --- |
| Year | Age | Level | G | GS | IP | H/9 | HR/9 | BB/9 | K/9 | ERA |
| 2015 | 21 | A- | 12 | 11 | 36.0 | 12.0 | 0.2 | 5.2 | 8.0 | 6.75 |
The Blue Jays were pleasantly surprised when they landed righthander Jon Harris with the 29th pick of the 2015 draft, a compensation pick Toronto received when Melky Cabrera left to sign a free-agent deal with the Chicago White Sox. Amateur scouting director Brian Parker told Sportsnet the Jays had the 6-foot-4 St. Louis native ranked highly on their draft board and were happy to be able to draft him a second time. Jim Callis of MLB.com said "Toronto got a steal" during the MLB draft broadcast and was surprised he fell that far in the draft. There was speculation Harris would be a top-10 pick, if not top-15.
Harris had turned down a chance to turn pro with Toronto in 2012 after being taken in the 33rd round out of Hazelwood Central High School in Florrisant, Missouri when he was four inches shorter. He decided to attend Missouri State instead, where former Blue Jay Shaun Marcum once pitched. Harris compiled a record of 19-9 with a 3.08 earned run average in three seasons with the Bears. His junior campaign was his best one as he won eight of 10 decisions and got his ERA below three at 2.85 combined with a strikeout rate of 10.5 per nine innings and a walk rate of 3.1.
After signing for slot value at $1,944,800, Harris reported to Vancouver and got the honour of starting the C's home opener June 26 when he pitched 2-2/3 shutout innings with four strikeouts against Hillsboro in an eventual win over the defending Northwest League champions. He had an ERA of 2.35 after his first three abbreviated starts but he hit the wall with an ERA of 5.06 in July and 9.35 in August as he tried to make the adjustment from starting every seven days in college to every five days in the pros. He only reached five innings once August 14 outing in Hillsboro but that outing was his best of the season. He put up five goose eggs and struck out two while scattering four hits and two walks. Unfortunately, the Vancouver offence could not score for him at the time so he wound up with a no-decision. That would be the closest he would come to getting his first professional victory and would wind up the season with a record of 0-5.
According to Parker, Harris has a four-pitch arsenal that features a 92-95 mile per hour fastball and a slider that is described as plus. His changeup and curveball have also been plus at times but he told MiLB.com he still needs work on commanding the strike zone. Harris is projected to be a middle-of-the rotation arm with a high floor but there may still be a higher ceiling to be reached after he works out in the off-season to improve his 190 pound frame which could lead to an uptick in his fastball velocity.
Harris did make a contribution to Toronto's American League East division-winning club. He and Vancouver teammate Danny Young were called upon to pitch simulated games to a rehabbing Troy Tulowitzki at Tropicana Field in Tampa Bay to help the All-Star shortstop return to the Jays in early October.

Harris will probably head to Lansing in 2016 for his first taste of full-season baseball. He will turn 23 on October 16.
6. Rowdy Tellez | 1B/DH

(Image from Toronto Star)

Year
Age
Level
AB
2B
3B
HR
BB
K
SB
CS
AVG
OBP
SLG
2015

20

A

270

19

0

7

24

56

2

2

.296

.351

.444

2015

20

A+

131

5

0

7

14

28

3

0

.275

.338

.473

Rowdy Tellez has arguably the best name in the Blue Jays system and also its best bat. He served notice early in 2015 when Tellez homered against Philadelphia March 31 by depositing one over the right field wall at Florida Auto Exchange Stadium in his lone Grapefruit League at-bat. That power display was the big reason why the Blue Jays invested $800,000 on Tellez after taking him in the 30th round of the 2013 draft. The Elk Grove, California native was expected to be a much higher pick in the draft but 29 teams stayed away as they believed he was going to honour his commitment to the University of Southern California.
Tellez got his feet way at the pro level with the Gulf Coast Jays in 2013 but slugged just .371 in 34 contests. Things went much better in 2014 when he hit a combined .305 with an OPS of .812 with Bluefield and Lansing. That earned him a call-up to Vancouver for the Northwest League playoffs.
Tellez came back for a second tour of duty with Lansing to start 2015 and after a .274 batting average in April, he heated up in May by hitting .319, which included a game in South Bend where he racked up 10 total bases May 13. He was given a Player of the Week award a few days later. Baseball America was also impressed with his performance by naming the lefthanded hitter the best batting prospect in the Midwest League in its annual Tools Survey.
After playing in the MWL All-Star game, Tellez was promoted to Dunedin in late June and captured a Player of the Week award soon after his arrival. Among the highlights was a two-homer game against Brevard County July 3. He managed to increase his OPS in the pitching-friendly Florida State League to .811, up 15 points from his total in Lansing but saw his season come to an end after breaking the hamate bone in his right hand.
Despite the injury, Tellez was able to play in the Arizona Fall League in October where he hit four doubles and four homers (including one against Seattle lefty James Paxton) while driving in 17 runs in just 82 at-bats. He was selected to play in the AFL Rising Stars game and finished the fall campaign with an OPS of .839.
Tellez's dedication to getting in better shape paid off in 2015 as he slimmed down to 245 pounds. Lansing broadcaster Jesse Goldberg-Strassler compared Tellez's physical transformation to that of Blue Jays closer Roberto Osuna. Surprisingly, he has 10 stolen bases (including one in the AFL) in 14 attempts over his three-year minor league career but he is limited to first base defensively where he is considered to be below average.
There is a fair bit of swing-and-miss to Tellez's game but he kept his strikeout rate to just under 19 percent in 2015. The K rate is also offset by a decent eye at the dish by averaging a base on balls nearly nine percent of the time. He told the Sacramento Bee that his off-season hunting for birds or big game has helped him relax and slow his heartbeat down when it comes to pulling the trigger on a rifle or the bat.

A projected middle-of-the-order hitter with above average raw power, Tellez could find himself in Manchester, New Hampshire in 2016. He will reach the legal drinking age in the U.S. on March 16.
5. Richard Urena | SS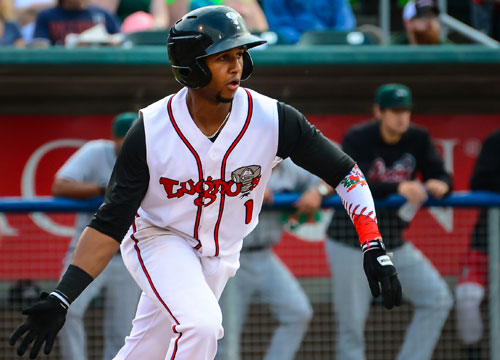 (Image from MiLB.com)

Year
Age
Level
AB
2B
3B
HR
BB
K
SB
CS
AVG
OBP
SLG
2015

19

A

408

13
4
15

13

84

5

5

.266

.289

.438

2015

19

A+

128

3

1

1

3

26

3

1

.250

.268

.315

Richard Urena delivered a tantalizing 2015 season with more pluses than minuses. On the plus side Urena reached Dunedin as a 19 year old; he hit 16 home runs; and he played excellent defense. On the minus side Urena still does not control the strike zone and his switch-hitting has yet to bear fruit. Urena began switch-hitting in 2014 and he continued this year. In Lansing Urena had an OPS of .786 from the left side and just .538 from the right. Fourteen of his15 home runs came from the left side. It is probably still too early to have Urena drop the switch-hitting but his left-handed hitting shows his potential.
Urena is also still somewhat of a hacker and he did not show improvement on that as the year progressed. Urena's K rate is just over 20% which is acceptable, it his walks that are low, approximately one walk per seven K's. Hopefully Urena can develop this skill as he moves up. But 15 home runs in two-thirds of a season as a 19 year-old in A ball shows just what promise is in his bat. It is interesting to see that Urena is getting playing time and at-bats in the Dominican winter league. That shows how his ability has been recognized down south.
Shortstops with power are very valuable. Many infielders from Latin America don't have the same walk and strikeout numbers as do players from the US or Canada. Urena looks like he is following that path. Can he hit enough from the right side or will he drop switch-hitting? All of these questions make Urena an interesting player to follow in 2016. Urena will return to Dunedin as a 20-year old in the spring and should build on his breakout in 2015.
4. Conner Greene | RHP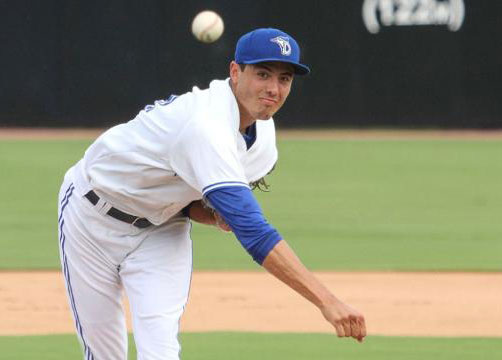 (Image from MiLB.com)

| | | | | | | | | | | |
| --- | --- | --- | --- | --- | --- | --- | --- | --- | --- | --- |
| Year | Age | Level | G | GS | IP | H/9 | HR/9 | BB/9 | K/9 | ERA |
| 2015 | 20 | A | 14 | 14 | 67.1 | 10.0 | 0.5 | 2.5 | 8.7 | 3.88 |
| 2015 | 20 | A+ | 7 | 7 | 40.0 | 8.1 | 0.2 | 1.8 | 7.9 | 2.25 |
| 2015 | 20 | AA | 5 | 5 | 25.0 | 9.0 | 0.4 | 4.3 | 5.4 | 4.68 |
Before 2015 Conner Greene was best known for being a male model from Southern California who hung out with Charlie Sheen and appeared in TV shows. That changed this year when Greene rocketed through the system. Greene was a 7th round pick back in 2013. He spent 2014 in the GCL and Bluefield and didn't stand out in any way, and so it was a bit of a surprise when he landed in Lansing to start 2015. In his first nine starts in the Midwest League he again didn't stand out, conceding 24 earned runs over those nine starts. But then something clicked. In his next five starts Greene only allowed five earned runs, one per start. That earned him a promotion to Dunedin. In a repeat of the script, Greene got better start after start in Dunedin. Most of his stats improved over Lansing other than K/9. He gave up four earned runs in his first start, six runs total in his next three and then finished in Dunedin with three starts with no runs allowed. It was the best type of performance from a prospect, getting better with each start. His performance, along with AA's prospect clearance sale, gave Greene the chance to finish the season in New Hampshire, with mixed results. But this was Greene's first season pitching a full year, some fatigue was to be expected.
When drafted Greene was a skinny kid from Santa Monica with a 90 mph fastball and not much else. His draft height and weight were 6'3" and 165 pounds. That is skinny. Over the last two years Greene has bulked up with added muscle and his fastball is up to the mid nineties. Greene's change-up has improved a lot and his next task is to get his curve up to standard. Greene might have been a little over-hyped at the end of 2015 due to the need to talk about remaining pitching prospects and I would expect Greene to need most of 2016 in the minors. Greene did not master AA and he will go back to New Hampshire to refine his pitches. A good showing there could get him some AAA time before the end of the year.

3. Sean Reid-Foley | RHP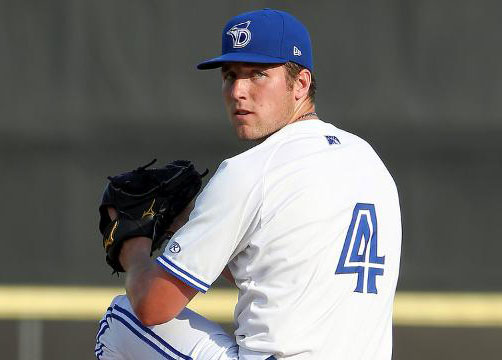 (Image from MiLB.com)

| | | | | | | | | | | |
| --- | --- | --- | --- | --- | --- | --- | --- | --- | --- | --- |
| Year | Age | Level | G | GS | IP | H/9 | HR/9 | BB/9 | K/9 | ERA |
| 2015 | 19 | A | 17 | 17 | 63.1 | 8.1 | 0.4 | 6.1 | 12.8 | 3.69 |
| 2015 | 19 | A+ | 8 | 8 | 32.2 | 6.9 | 0.3 | 6.6 | 9.6 | 5.23 |
After he was drafted in 2014 Sean Reid-Foley pitched just a little so he was a question mark coming into this season. What kind of pitcher was he? A future reliever or a starter? We got some answers in 2015 but not all questions were answered. The two notable things about Reid-Foley are that he can strike out hitters and walk hitters. SRF, as he is known in prospect circles, has a lively mid-nineties fastball that can miss bats. He also throws a slider, a change-up and an occasional curveball. The slider is his second best pitch but he has to use it more to right-handed hitters. Against left-handed hitters he uses the change-up more and it needs more work. As a result, in Lansing, SRF had a WHIP over 2 versus left handed hitters and a respectable 1.26 versus righties. If you ignore the walks SRF's numbers look great. In Lansing his punched out 90 in 63.1 innings. He also allowed less than a hit per inning. It was the 43 walks that hurt his numbers.
In July SRF was promoted to Dunedin and he ran hot and cold there along with his command. He was still holding the hits down, hitters just hit .210 off him. His strikeouts were still more than one per inning, although not as high as they had been in Lansing. And he continued to walk hitters, 24 in 32 innings. But we must remember that SRF pitched until the end of August as a 19 year-old. He has lots of time to work on the command he needs. If he can cut down on the walks he has the arsenal to be a very good major league starter. Reid-Foley will return to Dunedin to begin 2016 and that's a good spot for a 20 year-old pitcher.
2. Vladimir Guerrero Jr. | OF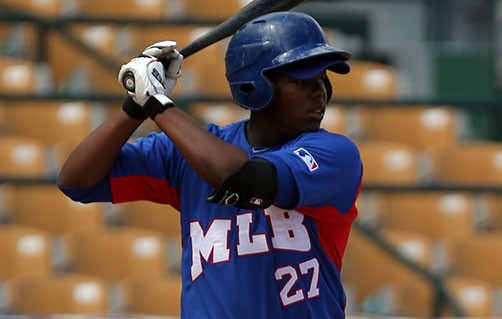 (Image from MiLB.com)

Year
Age
Level
AB
2B
3B
HR
BB
K
SB
CS
AVG
OBP
SLG
2015

16

-

-

-

-

-

-

-

-

-

.000

.000

.000

Get ready to be seeing this name near the top of this list for the next several years. If you aren't, things have gone either much worse or much better than the organization expected.
It's hard to write about Vladimir Guerrero Jr. and not be covering the same ground that's been covered before. In a nutshell, the Jays signed the son of the nine-time All-Star and former MVP for $3.9 million. Guerrero Jr. was born on March 16, 1999 and both throws and bats right-handed. He is listed at 6'1" and 210 pounds.
Vlad Jr. has immense raw power and his body is bigger than his father's was at a similar age. Although he'll never escape comparisons to his father, former Blue Jays special assistant of Latin American Operations Ismael Cruz noted differences between Vlad Jr. and his father, stating, "He has a better bat now than his father did at that age and it's not a swing that's going to go away, he's had it for a long time and he has always hit. ... He's hit all his life and he's always faced competition above him."
However, he admitted that Guerrero doesn't have his father's arm strength or speed at this stage. Cruz continued, "Since I've been doing this I haven't seen a kid with this power." Cruz also noted that Guerrero didn't have to pursue baseball, given his father's earnings, but he plays it because he loves the sport. That was reflected in Guerrero's ambitious comments shortly after being drafted that he wanted to reach the majors within two years.
Baseball America noted that Guerrero has "terrific bat speed, unleashing a quick, compact swing with hitting mannerisms reminiscent of his father. He has excellent hand-eye coordination and bat control, which allows him to make frequent contact. Guerrero has good plate coverage, with the ability to square up premium velocity and breaking balls." Although he doesn't appear to have the same all-around tools as his father, he displayed an advanced hitting approach for a 16-year-old.
Baseball America noted that Guerrero only has a 40-45 grade arm which suggests his best-case defensive position is left field. There is some possibility he winds up at first base or DH, although the Blue Jays have been working with him at third base, where he has limited experience. However, the front office was apparently surprised with how good his actions looked at the position. He's a below-average runner who may slow down as his body continues to develop.
It's difficult to overstate Guerrero's offensive potential and for the next several years it's just a matter of remaining patient and nurturing his talents. If his bat winds up anything close to what his father's was, it will play at any position and the Jays will have themselves a heck of a hitter.
1. Anthony Alford | CF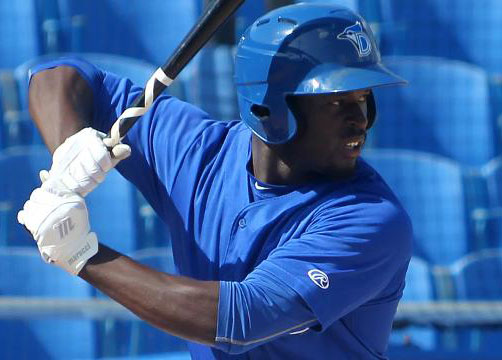 (Image from MiLB.com)

Year
Age
Level
AB
2B
3B
HR
BB
K
SB
CS
AVG
OBP
SLG
2015

21

A

188

14
1
1

39

60

12

1

.293

.418

.394

2015

21

A+

225

11

6

3

28

49

15

6

.302

.380

.444

Coming into 2015 Anthony Alford had a total of 110 minor league at-bats. Alford caught up fast and added another 400 between two stops in Lansing and Dunedin. The excitement around Alford grew as he played well, and better, as the season progressed. Even as he moved up a level Alford's numbers did not suffer.
By now everyone should be familiar with the back story on Anthony Alford, the football, the switching schools and then in late 2014 the commitment to baseball. The Jays were able to get Alford some at-bats in the Australian baseball league over the winter and that set him up for a start in Lansing once he got over an initial trip to the DL. Alford started slowly but picked it up quickly putting up an OPS of 867 in May. That earned him a promotion to Dunedin in June. Everyone expected Alford to show his inexperience, and he did, but most importantly he got better as the year progressed. In Dunedin Alford had a better batting average and more power than he showed in Lansing. He cut his strikeout rate from 32% to 22%. It was only his walk rate that declined but it has to be noted that Alford has a good eye, his walk totals were more than half his strikeout numbers. Alford also plays a good center field and has a strong arm. He can run, he had 15 steals in a half season in Dunedin but like the rest of his game he is still learning.
We know that Alford is a great athlete and we also know that he got better in 2015 month over month. The unknown is where does this stop, how good can he be? Scouts have noted his ability to pick up things on the field, his baseball intelligence. Alford will go the other way at the plate and adjust to the pitcher. This might come from football where adjustments are part of the game. The Jays could send Alford to New Hampshire or back to Dunedin to start 2016, New Hampshire would be more likely. Jays fans will be watching to see how good he can be.