The new administration is very protective of prospects and draft picks. One piece of evidence supporting this assertion is that all thirty of last year's Batter's Box top 30 prospects are still with the organization. Those 30 prospects have been bolstered with the 2016 draft class plus two prospects who came over in the Liriano trade.
The expectation of the top 30 prospects for any team is that one third will improve, one third will regress and one third will stay as they were. Thirteen of last year's top 30 prospects did not make it onto this year's list. Some of them have indeed regressed but the addition of this year's draftees, and the traded players, has raised the level of the top 30. A player who might have made the list last year, and who has maintained his performance level, might not make the list this year. In other words, this is a deeper system than 2015's. Baseball America has suggested that the Blue Jays now have a top 10 system, as compared to a bottom 10 system last year. On some top 30 lists the players in the 21 -30 range are barely prospects. This year's Blue Jay bottom third prospects includes some very good players. A strong top 30 needs star power at the top and depth at the bottom and this year's list has both.
30. Shane Dawson | LHP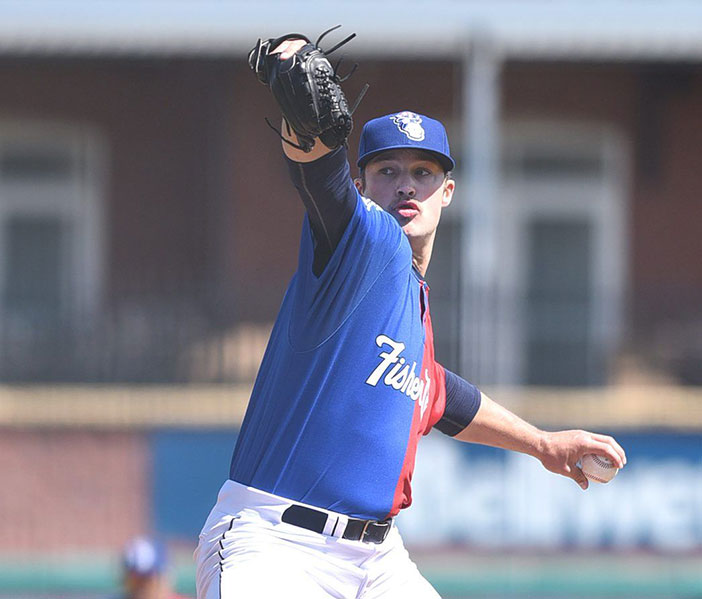 (Image from MiLB.com)

| | | | | | | | | | | |
| --- | --- | --- | --- | --- | --- | --- | --- | --- | --- | --- |
| Year | Age | Level | G | GS | IP | H/9 | HR/9 | BB/9 | K/9 | ERA |
| 2016 | 22 | AA | 26 | 26 | 134.1 | 9.0 | 0.7 | 4.8 | 6.4 | 4.22 |
A Canadian kicks off our top 30 in Shane Dawson, a left-handed starting pitcher who pitched 134.1 innings of AA baseball this past year. Dawson posted an ERA of 4.22 on 134 hits, 72 walks, and 95 strikeouts. Those numbers may seem unimpressive, especially in light of his excellent 2015 season, but Dawson is a valuable pitching prospect with a good four pitch mix.
Dawson played his wee-one baseball in Fort McMurray and attended high school in Drayton Valley, Alberta. He played at Lethbridge College where the Jays drafted him in the seventeenth round of the 2012 draft. Injuries plagued his early years as a Jay, however, he has since posted consecutive 120+ inning seasons.
Dawson does not possess any wipeout pitch and his arsenal is likely to grade-out in the 40-50 range, but left-handed pitchers with a history of getting guys out and logging innings usually feature on a Major League roster--quite often at the back-end of a rotation. Dawson though took a step back this past year. Coming off an excellent 2015 season where he walked 32 in 127.2 innings while striking out 120 across both full-season A-ball affiliates, the Jays decided to push Dawson up to AA this past year. Dawson battled, but his control seemed to desert him in walking 72 in 134.1 innings of work. Further, Dawsonís swing and miss numbers were down and he battled some injuries down the stretch.
Dawson is likely to return to the rotation in AA where heíll look to improve on last yearís performance. Dawson likely knows that another 50+ walk season will not bode well for him or the organization. Dawson will be 23 next season and still has time to continue to hone his craft. Iíll be rooting for Dawson as a Jaysí fan, Canadian, but also a lover of soft-tossing left-handed pitching. Iíve always found that watching baseball with my dad when a soft-tossing left-handed pitcher was the most fun and would love to see one down the line for the home team.

29. Yeltsin Gudino | SS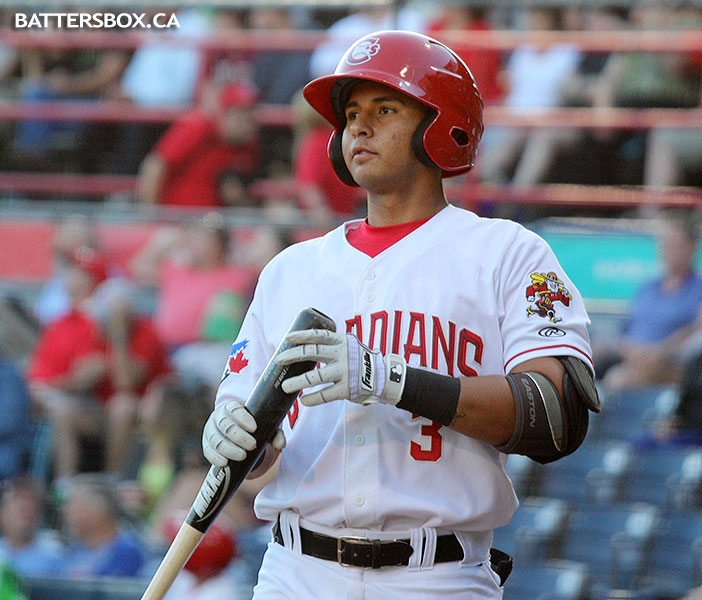 Year
Age
Level
AB
2B
3B
HR
BB
K
SB
CS
AVG
OBP
SLG
2016

19

A-

186

4
1
0

29

43

0

1

.226

.338

.258

An international free agent signing by the Blue Jays on July 2, 2013 for $1.29 million,
Yeltsin Gudino
put himself on the prospect map by slashing .458/.611/.833 at the 15U World Championship in Mexico in August of 2012. Rated the No. 8 international prospect by
Baseball America
at the time, scouts praised his smooth defence and his ability to hit with a simple right-handed swing. His bat remains well behind his glove at this point but the gap is beginning to narrow a little bit.
The Maracay, Venezuela native really struggled with the stick in his introduction to pro ball at the Gulf Coast League in 2014 as evidenced by an ISO of .022. He remained below the Mendoza Line with Bluefield in 2015 but collected his first and only professional home run that season. The 6-foot, 155-pound infielder got off to a slow start in his debut on Canadian soil in 2016, hitting just .139 in his first 10 games and making a number of errors. However, Gudino showed a much better eye at the plate by walking in nearly 13-percent of his plate appearances, an improvement of more than five-percent from 2015. His OBP checked in at .375 in July, highlighted by a four-hit, one-walk against eventual Northwest League champion Eugene July 25. He kept getting on base in August with a .350 on-base mark in August and his batting average over the final 10 games of the year was .308.
It's hoped Gudino can develop into a two-hole hitter, where over 35-percent of his at-bats were last season. One thing he has proven not to be is an accomplished base stealer, as he has swiped just two bags (both with Bluefield) in his three-year career.
Despite committing 22 errors with the Canadians, Gudino still showed the smooth actions, hands and range that should keep him at the six-spot on the diamond as he moves up the minor league ladder. It's expected he will make his full-season debut with Lansing in 2017. Gudino will turn 20 on January 17.
28. Zach Jackson | RHP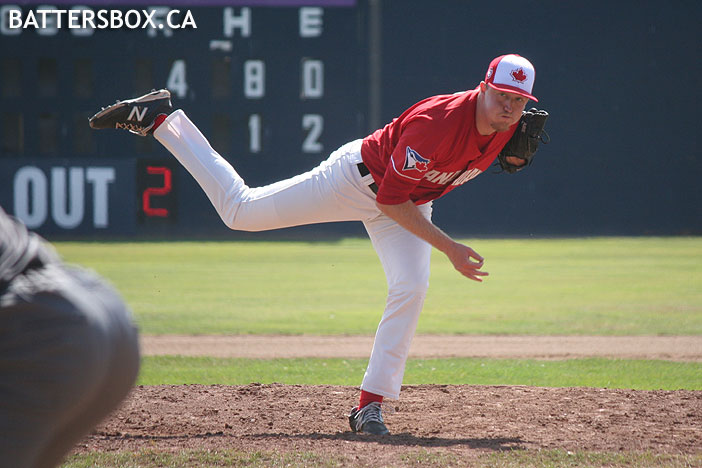 | | | | | | | | | | | |
| --- | --- | --- | --- | --- | --- | --- | --- | --- | --- | --- |
| Year | Age | Level | G | GS | IP | H/9 | HR/9 | BB/9 | K/9 | ERA |
| 2016 | 21 | RK | 1 | 0 | 1.0 | 9.0 | 0.0 | 0.0 | 0.0 | 0.00 |
| 2016 | 21 | A- | 13 | 0 | 17.2 | 6.6 | 0.0 | 6.1 | 11.7 | 3.57 |

The Blue Jays hope this Zach Jackson works out better than the last Zach Jackson they selected. It was 12 years ago when Toronto picked lefty Zach Jackson with a supplemental first-round pick from Texas A&M. Jackson would pitch in the majors but not in a Toronto uniform as he went to Milwaukee as part of the Lyle Overbay trade.

The Jays decided to try their Zach-Jack luck again by making him their third-round pick in the 2016 amateur draft, receiving a signing bonus of $540,000, just below the $585,100 slot value of the 102nd pick. Despite a 5.09 ERA and a walk rate of 6.7 per nine innings as a starter-closer with the Arkansas Razorbacks this past season, the Blue Jays liked what they saw of the 6-foot-4, 215-pound right-hander.
A 2015 All-Southeastern Conference First Team selection as a closer, Jackson helped Arkansas reach the College World Series by setting down the final 11 hitters in a row in a one-hit performance against Missouri State in the NCAA Super Regionals. Overall, he struck out 89 batters in 60 innings and posted an ERA of 2.10 in his sophomore campaign.
Baseball America's J.J. Cooper tweeted Jackson had two of the best pitches in the draft but with horrendous control. His curveball, assigned a 65-grade by MLBPipeline.com, is said to be his best pitch with hammer-like action that shows deception thanks to arm speed and spin. Jackson is also said to have a 60-grade fastball that has clocked in at 93-95 miles per hour, sometimes touching 97 out of the pen. His changeup also shows potential but he seldom uses it as a reliever.
His far-from-effortless delivery, featuring a long arm path and deep shoulder tilt, according to MLB.com concerns scouts, who believe his future lies in the bullpen. After selecting Jackson in the draft, then-Blue Jays director of amateur scouting Brian Parker told BlueJays.com the team planned to try Jackson as a starter first, citing his above-average athleticism, delivery and stuff to handle a heavier workload. However, Jackson remained in the bullpen in his first pro season.

Jackson and first-round pick T.J. Zeuch made their pro debuts July 9 in the Gulf Coast League in which the two combined for four scoreless innings, one by Jackson, before the duo headed north to join Vancouver a week later. Jackson showed his strengths and weaknesses by giving up two runs on two hits and two walks in his first inning with the C`s but still earned his first professional win as he did strike out a pair in Boise. Jackson displayed his strikeout stuff with Vancouver by racking up 23 K's in 17.2 innings and he did not allow a run in eight of his last 10 appearances, which ranged from one to two innings. He also managed to not let anyone take him deep.

Jackson is likely to begin 2017 in Lansing for his first foray into full-season ball where he may get to join forces with former Razorbacks reliever Jackson Lowery. The two missed out on being teammates again last year when Lowery was called up from Vancouver to Lansing on the same day Jackson joined the Canadians. The Tulsa, Oklahoma native will celebrate his 22nd birthday on Christmas Day.

27. Cavan Biggio | 2B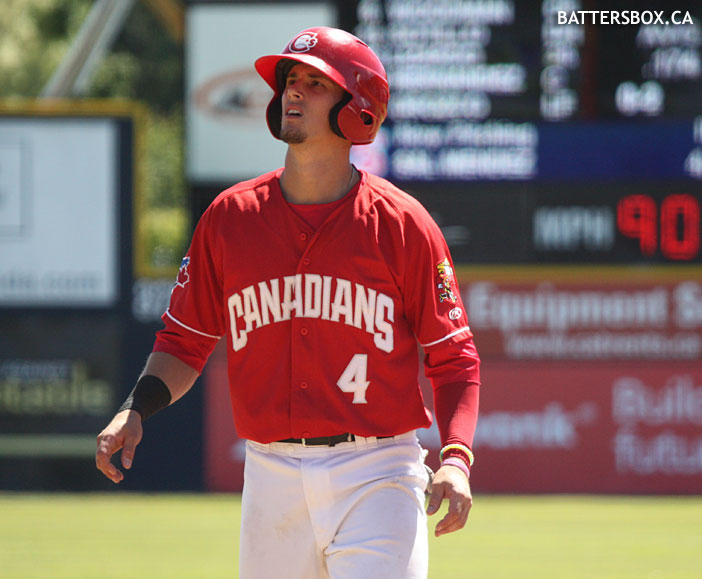 Year
Age
Level
AB
2B
3B
HR
BB
K
SB
CS
AVG
OBP
SLG
2016

21

A-

202

11
3

0

29

28

9

3

.282

.382

.366

2016

21

A

36

1
0
0

4

7

2

0

.222

.310

.250

Cavan Biggio received a unique introduction to Major League Baseball. While following this year's draft on his computer, his older brother Conor, interning at the MLB Commissioner's office, had the privilege of announcing Cavan as the Blue Jays' fifth-round pick. Biggio told The Houston Chronicle he had no idea the Jays were interested in him but he did visit with Jays officials on campus at Notre Dame last fall.

The son of Hall-of-Famer and Houston Astros star Craig Biggio, Cavan received a $300,000 signing bonus, which was below the $328,100 slot value of the 162nd selection. The 6-foot-1, 203-pound second baseman was drafted three years ago by Philadelphia in the 29th round but he decided to head to Notre Dame after originally committing to Virginia.

Biggio batted .311 with a .473 on-base percentage in his third and final year with the Fighting Irish, drawing 54 walks in as many games. Despite an impressive batting eye, Baseball America's J.J. Cooper says scouts wanted to see more pop out of his bat and better work with his glove. Scouts were disappointed Biggio only went yard four times as a junior witht the Golden Domers compared to nine times as a sophomore when he slugged a career-high .462.

BA editor John Manuel added that "scouts thought Biggio either had all-around average tools, or was an average hitter with otherwise below-average skills." Manuel labeled Biggio as an offensive second baseman without the speed of his father.

However, Notre Dame head coach Mik Aoki praised Biggio for his ability to deal with the scouts and the pressure surrounding the draft, calling him "a phenomenal teammate, a great leader and a great player." The Jays former director of amateur scouting, Brian Parker, also praised Biggio's make-up, calling him a grinder with a top-of-the-order profile.

Biggio began his pro career with his first-ever trip to Canada. He was hitless in his first three at-bats in his first game June 20 before taking one for the team. He would make Everett pay the next night by going 4-for-4 with two doubles and a run batted in to help secure the C's first home win of the year. He began his pro career with an 8-game on-base streak and was among the batting average leaders in the Northwest League before tailing off in late-July.

Still, he earned an All-Star berth in the Northwest League/Pioneer League All-Star game in Ogden, Utah in which he went 2-for-3 with a two-run triple in the Northwest League's 11-5 victory on August 2. Biggio lived up to his reputation as a grinder at the plate by extending many plate appearances with a good batting eye and the ability to foul off tough pitches. He battled Boise closer and NWL saves leader Julian Fernandez and his 100-MPH fastball in two plate appearances, managing a double and a walk, in a series at home in late August. He was eighth in on-base percentage in the NWL before getting called up to Lansing late in the season. His walk rate dropped nearly three percent in Lansing while his whiff rate increased by nearly five during a nine-game trial but continued to show the knack to steal bases, converting 79 percent of his opportunities.

Biggio should be heading back to Lansing for a longer look-see to begin 2017. The Houston native will turn 22 on April 11.


26. Jose Espada | RHP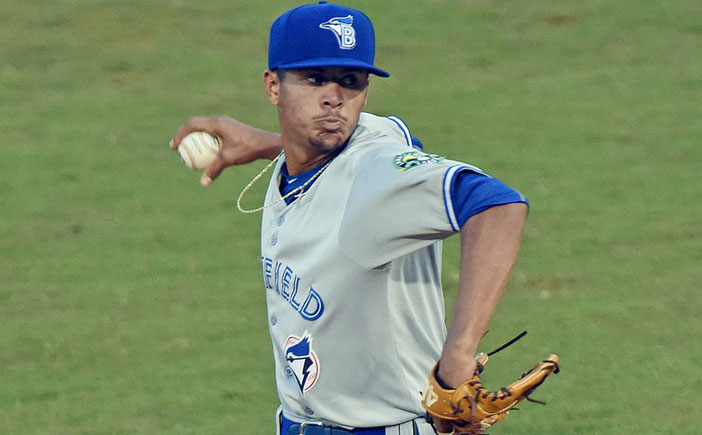 (Image from MiLB.com)

| | | | | | | | | | | |
| --- | --- | --- | --- | --- | --- | --- | --- | --- | --- | --- |
| Year | Age | Level | G | GS | IP | H/9 | HR/9 | BB/9 | K/9 | ERA |
| 2016 | 19 | RK+ | 12 | 10 | 53.0 | 9.2 | 1.0 | 2.0 | 5.4 | 4.92 |
Jose Espada arrived with a bang in 2015. Pitching for Bluefield the 18 year old had a 3.41 ERA, with a strikeout per inning, and looked set for a big 2016. Unfortunately Espada did not pitch as well in 2016, both in extended spring training and in the regular season. As a result he was sent back to Bluefield for a second go-around. Bluefield was less friendly in 2016, Espada did throw 50% more innings but he had the same number of strikeouts. Espada's ERA rose to 4.92. Esseentially half of his strikeouts from 2015 turned into hits in 2016.
The Blue Jays selected Espada out of a high school in Puerto Rico with their fifth round pick in 2015. He is a skinny kid, like many high school graduates and at 6-feet, is not overly tall for a pitcher. Espada features a low-90's fastball with a breaking ball and a change.
With Espada's struggles, why is he still a top 30 prospect? Clubs try and makeover young pitchers after their first season to get them set with the right mechanics and habits for future success. Some players take to these changes right away while others need time, and often an off-season, before it becomes ingrained. Espada is still operating with the goodwill earned in his first season, but now 2017 is a big year for him. An assignment to Lansing would be a sign that he has made progress whereas a trip to Vancouver would indicate there is still work to do.
25. Danny Barnes | RHP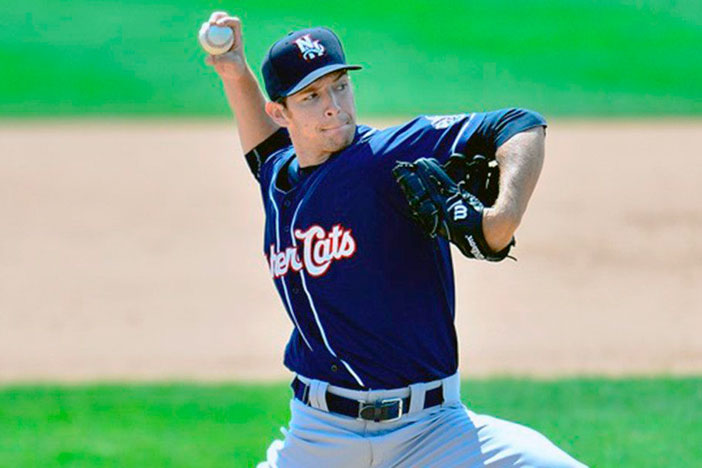 (Image from MiLB.com)

| | | | | | | | | | | |
| --- | --- | --- | --- | --- | --- | --- | --- | --- | --- | --- |
| Year | Age | Level | G | GS | IP | H/9 | HR/9 | BB/9 | K/9 | ERA |
| 2016 | 26 | AA | 24 | 0 | 35.2 | 4.3 | 0.8 | 1.0 | 10.1 | 1.01 |
| 2016 | 26 | AAA | 17 | 0 | 25.2 | 2.1 | 0.0 | 0.7 | 13.0 | 0.35 |
| 2016 | 26 | MLB | 12 | 0 | 13.2 | 9.2 | 0.0 | 3.3 | 9.2 | 3.95 |
Some people would believe Danny Barnes came from nowhere in 2016. Others will wonder what took him so long. Barnes has moved from prospect to forgotten man and back to prospect over the last four years. Barnes was drafted back in 2010 when the Jays hit the jackpot with their pitching picks. Barnes was never included in that prospect group as he was drafted from college in the 35th round. Barnes spent the first year relieving in the GCL, not usually where you find your top prospects.
Barnes always had other options besides baseball. Both of his parents are doctors and Barnes attended Princeton to study economics. I have not seen anyone ask him what his parents thought of his career choice but John Lott talked to Barnes about his economics thesis. Barnes' theory was that free agents who re-signed with their team would perform better than those who signed with a new team. His thesis was that the team that had "inside knowledge" of the player would have better information and would use that information to decide who to sign. Barnes has said his work showed his thesis was correct, players who re-sign perform better than those who switch teams.
After that first year in the GCL Barnes pitched very well in Lansing in 2011 and in Dunedin in 2012, becoming a closer along the way. But then the injury bug struck. Barnes pitched just three innings in 2013 and then returned to Dunedin for 2014 where his numbers were not nearly as good as they had been in 2012. Barnes got back on track in 2015 with a move up to AA where his ERA was under three and his K/9 rate was 11. The Blue Jays signed a lot of free agent relievers for 2016 so Barnes had to go back to AA. There his WHIP was 0.589 and his K/9 over 10. That got him a promotion to AAA where the WHIP was even lower and the K/9 higher. And then the call came to the Blue Jays where he more than held his own including a post-season roster spot.
Barnes has a couple of advantages to being a part of a major league bullpen above his raw ability. First, he can pitch multiple innings. Barnes has often been used as a two inning reliever in the minors. Secondly, Barnes has outstanding numbers against left handed hitters. Between AA and AAA, he allowed 10 hits to lefties in over 30 innings. In the major leagues he conceded four hits in six innings. The only blemish on Barnes' major league time was he walked a few too many but that is understandable for a rookie.
Barnes turned 27 at the end of the season so he is an older rookie. The Jays will likely use Barnes as a swing reliever in 2017 unless he makes himself indispensable. Barnes along with Bo Schultz and Ryan Tepera could be on the Buffalo express when fresh arms are needed.
24. Ryan McBroom | 1B-LF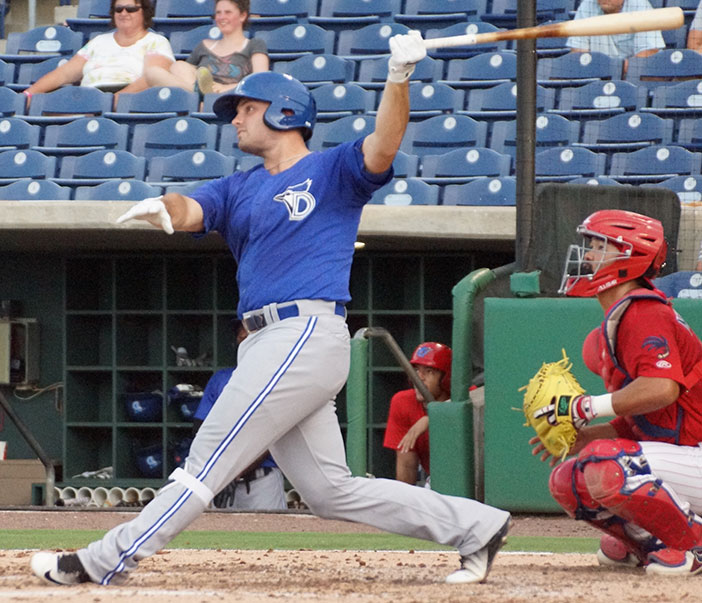 (Image from Eddie Michels)

Year
Age
Level
AB
2B
3B
HR
BB
K
SB
CS
AVG
OBP
SLG
2016

24

A+

468

26
1

21

34

112

10

4

.274

.323

.468

2016

24

AA

29

0
0

1

3

6

0

0

.138

.235

.241

Ryan McBroom had a very good 2016, hitting 21 home runs in the normally offensively-challenged Florida State League. The FSL has some large ball parks which tend to lower home runs. The most optimistic aspect of McBroom's 2016 is that he maintained, or improved, his performance from 2015 despite jumping a level. McBroom increased his home run count from 12 in 2015 to 21 in 2016 with a similar number of at-bats. His strike out to walk ratio improved with his walk total almost doubling. The one area where McBroom did worse was his batting average which slipped from .315 to .274.
At 24, McBroom is on the older side for a prospect in the FSL. Also, as a first baseman he has to really hit to make it to the major leagues. AA is the biggest test for a prospect. McBroom had a short 29 at-bat preview last year and he will likely be sent there to start 2017. The park in New Hampshire could be friendlier to a home run hitter than Dunedin, although the pitchers will not be so accommodating. In order to be under consideration for the major league team, McBroom will have to do better than Rowdy Tellez who hit 23 home runs in AA last season. If McBroom could hit 25 to 30, while maintaining his other numbers, he would cause the front office to take a serious look at him.
McBroom went to AFL but had to leave early, he just recorded 28 at-bats. Those few at-bats did not let him qualify for the stats leaders but had he been qualified he would have finished in the top 20 hitters in OPS. McBroom played most of 2016 in A ball, a level below the AFL, so that performance shows he can just hit. But can he hit enough?
23. Reggie Pruitt | OF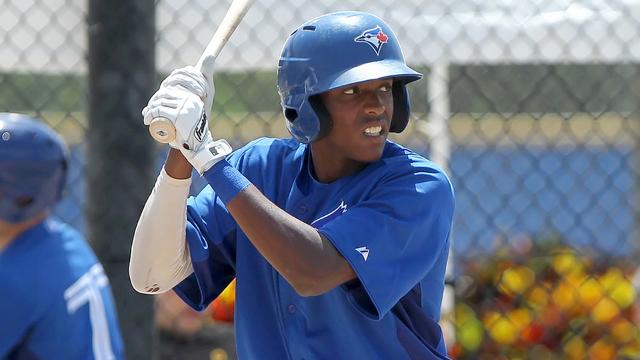 (Image from MiLB.com)

Year
Age
Level
AB
2B
3B
HR
BB
K
SB
CS
AVG
OBP
SLG
2016

19

RK+

173

3
1
0

13

43

16

2

.237

.316

.266

It might seem odd that Reggie Pruitt with his .237 batting average has made the top 30. Some players make the top 30 because of performance and some make it because of potential. Pruitt is definitely in the latter class. Let's start with the major concern, can he hit? In some ways Pruitt is like D.J. Davis, a young hitter with speed and potential but not with a track record of success. That is true but, just as Davis was a prospect at this stage, so too is Pruitt. Some of these hitters work out and some do not. Pruitt may have been helped by his strong finish, he had 13 hits in his last eight games with eight RBI. Is this a small sample or a sign that he was figuring out how to hit? Pruitt's game is built on speed, he does not have much power, but at age 19 he still has time to develop. A 25% K rate and a walk rate about a third as much are average for this level but not outstanding. 2017 will be his age 20 season and a key one in his development.
The rest of Pruitt's game is excellent. Baseball America ranked him as the best defensive outfielder in the system and also ranked him with the best outfielder arm. Pruitt is fast, he stole 16 bases while being caught just twice. Pruitt will likely have one more year in extended spring training and would hope for a Vancouver assignment or a mid-season Lansing promotion.
22. Ryan Borucki | LHP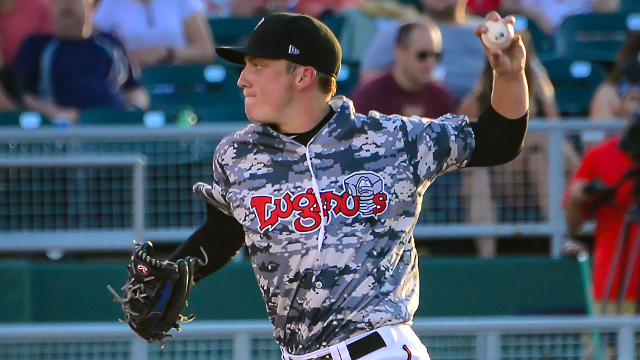 (Image from MiLB.com)

| | | | | | | | | | | |
| --- | --- | --- | --- | --- | --- | --- | --- | --- | --- | --- |
| Year | Age | Level | G | GS | IP | H/9 | HR/9 | BB/9 | K/9 | ERA |
| 2016 | 22 | A | 20 | 20 | 115.2 | 8.2 | 0.1 | 2.0 | 8.3 | 2.41 |
| 2016 | 22 | A+ | 6 | 6 | 20.0 | 18.0 | 4.5 | 5.4 | 4.5 | 14.40 |
Moved on to the 40-man roster this off-season to protect him from the Rule 5 draft, Ryan Borucki was Torontoís 15th round selection in the 2012 amateur draft. The Jays selected Borucki out of Mundelein High School in Mundelein, Illinois. Borucki has baseball in his bloodlines, as his father, Ray Borucki, was an infielder in both the Philadelphia Phillies and Detroit Tigers minor leagues and progressed as far at Triple-A. The Jays spent $426,000 to entice Borucki away from a scholarship to the University of Iowa. He was the only player selected in the 15th round of that yearís draft to receive a signing bonus over $100,000.
Not a prospect who garnered too much national attention during his first couple of years in high school, Boruckiís draft stock increased in part due to a growth spurt he had between his sophomore and senior year. Borucki pitched sparingly during his senior season due to a ligament tear in his elbow. He chose to avoid Tommy John surgery and instead chose to rest and rehab his elbow. However, as of the beginning of May he had only thrown 14.2 innings in his senior year, although he struck out 26 of the 52 batters he faced.
Borucki was assigned to the Gulf Coast League in 2012 where he made four appearances, facing 22 batters. He allowed four hits, including one homer, but struck out ten of those hitters. Unfortunately, Borucki blew out his elbow in 2013 and missed the season after undergoing Tommy John surgery. He didnít return to the mound until the middle of 2014.
Borucki split the second half of the 2014 season between Bluefield and Vancouver, making 10 starts and 3 relief appearances. After six starts with Bluefield, he was promoted to Vancouver, where he made his final four starts of the year. Over the year, he struck out 52 batters in 57 innings and posted a 2.37 ERA.
The southpaw had another lost season in 2015, as he only threw 5.2 innings due to injuries. After being shut down in the spring with elbow troubles, Borucki made three appearances and pitched 5.2 innings in July. After experiencing more soreness, he was shut down again on July 16 and he didnít pitch again.
This season Borucki finally had a clean bill of health and threw 135.2 innings, which was more than twice as many as he had hurled during any previous season in the minors. Unfortunately, the season began with some challenges, as Borucki was assigned to Dunedin, despite never pitching above Vancouver. In Dunedin, Borucki struggled, making 6 starts and posting a 14.40 ERA. He allowed 40 hits and 32 runs over 20 innings and walked more batters than he struck out.
However, rather than letting this experience ruin his season, Borucki accepted his demotion to Lansing determined to put his earlier struggles behind him. He made 20 starts for Lansing, going 10-4 with a 2.41 ERA. The 6í4Ē lefty struck out 107, walked 26, but struggled a little with his control hitting five batters and throwing nine wild pitches. Borucki was quite effective at keeping the ball in the ballpark, only surrendering one homer over 115.2 innings for the Lugnuts.
Itís reported that Boruckiís fastball comfortably sits in the 88-92 miles per hour range, but can touch 94. He also throws a change-up, for which he has a relatively good feel, and a breaking ball, which reportedly requires refinement. Borucki admits that he pitched off his change-up in high school, before springing his fastball on batters later in the count. Heís developed more confidence in his fastball since turning professional, but reportedly still needs to work on establishing it earlier. Heís also been reported as having a developing slider and a curve by different sources and itís not clear if these are the same pitch or two different pitches, both of which are developing. Regardless, it appears his slider is his primary breaking pitch, although he admits to not being comfortable yet throwing it in any count.
Dane Johnson spoke to Batterís Box in 2014 about Borucki and praised his intangibles, commenting, ďHe has the intangibles on the mound that you like to see, especially from a kid his age, that are far above what you would normally see from a kid that age.Ē He reportedly spends a significant amount of time between starts working on pitch sequencing and mechanical adjustments.
Borucki will likely return to Dunedin to begin 2017 and, if he is able to put last yearís horrendous stint there behind him, he can hopefully work his way up to New Hampshire during the season. If Borucki manages to avoid further arm troubles, he may soon emerge as the teamís best left-handed pitching prospect.
21. Christian Lopes | 2B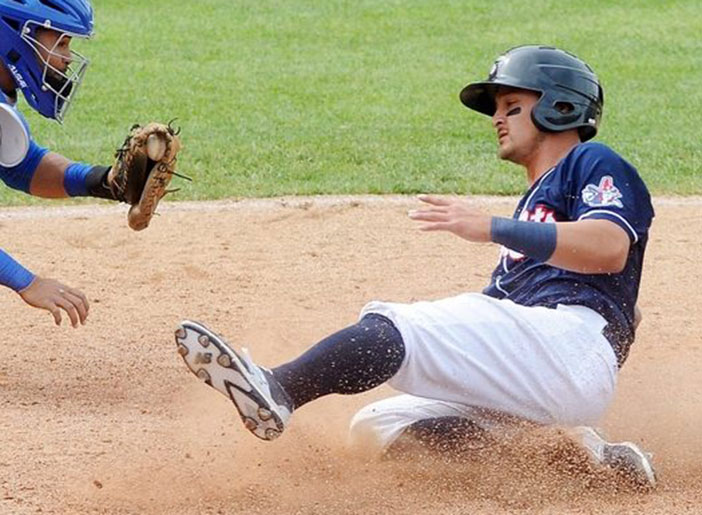 (Image from New Hampshire Union Leader)

Year
Age
Level
AB
2B
3B
HR
BB
K
SB
CS
AVG
OBP
SLG
2016

23

A+

56

1

1

3

11

12

1

0

.196

.324

.411

2016

23

AA

404

30

2

3

33

71

9

4

.295

.357

.401

Christian Lopes was a 7th round selection in the 2011 draft. The Huntington Beach native and Edison High School product turned down a commitment to the University of Southern California to sign with the Blue Jays for $800,000. Since then, heís slowly worked his way through Torontoís system.
In 2012, Lopes hit .280 with Bluefield and posted an .827 OPS. He accumulated 25 extra base hits and a team-leading 29 RBI. Lopesí .345 batting average in August of that season earned him a promotion to Vancouver for the final 10 games of the season. Lopes was the clubís R. Howard Webster Award winner that year at the Advanced Rookie level. Lopes is hoping to become the fifth major leaguer from the 2012 R. Howard Webster Award class, joining Adeiny Hechevarria, Ryan Goins, Danny Barnes and Justin Nicolino. After the season, Baseball America ranked Lopes as the clubís 23rd best prospect.
In 2013, Lopes slumped offensively after being promoted to Lansing, with a .644 OPS and displaying less power and speed than he had with Bluefield. Although he was a Midwest League All-Star, it was a disappointing season for Lopes after his success in 2012. However, there were some positive signs, as he decreased his strikeout rate from the previous season and kept his walk rate consistent.
Lopes was promoted to Dunedin for 2014, but struggled at the plate again, posting a .679 OPS with a .243 batting average and a .350 slugging percentage. That winter he went down under to play in the Australian Baseball League. Playing for Canberra, Lopes led the team with a .968 OPS, besting, among others, fellow Jays prospects Anthony Alford, Jack Murphy and L.B. Dantzler. In addition to hitting .361, Lopes added 5 homers in 30 games.
In 2015, Lopes returned to Dunedin, where he spent about two-thirds of the year before being promoted to New Hampshire. He did improve from his previous stint with Dunedin, hitting .293 and posting a .750 OPS. However, Lopes struggled mightily with his first taste of Double-A. For New Hampshire, he hit .174 in 108 plate appearances without a single extra-base hit.
It what looked like it would be a make or break year, Lopes quickly played himself back to Double-A with 3 homers in 15 games. For the Fisher Cats, Lopes hit .295 over 450 plate appearances with a .401 slugging percentage. He also demonstrated improvement as the year progressed, posting an .883 OPS in August and increasing his walk rate and lowering his strikeout rate during the second half of the season.
Lopes looked like he might have topped out offensively at Dunedin, but his 2016 demonstrated that wasnít the case. However, a significant challenge for him are his defensive limitations. He played a handful of games at shortstop in 2012 and 2013. However, leaving aside his time in Australia, he has played one game at shortstop in the past three seasons.
Reportedly, he has strong instincts and good hands at second and can play at least average defense there. But his below-average arm strength and reaction times appear to have limited any chance heíd continue to play shortstop.
If he is to make the majors, Lopes will need to hit enough to be a starter at second base or add the ability to play at least one more position. In these days of deep bullpens, itís not practical to carry a second baseman on the teamís bench.
Lopes has good hip rotation and a short, compact swing that gets his bat through the strike zone quickly. He isnít a fast baserunner, as evidenced by his stolen base totals. He has strong makeup and good peripherals, given his low strikeout walk and reasonable batting eye. The Jays will likely assign Lopes to Buffalo next year, where heíll hope to hit enough to displace Goins as the first name the team tabs if Devon Travis suffers another injury.
Join us tomorrow for more of the Blue Jays top 30 prospects.