Two losses and a victory on the farm Tuesday. New Hampshire's game in Reading was rained out.
Buffalo Bisons

Roemon Fields
had two hits to extend his hitting streak to seven games. He also drove in two runs and a stole a base but he was also caught stealing to make him 10-for-15 in that department.
Christian Lopes
is trying to put a trying May behind him after recording his second straight two-hit game. After hitting .275 in April, Lopes has been below the Mendoza line this month.
Jeff Beliveau
earned the victory in relief with 2-2/3 hitless innings, stranding a runner for
Cesar Valdez
while striking out three and issuing one walk. Five of his last six appearances have been scoreless.
Chad Girodo
got his third hold and
Leonel Campos
collected his fourth save.
Dunedin Blue Jays
Dalton Pompey
saw his first game action since the World Baseball Classic and had a good night at the plate with three hits (including a double) and a walk. He also stole third base - a good sign considering he suffered a concussion stealing a base in Miami at the WBC. Defensively, Pompey earned an assist from center field for throwing out a runner at second.
Max Pentecost
accomplished the difficult half of a cycle with his ninth home run and his first triple of the season. He also added a base hit for a three-hit night. Pentecost did not catch in this one.
Juan Kelly
was behind the dish instead for his second start of the year. He had a passed ball and was 0-for-1 in throwing out basestealers.
Carl Wise
had his second straight two-hit game but is hitting just .194 in eight games played.
D.J. Davis
also picked up a pair of knocks but is only hitting .238.
Jordan Romano
pitched five decent innings of two-run ball on five hits, two walks and a hit by pitch. He struck out five and split his eight outs evenly between the infield and outfield.
Philip Walby
turned in his fourth straight scoreless outings with two-thirds of a shutout frame.
Adonys Cardona
had a spotless inning with one walk and one whiff but has walked 18 batters in 15-1/3 innings along with a 8.80 ERA.
Lansing Lugnuts
Bo Bichette
made his ninth error of the season as he booted one at short. Okay, he also hit his fifth homer and walked twice.
J.B. Woodman
also went deep for the fourth time this year but he struck out three times to give him 72 whiffs on the year to lead the Midwest League.
Christian Williams
had two hits and was hit by a pitch but is hitting just .242.
Vladimir Guerrero Jr.
had the night off.
Edward Olivares
and
Josh Palacios
went 0-for-10 at the top of the order. Palacios has just four hits in his last 36 at-bats.
Geno Encina
got taken to the woodshed as he was bombed for three homers resulting in five runs over three innings. However, he struck out six and did not walk anybody and still has a respectable ERA of 2.38.
Kirby Snead
had the only shutout appearance with a one-hit, one-walk and one strikeout eighth inning.
Tuesday's Linescores
*** 3 Stars!!! ***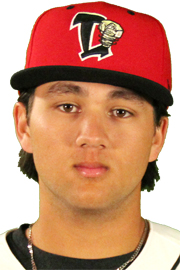 3. Bo Bichette, Lansing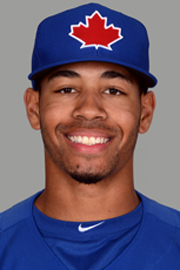 2. Dalton Pompey, Dunedin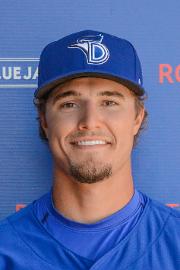 1. Max Pentecost, Dunedin
Wednesday's Games/Probable Starters
Lansing
@ Lake County, 12:00 pm ET -
Mike Ellenbest
(1-4, 8.29)
Toledo @
Buffalo
, 1:05 pm ET -
Luis Santos
(0-1, 4.18)
New Hampshire
@ Harrisburg, 6:30 pm ET -
Shane Dawson
(1-5, 6.16)
Jupiter @
Dunedin
, 6:30 pm ET - TBA
Extra Innings