It is Day 2 of the 2019 MLB Draft with Rounds 3-10 with the Blue Jays picking 88th. You can follow the draft
right here
. #LetsGoBlueJays
The Jays stayed on the mound with their first two picks, selecting West Virginia righthander Alek Manoah with the 11th pick before snagging IMG Academy righty Kendall Williams 52nd overall.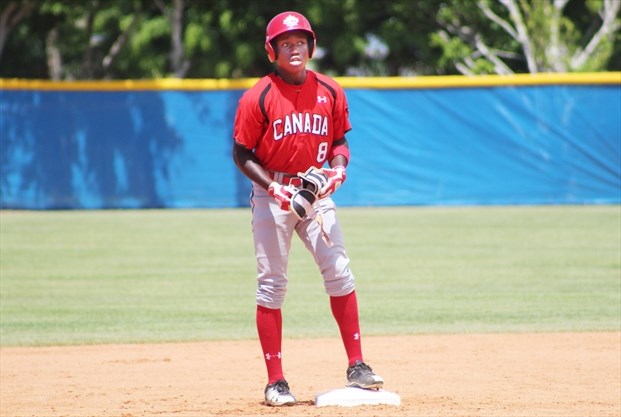 Image from insidehalton.com

Round 3 - 88th overall. OF Dasan Brown. Abbey Park HS, Oakville, ON. 5-foot-11, 170 lbs. Bats Right, Throws Right. Born September 25, 2001. Slot Value $678,600.

MLB Scouting Report
- For the past five Drafts, there has been a high school hitter from Ontario taken in the top two rounds, two being the first-round Naylor brothers. Brown, a super-athletic and a bit raw outfielder from North of the Border, may not go quite that early in June, but he is the best Canadian prospect in this class by far. Most evaluations on Brown are projections for far off in the future, with interested teams knowing they will have to be patient. He does have solid contact skills from the right side of the plate and he should grow into some raw power. He needs to add strength and has trouble impacting the ball at times as a result, though some scouts point out that Brown was most heavily scouted while facing pro competition this spring. The Texas A&M commit has close to top-of-the-scale speed, which makes him a threat on the basepaths and helps him cover a ton of ground in center field, where he should be a plus defender down the road. Teams that love players with premium athleticism and a ton of ceiling are likely going to look at Brown in the first three or four rounds. It might take some time, but the payoff could be huge.
Video
Baseball America Scouting Report - Scouting Report: One of the fastest players in the 2019 class, Brown is an 80-grade runner who routinely posts sub 4.1-second home-to-first times from the righthanded batter's box. With centerfield athleticism and instincts, Brown has tremendous upside as a defender in the middle of the outfield, tracking balls well with dynamic athleticism that will allow him to make plays other outfielders wouldn't dream of getting to. Brown has average raw arm strength, but he needs to improve his throwing accuracy. Offensively, Brown is incredibly raw, and scouts believe he would be a two-year Rookie-ball player who you would need to teach how to hit. He has some bat-to-ball skills that he showed off with the Canadian national team against pro competition this spring, but he's mostly a fastball hitter who has a line-drive approach and rarely elevates the ball. When he does, it's with little impact ability as Brown has well below-average raw power in his 5-foot-11, 170-pound frame. A Texas A&M commit, Brown could be a player who teams prefer to see go to school, develop physically and prove he can hit. But if he does figure out the offensive game and takes the next steps, he has exciting upside and is one of the more impressive athletes in the class.
Twitter Reaction

@KPeterson813
With the 88th overall selection, the
@BlueJays
select OF, Dasan Brown. A bit of a spring pop up. ++ bat speed and run. Room for physical development. #
MLBDraft
#
BlueJays
@FG_Prospects Jays 3rd rounder Dasan Brown is one of the youngest and fastest players in the draft. Big physical projection, bat has come on the last few months.
@CarlosACollazo Dasan Brown has an argument as the fastest player in the class. He absolutely flies. It's a light bat now, but he has some bat-to-ball skills and could be an exceptional defender in center field. #MLBDraft #BlueJays...Brown is an 80-grade runner for us.
@vcervinoPG Dasan Brown is really toolsy: plus run, plus bat speed, with a chance to stick. Here's my full report from earlier this year #BlueJays
@B_Sakowski_PG Blue Jays take the native Canadian in prep OF Dasan Brown. Elite speed, really rose up boards this spring, pot. impact in CF, contact skills project well, scouts think there's power in there eventually too
@SNETCampbell #BlueJays select

Dasan Brown in 3rd round, 88th overall. He's from Oakville, Ontario ... so I approve.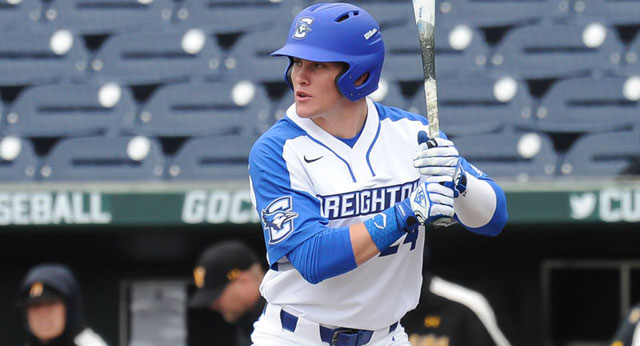 Image from perfectgame.org

Round 4 - 117th overall. OF Will Roberston, Creighton. 6-foot-2, 215 lbs. Bats Left, Throws Left. Born December 26, 1997. Slot Value $492,700.
MLB.com Scouting Report - As a junior, Robertson hit an extra-inning home run to give Fatima High (Westphalia) the 2015 Missouri state Class 3 baseball championship, but he otherwise drew little attention at his small-town school. After a modest freshman season at Creighton, he made a run at the Big East Conference triple crown in 2018 and continued to produce in the Cape Cod League during the summer. He has been streakier at the plate this spring, costing him a chance to join Chad McConnell (No. 13 overall in 1992) as the only Blue Jays position players ever selected in the first round. Omaha's TD Ameritrade Park is one of the toughest places to hit a home run in college baseball, yet it hasn't been able to contain Robertson, whose short, quick left-handed stroke and strength give him some of the best power in the 2019 college crop. He lets his home runs come naturally rather than swinging for the fences, making repeated contact that could allow him to hit for average as well. To do so, scouts believe he'll need to get more upright in his stance like he was in the past before getting too spread out as a junior. Robertson has below-average speed out of the batter's box but is closer to average once he gets going. He needs to improve his defensive instincts and his arm is merely average, so he could shift from right field at Creighton to left field in pro ball. His all-around profile is similar to that of College World Series hero Trevor Larnach, whom the Twins drafted 20th overall out of Oregon State last June, though Larnach had a more impressive junior season. Video

Baseball America Scouting Report: Since Creighton moved to TD Ameritrade Park on a full-time basis in 2012, home runs have been very hard to come by for the Blue Jays. In 2015, Creighton hit nine home runs as a team. Robertson is one hitter whose power has played even at TD Ameritrade. His 12 home runs in 2018 were the most by any Creighton hitter since moving to the new stadium, topping future major league Mike Gerber's 11 in 2014. Robertson reached double digits home runs again in 2019, showing a level, line-drive swing from the left side that provides plenty of contact and some power because of his innate strength. Robertson impressed evaluators last summer in the Cape Cod League, where he hit .300/.380/.435. He has plus raw power to go with an average hit tool. Robertson is more solid than spectacular. He's a left fielder who can provide average defense in the corner outfield spots with a fringe-average arm. He's also an average runner. There are a lot of 45 and 50 grades on Robertson's scouting report. That, combined with his power production and his impressive stint on the Cape Cod League, should help him land a spot in the third to fourth round.

Twitter Reaction
@ZackMatt4 Will Robertson is honestly not too dissimilar to Griffin Conine, who the Jays took last year. Big power bat who performed on the cape but he's been streaky at Creighton, potential to be an impact hitter in the best case scenario
@_robanderson Before Will Robertson, the only other Creighton Bluejay picked by the Toronto Blue Jays was Peyton Lewis in 1999.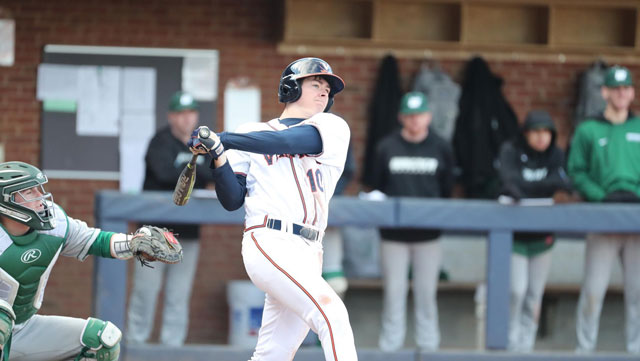 Image from virginiasports.com

Round 5 - 147th overall. SS Tanner Morris, Virginia. 6-foot-2, 190 pounds. Bats Left, Throws Right. Born September 13, 1998. Slot Value $367,900.
MLB.com Scouting Report - Morris was a solid prospect who played for former closer Billy Wagner in high school, albeit one who was 19 years old and with a strong commitment to the University of Virginia. After a solid first season as the starting shortstop for the Cavaliers, Morris' All-Star turn in the Cape Cod League raised his profile, and he's continued to hit extremely well as a Draft-eligible sophomore. Morris has a very good track record for hitting and most scouts believe he'll continue to hit for average at the next level. The left-handed hitter sends a lot of line drives the other way and controls the strike zone extremely well. Virginia's home park is not conducive to power, nor is Morris' current approach, but as he continues to learn how to turn on pitches on the inner half of the plate as well as fills out his 6-foot-2 frame, there could be more pop coming in the future. There's less belief in Morris' ability to play shortstop than there is in his bat. While he has decent hands and enough arm, he's not a runner, with most thinking he'll profile better at second base as a pro. Virginia has a good track record of producing players with a strong foundation for hitting, with many of them going on to add power as they developed. That's the hope for Morris, who could be a solid offensive-minded second baseman when all is said and done. Video
Baseball America Scouting Report - A draft-eligible sophomore, Morris has one of the more complete hitting approaches in the class dating back to his days as a high schooler, when he showed impressive barrel control and a contact-oriented look at the plate. He's hit for high averages in both of his seasons at Virginia, but he's filled out more physically and started to tap into more extra-base power in 2019. Morris' swing is naturally suited toward hitting the ball the opposite way and into the left-center field gap, although he's become a bit more pull-happy as he's tried to hit for more power. Right now, he has a hit-over-power profile, but scouts believe more power will come in the future. Morris plays shortstop for Virginia, and he's been fine thanks to a strong arm and high baseball IQ, but he lacks the first-step quickness and short actions necessary to handle the position in pro ball. A well below-average runner, Morris is likely better suited for third base or a corner outfield position, although a team high on his defensive ability might try to keep him in the middle infield at second base. Wherever he winds up defensively, Morris' hit tool is his carrying trait. He has a strong track record of hitting in the ACC and a productive Cape Cod League appearance in 2018, when he hit .331/.404/.449 in 35 games.
Twitter Reaction

@CarlosACollazo Tanner Morris has excellent pure feel for hitting and good wood bat track record. He even brought out the wood bat back in his high school days. Hit tool is the biggest for him, but he has a strong arm. Not a SS at the next level.

@martyhudtloff #UVa baseball standout Tanner Morris has been drafted in the 5th round by the Toronto Blue Jays. The Crozet native still has the option to return to Virginia for his junior season.
Image from calbears.com

Round 6 - 177th overall. SS Cameron Eden, California. 6-foot-1, 180 pounds. Bats Right, Throws Right. Born March 31, 1998. Slot Value $275,900.
Baseball America Scouting Report: A three-year starter for Cal, Eden broke out as a freshman and quickly took over the team's starting shortstop job and hit .315/.361/.472 in 54 games during his first stint against Pac-12 pitching. He continued to start at shortstop during his sophomore season, but his offensive numbers fell off in a big way. Eden has moved off of shortstop and played left field and center field this spring, while starting to swing the bat again. Through his first 48 games, Eden was hitting .365/.434/.563 with eight home runs, though he has always struck out at close to a 20-percent rate. Eden has a strong arm and solid range at shortstop and could probably play the infield, though scouts think he profiles best in a utility role. He's an above-average runner whose speed plays on the bases and in the outfield.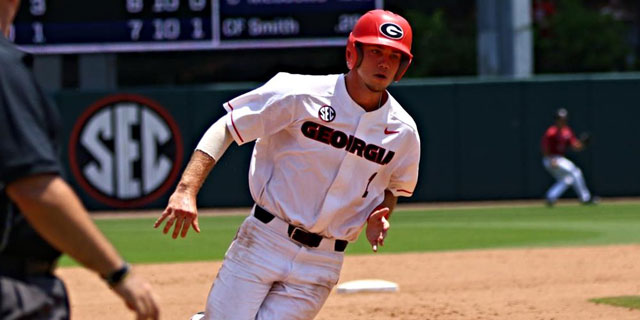 Image from d1baseball.com

Round 7 - 207th overall. 2B LJ Talley, Georgia. 6-foot-2, 203 pounds. Bats Left, Throws Right. Born February 15, 1997. Slot Value $218,500.
MLB.com Scouting Report - Talley has always had the tools, and he put them together in a very good senior season at Georgia, leading the Bulldogs to the No. 4 national seed and an NCAA Regional host berth. The 6-foot-3, 205-pound left-handed-hitting second baseman entered the tournament batting .327 with eight home runs. He's shortened up his swing and taken a better approach at the plate, and he's gotten stronger and more versatile, too.
Baseball America Scouting Report - A four-year starter for the Bulldogs, Talley is a 6-foot-2, 203-pound infielder who was known for his sure hands defensively, but had a breakout offensive campaign in the SEC this spring. Through 56 games, Talley hit .356/.459/.512 with a career-high eight home runs and more walks (15.7 percent rate) than strikeouts (11.8 percent rate) for the first time in his career. Talley's offensive improvement puts him on the radar as a senior sign, as he's routinely hit the ball hard and is now seeing that power translate to games. Defensively, Talley is reliable with the glove and has the defensive actions for the left side of the infield, but below-average arm strength makes him a better fit for second base.
Twitter Reaction

@jeffMLBdraft LJ Talley a senior sign for the Blue Jays who improved every single year at Georgia very high walk rate
@vcervinoPG #BlueJays grab a notable senior in LJ Talley. Performed very well this year with a .332 average and more walks than strikeouts. 2B fit.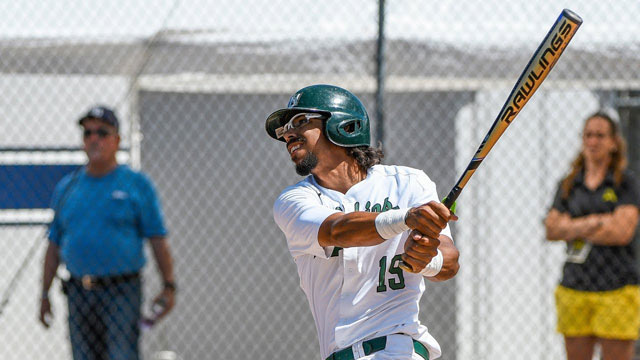 Image from youtube.com

Round 8 - 237th overall. 3B Angel Camacho, Jacksonville University (FL). 6-foot-3, 200 lbs. Bats Right, Throws Right. Born June 13, 1997. Slot Value $175,000.

Twitter Reaction

@baseballexis #BlueJays eighth-round pick Angel Camacho graduated with a kinesiology degree after three years, before earning his master's of business administration while playing for the @JAX_Dolphins. Colour me impressed.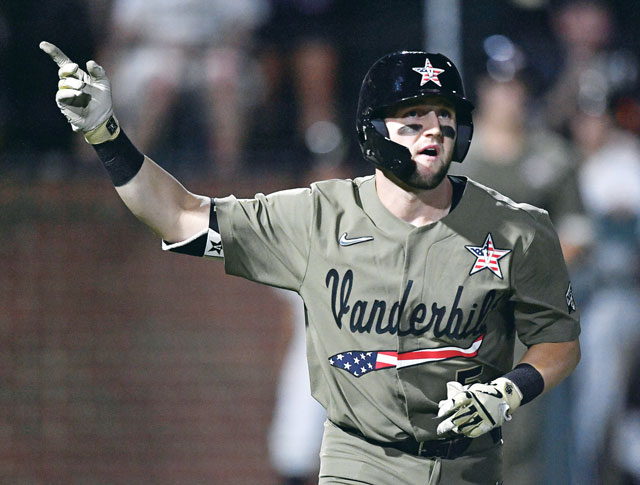 Image from d1baseball.com

Round 9 - 267th overall. C Philip Clarke, Vanderbilt. 5-foot-11, 190 lbs. Bats Left, Throws Right. Born March 24, 1998. Slot Value $154,900.
MLB.com Scouting Report - Clarke had more offensive upside than most of the high school catchers in the 2017 Draft, but the Nashville product resisted seven-figure overtures from big league clubs in order to stay home and attend Vanderbilt. He still is known more for his bat, though he has gotten better behind the plate this spring after spending most of his freshman season at DH. Whether he'll be signable this time around as a sophomore-eligible remains to be seen. Clarke stands out as a lefty-hitting catcher with the ability to handle the bat. He regularly puts the barrel on the ball, uses the entire field and manages the strike zone well. He has more strength than bat speed and possesses solid raw power, though he's more concerned with making quality contact than swinging for the fences. If Clarke can continue to improve his defense, he has a chance to become a big league regular. He looks quicker and more agile than he did in high school, though his receiving skills are fringy and need more work. He has similar arm strength but his quick release helps him keep the running game in check. Video
Baseball America Scouting Report - Clarke ranked No. 166 on the BA 500 coming out of high school, with plenty of scouts appreciating his lefthanded swing and power potential. But he was a strong commitment to Vanderbilt and there were plenty of questions about whether he would stick at catcher long term. Clarke didn't allay those concerns in an impressive freshman season, when he filled the DH role while junior Stephen Scott was the Commodores' primary catcher. Clarke caught only 13 games that year, but this spring Scott moved back to the outfield and first base while an improved Clarke has been the team's regular backstop. Clarke is more consistent as a receiver and he's more durable this season. A below-average receiver in high school, Clarke now is an average receiver. He has a below-average throwing arm, but he has thrown out 37 percent of basestealers in 2019. Clarke's bat has long been his calling card. His swing can get a little long at times, but he has solid bat speed and power potential, giving him a chance to be an average hitter with average power. If Clarke can catch, he would make a very valuable bat-first catcher. But if he has to move off the position, he's not ideally suited for first base because he's only 5-foot-11. Clarke is a draft-eligible sophomore, giving him plenty of leverage this June.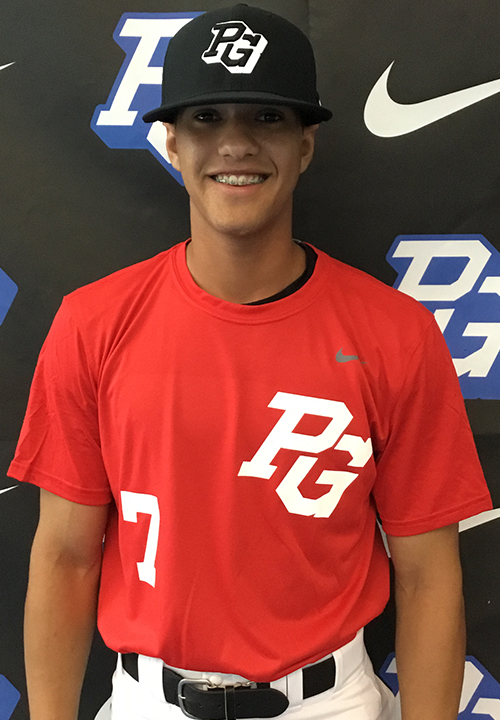 Round 10 - 297th overall. SS Glenn Santiago, International Baseball Academy (Puerto Rico). 6-foot-0, 165. Bats Right, Throws Right. Born December 14, 2000. Slot Value $145,500.