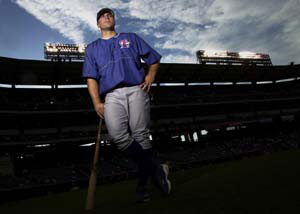 We're thrilled to lead off our major league player interviews with the Blue Jays' new leadoff hitter. Reed Johnson came almost literally out of nowhere this year. Beginning spring training in the minor league camp at 26, and unproven above AA ball, he was an unlikely candidate to have any impact in Toronto. Things have changed.
By the final week of the Grapefruit League campaign, none of the non-roster invitees signed as minor-league free agents had seized their opportunities to go north as the fourth outfielder. When Jayson Werth got hurt, the Jays needed someone to fill in for a couple of exhibition games, and Johnson was rewarded for his hard work. The impression he made that week earned him an early-season emergency callup, and he's never looked back since returning in May. When Shannon Stewart went on the DL, the hustling "dirtbag" rookie became a regular and again made the most of his chances, hitting .327 in June, with five home runs. Two of those came one memorable Sunday afternoon against the Cubs, when he became just the fourth player in history to lead off and end a game with a homer. In addition to his exploits at the plate, he's made spectacular defensive plays in left and right field, and is exciting to watch on the basepaths. We caught up with Reed in the dugout after a recent batting practice.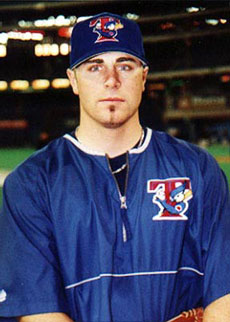 BB
:
Batter's Box readers have started calling you "Sparky," or "Sparkplug" — do you mind?
RJ
: That sounds pretty good. It's my job as a leadoff hitter to get on base and spark the offence. It's worked out well so far, and I hope there are plenty of sparks to come.
BB
:
You had a successful high school career in California, then starred at Cal State Fullerton for three years. Among great alumni like Phil Nevin, Jeremy Giambi and Mark Kotsay, you're among the all time Titans leaders in runs, triples, and something you're still doing — getting hit by pitches. Is that a deliberate strategy?
RJ
: It's a part of their game down there. When you're hitting in the cage, if one comes up and in and you get out of the way, everybody gives you trouble about it. It's instilled in me, and even if I wanted to get out the way, it's become a habit to stay in there as long as I can and keep that front shoulder closed. If you're trying to use the whole field, hit the ball the other way, you can't worry about them coming inside. Sometimes getting hit isn't so bad; hence the name Sparky, I guess. We get a runner on base, and that might be all it takes.
BB
:
You always run to first like it's no big deal. I swear I've seen you look glad you got hit.
RJ
: I'm not someone who's gonna look out at the mound and stare at the guy. If anyone ever did throw at you on purpose, you would know it. When you're the leadoff guy in a close game, he's not happy about putting you on, so there's no need to run down there looking at him. You're thinking, "maybe I can turn this into a triple."
BB
:
Another way you've been getting on base consistently is a very effective push bunt for a base hit. Once you get it past the pitcher, it seems like the defence is helpless. When did you develop that as an offensive weapon?
RJ
: In high school and in college, I had the same type of coaching staff. They both coached at the same junior college, and they had the same philosophy. At practice, we had a whole station dedicated to bunting, and by the time I got to college, I really got good at it. Now, I go out with John Gibbons a couple times a week for ten or fifteen minutes, and we'll bunt maybe 30 balls down both sides. That push bunt I try to direct right toward the second baseman.
BB
:
The one you dropped down in Anaheim was just about perfect.
RJ
: Yeah, I got all three guys going for it, the pitcher, first baseman and second baseman. By the time I was about halfway to first, I was cruising. Some people may call that stealing a hit, but it's just another thing I try to do to spark the offence. (Grins)
BB
:
How was it to play out there in front of so many family members and friends?
RJ
: It was great. First time I've been home in the summer for several years. A bunch of high school friends game out, and my parents were there, and their friends. It was nice to see everyone, and it was nice to take two out of three.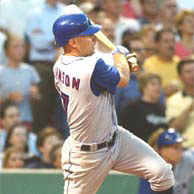 BB
:
In the summer of 1999, you were a 17th round pick of the Blue Jays, and got your first taste of Canada when you turned pro in St. Catherines. What was that transition like?
RJ
: It was difficult. We had a long college season, the whole school year. Then we went to the College World Series. They wanted to fly me straight from Omaha to join St. Catherines, but I needed a few days at home. When I did go up there, I was really tired, and it was tough mentally, too. So I didn't have a great start, but I made up for it the next season.
BB
:
In 2000, you moved up to Low-A, then High-A, with a combined .420 on-base percentage and 12 home runs, then you had a fantastic season in 2001 as the Southern League all-star center fielder. You were obviously on the fast track; what happened in 2002?
RJ
: It was an injury-plagued season, nothing I could do about it. Three freak injuries happened. I hurt my wrist in spring training, and was out for the first three months. Then I went right up to AAA and after being there for a month and a half, slid into second base and broke my finger. After that, I went to the Dominican Republic for two weeks, trying to get enough at-bats to show the Blue Jays I could still play. I was hitting about .380 and got smoked in the hand by a fastball. I couldn't swing for two months.
BB
:
That explains why you were such a longshot this spring. You weren't even on the 40-man roster.
RJ
: In late December, they let me know that they were taking me off the roster, but I still had a chance to make the club. I was disappointed, but they needed to free up a spot, and J.P. told me in December they thought they could get away with it, so I understood.
BB
:
The people who contribute to our site like to consider ourselves informed fans, but you were off the radar even for us until the last week of March.
RJ
: I was called up for four or five games, and I made the best of the opportunity. The fourth outfielders they brought in didn't do as well as they thought they would, and Jayson Werth was injured at the beginning of the year, so it opened up an opportunity for me to get a look. Two weeks later, I found myself here.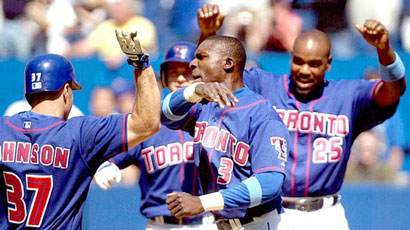 BB
:
There have been a lot of firsts, and a lot of highlights, but the day you bookended the game with leadoff and walkoff home runs must have been sweet.
RJ
: I might have hit a walkoff homer in summer ball back in my freshman year, and I had just one in pro ball, in Tennessee. I don't know if I'll ever have another moment like that, and to have it early in your big league career, in your rookie season, it's just unbelievable.
BB
:
Tell us about the framed picture of Ty Cobb you keep in your locker.
RJ
: When I started looking at baseball history, I saw and heard about the way he played, and said that was what I wanted to do. To look back on my career with no regrets, and be able to say I went out there every single day and left everything out on the field, the way he did. That's what the picture signifies. It reminds me to give everything I've got out there. A lot of people say he wasn't too nice a guy off the field, or on it, but I don't know him as a person. The way he played the game is the right way, and I model myself after that.
BB
:
Speaking on behalf of everyone at Batter's Box, we love the way you play. Thanks for this, and continued good luck.
RJ
: No problem. It's been fun.