We were in the Blue Jays private box, between the radio booth and press row, awaiting the start of a ball game, the rubber match of the Mariners series. J.P. Ricciardi had promised Batter's Box a sit-down to answer some of the questions posed by our contributors and readers. With his wife and two young sons in town, and busy with many other responsibilities, he had run out of time for the second straight day, but J.P. is a man who honours commitments. I joked about him "ducking the hard-hitting interview" and assumed we would reschedule again, so the last-minute invitation to join him was completely unexpected. It was a dream come true for this fan to watch the first nine outs of a 7-2 Toronto win while chatting with the architect of my favourite team.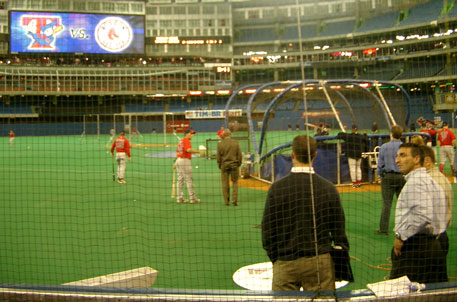 Most Batter's Box regulars already know his bio: born September 26, 1959 in Worchester, Mass., played baseball and basketball in high school, college ball in Florida. After two seasons in the minors, Ricciardi became a coach at age 23 in the Yankees system, before joining the Oakland organization in 1986 as a minor-league instructor and New England area scout. At 32, he was promoted to East Coast Scouting Supervisor; two years later he became National Crosschecker. In 1996, he became Special Assistant to then-GM Sandy Alderson. Under Billy Beane, his title was changed to Director of Player Personnel. J.P. was hired by the Blue Jays on November 14, 2001 and has four years remaining on the contract extension he signed after rejecting overtures from the Red Sox. He's already improved the talent on the big-league club and throughout the farm system while simultaneously trimming millions of dollars from the payroll. There's no doubt that he's one of the brightest front-office minds in the game, with an energetic, charismatic personality.
The umpires went over the ground rules with the coaches. Fans settled into their seats beneath us. Keith Law, Dickie Scott and the rest of the inner circle entered the bunker, paying no attention to the intruder sitting beside their boss. Knowing my time could be cut short at any moment, and with a long list of excellent questions to ask on behalf of the BB readership, I still thought we should begin with a "softball" or two. Asked what subject other than baseball he might write a book about, J.P. looked thoughful for a moment, then revealed a serious side.
"It would probably be about history. Iím a big history buff; American history, World War II. I like anything to do with leaders, finding out how did they lead, what made them lead, what were their thoughts -- itís riveting to me. Religion, too; I wish I could sit down with Jesus for about two days and talk to him."
The crowd's roar as the Jays took the field was mere background noise. The game itself was going to be an afterthought; a conversation with Ricciardi is an intense experience.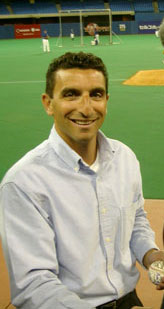 BB:
Since moving to Toronto, what about the city do you like most?
JPR:
Iím a big city guy. I like New York, Boston, Toronto. This is a great city, with a lot of ethnic diversity, and a lot of life to it when you walk downtown. Itís extremely clean, friendly Ė weíre really, really happy in Toronto.
BB:
What makes baseball in Toronto a better bet for long-term success than, say, baseball in Montreal?
JPR:
Torontoís a better city from a baseball standpoint. Weíre getting over 20,000 people here, while itís never really taken off in Montreal. Even with all the talent there, theyíve only had one year when they were in the playoffs. This organizationís been to the playoffs a lot; thereís a lot more history here, and I think itís a much better baseball city.
BB:
What advantages do you feel the Blue Jays have over other teams?
JPR:
Number one, weíre going to have to outwork other people. Weíll have to be better at our scouting and player development. The thing about the position weíre in is, if we make a mistake, it sets us back. When the Yankees or the Red Sox make a mistake, it doesnít set them back. Weíre working on a very thin wire.
Mark Hendrickson begins his warmup tosses, but Ricciardiís attention doesnít waver from our conversation, and he's setting the pace. I'm surprised to be talking almost as fast as he does.
BB:
Since taking this job, what moves are you most proud of?
JPR:
We have goals, and weíre not even close to them, so weíre proud of a couple of things, but I wouldnít say weíre totally satisfied. Some things have worked out, and some things havenít worked out, but we just try to keep an even keel here, because itís baseball, and itís humbling.
I guess the things weíre most proud about are getting the organization financially straightened out, and having a good farm system. Becoming self-sufficient, where weíre producing our own players, and having a good club at the major-league level.
BB:
You likened Billy Beane trading with another GM to the Big Bad Wolf and Little Red Riding Hood. What's it like to trade with you?
JPR:
Itís easy to trade between ourselves because we know each other so well, heís not trying to put anything over on me and Iím not trying to take advantage of him. In trades with Billy, or anybody else, we donít mind trading away a good player, as long as we get a good player back. We never feel like itís about pulling a fast one.
BB:
Outside of you and Beane, who are the brightest GMs in the game? Who's the most enjoyable to work with?
JPR:
Brian Cashman is outstanding. Sure, he has a lot to work with from a financial standpoint, but he still does a great job. Theo Epstein is a real up-and-comer. I like Dan OíDowd, heís creative, and believe it or not, I liked Jim Bowden a lot, because he tried to do things.
Iím not looking to be best friends with all these guys. Brian Sabean was my assistant coach in college, so I know him well, but heís tough to get a deal done with. That doesnít mean from our end that heís not a good GM, just that things havenít worked out. I get along with every GM in baseball, some obviously better than others.
BB:
Is there ever such a thing as an untradeable player?
JPR:
I donít think so. Having lived in Oakland, where we traded McGwire when we had Giambi ready, then we let Giambi get away and had someone else ready, I think you just have to prepare, and have enough players in your farm system that you can sustain yourself.
When I got here, there were some good players that I inherited, but there were still a lot of gaps and holes weíre trying to fill. When Phil Jackson went over to the Lakers, he inherited Shaquille and Kobe. He didnít have to apologize for that, but he still had to fill some holes.
Kevin Cash fires the ball down to second base. Ricciardi stares at me while the infielders zip the ball around. His look reminds me I'm not up here to watch the game; itís time for a tougher question.
BB:
Many of us felt that Roy Halladay deserved a contract extension with his performance in 2002 and the second half of 2001. Did you have reservations that made you wait? Has his performance this year raised his market value beyond what the Blue Jays are willing to spend?
JPR:
Last year was the first year Doc really went out there and did what he did, and with pitchers, youíre a little hesitant to give out three and four year contracts without having a total belief. We have that belief now. Unfortunately, the previous regime had put him on a high ticket a little early, so maybe we should have bought him out of his arbitration earlier, but we didnít. Weíve already talked to him, we want him to stay here, he wants to stay here, and weíre going to try to get it done.
BB:
Given the long term uncertainty of pitchers, is there a maximum amount of years you will offer a pitcher?
JPR:
Weíd have a hard time going over four.
Lurch starts the game with a called strike to Ichiro. I didn't really see it, but can hear the applause.
BB:
Where does your job end and Carlos Tosca's begin with respect to player management? In other words, do you give him your input on who should be played and when?
JPR:
Iíve told Carlos, I didnít hire him to implement
his
plan, I hired him to implement
our
plan. Our manager has to be an extension of us. Weíre in the American League, and we have to play a certain style. So we have a big hand in what goes on in the lineup, but he has some say as far as a feel for things, or certain matchups. We donít always agree on everything, but itís a good relationship, Carlos is on board, and I know sometimes the fans wonder "why is he doing this?" but I think you can do that with any manager.
Suzuki bounces one off Hendricksonís leg to second baseman Orlando Hudson, who throws him out. We are both concerned for a moment, but Mark waves off the trainers and seems to be OK. Relieved, I make my only unscripted comment.
BB:
Your pitcher is still a ball magnet out there.
JPR:
(Grinning) Yeah, heís a big guy.
Resisting the growing temptation to just hang out and talk baseball, I resume my responsibility to our readers.
BB:
It would appear a young, cheap power-hitter like Josh Phelps would be a key cog in the Blue Jays teams of the future. Isn't it a priority to get Phelps as many AB's this year as possible?
JPR:
What weíre trying to do is get him the at-bats without crushing his confidence. Sometimes itís a fine line. Keep in mind that youíve got Orlando Hudson, Eric Hinske, Vernon Wells and Josh Phelps, four players in the lineup that are one year of service guys. Weíve got nine guys on our team, like Bobby Kielty, that have less than two years, so weíre going to go through some ups and downs. You donít want to run Josh out there if heís going to strike out nine out of ten times. Sometimes you back off, let him work with Barney a little bit, get his swing, then put him back in there, like tonight.
Ricciardi doesnít miss a thing that happens in the game, even while carefully choosing every word about something unrelated. My multitasking ability pales by comparison. Between listening to what he was saying and scanning my list for the next question, I peeked at random pitches. The game was a blur.
BB:
Who's the most underappreciated player on the roster?
He nods a couple of times, as if to acknowledge this as a good question, but thereís no hesitation or uncertainty in his reply.
JPR:
Mike Bordick. You look at his leadership in the clubhouse, the way he goes about his business on the field, his work ethic, having our young players like Russ Adams around him in spring training. Chris Woodward has learned a lot, Orlando Hudsonís become a better player because of him, and heís played great baseball for us. Mike would be the guy whoís meant a lot to our club that probably the fans donít see.
Sanchez bounces one to Woodward. J.P. is obviously pleased; Hendrickson is getting them to swing at borderline strikes.
BB:
On the major league level, do you attempt to quantify defensive value, and if so, how much weight do you put into that versus visual observation?
JPR:
Keith Law does a lot of that, reminding us of the importance of the defensive end. Thatís why we have him here. Weíre looking for the complete player, but we have a $50 million payroll, and sometimes you donít get everything. We have to think of where we play, and whatís important to us Ė we need to be able to score runs, and we need to be able to pitch. Weíre going to put all our resources into offence, especially on-base percentage, and pitching. That may mean weíre a little short defensively in some areas, which we donít want to be, but again, if I had a hundred million dollar payroll, I could address most things a little easier.
BB:
Has your experience this year changed your view on building a big-league bullpen?
JPR:
We only had about five million dollars to work with last year, and we turned it into Cat, Bordick, Myers, Sturtze -Ė we had to go cheap in the bullpen, because we didnít have a lot of resources left. We value the bullpen; we think that in the American League it may be more important than your starting rotation.
So we havenít disregarded it, we just have to work within our budget. Iíd love to have Seattleís bullpen, but we donít have $95 million right now. Thatís why developing our players through the system will allow us to build a good bullpen.
He stops abruptly; something is happening. I look up to see Bret Boone foul off an excellent 3-2 pitch. J.P. exhales through his teeth.
BB:
How important is a player's personality in your evaluation of him?
JPR:
After being in this game for a long time, evaluating every day, I can say that a playerís makeup can be more important than his ability. Chris Woodward has twice the skills Bordick has, but Mike is able to overcome his limitations and do things you canít learn just by watching. Delgadoís that type of guy. He plays through a lot of pain that people donít see, but he wants to be in the lineup every day.
Boone fouls away another one. J.P. has become more intense, barely glancing at me between pitches, but still involved in the conversation. Now I'd really prefer to be watching the game, but I have a job to do, and we move on to the next topic.
BB:
Do you have a formula for translating collegiate stats? Do you take into consideration level of competition?
JPR:
We look at the entire history. We get more background on those players, not only in the college season but in the summer season. Obviously, a guy from the Pac Ten is more valuable to us, but we canít turn away from a guy who played in a smaller school. Places like the Cape league put them on even terms.
Another foul. Boone's a tough out, Hendrickson is keeping him off-balance. Good at-bat, what I've seen of it.
BB:
What pro level would you say Division I college baseball is equivalent to?
JPR:
(Shakes his head) Itís not even close between college and the pros. Not any level. We can take our Auburn club, play the best college team in baseball and beat them probably seven out of ten times. Itís a whole different environment; anyone involved in player development will tell you that when they get the college player, heís a long way from being finished.
BB:
Would you draft a player if he had signability issues?
Boone takes ball four. Though Ricciardiís mouth tightens almost imperceptibly, he doesnít lose his train of thought.
JPR:
If there were signability issues because heís been in trouble with the law, or had a problem with drugs or something, we would be a little hesitant to go after that guy, because I donít think too many people change. If itís signability because of money, we may roll the dice a little.
BB:
College pitchers are clearly better draftees than high-school pitchers, but will you ever consider drafting high-school hitters?
JPR:
College players have been better for us to this point. That doesnít mean that overall, theyíre going to be the better player, we just think theyíre going to be easier to get to the big leagues. We have that much more of a track record on them, having seen them in high school, college and summer leagues. We will eventually take a high school kid, when the timing is right.
While Edgar Martinez is fouling off more Hendrickson offerings, I notice the next question is in multiple parts. To save time, I put my papers on the table in front of him and point to a list of ten names.
BB:
Can you give us a comparable major leaguer for some of your best minor leaguers?
JPR:
Gabe Gross, maybe Jim Eisenreich with more power. Jason Arnold weíre still trying to figure out; nowhere near the experience, but maybe the command and control of a Maddux. Jayson Werth physically reminds us a lot of Dale Murphy, maybe not with as much of an upside offensively. Alexis Rios is a tough one. Heís got the ability to be a very good player, but we want him to be up here when heís ready...
A momentary pause speaks volumes. Edgar has worked the count full.
JPR:
John-Ford Griffin? Maybe Berkman. Guillermo Quiroz is a little bit of Pudge Rodriguez, some Jason Varitek. Russ Adams reminds me a lot of Mike Bordick with a better bat...
Hendrickson gets Edgar to take a half-swing and immediately, J.P. interrupts himself.

"Check it! Check it!" he shouts.

Catcher Kevin Cash does, and the first base ump agrees -- he went around. The inning is over, but J.P. doesn't relax, just continues down the list.
JPR:
Dustin McGowan is maybe like a Rich Harden. David Bush is a little like Pat Hentgen, without as good a breaking ball. Adam Peterson throws hard, thatís a tough comparison.
BB:
Where would you rank the Jays minor league system today compared to other organizations? If it's not in the top five now, how long will it take to get there?
JPR:
I think weíre in the top five. We have a lot of everyday players that are very good. Dickie Scott, our farm director, has done an outstanding job in less than two years implementing our plan, how we want to go about playing the game. Weíve got three teams that are in contention to win and get in the playoffs, which theyíve never had here. We believe that you can win and develop at the same time. We want to win in Double-A; we feel itís important to that group.
Reed Johnson lines one back to Jamie Moyer. You can tell that the GM is not as concerned with the outcome as the quality of the at-bat. He's satisfied.
JPR:
Our pitching still has a way to go. We feel weíre two drafts from having enough pitching where we can see the results, that if one guy goes down, we have another guy coming.
BB:
Do you intend to convert any more minor league relievers to starters next year? Or vice versa?
Eric Hinske pops out to deep short. Itís no big deal, Ricciardi's body language seems to say, at least he was trying to use the whole field.
JPR:
Vermilyeaís in the pen right now, and he may be a candidate to start for us, but we try to see how we can maximize each player, and whatís the fastest way to get him up here. This is the longest Bush has gone, and heís had a great year, but we want to make sure heís pitching here, not on the DL somewhere.
BB:
When will you begin to assess any potential Rule 5 draftees?
JPR:
Weíll start working on those guys in November, and weíll be working on six year free agents as soon as the list comes out October 15, although weíre going to have a very young club at Triple-A next year, and weíre not going to need as many of them this winter. Itís a great exercise; we sit here for days, turn everyone over and donít miss a guy. Jon Lalonde, Andrew Tinnish, Charlie Wilson, Kevin Briand, and of course Keith Law, Tony LaCava, we all sit down and work really hard, along with the scouts.
Vernon Wells grounds out to short; the Jays go down 1-2-3 without hitting a ball out of the infield. J.P. seems content, and my only worry is that he'll say our time is up.
BB:
Are there any plans to modify the Jays' playing surface? Has the team considered "grassy" turf, like the kind in Tampa Bay and Philadelphia? Or does AstroTurf play to the club's offensive strengths?
JPR:
Iíd like to see grass. We have to play on turf, us and Minnesota, and it is a factor because you play 81 games on it. Itís hard to have two different teams for home and away, but I like us better when we play on grass.
BB:
Has there been any serious discussion of realignment that would take the Blue Jays out of the A.L. East?
JPR:
No. Weíre in with the big boys.
BB:
This season there have been situations where players have covered up minor injuries and proceeded to miss a large portion of the season. How can you ingrain into athletes that "playing through the pain" often hurts the team more than it helps?
JPR:
Thereís a fine line on that. Cory Lidleís a perfect example; heís pitched with a bad groin for about a month and a half. Eric Hinske is another guy who went six weeks with a broken hand. I think heís learned a lesson about being more honest. You never want to take that desire to play away from a player, but some things come with maturity. Our young players are going to learn a lot of things at this level.
Lurch gets John Olerud looking, earning an appreciative nod from the GM. I suspect that he's not usually this restrained watching a game. Neither am I.
BB:
What has surprised you the most about being a GM?
JPR:
Well, your life is an open book, to people that can take a shot at you at any time. I just laugh, because it comes with the territory, but as to the job itself, I was well prepared, working so closely with Billy. Thereís a lot more tugging and pulling in certain areas, but I stay committed to my strengths, scouting and player development.
Mike Cameron doubles into the left-centre gap. Uh-oh.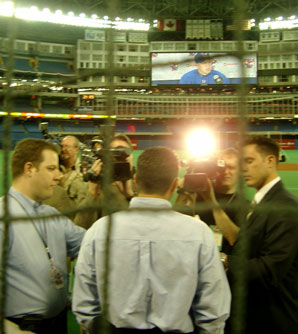 BB:
After some of the things that people have said about you since you took over as GM, is your skin any thicker now than in the past?
JPR:
That depends on what theyíre alluding to. Iíve always had thick skin. I donít worry about what the writers say, because theyíre never going to agree with what weíre doing, and theyíre never going to see it the way we do. The biggest disappointment with the writers in general is that they donít understand that the payroll here is $50 million, going to $48 million, and we're trying to compete in a division with the Yankees and Red Sox. They donít understand the decisions we have to make based on finances.
Thatís why we put so much emphasis on scouting and player development. I know that a lot of the writers are tied to some of the old guys, but we donít think we made any changes that made ourselves worse, we made changes that made us better. I really donít care what the writers say about me, because in the end, they donít really count.
Randy Winn hits a harmless fly ball to Vernon Wells, two down.
BB:
In addition to your day job, you were also the basketball coach at Holy Name High School for 11 years. Has coaching taught you anything that you find useful as a baseball executive?
JPR:
We had a very good program, one of the best teams in the state of Massachusetts, and we played some great competition across the country. You learn that your team is going to be an extension of your leadership. Here, weíre building an organization where everyoneís on the same page, everybodyís pulling the rope the same way, and from the guys in the clubhouse to the guys in Auburn, they all understand what weíre trying to do. We have a great challenge, and people here who want to accept that challenge.
Dan Wilson grounds to short. The inning, and the interview, is over. J.P. doesn't say anything, but his facial expression and posture make it clear. Rising to my feet, I fish for a compliment.
BB:
On behalf of all our readers, thanks so much for this. Why did you agree to talk to us?
JPR:
Keith Law told me about the site, and Iíve gone there on occasion. Sometimes I read something there and Iíd like to talk to them personally, and explain they might have a good thought, a good idea. Others are totally out in left field. What I do like about Batterís Box is that every guy on there has a passion for baseball, they have a passion for the Blue Jays, theyíre paying attention to what weíre doing. Sometimes they donít completely understand what my job is, but Iím a fan of the Batterís Box.